BLOM Bank hosted an update call last week with investors. We address below some of the topics touched upon during this discussion. Note that unless specifically identified as such, this report does not reflect BLOM Bank's views.
The main economic issue Lebanon is grappling with is the country's high debt burden. The main political issue is that the cross-party consensus needed to push through required extensive structural reform is non-existent, leading to years of paralysis. The banking system has historically helped fund large twin budget and current account deficits, sucking in deposits from the diaspora (and elsewhere) attracted by high returns in a dollar-pegged currency. However, this balancing act has spectacularly unraveled: the Lebanese pound has devalued by close to two-thirds on the black market; the government has suspended payments on its debt; deposit withdrawals are heavily restricted; and the economy is in freefall.
Given this environment, a significant reboot is required, with all sectors of the economy, plus creditors and deposit holders, sharing the pain. Discussions on how best to put the economy back on track are likely to be intense and protracted.
The government's debt restructuring proposal weighs heavily on the banks
As my colleague, Stuart Culverhouse, has previously commented, the government's restructuring plan rests on four pillars: fiscal reform; structural reform; banking system reform; public debt restructuring.
The Prime Minister indicated that the 5-year plan aims to restore positive GDP growth in 2022 (from a 12% contraction this year) and promises financial support for those most in need. It aims to restore an initial budget surplus by 2024, to lower the public debt/GDP ratio to below 100% from the current 170%, and to reduce the current account deficit to 5.6% of GDP (from over 25% now). However, the details as to how these worthy goals will be achieved are currently not well defined, in our view. 
We further note that the government's proposal does not enjoy widespread support across the political spectrum. Although dominated by technocrats, the Cabinet is relatively one-sided, backed by Hezbollah and its allies. The Prime Minister, Hassan Diab, lacks political support from much of his own Sunni community; press reports indicate that the blocs of former Prime Minister Saad Hariri, former Prime Minister Najib Mikati, the Kataeb Party and the Marada Movement all boycotted the meeting where he presented his government's restructuring plan to President Michel Aoun. The lack of consensus suggests finalising the restructuring plan will likely take time.
Regarding debt restructuring, the Lebanese government has proposed a plan that would see the banking system shoulder US$83bn losses, comprising US$54bn of losses on the central bank's government securities holdings, US$17bn losses of commercial banks' government securities holdings and US$12bn losses on the bank's loan books. This proposal would effectively wipe out the value of all bank-issued securities (equity and debt) as well as bailing-in some deposits.
As currently structured, smaller depositors would be protected from the bail-in; the Prime Minister has indicated that the plan would not affect 98% of the 3mn Lebanese depositors. A report by the Carnegie Middle East Centre, indicated that the bail-in could amount to one-third of all deposits, or 55% of deposits over US$500k (representing 2% of all accounts), or 70% of deposits over US$1mn (representing 1% of all accounts).
The plan also requires the assistance of international donors: around US$10bn external support on top of the US$11bn that was pledged in the 2018 CEDRE conference. "International financial assistance at favourable terms to close the large external financing gap and finance the development of the infrastructures … are necessary to support the growth of the economy".
We think that any IMF programme is likely to come with strings attached (such as pre-conditions), as is also the case with the CEDRE package. Given its narrow support base, it is not clear if the current government can push through the necessary reforms; this has been an ongoing issue for many years, irrespective of who has been leading the government. 
Hezbollah, the key party within the current government, has now softened its resistance to IMF assistance, although concerns clearly remain. "One thing would be unacceptable, which is to blindly surrender, to go wearing handcuffs and give ourselves to the IMF," Hezbollah leader Hassan Nasrallah has said. "We must see what the conditions are. Can the country handle them?"
In our view, the make-up of this government has also likely impacted where the proposed restructuring burden will be felt most sharply. In recent years, most Lebanese banks have cleansed their books of Hezbollah exposures to avoid US sanctions. 
The ABL's counter-proposal may not sufficiently reduce the country's debt burden
Of the existing proposal, the Association of Banks in Lebanon has commented: "As laid out in the Plan, the domestic (bank) restructuring will further destroy confidence in Lebanon both domestically and internationally ... (and) is likely to deter investment in the economy thereby hindering any recovery prospects…The ABL can therefore in no way endorse this unilateral plan".
Although the ABL's counter-proposal has not yet been announced, we think it could have some of the following elements:
An interest-rate holiday on government debt, to provide time for the government to enact fiscal reforms (such as cutting the public sector payroll, and reducing electricity subsidies).
Improved management of public sector assets (which cover wide sectors of the economy including electricity, transport) prior to privatisation. The government owns significant assets, such as land and public utilities, which could be sold off or transferred in order to reduce the burden on creditors.
Increased fiscal discipline, including cutting expenditures (such as civil service payrolls and pensions) and subsidies (such as those on the electricity sector), and improved revenue generation
Tackling corruption
Haircuts of the eurobonds (and maybe closer to 50% than 75% proposed by the government, or the 80% priced in by the market), but not on LBP-denominated government debt (where the burden will instead be reduced via a devaluation) nor on central bank-issued paper.
Active involvement of the IMF to ensure structural reforms are actually executed.
While such a plan would have merit, including a broader sharing of the restructuring burden across the economy, it potentially does not reduce the country's debt load to a sustainable level, while the ongoing burden on the banking system profitability (since much of its assets would be unproductively invested at the central bank) would limit capital build and provide less scope for structural reform of the industry (there are currently close to 50 banks in a country with a population of less than 7 million). 
IMF involvement is key, but conditions will likely prove tough to execute
Many observers believe an IMF loan could be helpful as it will impose economic discipline where politicians have been unable to do so. We understand a US$10bn facility has been requested, and initial discussions have been "productive". IMF personnel could soon arrive in the country to carry out the necessary evaluations. Given the large size of the request to the IMF, we believe participation by other multilateral institutions (such as the World Bank) as well as bilateral aid, may be required. However, we think regional support may be difficult to tap given the low oil price and the lack of political consensus. Weak oil prices and the global recession will also likely hit remittance inflows, which have been a key source of foreign capital, historically.
Whether Lebanon receives an IMF programme, whether the attached terms are acceptable to the government and whether the required reforms can be executed are all crucial to the success of the restructuring plan. In this context, the recent inability of various governments to deliver the required reforms to unlock the CEDRE programme provide a sobering reality check. 
Exchange rate has collapsed, with various parallel rates emerging
Since 1997, the Lebanese pound had been pegged to the dollar at the rate of 1507.5. However, this peg collapsed in August 2019. The government has recently been discussing an immediate devaluation to USD1=LBP3500, with a more flexible regime thereafter, but this has not yet been agreed. The current exchange rate for foreign transfers into the country is around LBP3200, while the black-market rate may be closer to LBP4300.
Effective LBP/USD market exchange rate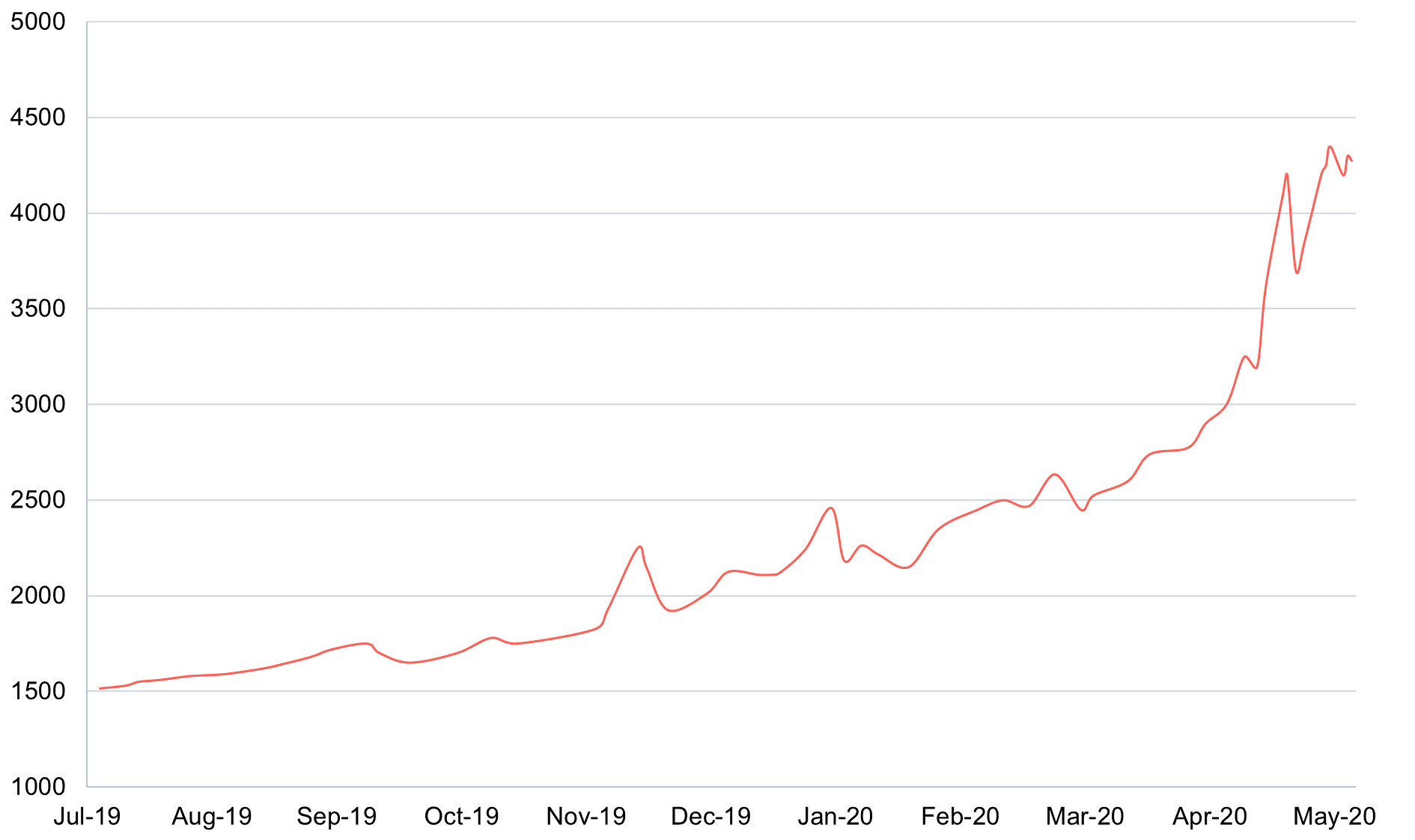 Source: Lirarate.com, Tellimer Research
Capital controls have been introduced to stem deposit outflows
As per a recent central bank circular, the largest US$ deposit holders can withdraw up to a maximum of US$5,000 deposits per month; these must be converted at a rate of USD1=LBP3000. We note that around 70% of system deposits are USD-denominated. Due to these controls, which have effectively stifled competition for deposits, banks have been able to lower their cost of deposits substantially. 
Banking system has been shrinking and will experience significant losses from debt restructuring
Banking system assets fell 17% yoy and 4% in Q1 20. Deposits have fallen 13% yoy and 6% in Q1. Loans have fallen 21% yoy and 10% in Q1.
Interest rates have fallen sharply. Since last November, the USD loan Beirut Reference Rate has declined from 9.5% to around 5.75%, while the LBP loan reference rate has fallen from 13.5% to 7.75%. These declines largely mirror falls in the banks' funding costs.
So far there has been little disbursement of Covid19-related support packages for SMEs and other targeted sectors. The reason for this is largely bureaucratic, but it is also fair to say that there is limited appetite from banks for credit risk in the current environment.
The banking system has US$21bn equity, and cUS$210bn assets, including US$13bn eurobond investments and cUS$40bn customer loans; c70% of system assets represent government or central bank exposure. The government's restructuring proposal assumes a c30% reduction in the value of customer loans (ie US$12bn), but BLOM Bank thinks this is too conservative; most banks have good levels of collateral, so a US$4-5bn hit seems more reasonable. A 75% haircut of eurobonds would translate to a halving of banking system equity, which by itself (ie excluding additional loan losses) would probably be manageable at the sector level, though some weaker banks might need to be taken over. Any haircut of LBP-denominated debt (such as T-bills) would be much more problematic; banks are the biggest holders of government-issued securities. 
In relation to the proposed losses imposed on the central bank, Banque du Liban (BdL), we note that it has cUS$15bn gold assets that could be used to cushion losses. Further, rather than transmitting any additional losses to the banks and eroding the banking system's equity, an alternative proposal would be for the BdL to lower interest rates paid to banks on their central bank deposits (eg by swapping long-dated time deposits into current accounts). In this way, an immediate hit to commercial banks' equity would be swapped into a longer-term drag on future profitability.
Banks have not been able to publish financial accounts since June 2019 due to the environment of political and economic uncertainty. The central bank is working on a proposal to stipulate what level of provisions banks need to record against their government and central bank exposures in order to allow auditors to approve publication of more up-to-date financial statements. 
The central bank had previously asked commercial banks to raise their shareholders' equity by 20% by June-2020, with steps including foreign asset sales. We note that the largest Lebanese bank, Bank Audi, was able to raise US$210mn equity capital earlier this year, while the UAE's FAB is conducting due diligence on Audi's Egyptian business. However, the central bank's stipulation has been shelved for now given the significant uncertainty in the outlook. 
BLOM Bank has limited eurobond holdings, but central bank exposures are significant
As at June-2019, the last published accounts, BLOM Bank had US$200mn eurobond exposure (and minimal LBP-denominated government debt). Management believes any haircut of these instruments would be manageable; they are already marked to market in its accounts. Management also thinks losses on its loan book would be negligible, given existing levels of provisioning and collateralisation. Based on the last disclosed figures, BLOM had US$14bn exposure to the central bank, but management feels strongly that commercial banks should not be made to shoulder any losses on central bank-issued instruments.
BLOM Bank's Eqyptian subsidiary continues to file its own accounts, even though the BLOM Bank group has been unable to do so since June-2019. In Egypt, the bank generated US$56mn profits in 2019, a 28% yoy increase. In Q1 20, Egypt generated US$14mn profits, broadly flat yoy. In 2019, deposits grew 25%, but in Q1 20 the growth was just 1%. Clearly growth momentum has slowed from the levels seen last year.
BLOM Bank's French subsidiary had declared a special dividend earlier this year, which has boosted the shareholders' equity of the Lebanese operations by US$104mn. We think other capital-raising measures are currently on hold, given the significant policy uncertainty. 
Thanks to my colleagues Tolu Alamutu, Stuart Culverhouse and Hasnain Malik for their input