The moment of reckoning for Laos' US$150mn eurobond is quickly approaching, with its due date exactly two weeks away on 30 June. Laos had attempted on three previous occasions (December, January and March) to refinance its maturing bond with a fresh issuance, but had to postpone all three offerings due to lack of investor demand.
In December and January the IPT was for a six-year, US$500mn bond at around 10%, while in March it was revised to a five-year, US$300mn bond at 11%, but still failed to attract sufficient demand. The use of proceeds was to refinance its US$150mn eurobond and a US$150mn hydropower project bridge loan, with any excess used to repay Thai baht bonds maturing this year (estimated at US$165mn).
However, having failed to roll over its eurobond, it is unclear how Laos plans to meet its US$150mn obligation at the end of this month. Absent a last-minute (and potentially expensive) bond issuance in either the international or Thai market, or a bridge loan from a commercial bank or key bilateral partner like China, it is likely that Laos will simply have to pay its eurobond out of reserves.
Given recent BOP developments, this is certainly feasible. Reserve data released this week shows that official FX reserves reached US$1.24bn in April from US$1.32bn in December, which was the last update prior to this week's data release. At just US$150mn (12% of reserves), the government should have no problem using its cash reserves to retire the eurobond, also in the knowledge that reserves stand to be replenished in coming months with the SDR allocation (worth about US$144mn for Laos).
However, Laos' eurobond is just a small fraction of the US$1,275mn of debt service due this year (US$915mn principal, US$360mn interest), and external debt service obligations will remain elevated at US$1,280mn on average over the next five years (US$960mn principal, US$320mn interest). Just under half of this is due to China, of which 60% is on concessional and 40% is on market terms.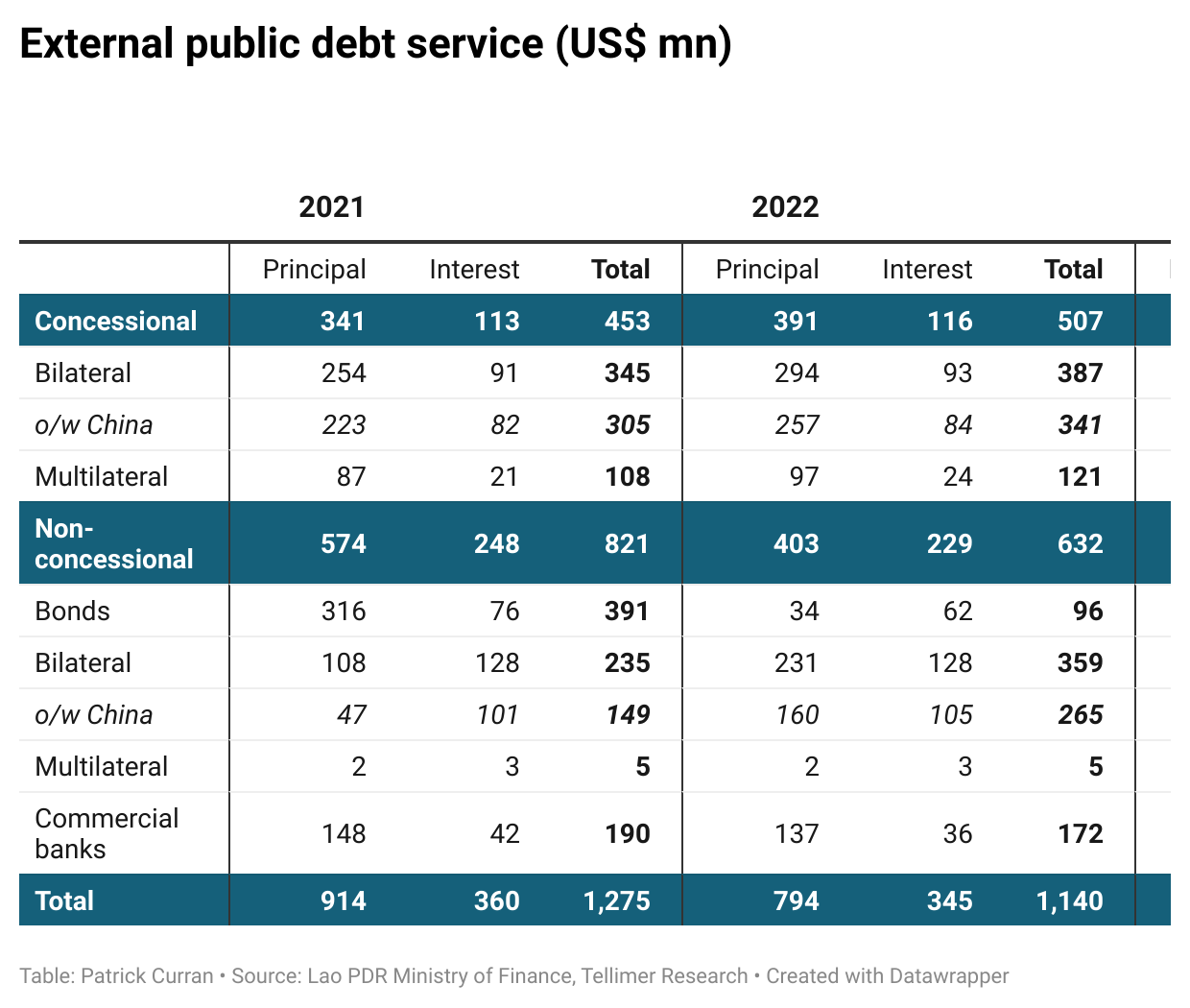 So, even if Laos managed to repay its eurobond this month it still faces a mountain of external debt to repay each year for the foreseeable future, and if it doesn't think it is possible to avoid default, it may simply decide not to pay rather than trying to delay the inevitable. It could, for instance, being DSSI eligible, seek to restructure under the G20's Common Framework. However, if Laos successfully retires its eurobond it may reprice its external debt curve (with the eurobond currently quoted by StoneX at 88/92, or a mid-YTM of over 300%) and allow it to subsequently issue a larger eurobond to bolster reserves and refinance other obligations, giving the government more time to stabilise its BOP.
Longer-term outlook hinges on fiscal consolidation
Even if Laos is able to avoid default this year, it will have to walk a tightrope to avoid default over the medium term. In our previous reports on Laos in December and September, we noted that Laos has several options to avoid default, including cashflow relief from the DSSI, funding and policy support from the IMF, or bilateral cashflow relief from China (by far its largest creditor, at c75% of its external debt stock and c50% of debt service from 2021-25). According to the World Bank, DSSI cash flow savings could have been significant, amounting to US$315mn in 2020 and US$278mn in H1 2021.
During its recent roadshows, the government ruled out DSSI on the basis that it has sufficient resources to cover its debt obligations and does not want to be subject to the associated restrictions on borrowing in market terms (though some countries that have received DSSI relief have subsequently issued eurobonds, so this concern doesn't appear valid). And while it said that the IMF remains an option, we have seen nothing to suggest that Laos is proactively seeking out IMF support.
Instead, Laos hopes to meet its debt obligations by consolidating its budget deficit to a surplus by 2023 via revenue measures totalling 2% of GDP over the next five years (including administrative measures and the introduction of a property tax). But while the government projects a budget deficit at 2.1% of GDP this year, the IMF projects a much wider 5.6% of GDP. But even based on the IMF's more pessimistic projections, total public and publicly-guaranteed debt (which reached 72% of GDP at the end of 2020 – 5% domestic and 67% external, of which 9.8% of GDP is guaranteed) is projected to decline over the medium term.
The sticking point for Laos is its liquidity constraints, with the IMF projecting a current account deficit of US$1,805mn (7.7% of GDP) on average from 2021-25 in addition to average amortisations of US$960mn. That said, there are wide discrepancies here too between official and IMF data, with the central bank estimating a US$115mn (0.6% of GDP) current account deficit in 2020 versus the IMF's estimate of US$1.1bn (5.7% of GDP) deficit.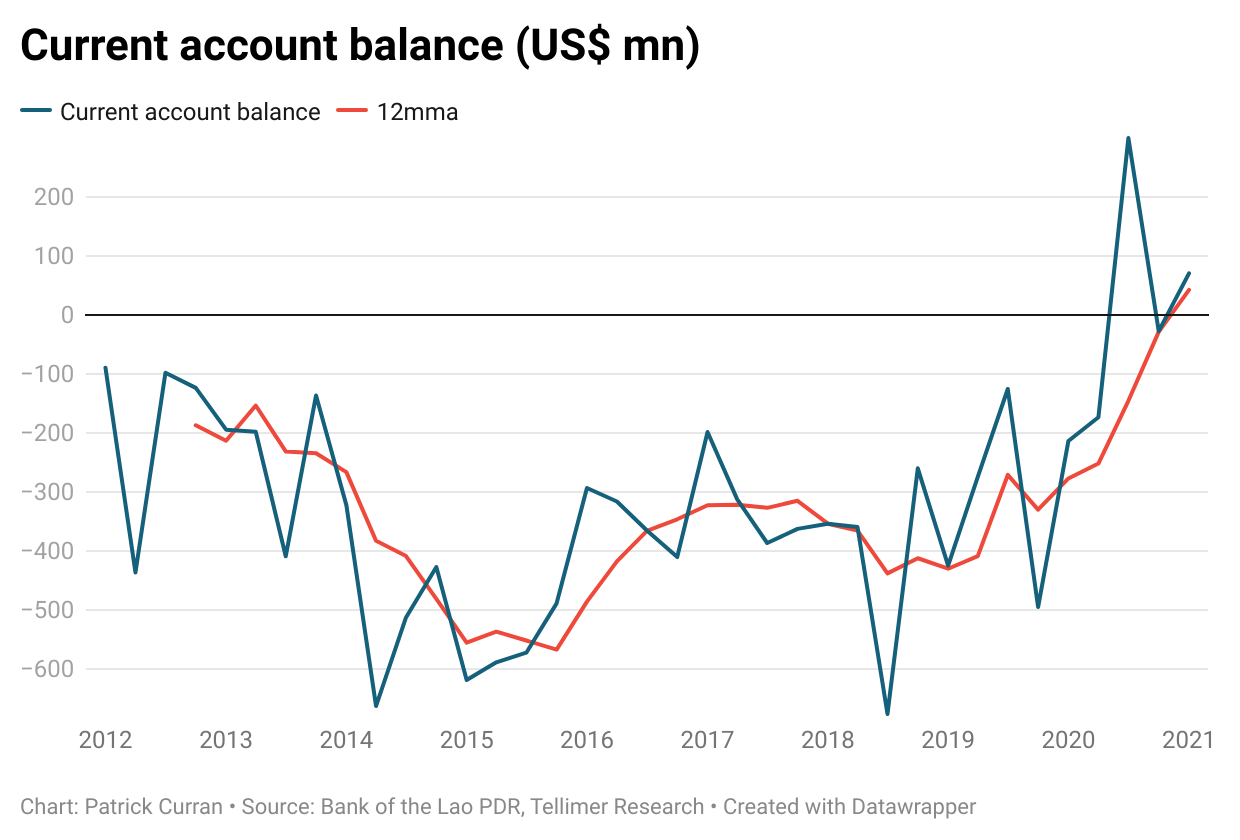 But, even if the government's estimates are inaccurate in magnitude, the directional improvement in Laos' BOP cannot be denied, and the trend continued in Q1 with the current account deficit swinging to a US$70mn surplus from a US$215mn deficit in the same period last year on the back of a 5.3% yoy rise in exports versus a 14.4% drop in exports.
And, per the finance ministry's recently published 2020 debt bulletin, Laos still has US$1,080mn of undisbursed external public debt at the end of 2020 (with 40% from China). The government also claims that it still has access to the Thai market for external funding, though in reality it did not seem to have access in 2020, with the stock of THB-denominated debt declining slightly from US$1.28bn to US$1.26bn and the bulk of its US$1,125mn of external funding coming from concessional bilateral and multilateral sources and a US$400mn loan from a commercial bank.
Nonetheless, even if Laos pays off its eurobond this month, there is still a long road to travel before it has restored balance to its BOP and staved off the risk of default on its external debt. Laos' previous attempts to refinance its eurobond suggest that it is keen to avoid a default, but neither has it put in much effort to secure alternative support (either from the IMF or DSSI) to help it do so, and it may yet decide not to pay if it doesn't feel like it will be able to regain market access and meet its external obligations beyond the first half of this year. This could lead Laos to seek a Common Framework treatment.  
Laos' eurobond is currently quoted by StoneX at 88/92, translating to a mid-YTM of over 300% given the short time remaining to maturity (though lack of liquidity makes pricing data unreliable). At this price, there is clearly significant upside if Laos pays its eurobond (about 10pts upside on a mid-price basis plus 3.44pts for the coupon). However, there is also significant downside if it does not. At this price (90 mid), markets seem to be pricing in an 83% chance of being paid (ie a 17% probability of default), assuming market convention for the recovery rate.
We have not seen anything to suggest they will default, but nor have we heard confirmation of their intention to pay since their last eurobond offering was pulled in March. At this point it is therefore a toss up and pricing risks are balanced, with a higher likelihood that Laos will pay but a disproportionate downside to prices if they do not. We maintain our Hold recommendation on Laos' eurobond at an indicative mid-price of US$90 at cob on 15 June, according to StoneX.
Related reading
Laos hopes its third time lucky with eurobond offering, 16 March
Laos plans liability management exercise, but not clear it will succeed, 7 December
Laos: Bailout or bust, 30 September