Kuwait's prime minister and cabinet resigned on 5 April, in advance of a no-confidence vote in parliament. This government took over a month to form and lasted barely three months. There have been 18 cabinets and eight elections since 2006 and this is the fourth resignation in the past year and a half.
There is no sign of reconciliation in the conflict, which has been ongoing for over a decade, between members of the cabinet – who are often re-appointed by the Emir – and a diverse group of politicians who do not belong to specific parties (which are banned) but, to varying degrees, campaign for political reform, stand for election to parliament, habitually oppose the cabinet in parliament and lead protests.
This latest resignation is no surprise to us but some have been more positive. In the absence of many new faces in senior cabinet positions, it is not clear why the impasse between these two groups should change. Sheikh Sabah Al-Khaled Al-Sabah has, for example, been appointed Prime Minister for the past four governments over the past two years or so.
In the short term, political dysfunction is likely to prevent legislation needed to raise sovereign debt on a scale needed over the next decade.
In the long term, it likely remains the case that, when oil revenues are high, Kuwait struggles to spend on efficiently implemented projects and, when oil revenues are low, it struggles to impose austerity and pursue structural reform.
Kuwait is 72bps of the MSCI EM index. Kuwait equities (KWSE All Share) are up 19% ytd, way ahead of EM and FM (both down 5%), and a little ahead of S&P Pan Arab (up 16%).
KWSE Index trailing valuation is well above the historical average; eg trailing PB of 2.2x (for 15% ROE and 1.7% dividend yield) equates to a 22% premium to the five-year average.
Larger stocks in Kuwait, represented by MSCI Kuwait (where banks NBK and KFH are 46% and 28% weights, respectively, and Zain telecom and Agility logistics are each c8%), are even more expensive, at a 40% premium to five-year median trailing PB.
Other oil & gas exporter equity markets – Oman, Qatar, and Colombia – offer cheaper exposure to the currently high oil prices.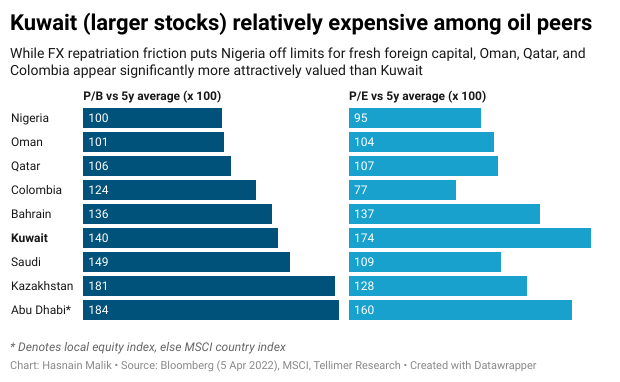 The context for Kuwait's political dysfunction
The current parliament, elected in December 2020, is made up as follows: the opposition bloc numbers 31 MPs, the government bloc numbers 32 (a combination of 16 cabinet members and 16 MPs) and there are three undecided MPs. Quorum requires 33 (out of a maximum of 66) attendees.

Rule by Emiri decree is possible during parliamentary summer recesses or in times of emergency but not as a normal course, unlike in other GCC countries.

Kuwait is extremely wealthy by global standards (FX reserves and sovereign wealth equate to cUS$450,000 per citizen) but the non-oil economy has consistently failed to meet its potential. Political dysfunction between the elected MPs and appointed cabinet members inhibits the implementation of either ambitious development in times of high oil prices or austerity in times of low oil prices, and means both the unsustainable high expectations of welfare provision by the state for citizens (30% of the population) and the unsustainable reliance on expatriate labour are not addressed.

Relations continually break down between the appointed (the cabinet) and elected members of parliament for many reasons:

The culture of vibrant and relatively open political debate.

Recurring cabinet appointments.

The 'grilling' mechanism in parliament (a provision for debating a specific ministers' performance and which effectively can amount to a vote of no confidence).

Absence of political parties.

The prospect facing elected MPs of the next election cycle (sometimes before the scheduled four-year cycle).

Reluctance by MPs to endorse spending plans (which may subsequently be scrutinised on grounds of corruption) or austerity plans (which are naturally unpopular).
Related reading
Kuwait government resigns, political reconciliation unlikely, November 2021
Kuwait politics remains dysfunctional despite passage of budget, June 2021
Kuwait Cabinet resignation reinforces tepid investment case, January 2021
Kuwait election unlikely to alter populist obstructionism, equities unappealing, December 2020
Kuwait's 83-year-old Emir nominates 80-year-old Crown Prince, October 2020
Kuwait's crown passes to 83-year-old successor amid fiscal challenges, September 2020
Kuwait, GCC: The expat debate stirs again, April 2020