Kuwait's newly elected Parliament has its work cut out amid double-digit fiscal deficits. But there is unlikely to be any greater unity among MPs or harmony between elected MPs and Emiri-appointed Cabinet members in this Parliament than in any of its recent predecessors.
The funds inflow fuss of the inclusion of Kuwait equities in mainstream EM benchmark indices (eg with a c50bp weight in MSCI EM) has now finally passed. Large-cap Kuwait stocks, represented by MSCI Kuwait, are on an unappealing trailing PB of 1.8x (a 10% premium to the 5-year median) for merely 8% ROE.
For those compelled to own stocks exposed to city-state hydrocarbon economies, better value versus history is on offer in Abu Dhabi (PB 1.4x, parity with 5-year median, for 7.3% ROE) or Qatar (1.6x, parity with 5-year median, 8.7% ROE).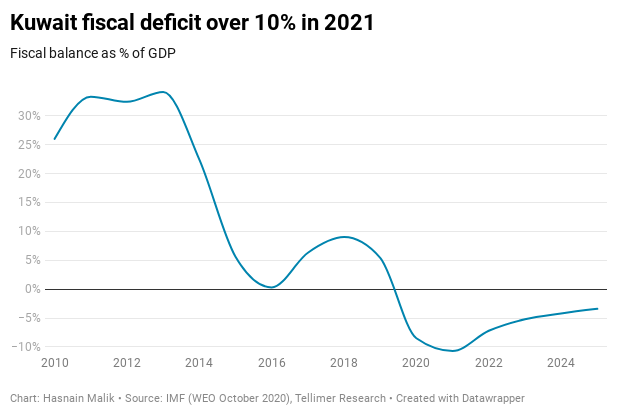 Parliament's priorities and MPs' proclivities
The priorities of the newly elected Parliament in Kuwait should include the following:
Passage of a debt law (to avoid using cash reserves of the sovereign wealth fund to finance c10% fiscal deficits over 2020f and 2021f, according to IMF forecasts).

Efficiency savings in the public sector (cuts to citizen welfare, government wage bill, and fat in government-related enterprises, as well the introduction of VAT, in order to bring down the fiscal breakeven oil price from cUS$66 in 2021f, according to IMF forecasts).

Enactment of structural reform to incentivise private sector development (reduce government sector job security and wage bill) and non-oil diversification (hydrocarbon revenues have historically equated to c50% of GDP on average).
However, MPs are more likely to persist in the populist obstructionism to any meaningful programme of austerity, should oil prices remain relatively low, or project spend, should oil prices go back to levels well above fiscal breakeven. This is because of three structural factors:
There are no formal political parties in Kuwait and the informal blocs which form in Parliament are not comparable because they lack the unifying (disciplining) feature of a "party whip".

MPs are always mindful of re-election, both on the formal 4-year timetable for elections and potentially sooner should a dissolution occur (Parliament was dissolved nine times by Emiri decree between 1975 and 2016), and this motivates them to establish a reputation for opposing unpopular measures (ie austerity) and scrutinising any hint of corruption in the members of the Cabinet (which are appointed by the Emir).

While there is a high degree of turnover in Parliament (eg merely 19 out of 50 elected MPs in this election were incumbents) there tends to be much less fresh blood in Cabinet appointees.
Related reading
Saudi and GCC ugly fiscal truth from low oil prices (Oct 2020)
Kuwait's 83-year-old Emir nominates 80-year-old Crown Prince (Oct 2020)
GCC blockade 3 years on: Qatar is best for those who doubt the GCC can diversify (June 2020)