We took part on 6 July in a Menas Associates webinar on Kenya's upcoming elections. Keynote speaker Andrea Bohnstedt's detailed analysis of Kenya's political backdrop affirmed our view that there is unlikely to be a large policy divergence between the two candidates, with platforms driven more by personality than policy, but that Deputy President Ruto will likely be more willing to take the tough economic decisions required to avoid a debt restructuring.
We presented our views on Kenya's macro outlook, which we have covered in detail of late (see the Related reading, below, for our recent research). In short, Kenya's large external financing needs and loss of market access will require fresh sources of financing and further exchange rate depreciation to avoid a balance of payments crisis, and the new administration will need to meet its IMF-backed fiscal consolidation targets to avoid a debt crisis as lenders are no longer willing to tolerate slippage.
That said, while Kenya is at a high risk of debt distress if global financial conditions continue to tighten and/or its IMF-backed reform programme falls off track, it has more runway than some of its peers (like Pakistan and Tunisia, in our view) and still has a lower debt burden (c67% of GDP) and higher reserve buffers (c4 months of goods and services imports and c90% of gross external financing needs for 2022) than recent distress cases like Sri Lanka and Zambia did when they defaulted.
From lows of below 6% and 3%, respectively, in 2021, yields on Kenya's 10-year and 2-year eurobonds have now risen to 13.5% and 17.25%, respectively, as of cob on 6 July, an eye-watering increase given a broadly unchanged domestic fundamental backdrop. The spread of Bloomberg's Kenya Sovereign index has now widened by 605bps ytd versus the Bloomberg Aggregate, and, with the risk of distress now being heavily priced in, we think Kenya's eurobonds offer a pocket of value against a difficult EM backdrop.
We retain our Buy recommendation on Kenyan eurobonds at US$70.6 (13.46% YTM) for the KENINT 8 05/22/2032s on a mid-basis as of cob on 6 July on Bloomberg.
Click here for a link to the full webinar, and on the "Download full report" button for our portion of the slide deck, which summarises Kenya's macro outlook in 13 charts.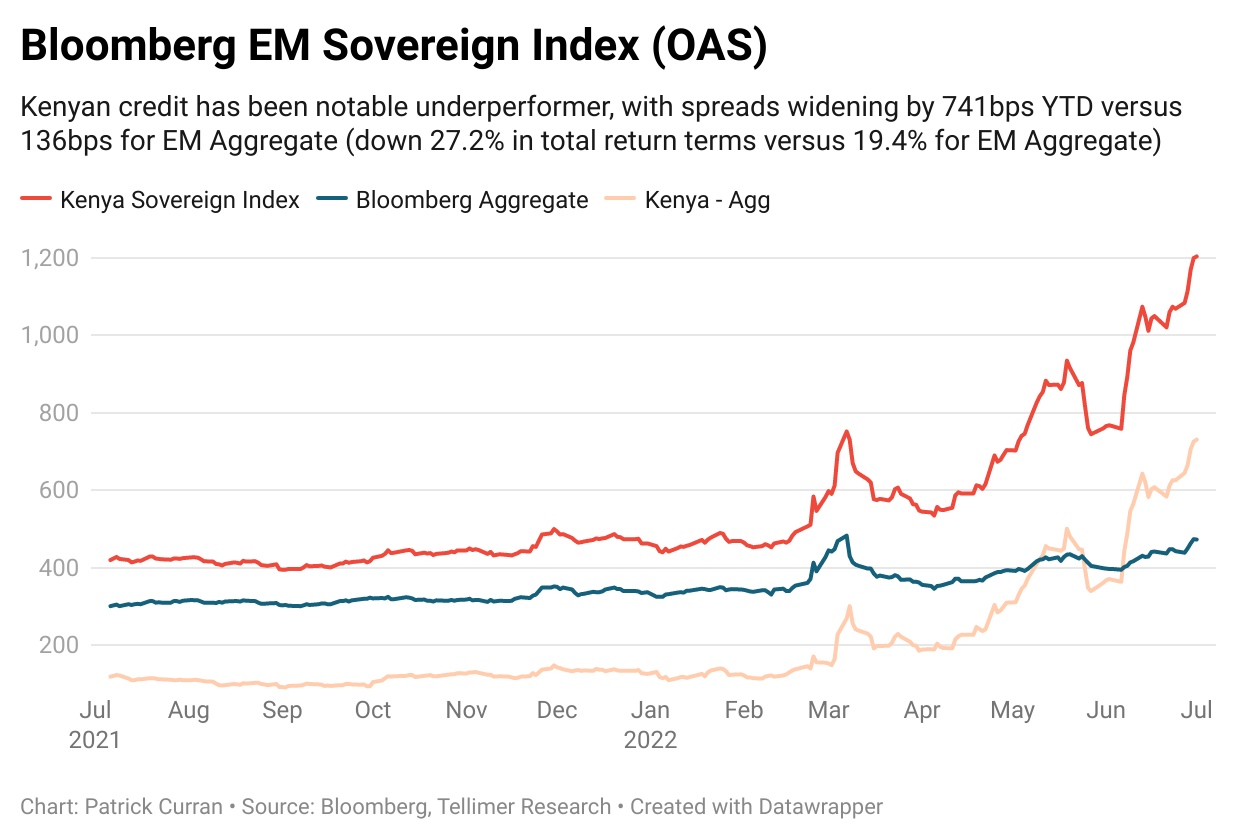 Related reading
Kenya: Debt restructuring and debt ceiling comments spark concern, June 2022
Kenya's sell-off has created a Buy opportunity, May 2022
Kenya budget: Still on track, but margin for error continues to shrink, June 2021
Kenya: First IMF review points to positive reform momentum, May 2021
Kenya constitutional reform builds and burns bridges, May 2021 (Malik)
Kenya: IMF program boosts prospects, February 2021
Kenya: Bad politics versus good valuations as divided parliament restarts, February 2021 (Malik)
Kenya seeks IMF funding and possible debt relief, November 2020
Kenya politics: Chief justice advice to dissolve Parliament adds to our caution, September 2020 (Malik)
Kenya budget: Ambitious targets, but can they deliver?, June 2020