Kazakhstan's foreign bonds dropped this week in response to the authorities' efforts to clamp down on widespread protests after the government removed a cap on fuel prices in the new year, a response that has included bringing in Russia troops (under the umbrella of the Russian-led regional security alliance, the Collective Security Treaty Organisation ) to help restore public order.
Although the lifting of the price cap was reversed quite quickly, the protests have morphed into anti-government demonstrations, reflecting deeper-seated grievances about corruption, authoritarianism and declining living standards.
There are wider implications of the protests and the leadership's response to them (some of which my colleague Hasnain Malik has addressed here), the inevitable question for fixed income investors is whether the bonds have over-reacted and opened up a pocket of value or have further to fall? The honest answer is that it is still too early, and too fluid a situation, to say, but we outline some initial thoughts here.
Political implications
In the near term, the questions are how long the protests will last and how far the authorities will go to stop them. The longer they go on, the next question is how severe will be the economic impact of any resulting disruption.
A statement reported in the media earlier today from President Kassym-Jomart Tokayev saying that order has been largely restored may have been met with some degree of cautious optimism, but subsequent 'shoot to kill' instructions mark a disturbing turn of events. In any case, the cat is out of the bag and, absent material political reforms (which do not appear likely), it won't be so easy to assuage public frustration. Hence, protests could continue and a security crackdown could illicit a stronger international response from the West, ultimately leading to sanctions (although this seems some way off at this stage – recall, while it was only several weeks before the West imposed limited sanctions on Belarus, the wider and harsher sanctions took several months).
Over the medium term, the issue will be what it means for governance, stability and succession in Kazakhstan, and ultimately, whether it makes a path towards greater democratic accountability more or less likely. While the Nazarbayev-era may finally be coming to an end (if it wasn't at an end already), any hopes that this might pave the way for greater political freedoms seem to have been shattered. In fact, it appears to be the opposite, perhaps cemented by President Tokayev's decision to call for Russia's help. It also perhaps cements the succession to Tokayev. Moreover, investors will worry whether this could also lead to a stalling or reversal of economic reforms.
Events may have also contrived to bring Kazakhstan more closely, or directly, into Moscow's orbit (if it ever left). We don't think Kazakhstan was pivoting away from Russia, like Ukraine and Georgia have, or Belarus tried, but this makes that even more unlikely now, under their current respective leaderships (although perhaps at the same time this will add to the grievances of those that were more western leaning). Bringing in Russian troops does not appear to be a good sign, and the fear is they may stay for some time. It may be difficult to get rid of them now, or else Putin will extract a price for it.
This will also bring to mind ESG-considerations, although arguably we haven't seen bondholders exit worse situations elsewhere en masse, so we may not expect them to do so here. Yet.
Ability to pay remains strong
For bondholders, despite the worsening situation on the ground, ability to pay remains strong. Kazakhstan's credit metrics are favourable, evident in its IG rating (Baa2/BBB-/BBB). Public debt is low (25% of GDP on IMF figures – so around US$49bn) while external liquidity is strong. Kazakhstan scores favourably on our External Liquidity Scorecard.
Although foreign currency reserves were only US$12bn in November 2021 (according to central bank figures), around three months of imports of goods and services, total reserves including gold were US$35.5bn (over nine months import cover). Add in another US$55bn in savings in the National Fund, and reserves amount to 47% of GDP (we exclude assets in the sovereign wealth fund Samruk Kazyna, where there may be greater uncertainty about their liquidity). This means Kazakhstan's net public debt is negative, and it's a public external creditor.
Foreign bonds (in US$ and EUR) amount to US$9bn (equivalent), comprising the bulk (c50%) of public external debt, with annual interest of only US$370mn (equivalent), and a fairly favourable debt service profile in the near term. The next amortisation is a modest EUR525mn in 2023, although repayments pick up a lot over 2024-25 when two big US$ bonds fall due.
In addition, so long as Kazakhstan is able to continue producing and exporting oil (ie this is not subject to sabotage, labour shortages or sanctions), the main driver of its economy and source of FX (c55% of exports), any disruption to domestic activity should have limited impact on its earnings capacity.
Financing needs should also be modest. The IMF projected a fiscal deficit of 3% of GDP in 2021, narrowing to 1.5% in 2022, after ballooning to 7% in 2020 due to the pandemic. A 1.5% deficit would amount to just US$3bn, which would seem manageable (although we don't know the overall financing requirement including amortisation). Even holding the deficit unchanged this year at 3% is only US$6bn. That would seem manageable too, although it would begin to put more pressure on own resources and the domestic market if one assumes IFI financing becomes more restrictive and there is less appetite from bondholders for a new issue (prevailing yields may not indicate the market is closed, but any sale now would take place under difficult circumstances). Any hope to return to the market this year as part of the authorities' 2022 financing plans, if that was intended, may now therefore be dented.
Lack of external financing, and non-resident inflows into the local debt market (foreigners held 13.5% of central bank tenge debt on 10 December), however, also pose risks to inflation (8.4% yoy in December) and the exchange rate. The central bank (NBK) began its post-Covid tightening cycle in July 2021, and has since increased its policy rate by a total of 75bps to 9.75%, with the last increase coming in October. Any political interference in monetary policy to satisfy short-term political goals would be negative for market confidence. Growth could also slow due to the unrest and political uncertainty, especially if it hits oil exports. The IMF WEO projected real GDP growth to pick up this year to 3.9% from 3.3% in 2021.
Investment implications
KAZAKS dollar bonds have weakened this week, with the 25s down 2pts (yield +50bps to 1.9%, spread +34bps to 79bps), and the 44s down 5pts (yield +30bps to 3.7%, spread +11bps to 206bps), on a mid-price basis on Bloomberg as of cob 6 January, although the 44s recovered a point this morning on the back of news that public order has been restored (although exactly how comforting that is is not clear to us and any recovery may be short-lived after the subsequent shoot to kill order).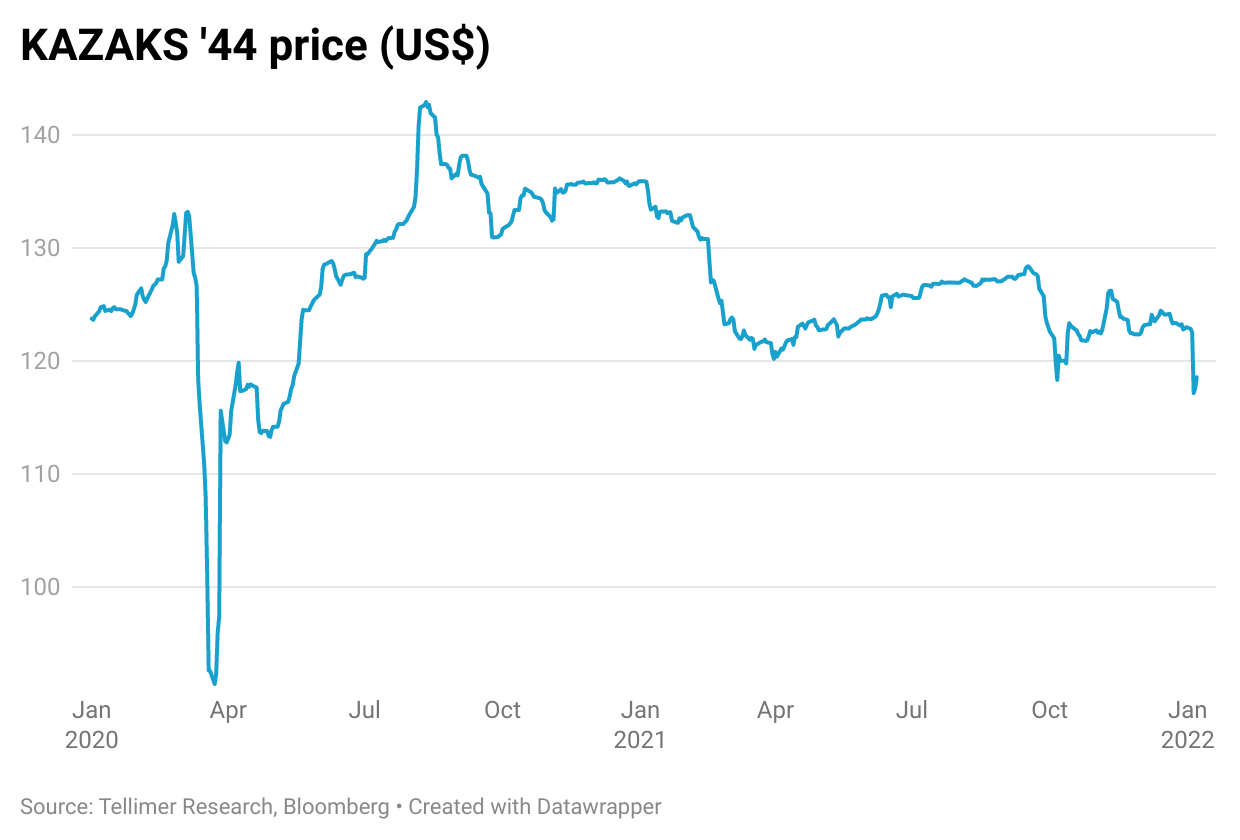 But there might be two recent regional parallels – Belarus and the Armenia-Azerbaijan conflict – both of which could suggest the impact on KAZAKS sovereign yields could be limited.
While the catalyst for Belarus was different (a stolen election in August 2020), the result – pent up frustration with the status quo and the government's response to protests in the form of a brutal crackdown – is similar. But it took time for Belarus bonds to react, and when they did that was more to do with international (US/EU) sanctions than anything else. The 2031 bonds fell 20pts last year and yields have risen to near 10% (from 6%), a two-thirds increase in yields. While the starting point for KAZAKS yields is different (much lower), the same proportionate rise would see yields on the '44s rise to c5.5% (duration difference notwithstanding), but without sanctions, one might expect the rise in KAZAKS yields to be better contained.
The Armenia-Azerbaijan situation was different, with war over September-November 2020, but our point is that even in war, albeit short-lived, the bonds didn't weaken by that much. Of the two, stronger-rated Azerbaijan (Ba2/BB+/BB+ at the time) widened by 100bps (on the 24s) while lower-rated Armenia (Ba3/-/BB- at the time) widened by 200bps (on the '25s), and both quickly recovered those losses after the end of the conflict. Kazakhstan is better rated than either of them, but if we assume a 100bps move in spread on the 25s (and we've already had 30bps of it), that would see spreads of c145bps (yield 2.6%), and a price of US$108, which is 2-3pts below current prices.
However, one potential difference with both of these is that the Kazakhstan sovereign bond stock is bigger and likely more widely held, and perhaps therefore more susceptible to selling pressure. We suspect there were sticky holders in the case of the smaller Belarus bonds for example that limited the initial market impact.
We assign a Sell to KAZAKS eurobonds. On balance, while we think ability to pay is strong, and that could contain yields (yields didn't rise much in Belarus initially, and Kazakhstan's credit metrics are much better than Belarus), risks are now elevated and we think further downside is likely, especially if ratings begin to come under pressure (and especially if this means losing IG status) and/or due to the prospect of international sanctions. At 1.5-4% yields, we don't think investors are really being compensated for the risks. And the experience of Belarus suggests it is hard to see how such a situation will be resolved quickly, cleanly and peacefully as leaders dig their heels in with foreign (Russia) backing.