The unexpected and last-minute withdrawal of Ant Group's IPO last year, allied to the mysterious disappearance until recently of founder and principal shareholderJack Ma, raises several big questions regarding the regulatory policy space and what this means for entrepreneurs, investors and the broader fintech ecosystem in China.
In this report, we dig into Ant's CreditTech lending business, consider what changes may be required to comply with the new regulations and assess the impact these could have on the firm's profitability and growth outlook. We gauge possible knock-on implications for Alibaba's operations and look into the ramifications for the broader China fintech scene.
We conclude:
The capital intensity of the CreditTech business will rise substantially; its profitability and growth potential will likely collapse.

Ant Group's valuation could potentially halve; splitting the business into two could prove more appealing to investors.

Alibaba could also suffer as synergies with Ant are weakened, and as the IPO pipeline for its non-core investments is delayed.

Funding flows to Chinese fintechs could fall due to regulatory uncertainty, particularly to lending-focused firms.
Regulatory changes are coming for Chinese fintechs
Although there is still a lot of uncertainty, recent pronouncements suggest there are two main areas of regulator focus: preventing abuse of market power, and safeguarding consumers. To this end, we are likely to see further action to prevent monopolies, weaken commercial alliances, enhance data protection and banish predatory pricing.
Our recent regulatory survey suggests Chinese fintechs are currently more worried about capital requirements and deposit insurance rules — fintechs elsewhere have a greater sensitivity to consumer/data protection regulations. We could see the latter area become more important for Chinese fintechs as the new regulations are introduced.
Concerning the Ant Group IPO, the main catalyst for suspending the transaction related to the CreditTech division. New regulations indicate that online lenders must fund at least 30% of loans through their own capital. Other restrictions include microlenders needing to secure regulator permission to operate outside their provincial region and loan caps (limited to the lower of RMB300,000 for individuals and RMB1mn for corporates).
More recently, the regulator has suggested that Ant Group should return to its payments roots. We think this would be highly damaging to the business; payments is the most mature area of activity for Ant (and potentially subject to anti-monopoly legislation – see below), and restrictions on cross-selling other products would reduce customer loyalty and profitability.
Other, less well-defined restrictions include actions to limit the ability of corporations to form monopolies, and restrictions on data sharing, corporate alliances and predatory pricing. These could potentially weaken Ant Group's relationship with Alibaba, and hamper Alibaba's efforts to incubate other possibly valuable tech-based businesses.
We think Ant's digital payments activities (where it has 55% market share), together with those of Tencent (c40% share), could also attract regulatory scrutiny due to the dominant position of both firms. Both companies might need to demonstrate that they are not abusing their market positions, and/or open up their networks to other providers. 
Implications for Ant Group
The main area where the new regulations could have an impact is the CreditTech business; currently, this is the biggest revenue generator for the group.
CreditTech is likely the biggest profit generator also. We think the growing contribution of this business is one of the main reasons why the group's profit margin has been on an improving trend.
Although other regulatory potential changes are currently ill-defined, we think there could also be negative implications for Ant Group's other activities. In particular, regulators could take aim at Ant's dominant position in the China digital payments space, while restrictions could also be placed on the firm's ability to cross-sell insurance and investment products if the regulator believes that the firm is abusing its market power. For investors, we believe these changes will have a profoundly negative impact on the valuation they are willing to assign to the business.
Ant Group's CreditTech current business model is extremely capital efficient and profitable
Ant Group works closely with financial institution partners to make loans available to its customers, focusing on product design, risk selection, loan servicing/monitoring and collection. In contrast, financial institutions play the primary role in credit disbursement and underwriting.
Currently, Ant Group is working with c100 financial institution partners, primarily commercial banks. We think there are two key reasons why these institutions are queuing up to work with Ant.
They gain access to around 1bn retail customers, which is a scale few other businesses enjoy; and

These institutions can deploy capital and earn a high and stable margin.
The interest rates Ant charges its customers have historically hovered around 15%, while its delinquency rates are low (c2% of balances are more than 90 days past due, and 3% are more than 30 days past due). Even after Ant deducts its distribution fee (which we estimate to be 2% of the balance), this product is likely ROE accretive for most partners (the typical ROE of a Chinese commercial bank is just shy of 10%, while the typical ROA is c0.5% and net interest margins tend to be slightly north of 2%).
Due to these attractive characteristics, Ant Group has historically been able to offload 98% of its originated loans (to other banks, as outlined above, or via securitisation and sale to investors as asset-backed securities), limiting the capital-intensity of its lending operations.
CreditTech business will become much less profitable; growth capacity will be constrained
By forcing Ant Group to retain on its own balance sheet 30% of the loans it originates (versus the historical level of c2%), new regulations are likely to have a profound negative impact on the company's profitability, its growth potential and its valuation. We look at each of these aspects in turn.
Regarding profitability, the c15x increase in the size of the CreditTech division's balance sheet will put a big dent into key profitability measures, particularly if we also take into account that the business will now be more exposed to the credit risk of the loans it originates. Nevertheless, we think Ant Group's lending business will remain significantly more profitable than its traditional banking peers; the 70% of the lending business that will continue to be off-balance sheet will retain its attractive features.
The significantly greater capital intensity of Ant's lending operations would also likely slow that activity's growth potential; we estimate by around two-thirds. At the group level, this would more than halve the overall growth potential of the business, even if the growth of other divisions were unaffected.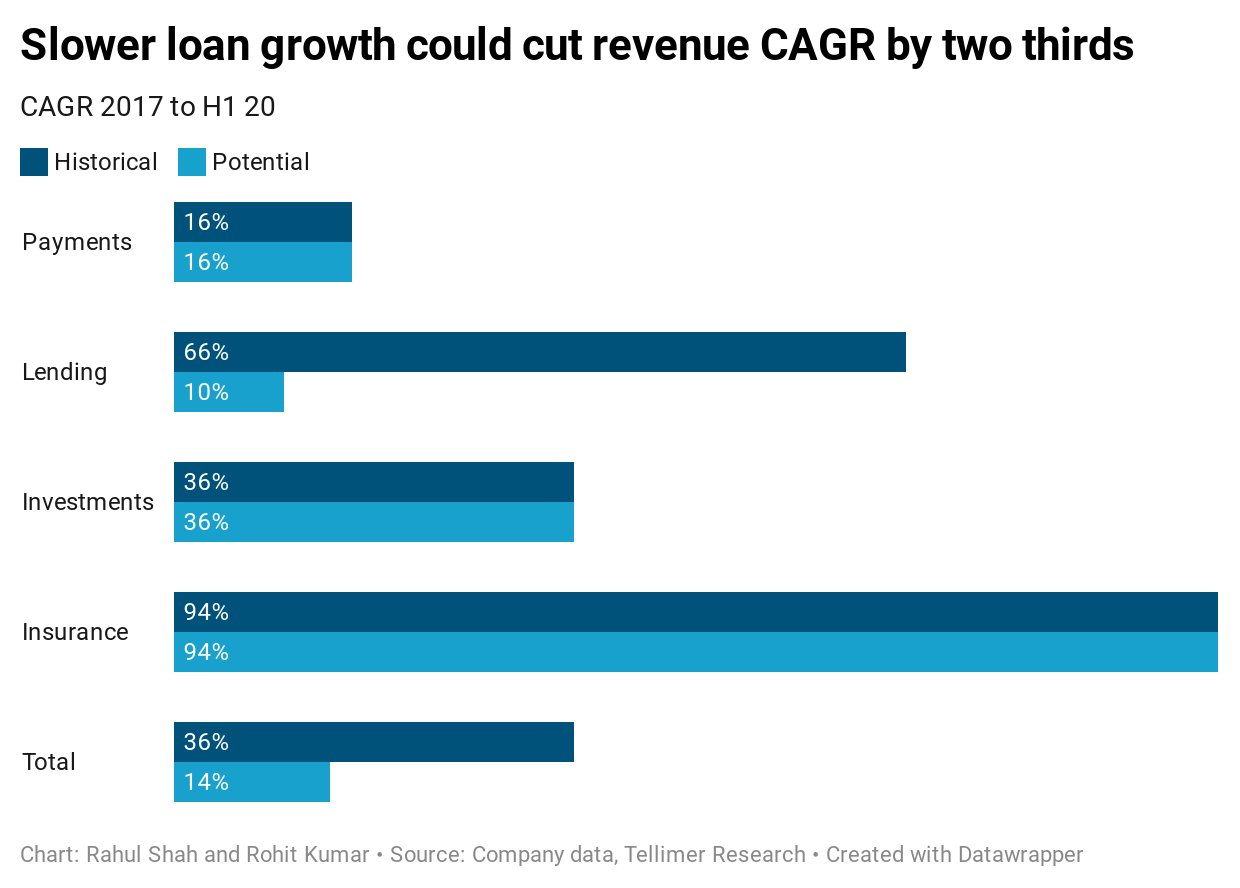 Based on our global survey of 31 lending-focused fintechs, we note that regulations relating to funding and capital are typically the second most important growth constraint they face (after overall market dynamics).
The lower profitability and slower growth potential of the lending business is likely to have a profound impact on Ant Group's valuation. Applying a trailing PE of 5 or 10x to the lending business (Chinese banks currently trade at c5x PE), and a 50x multiple to the rest of the business would roughly halve the firm's valuation relative to pre-IPO valuation estimates of cUS$300bn+.
Note that investors could still be willing to apply a higher multiple to Ant's Creditech business than traditional banks, given that the former would still be offloading c70% of its lending to third parties. However, given the potential threats to the other parts of Ant's business, we think this is an appropriate assessment of the scale of the regulatory threat to Ant Group's valuation.
Splitting Ant in two could help minimise investors' application of a conglomerate discount 
Under the new regulatory framework, Ant Group basically has one capital intensive arm (Creditech), and one capital-lite arm (such as payments, and any other parts of the business that escape significant additional regulatory intervention). The sharply different characteristics of these two arms means that, as a combined entity, the business would likely have a sub-optimal profile to the vast majority of potential investors, who would therefore demand a discount to the valuation. But, by splitting into two, one arm could appeal to value-oriented investors, and the other to growth-seeking investors. We estimate CreditTech accounts for slightly above 5% of the valuation of the combined entity under the new regulatory regime, versus close to half previously.
Could Ant Group's other activities also face greater regulatory scrutiny?
In its insurance and investments businesses, Ant Group is largely following a similar model to the one it uses in its lending operations: it acts primarily as a distributor and designer of products, while the product itself sits on the balance sheet of regulated partner firms.
If the regulator sees some systemic issues with this business model, then Ant's approach to these product lines could also be forced to change. 
Another area of risk relates to how Ant cross-sells its various products. The regulator appears keen to prevent the creation of monopolies; it could force Ant to provide customers easier access to third-party providers, for example. It is also likely to take a close look at the firm's payments business, which, together with Tencent's WeChat Pay, dominates the digital payments space in China. The aim of this review is likely to centre on whether these firms are abusing their dominant market positions to the detriment of consumers.
The regulator also seems concerned about the impact of alliances on consumer choice. This could affect Ant Group's ability to benefit from its close relationship with Alibaba, as we highlight below.
Alibaba will likely be hurt in two ways; core operations and incubated investments
Alibaba's core e-commerce business is highly dependent on effective execution by Alipay, Ant Group's payments arm, but is also strongly supported by Ant Group's lending activities (which help boost spending through Alibaba's platform), insurance products (which help lower transaction barriers, for example by covering the cost of returns shipments) and even its investment arm (Ant's investment products can typically be readily liquidated, releasing cash for purchases).
We have already outlined how the new regulations will dampen Ant's lending appetite. But we think regulators will also look to weaken alliances between commercial entities, as these may be viewed as stifling competition and building up systemic risk. Accordingly, the utility of Ant's other products to Alibaba could also become diminished.
Ant Group's product suite helps Alibaba grow its sales
Source: Company data, Tellimer Research
A further issue relates to Alibaba's extensive stable of non-core businesses. Ant Group is arguably the first and largest of these, but other businesses could also become extremely valuable over time.
A less favourable regulatory environment could make exiting these investments and crystallising their value more difficult for Alibaba. Other elements of recent regulatory soundings, such as a desire to crack-down on predatory pricing, could also limit Alibaba's ability to convert these investments into industry leaders by subsidising these businesses via the e-commerce cash cow.
Harsher rules and greater regulatory uncertainty will likely hit China fintech investment flows
To date, China counts as one of the major fintech success stories. Of the 63 fintech unicorns identified by the Hurun Research Institute in August 2020, 29% of them were in China. If we consider the valuation of these companies (based on their most recent funding rounds), Chinese fintechs would account for 60% of the global pie, including four of the 10 most valuable firms (Ant, Lufax, WeBank and Suning Finance).
This data suggests investors in the biggest Chinese fintechs have enjoyed outsized returns, given that funding and deal flow in the country has typically averaged just 7% of the global total, according to Pitchbook data.
However, the potential ramifications of new regulations, as outlined above, and the current environment of heightened uncertainty, will likely stem investor enthusiasm. Our adjusted valuation range for Ant Group is broadly in line with the last VC funding round, which valued the firm at US$150bn). Another high-profile fintech, Lufax, was able to successfully list its shares last month. However, its current market capitalisation of US$38bn is also in line with that firm's last VC funding round. Accordingly, such early-stage investors could take the view that the era of outsized returns from China fintech investment has ended and therefore focus their attention elsewhere.
Our own Chinese consumer survey indicates that fintechs have already established a good level of awareness and usage (37% unweighted market share, versus 24% as the global EM average); consequently, consumers believe their usage of fintech products will increase by only 4% points (versus a 12% rise projected in our global EM consumer survey). This suggests the growth outlook for Chinese fintech firms will be more modest than elsewhere in EM.