Insurance-focused fintechs (insurtechs) account for just 6% of the global emerging markets fintech ecosystem, making them one of the smallest product areas.
In our previous (2020) survey, insurtechs commanded a 7% share of the ecosystem. The drop in share reflects more limited investor appetite relative to other parts of the fintech landscape.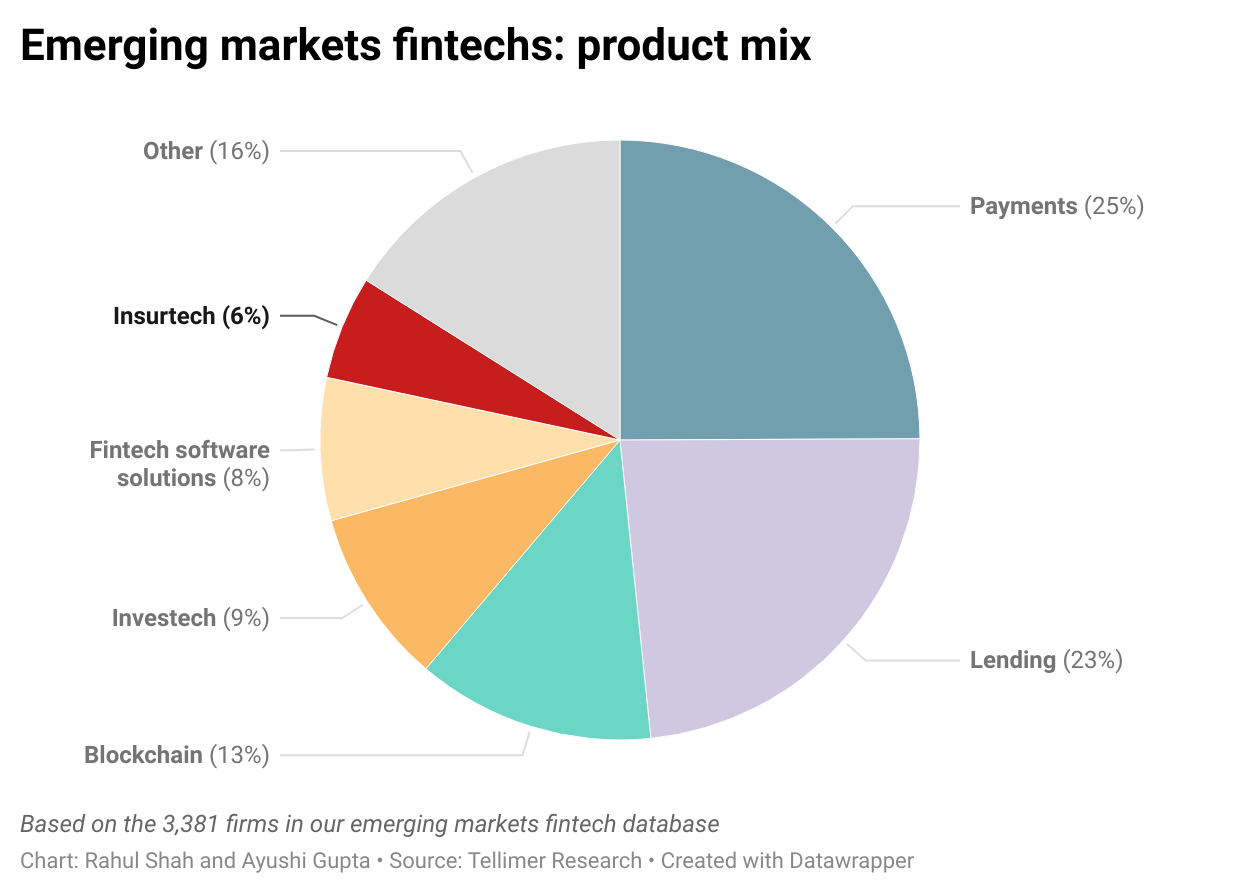 Insurtechs are most prevalent in South Africa and have the weakest presence in India
At 14%, South Africa's weight of insurtech firms is more than double the global average. The weight of insurtechs in Kenya has increased the most since our previous (2020) survey, rising 3ppts points to 9% of the local ecosystem.
In contrast, insurtechs in India have seen their share of the total ecosystem collapse to 3%. This may reflect the power of sector leaders such as PB Fintech (Policybazaar). The poor performance of listed players in this space may also have starved the sector of fresh growth capital.
Despite lagging user growth, insurtechs have delivered at the top line
In comparison with other EM fintech products, insurtech has seen lagging user growth but superior average revenue growth. Unusually, insurtechs have been able to deliver positive ARPU growth.
Insurtech market share is expected to materially increase
We asked 900 emerging market adults to outline their current and projected usage of financial products. The results below combine responses relating to both general and life insurance.
Insurtechs, according to the unweighted responses of our sampled consumers, are expected to gain around 8ppts in market share over the next three years, mainly by reducing the incidence of financial exclusion.
Traditional financial institutions and informal channels are expected to maintain their market share over the next few years.
Unprofitable insurtechs could take longer to break-even
At 60%, the proportion of profitable insurtechs matches that of the broader global EM fintech ecosystem. However, for loss-making insurtechs, their path to profitability appears more convoluted than unprofitable fintechs focusing on other products.
7% of the insurtechs believe that they will take more than three years to turn a profit, which is more than 3x the proportion for the full EM fintech universe.
Our Ultimate Guide to Insurance-focused Fintechs gives a more comprehensive overview of the sector and can be accessed here.