We initiate coverage on GoTo with a Sell recommendation and a target price of IDR221, implying 34% downside.
GoTo is an ASEAN tech company, headquartered in Indonesia, that is the product of the merger between Gojek and Tokopedia in 2021. It provides e-commerce, ride-sharing and fintech, and has 2.5mn drivers on its ride-hailing platform in Indonesia, 12mn merchants on its e-commerce network, as well as 100mn users.
We think the stock is overvalued:
GoTo is a cash-burning machine.  We expect GoTo to generate FCF losses of IDR39,380bn in FY 22-24. There is no realistic prospect of FCF positivity, in our view. Indeed, total FCF losses will actually increase by IDR29,788bn in FY 21-23, due to the intense working capital requirements.

GoTo has US$2.2bn in net cash after the IPO. We expect FCF losses of IDR21,258bn (US$1.5bn) and IDR8,530bn (US$0.6bn) in FY22 and FY23, respectively. GoTo's cash will be depleted by FY23, at the current burn rate. In contrast, Grab has US$6.8bn in net cash, which will fund its cash burn for at least another six years, while Sea Ltd has enough cash to fund a decade of cash burn. GoTo seems likely to run out of steam in the three-way ASEAN tech slugfest.

GoTo has been priced 37% higher than Grab's valuation in terms of EV/GMV. And in terms of EV/Sales, GoTo has been priced 1.27 times higher than Grab.

Bukalapak, the most recent high-profile Indonesian tech IPO, has lost 56% of its value since its listing in late 2021. GoTo's pricing seems to have followed the same extravagant methodology, which is potentially detrimental to investors.

We value GoTo at IDR221 per share using a SOTP methodology, implying 34% downside.
How do we stack up?
There are 5 Buys and 2 Sells on Bloomberg for GoTo.
Our revenue forecasts for FY22 are 11% above consensus:
GoTo's frailties
Endemic losses
GoTo does not have a pathway to profitability, in our view.
Although we expect GoTo to generate revenue growth in each of its segments, the high operating expenses and heavy capex will ensure operating losses until FY28.
A cash-burning machine
GoTo is a cash-burning machine. In order to maintain its market share, GoTo will have to expand heavily. The burden of funding heavy operating expenses and capex may deplete the IPO proceeds.
GoTo is the worst-funded in the ASEAN tech slugfest
There is a three-way battle for supremacy in ASEAN between GoTo, Grab and Sea Ltd. And Bukalapak presents domestic competition in Indonesia. 
Indonesian digital industry dynamics
Largest e-commerce economy in South East Asia
Indonesia has the largest digital economy in Southeast Asia with c40% of the total regional market share. It is home to four 'unicorns': 1) GoTo (On-Demand Services, FinTech, and E-Commerce); 2) Bukalapak (e-commerce); 3) Traveloka (ticketing); 4) and OVO (digital payments).
Untapped potential
The digital industry in the Southeast Asia region had long been an untapped market, but it now has a total of 440mn internet users, with 80mn new users in the past two years.
In 2020 alone, 40mn new users joined the internet, with 70% of the total population having access to online platforms. Online consumption was further accelerated due to Covid-19, with education, groceries, and lending sectors being the key beneficiaries.
Exponential growth prospect
The Southeast Asia internet economy is expected to achieve a GMV of US$363bn in 2025, rising at a CAGR of 20%.
Indonesia is the largest economy in Southeast Asia
The Indonesian digital economy is expected to have a GMV value of US$70bn as of 2021. The industry forecast suggests that a CAGR of 20% will lead the industry to a GMV of US$146bn in 2025.
The country has a population of 271mn, with 56% of the new consumers of digital services in 2020 belonging from non-metro areas.
The Internet economy in Indonesia has been heating up in recent quarters, as the deal activity in H1 21 has surpassed the deal values in each of the past four years
In 2021, the e-commerce industry in Indonesia grew 52% yoy (from US$35bn to US$53bn).
The digital space grew at an astounding rate during the pandemic, with 37% of total internet consumers in 2020 being new users.
In 2020, e-commerce and online media posted positive figures. These two sectors were able to drive the overall GMV upwards.
There is sufficient room for further growth in the digital economy space, with EdTech and HealthTech emerging amid the Covid-19 lockdowns and representing future growth possibilities.
Competitive landscape
The major players in the Indonesian e-commerce industry include: Shopee (37% market share), Tokopedia (35%), Lazada (11%), Bukalapak (7%), and Blibli (3%).
Shopee, the e-commerce arm of Sea Ltd, a Singaporean multinational company launched in 2015 with expanded operations in Malaysia, Thailand, Taiwan, Indonesia, Vietnam and the Philippines, has the leading market share.

Tokopedia, a local Indonesian e-commerce marketplace launched in 2009, has the second-largest share. The company merged with Gojek in 2021 to form the GoTo Group, and has now exposure to various segments including on-demand services, finTech, and e-commerce.

Lazada was founded in 2012, and was later acquired by the Alibaba Group in 2016. The platform actively operates in Indonesia, Malaysia, Philippines, Singapore, Thailand and Vietnam, and has the third-largest share in Indonesia.

Bukalapak is a local Indonesian platform that was founded in 2010. The platform has engaged with millions of Warungs – the small family-owned businesses such as stalls, shops and restaurants – enabling them to gain exposure to online services. The platform has 6.6mn online sellers, 8.7mn Mitra Bukalapak, and more than 100mn users. The company offers multiple services, including a B2B procurement line named Buka Pengadaan Indonesia, and Buka Investasi Bersama, a digital-based mutual fund selling agent.
Valuation
SOTP
Sum of the parts is our principal valuation methodology. We have used EV/GMV and Price/TPV multiples as our SOTP basis. The following tables present our target price based on this methodology and a comparison with peer companies in the e-commerce industry.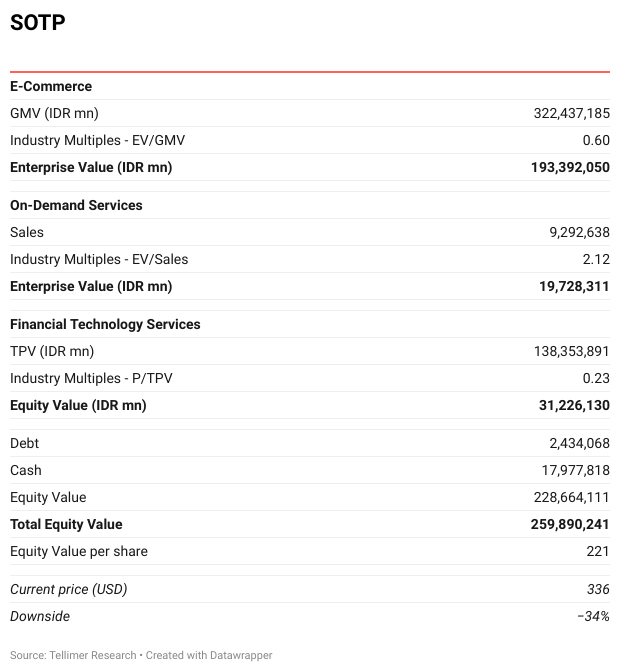 DCF
We use a DCF valuation methodology as another yardstick. We assume an equity risk premium of 6.12%.
We assume a risk-free rate of 6.96% and a beta of 1 to arrive at a cost of equity of 13.08%. This leads us to a WACC of 11.44%.
Our valuation assumes a terminal growth rate of 5% into perpetuity.
Using this method, we arrive at a fair value of IDR137, implying 59% downside.
Forecasts and assumptions
Revenue drivers
GoTo has three revenue streams:
On-demand services are the company's biggest revenue contributor. The segment includes logistics services in the food delivery and ride-hailing businesses. The platform serves as an intermediary between sellers, traders and customers.

E-commerce refers to the revenue generated by the Tokopedia platform. The revenue is primarily derived from commissions generated from sales by merchants on the marketplace platform.

Financial technology services revenues are mainly driven by services such as e-money, loans, payment gateways and POS software subscriptions. The company charges a take rate or a certain percentage of interest depending upon the service.
The revenue breakdown is provided below:
Gross Transaction Value (GTV) is a metric that indicates the IDR or USD of the transactions that go through the GoTo platform. It is non-GAAP metric.
GTV is inclusive of:
Total transaction value from on-demand services.
Products and services in the e-commerce platform.
Total payment volume in the DFS segment.
Net revenue is recorded as gross revenue net of consideration payable to customers. This is under IFRS 15 / PSAK 72.
Take-rate
Take-rate is the fee charged by the platform. We assume the take rate averages 19% for on-demand services, 2.59% for e-commerce and 0.54% for financial technology services in FY21-23.
Cost of sales
This is the direct cost of GoTo's services. It includes delivery costs, merchant fees and payment processing fees.
Operating expenses
Operating expenses include sales and marketing, general & administration, product development, and operational & support expenses. We assume operating expenses to increase 71% in FY21 and normalise.
Operating margins
Operating margins for FY20 were -306%. We expect the operating margins to reach -41% by FY25.
Dividends
GoTo has not paid any dividend in the past three years, and we assume no dividend payout in the forecast period.
Capital expenditure
We assume capital expenditure to be 9% of revenue in FY22, due to the capital-intensive nature of the business.
Working capital requirements
GoTo has been in a negative cash conversion cycle. We assume this will continue over the forecast period.
Balance sheet and gearing
The debt profile of the company mainly consists of non-bank loans and short-term borrowings. The breakdown of the entire financial liabilities of IDR2,670bn is detailed below.
Risk analysis
Lack of logistics network
GoTo relies on third-party logistics partners, where the warehouse is primarily owned by the FMCG or wholesaler. This strategy does come with benefits in terms of lower capital requirements and operating costs. However, lack of communication, increased dependency and limited visibility of logistics operations may lead to restricted visibility of demand from consumers.
The negative cash conversion cycle
GoTo's cash conversion cycle in 2020 was negative, at -57 days. A drop in payables could increase the company's working capital requirement, leading to higher interest expenses.
Highly competitive and evolving environment
The Indonesian market is concentrated, with giants like Shopee, Grab and Bukalapak. Competition in Indonesia's e-commerce market will only intensify.
Risks to our Sell recommendation
GoTo may pursue a parallel listing on the Nasdaq. This would provide it with further funding.

GoTo may spinoff its digital financial services business. This would raise cash and relieve the cash burn.
Company overview
PT GoTo Gojek Tokopedia Tbd ("GoTo) is an Indonesian-headquartered tech company. It was formed in 2021 as a merger between Indonesia's largest two startups – Gojek and Tokopedia. GoTo's revenue represents 2% of Indonesia's GDP.
Gojek started in 2010 as a call centre to provide transport and delivery services. Tokopedia was established in 2009 as an e-commerce company.
The two companies have been collaborating since 2015, and after merging in May 2021 the combined entity had 100mn active users, 11mn merchants, and 2mn drivers.
GoTo comprises three business arms: Gojek, GoTo Financial and Tokopedia:
Gojek
Gojek is a ride-hailing platform that operates in Indonesia and some other ASEAN countries. Kevin Aluwi is the company's CEO and he has said it was "founded on the realisation that we could better utilise the informal sector to reduce life's daily frictions for people in Indonesia".
Tokopedia
Tokopedia is one of Indonesia's leading e-commerce platforms. William Tanuwijaya is the CEO.
GoTo Financial
GoTo Financial provides services such as GoPay, GoSure, GoInvestasti, GoPayLater, Midtrans and Moka. Andre Soelistyo is GoTo Financial's CEO, in addition to the CEO of GoTo.
Company dynamics
Dominant tech group in Indonesia: GoTo is an Indonesian tech ecosystem that includes e-commerce, ride-hailing and digital financial services. It operates three platforms:

Tokopedia

GoTo financial services

Strong synergy in the ecosystem: GoTo has the ability to generate synergies between its three segments. This means that GoTo is in pole position to emerge as the super app of Indonesia.

In-house core technology and data competitive edge.

GoTo's distinct technology provides it with an advantage:

GoTo works with Google Cloud as a technology partner.

GoTo employs customer data technology.

GoTo has customised AI and ML technology to the needs of its Indonesian platform.

Digital financial services leader: GoTo has stolen a march over its competitors in digital financial services by leveraging its market leadership in ride-hailing and e-commerce.

Go-Pay is the most popular digital payment service in Indonesia. It has 150mn users in the country.
Key offerings
Management and shareholding structure
Shareholding Structure
GoTo's major shareholders include Taobao China, SVF GT, and PT Saham.
Financial Statements
Profit and loss statement
Balance sheet
Cash flow statement