Talking points:
International
The US yield curve deepened its inversion yesterday, as a hawkish Fed kept front-end yields anchored, while the miss for US retail sales dragged longer-dated yields lower. This pattern could persist over the near term as the Fed's stance on monetary policy will keep front-end yields elevated, while the economic data should continue to show a deterioration in the US's resilience. The 2v10 spread is currently trading near 77bp, but we have seen it dip below 80bp in recent days, and with the current macroeconomic conditions, it is likely that it will return to levels or even invert further.
Africa
Africa: The White House, in a statement, said that American and African firms had reached more than $15bn in new commitments and deals at the summit hosted by President Joe Biden. The commitments cover sustainable energy, health systems, agribusiness, digital connectivity, infrastructure, and finance. The deals come as the US moves to increase its commercial ties with the continent through investments rather than aid.
Benin: The Executive Board of the International Monetary Fund announced that it had completed the first review under a 42-month financing program for Benin, providing the country immediate access to around $144mn. According to the lender, "the program is off to a strong start, with all end-June 2022 performance criteria and indicative targets met and all structural benchmarks implemented." The board's move brings the total disbursements under the blended Extended Fund Facility and Extended Credit Facility arrangements approved in July to about $287mn.
Ivory Coast: Finance Minister Adama Coulibaly, in an interview, said that Ivory Coast is returning to the bond market, seeking to raise 3.1trn CFA francs ($5bn) to finance government operations next year as higher yields continue to deter it from international bond markets. The minister added that the government is targeting interest rates of no more than 5.5%  and that this debt is "part of the mobilization of the budget of 11.6trn CFA francs next year." Funds are set to be raised through public treasury bonds and securities in the West African regional market.
Kenya: The Energy and Petroleum Regulation Authority has held gasoline prices at KES 177.3 per litre ($1.44) in the capital Nairobi after reducing prices in the past two months. Diesel will continue to trade at KES 162 per litre. According to the regulatory authority, the prices will be in place for a month after taking effect. Moreover, the diesel and kerosene prices reflect the impact of subsidies "in order to cushion customers from the otherwise high prices."
Nigeria: The World Bank yesterday cut Nigeria's growth forecast for this year to 3.1% from 3.8% previously. According to the bank, the downward revision was due to slow economic growth in the third quarter from a year earlier, dragged down by the oil sector and a weak performance in other areas. For 2023, growth is expected to slow to 2.9%. The revision to Nigeria's economic growth forecast by the World Bank follows on from the International Monetary Fund, who last month reduced Nigeria's 2022 growth forecast to 3% from 3.4%, citing weak oil production and the adverse effects of recent flooding.
Namibia: Economic growth in Namibia slowed to 4.3% y/y in Q3 from an upwardly revised reading of 6.0% y/y (prior:5.6% y/y) in Q2. The Q3 reading also compared with 5.6% y/y in Q3 of the preceding year. According to Namibia statistics agency, the slow performance was largely attributable to the contractions observed in the sectors of Agriculture and forestry, financial services activities, and public administration and defence. Furthermore, activities slowed in Mining and quarrying and hotels and restaurants. Overall growth in Namibia has slowed for two straight quarters, and downside risks remain amid factors such as tighter global financial conditions and high costs of key import items.
Tunisia: Local reports citing an official with the central bank indicate that Tunisia is set to refile its economic reform plan with the International Monetary Fund next month. The new date for the IMF's board to discuss Tunisia's $1.9bn extended fund facility will also be set within days. The delay is aimed at giving Tunisian officials more time to put the "final touches" on the reform program which had been presented to the lender.
Forex: Currency strength is driving inflation lower in Angola    
While most countries on the continent and globally have experienced high levels of inflation and embarked on aggressive monetary policy tightening, Angola has bucked the trend. Not only has inflation continued to slow in Angola, but this allowed the Bank of Angola to cut rates, going against the global trend. For context, the central bank has cut borrowing costs by 50bps this year on the back of a continued slowdown in inflation.
Fixed Income: Bear flattening bias in the Nigerian bond curve is likely to remain intact
While there are signs of easing price pressures in some parts of Africa, data published on Thursday confirmed that inflation in Nigeria remains robust, underpinning the notion that more rate hikes are in the pipeline. For context, headline inflation in Nigeria accelerated for the 10th straight month in November to 21.5% y/y from 21.1% y/y in October. The November CPI reading came in slightly above consensus expectations for a more modest acceleration to 21.3%.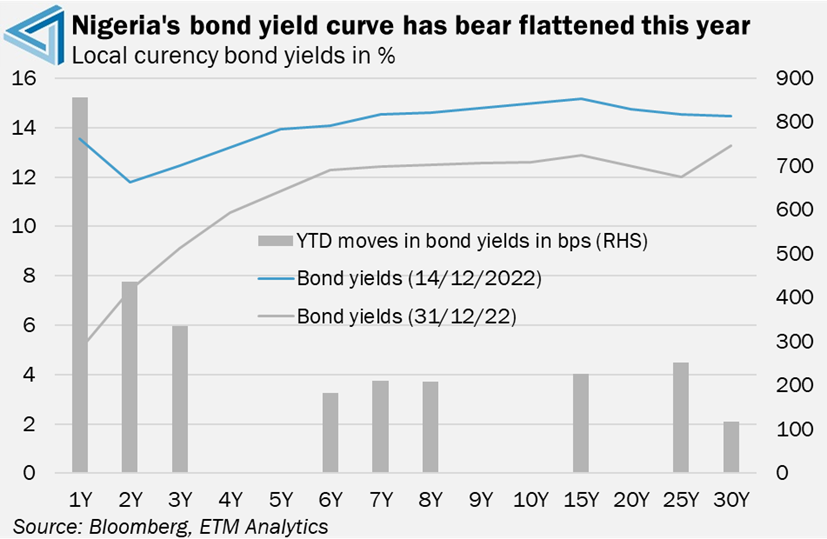 Macroeconomic: Inflation pressures in Southern Africa are easing
While inflation in Southern Africa is still elevated, signs are building that inflation in the region has peaked. Data released on Thursday showed that headline inflation in Botswana slowed to 12.2% y/y in November from 13.1% y/y in October. The pullback in inflation was partly due to a decline in transport prices after a drop in fuel prices. That said, transport and food prices were still the main factors underpinning headline inflation. Coming as music to the ears of inflation doves, core inflation slowed to 10.8% y/y in November from 11.1% y/y in October.