Indonesia equities, measured by MSCI Indonesia, have dropped over 4% in the past month compared with MSCI EM and MSCI Asia ex-Japan, which are broadly flat, and the under-performance year-to-date is of a similar magnitude. MSCI Indonesia is on trailing price/book of 2.5x (for trailing ROE of 16%), which is a 14% discount to the five-year median; this compares with MSCI Asia ex-Japan, which is merely 4% below its five-year median, at 1.4x PB, with 10% ROE). Although we prefer Bangladesh and Vietnam in Asia, we are positive on Indonesia and view this under-performance as unfair. The intermittent protests, for different causes, since the April 2019 election, and which have resurfaced this week, are not remarkable by Indonesia's standards (with its history of fatal violence in political protests) and certainly do not justify the weakness in the equity market.
We briefly revisit the investment debate below: the (appropriately) modest reform agenda, easing of interest rates, fairly valued FX rate and broadly healthy starting points for macroeconomic forecasts offset the decline in commodity prices (which appear to have stabilised since June anyway).
Almost five years before the next election - President Joko Widodo ("Jokowi") is early on in his second term (which runs to 2024) and, while protests greeted his victory and some of his policies (ie reforms on labour flexibility, social conservatism, anti-corruption oversight), these have been low level (by Indonesia's standards).
Modest reform mandate - Jokowi is pushing a reform agenda (eg tax cuts, greater labour flexibility for new hires, more foreign ownership opportunity) that, in our view, appropriately balances the need for structural change and the constraint of managing consensus in the world's most geographically fragmented nation (which means, for example: 1) a lot of diverse interest groups, distant from the federal centre, need to be carried along in any change; and 2) to expect sweeping changes in his cabinet personnel is unrealistic). Indonesia does not have the authoritarian tools available to, for example, Egypt or the Philippines.
Easing cycle - Policy interest rates are easing, following the tightening cycle of last year, and inflation remains within the target zone (around 3.5% in 2019 and 2020, according to IMF forecasts, compared with the central bank's 2.5% to 4.5% target band).
Benign macroeconomic indicators - Macroeconomic indicators are broadly benign: growth is steady, if unspectacular by "Asian tiger" standards: over 5% real GDP growth in each of the next five years, according to IMF forecasts; the FX rate is close to fair value (on an REER basis) and FX reserves are comfortable, at over eight months of import cover; the current account is in deficit but not by an alarming amount (less than 3% of GDP, according to IMF forecasts for 2020 and 2021), the fiscal balance is also in deficit but, again, not by an alarming amount (less than 3% of GDP, according to IMF forecasts for 2020 and 2021).
Lower, but at least now more stable, commodity prices - Prices of the commodities exported by Indonesia (coal, palm oil, LPG, rubber, crude oil) have dropped substantially over the past year, but the drivers of this fall are surely now very well understood (anaemic global growth, US-China trade tension) and these commodity prices have broadly stabilised since June 2019.
Indonesia FX rate cheap (on REER) and high FX reserves should be supportive
Source: Bloomberg, BIS
Indonesia interest rates are easing
Source: Bloomberg
Indonesia commodity export prices have fallen ytd, but stable since June
Source: Bloomberg, Tellimer Research
Equities have fallen sharply in the past month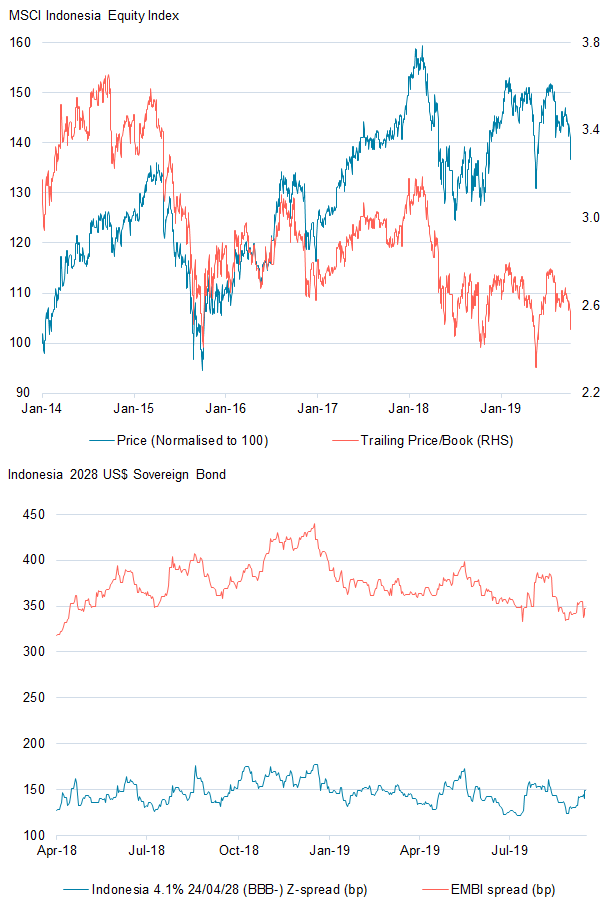 Source: Bloomberg
Stock screen for liquidity, performance, valuation highlights, for example, BMRI (Banks), GGRM, ASII, LPPF (Consumer)
Source: Bloomberg, Tellimer Research
Related reading
Indonesia: Jokowi win official, equities on lowest valuation since GFC, 21 May 2019
Indonesia: Jokowi on track to win, unsurprisingly; steady growth, no more, 17 April 2019
Indonesia: Ongoing steady growth, no more, post-election, 13 February 2019