India is in a Covid-19 healthcare crisis and its epicentre is in the state of Maharashtra, which drives 15% of the economy. This is partly because of insurmountable structural challenges (like high urban population density and high informal labour) and partly because of self-inflicted policy errors (like a slow roll out of vaccines and lax messaging and enforcement on counter-infection best practice). 
Nevertheless, Prime Minister Modi, and the partial structural reform hopes he represents for investors, is neither sufficiently vulnerable politically, nor are Indian equities sufficiently expensive relative to history, to throw the towel in on what remains the best country pick in large emerging markets, because of its mix of reform, growth and value. For example, if Sensex index consensus earnings growth for 2021 was cut from c40% to 15%, then forward PE would increase from 21x to 25x, merely a 25% premium to the five-year median.
The global implications of India's crisis are that it confirms the thesis that post Covid-19 normalisation will be a stuttering and uneven one (so a mix of Technology and Commodity portfolio exposure is warranted), international travel restrictions will be in place for some time to come (but this creates an opportunity in cheaply valued Tourism exposure), and global immunity driven by vaccinations will be undermined by laggards (while it is in the self interest of richer economies to make vaccines available in poorer ones, the failure of global coordination, apparent throughout the pandemic, is likely to inhibit this).
Sum of all Covid-19 fears realised
Structural constraints
A year ago, we argued that India represented the "sum of all fears" on Covid-19 at a time when the consensus was that the pandemic posed a bigger threat to more aged populations (which are typically prevalent in more advanced economies). In common with many of the large population, developing countries with large populations, while it has a fairly young demographic profile (28% are below the age of 15 years old), four factors meant that containing the spread of infection and implementing lockdown counter-measures were problematic:
High urban population density – almost 14,000 inhabitants per square km in urban areas of over 0.5m;

Weak healthcare infrastructure – merely 4% of GDP spent on healthcare;

High degree of informal labour (on daily wages) – almost 85% of non-agricultural labour is informal; and

Urban to rural migration flows.
India's sheer size means that, as these fears are borne out, the absolute size, rather than the number proportionate to population, of infections and deaths is on a scale not seen anywhere else: eg over 330,000 new cases reported on 23 April.
Compounded by policy errors
That sum of all fears has been brought into play by a series of recent policy errors:
Mismanagement of components needed for hospital treatment (beds, medicines and oxygen);

A vaccine roll out slowed by bureaucratic friction and a lack of uniform policy enforcement by the federal government;

Misinformation on best practice (eg wearing masks and social distancing);

Uninterrupted mass religious gatherings and mass political rallies; and

Allegedly, the under-reporting of deaths.
What may be compounding matters is a strain of Covid-19 that is even more infectious and more dangerous than previous strains for younger and healthier members of the population.
While the tragedy and trauma resulting from these structural constraints and policy errors are now being felt, there is some solace in that these policy errors can be reversed; examples such as the UK, albeit after a period of weeks and months, demonstrate this.
The problem remains, though, that the sort of lockdown implemented in the UK is not possible in economies like India (or, for that matter, in countries like Indonesia, Nigeria and Pakistan) without equally fatal consequences from poverty and hunger (as opposed to Covid-19).
Stress testing the Indian equity investment case
India has been our favourite large EM equity market on the basis of its imperfect mix of cheap valuation versus history, partial reform and structural growth. Two questions for investors arise from the current situation, though.
1) Is Modi's government in trouble, with a risk that it is ultimately weakened or replaced and the appetite for partial reform disappears?
Of course, a hiatus in reform is likely as the management of the healthcare crisis becomes all-consuming for a while.
And Modi's prospects of tightening his grip on state legislatures and the upper House of Parliament may have dimmed – the upper house, or Rajya Sabha, has a portion of its members voted for by the state legislatures every year, with c30% of seats scheduled for election between April to August 2022, and in which Modi's BJP has 39% of seats and his coalition has 48%, compared with 55% and 61%, respectively, in the lower house, or Lok Sabha.
But, in the medium term, the political opposition in India still lacks a charismatic leader to galvanise an electoral machine that rivals that of the BJP.
The current state of Indian politics (because of the current state of the Congress party) cannot be compared to the evenly matched two-party system of the US, which dethroned Trump in the election, or the right versus left divide in Brazil, which might do the same to Bolsonaro.
The opposition parties did not capitalise on the emotive and disruptive farmers' protests, so why should they prove politically any more opportunistic during this crisis?
2) Does the sell-off in equities represent an opportunity for fresh investment or a moment to reduce exposure and let the dust settle?
The fiscal deficit in 2021, forecast at 10% of GDP by the IMF, will obviously also take a hit. While this means more crowding out of private sector credit, with total government debt/GDP of c90%, the absence of significant short-term external debt (to GDP, the ratio is merely 5%) and a healthy buffer of foreign reserves (17 months of import cover) should make for low risk to the FX rate.
Therefore, to answer the question above, consider what forward PE valuation (versus the five-year median) would look like with more modest aggregate earnings growth.
Current published expectations imply a very sharp bounce-back this year: 12% real GDP growth and 17% nominal GDP growth, according to the IMF, and 38% aggregate Sensex corporate earnings growth. Obviously, these are at risk.
If the Sensex equity index consensus earnings growth is cut from c40% in 2021 to 15% then this would take forward PE from 21x to 25x, merely a 25% premium to the five-year median. Cuts to 0% or -9% (which would be a repeat of 2020) would imply a PE of 28x (40% premium) or 31x (56% premium).
Given the non-recurring nature of this episode, these stress tests on valuation of the index look relatively comforting (assuming there is the balance sheet strength at the individual corporate level to cope with the temporary hit to the operating outlook).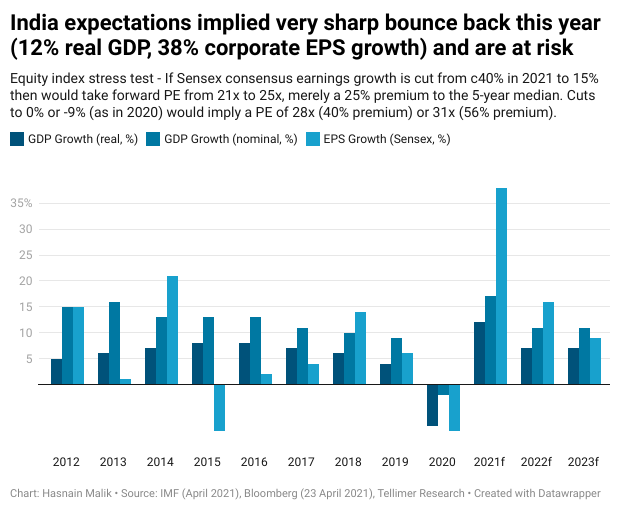 Related reading
India: The sum of EM coronavirus fears, March 2020
EM-FM Equity Strategy: The courage to change nothing, March 2020
Coronavirus: Extreme population density inhibits social distancing in some FM-EM, March 2020
Coronavirus: Informal workforce inhibits response in some FM-EM, March 2020
Death by Covid-19 or starvation: Your Hobbesian Hobson's choice in poorer EM, April 2020
India farmers reflect vested interests, Modi not entirely wasting his mandate, December 2020
India: 7 charts to mark 72nd Republic Day, January 2021