We attended the IMF/World Bank Annual Meetings over the week of 12-16 October, the first proper in-person event in three years, hosting a number of bilateral meetings with IMF mission chiefs, resident representatives and central bank officials – our meetings covered 11 countries in all.
We wish to thank all of our hosts for their time and for the constructive and open nature of the discussions, which were valuable to us and to the investors attending.
This report relates some of the issues that came out of those meetings, and updates our views on sovereigns that we cover. That said, the views we set out are our own.
We also summarise some of the key global themes that came out of the Annual Meetings, including slower global growth and higher inflation, tighter global financial conditions and rising debt vulnerabilities and what to do about them (including improving the debt restructuring framework and new lending tools).
In this report, we cover 11 countries: the Bahamas, Ethiopia, Lebanon, Maldives, Mozambique, Senegal, South Africa, Turkey, Tajikistan, Uzbekistan and Uganda.
We have made three changes of view, downgrading The Bahamas to Hold from Buy, Senegal to Hold from Buy, and Maldives to Sell from Hold.
Country notes
The Bahamas
The IMF Article IV was concluded in early May. The key message was a warning over the "perilous state" of the Bahamas' public finances, unusually strong language from the Fund in our view, amid double-digit deficits and high public debt. Since then, there has been some improvement in the fiscal position and we saw the now not-so-new government's budget as at least a recognition of the problem and that it is trying to do something about it. But it is early days and challenges remain.
There has been some good news, with the economy seeing a strong tourism-led recovery. Stayover visitors (and it's those that matter in terms of spending power rather than cruise visitors) are up 82% in the first half of the year, compared with the same period last year, according to official data, although still only at c70% of pre-pandemic levels. The construction sector is also stronger. As a result, the IMF has left its real GDP growth forecast of 8% for this year in the Article IV unchanged in the WEO as it had already factored in a strong tourism recovery. Growth is, however, expected to slow to 4% in 2023 and trend growth is still low (1.5%).
There are also inflation pressures, although the real surprise for a country that imports everything and is pegged to the dollar is why inflation is still so low (6.2% yoy in August). There may be three reasons for this – measurement issues, price controls and electricity tariffs.
Meanwhile, the boost in tourism revenues does not translate into huge current account gains because of the high tourist-related import content, while import prices are now going up too, hence, tempering the net balance of payments (BOP) impact. The current account deficit is expected to narrow from 23% of GDP in 2021 to 18% in 2022, according to the WEO. Still, official reserves have increased this year, up 33% ytd, to stand at US$3.3bn in August (central bank data), a historically high level. They are expected to see a decline over the medium term, although they remain satisfactory on standard reserve adequacy metrics.
But it is the wide fiscal deficit and high government debt that are the key policy challenges, as we've noted before. To that end, recent fiscal performance may offer some encouragement.
Buoyant fiscal revenues helped overperformance on the budget in the financial year just ended. The overall deficit fell by half in local currency terms in FY 21/22 (which ended in June), compared with the previous financial year (FY 20/21), according to official data (the official figures are now captured in the WEO). Revenues rose 37% – and, within that, value-added tax (VAT) revenue rose 54% – while spending growth was contained at below 2%. As a result, the fiscal deficit fell to 5.7% of GDP in FY 21/22 (compared with the budget estimate of 6%) from 13.6% in FY 20/21, based on the WEO. However, we don't have any data on fiscal performance so far this financial year (three months in).
Much of this improvement, though, may owe much to the one-off bounce in tourism post-Covid, so it is questionable the extent to which it can continue.
The government is, however, planning improvements on the revenue side, and has set itself a target of increasing fiscal revenues to 25% of GDP (implying an ambitious increase of 5ppts). For its part, the IMF recommend a comprehensive tax reform and growth-friendly spending measures in order to restore fiscal sustainability. The Article IV set out a menu of options on the revenue side.
But, as the Bahamas is a surveillance country for the Fund (not a programme country), the WEO only factors in modest further revenue gains, under a "no policy change" scenario (revenue measures are often delayed and underperform with respect to yield). Therefore, the WEO cautiously projects the deficit to remain at 5.4% in the current financial year (FY 22/23), and to narrow gradually to 1.7% in 2027. Hence, the IMF sees a higher deficit than the government did in its budget, and even compared with the Article IV. The government's budget projected a deficit of 4.3% in the current financial year (FY 22/23), and 0.9% in FY 23/24, and moving into a surplus of 1.9% in FY 24/25.
Meanwhile, the IMF projects government debt to fall to 87% of GDP in the current financial year, down from 91% in the financial year just ended, and a peak of 103% in FY 20/21, and to fall to 80% over the medium term in the WEO (no policy change scenario). Stronger nominal GDP will also help the debt to fall as a share of GDP. Still, debt is currently 30ppts higher than it was pre-pandemic.
But in the IMF's active scenario, a primary surplus of 1.5% of GDP (compared with a deficit of 1.7% currently) brings the debt down more quickly, with debt/GDP falling to 50% by 2032/33. This may be less ambitious than the government's own plans, but it would be enough and is certainly more realistic. The government's budget instead targeted a primary surplus of 5.1% by FY 24/25, which we think would make the size of the fiscal adjustment (with a 7ppts swing in the primary balance) pretty unprecedented.
The high deficit also means high gross fiscal financing needs (18% of GDP, according to the IMF), which could present a challenge given tighter global financing conditions, and loss of market access (double-digit yields on its international bond issues), forcing reliance on multilateral development banks and domestic financing, or more creative sources of finance – such as the Inter-American Development Bank's (IADB) partially guaranteed bond issue in June. It is unclear to us how much more appetite there will be from the IADB (or others) to continue providing policy-based guarantees to underwrite further bond issues and perpetuate what might be seen as an unsustainable situation.
Fiscal consolidation, therefore, needs to continue and, despite last year's improvement, there is no room for complacency. We do, however, detect a greater sense of urgency from the authorities and the new PLP government has a strong mandate to deliver it. But it has now been in power for over a year and these things (taking tough decisions) are best done early.
We downgrade our recommendation on Bahamas (B1/B+/-) to Hold from Buy, with a yield of 16.8% (price US$64.4) on the BAHAMA 8.95% 2032 bond on a mid-price basis as of cob 26 October on Bloomberg. The bonds have fallen 28pts (-30%) this year (yield up 660bps) and are down 13pts since we assigned a Buy on 1 June, since when global financial conditions have tightened more markedly, although their high coupon has meant they have performed broadly in line with the index (a total return of -23% ytd vs -24% for the Bloomberg EM Sovereign USD index).
Although we recognise the tourism-led recovery and some fiscal improvement, and the government's intentions, we turn more cautious given implementation risks and, crucially, the lack of visibility over financing sources, especially ahead of the US$300mn bond maturity in January 2024, as we expect tighter global financial conditions to persist for some time. Moody's recent downgrade (from Ba3 to B1 on 6 October) may also weigh on technicals. The rating agency cited a higher degree of government liquidity risk with constrained funding options amid elevated external borrowing costs. Moreover, the government's appointment of sovereign debt advisors may also have added to investors' anxiety.
That said, the strong reserves position and low cash prices that may not be too out of line with reasonable assumptions on recovery could provide a floor to prices. And the Bahamas always has the option of going to the IMF for a programme (we don't think there is any interest in a programme at this stage). Such a request could be seen as positive by bondholders, at the risk of signalling the situation is more serious than we thought, but there might also be concerns as to what any programme would contain, given the debt situation.
Ethiopia
In Ethiopia, there continues to be a large discrepancy between relatively rosy WEO forecasts and what appears to be a grim economic reality on the ground. WEO forecasts were relatively unchanged from April, projecting real GDP growth to converge to c7% over the medium term, public debt to decline to 35.5% of GDP by 2025, and the current account deficit holding steady at c3% of GDP after a temporary increase closer to 4.5% in the previous and current fiscal years.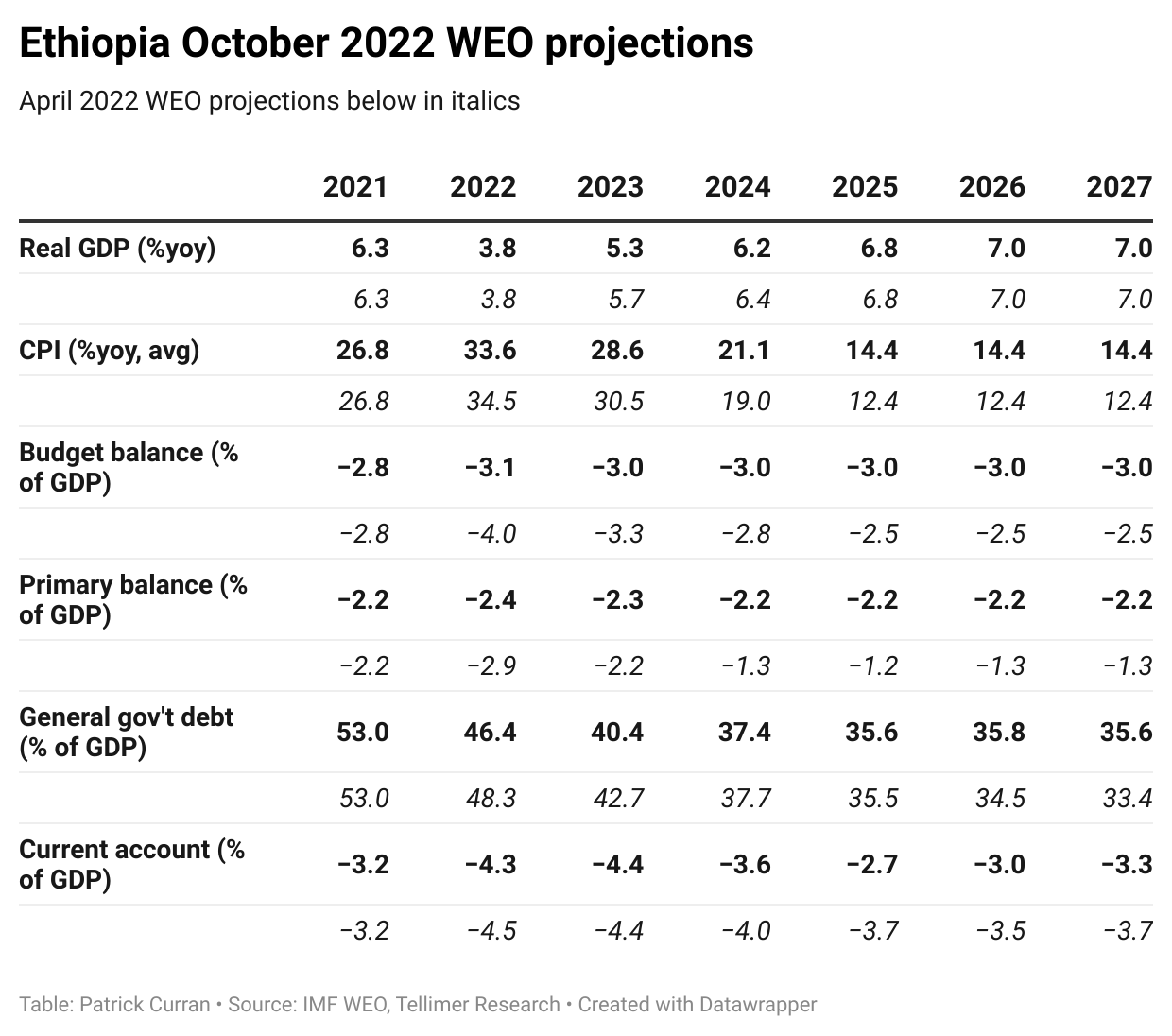 However, Ethiopia's reserves are worryingly low, at just US$1.6bn as of the latest official print in March, equivalent to just 1.15 months of trailing goods imports. The exchange rate market also points to significant BOP pressure, with ETB trading at a c90% premium in the parallel market. In an interview with Reuters, State Finance Minister Eyob Tekalign Tolina said that exchange rate unification is a key policy goal but that it will be done only gradually, meaning severe imbalances in the FX market are likely to persist for the foreseeable future.
There has also been little progress on negotiations for Ethiopia's IMF programme or Common Framework debt restructuring, both of which have been in stuck in limbo due to the ongoing conflict. The problem is a bit circular, with official creditors unable to hash out a restructuring until a staff-level agreement is in place and the IMF unable to finalise a programme until there is clarity on how Ethiopia will plug its large external financing gap, both of which are likely to require some sort of solution to Ethiopia's conflict before meaningful progress can be made.
On this front, the news has been very bad. The "indefinite humanitarian truce" that was declared in March, which itself was somewhat shambolic, dramatically unravelled in late August when Tigrayan forces accused the government of launching a joint offensive with the backing of Eritrea. Since then, UN Secretary-General António Guterres says that fighting is "spiralling out of control" and that civilians are "paying a horrific price" due to the suspension of aid deliveries, "indiscriminate attacks" on residential areas, and reports of "sexual violence and other acts of brutality".
Against this backdrop, the economic reform and debt restructuring agenda will remain on the back burner. Talks between the warring parties were resumed in South Africa on Monday, but there is still no end in sight to the horrific conflict. Indeed, the issue was given life at the Annual Meetings, with dozens of protestors marching outside of the World Bank and IMF buildings to implore the international community not to provide financial support to the government until the siege of Tigray is brought to an end, illuminating the difficult political and ethical components of the ongoing negotiations.
Until there is greater stability in Ethiopia, donor flows are unlikely to return in large enough size to plug Ethiopia's external funding gap, precluding the IMF from reaching a staff-level agreement and creditor negotiations from gathering any real momentum. State Finance Minister Eyob said that he hoped there would be peace talks in "the coming few weeks" and expressed disappointment in how slow the Common Framework process has been, saying "It's completely disappointing that it has stuck…We trusted the fund and we trusted G20 countries".
When the process does move forward, it is still unclear what Ethiopia's restructuring will look like. Eyob said that "Ethiopia does not have a solvency issue, it's more of a short-term liquidity issue", adding that there was no danger of it defaulting on its debts. This echoes our debt sustainability analysis (DSA) from last February and meshes with the IMF's own forecasts for a declining debt burden. However, the IMF still needs to update its own DSA, and it is not clear if official creditors will reprofile Ethiopia's debt without the participation of private creditors to satisfy the principle of equal treatment.
Overall, we think Ethiopia is still a long way off from a solution to its political and economic crises. In the meantime, however, it will likely continue to service its lone US$1bn eurobond due to the limited US$66m annual coupon burden, with the next US$33m payment due on 11 December. With bonds trading just above US$50, this provides a pretty hefty running yield and will insulate bondholders from losses if Ethiopia does eventually restructure its debt on or before the December 2024 maturity date. As such, we retain our Hold recommendation on the ETHOPI 6 ⅝ 12/11/24s.
Lebanon
As far as Ethiopia seems from resolving its economic and political crises, Lebanon is worlds further still. Since securing a staff-level agreement (SLA) with the IMF in April, the government has not yet implemented any of the 10 prior actions outlined by the IMF. The recent approval of reforms to the bank secrecy law was a step in the right direction but fell short of what is required by the IMF, with parliament now exploring further amendments to bring it in line with programme requirements.
Meanwhile, the government's recent announcement of a plan to devalue the currency to 15,000/US$ from the current official rate of 1,507/US$ is unlikely to satisfy the IMF's requirements for a unified and freely floating exchange rate, with the rate sitting well below the black market rate of over 35,000/US$ and Sayrafa rate of 30,000/US$. Much more work needs to be done to formulate a sustainable FX policy, and it is not clear if the government will commit to a flexible currency or simply re-peg a new rate, which would cause imbalances to quickly build back up.
We still think that the key sticking point, however, is the banking sector restructuring. There still seems to be little, if any, agreement on the path forward. While the SLA calls for the restructuring to recognise the losses up front "while protecting small depositors and limiting recourse to public resources", this will require large depositors and banks' shareholders and creditors to all be bailed in and will result in the closure of many smaller banks. With Lebanon's politicians still trying to protect these key constituencies, there seems to be little prospect of the restructuring moving forward.
Against this backdrop, Lebanon's economy will continue to be moribund. Public sector service delivery in Lebanon has collapsed almost completely, and ordinary citizens have limited access to their savings and have been forced to survive off of under-the-mattress savings and/or remittances. However, under the current regime of capital controls, the drawdown of reserves has been limited this year and FX reserves are still sufficient to cover nearly eight months of imports, which alongside a surprising lack of social unrest has seemingly reduced the urgency to tackle the current crisis. 
With parliament expected to select a new President this month, some people expressed hope that there could be renewed reform momentum under fresh leadership. However, parliament has already convened four times without reaching an agreement, raising the risk of a power vacuum if no one is selected before the expiry of President Aoun's term on 31 October. In any case, Lebanon's sectarian political system and hopelessly divided parliament will continue to preclude any meaningful change.
The recent maritime deal with Israel could also provide a ray of hope in the long term, but is still many years from delivering any benefits even if it holds together (which is a big if), and there was some concern that the promise of future resource revenue could reduce the urgency for reforms.
The key point is this: Lebanon's international partners, including the IMF and bilateral donors, are unwilling to bail out Lebanon until their government has implemented the reforms laid out under its IMF programme, nor can engagement with creditors take place without a track record of reform. Unfortunately, there seems to be little willingness and/or ability for the government to implement even the most basic reforms, never mind the political minefield that is the banking sector restructuring.
Three years after the start of what the World Bank has dubbed one of the three worst economic crises in the globe since 1850, Lebanon's politicians have continued to callously place their own self-interest above the needs of the nation. Sadly, there is no indication that this will change anytime soon. While the interest of some investors has been piqued by eurobond prices of cUS$6.5 across the curve, Lebanon is as likely to become a permanent pariah state as it is to complete the restructuring process. As we've seen since the start of the crisis, bonds can always go lower, no matter how cheap they look.
As such, we retain our Hold recommendation on Lebanese eurobonds. While some investors may be tempted to dip their toes in given the prospect of a >50% return at a mindboggling low cUS$10 recovery value, they will have to be comfortable holding the bonds for an unforeseeably long period of time and accepting the risk that returns could exceed -50% at the equally plausible cUS$3 recovery value, or that recovery may never even happen at all. As such, any bet on Lebanese eurobonds shouldn't be seen as anything but a gamble, and should only be done in extremely small size.
The Maldives
An Article IV mission was held in September (as presaged in the press release following the staff visit on 26 July) ahead of an expected board meeting later this year (the last Article IV was concluded in October 2021, so on a standard 12-month cycle, we assume the board will be in November). We hope the staff report will be published this time.
The economy is recovering at a strong pace due to strong rebound in tourism, which has remained resilient despite initial fears following Russia's war in Ukraine that it might lead to some reduction in global appetite to travel. Arrivals rose by 43% over the period January-August this year, compared to last year, according to official data. This has been helped by Maldives' capacity to redirect source countries for its inflows, taking advantage of its strong branding. India, always an important source country, has now emerged as the largest, overtaking the UK, while Russia has held up after an initial decline. China's reopening to travel presents an upside risk to tourism.  
Real GDP growth is projected at 8.7% this year in the WEO, unchanged from the staff forecast in July, easing next year to 6.1%, and towards a medium-term trend rate of 5.5%. However, inflation has also picked up and is expected to rise to 6.25% yoy by year-end in the WEO, higher than previously expected (the July press release said 3.1%), although falling back to 3% next year and 2% thereafter.
Fiscal vulnerabilities remain high. Stronger than expected revenue in 2021 and 2022 have helped the fiscal position, but this has been offset by higher spending, due to sustained high infrastructure spending, the higher cost of oil and food imports and emerging spending pressures from rising subsidies, increased interest costs due to higher rates, and reforms of the wage bill. As a result, as noted in the July press release, the fiscal deficit is expected to widen and remain in double digits in 2022. The WEO projects a deficit of 16.4% of GDP in 2022, up from 14.3% in 2021, compared to 6% pre-pandemic. Moreover, the 2023 deficit is now expected to be much wider than previously expected (12% vs 8.5% in the April WEO). However, the WEO now projects a slightly faster narrowing in the deficit over the medium term, down to 5% in 2026.
As a result, public debt, remains high and falls only slowly. Debt peaked at 154% of GDP in 2020, falling to 125% in 2021. It is likely to be about the same this year (126%) and is expected to stabilise at around this level over 2022-2024, before falling to 113% by 2027 in the WEO. At its current level, public debt is still 48ppts higher than it was before the pandemic. The decline is due in part to higher nominal GDP growth but it is clear more fiscal action is needed.
The government has its own ambitious home-grown fiscal adjustment programme. On the revenue side, it plans tax rises in 2023 with an increase in the domestic goods and services tax from 6% to 8% and the tourism goods and services tax from 12% to 16% in 2023. This has been welcomed by the IMF as an important initial step and, we understand, is included in the WEO baseline. We understand the tax measures, which are currently in parliament, have an expected yield of 2.7% of GDP.  
In addition, we understand the authorities are also considering measures on the spending side, including in the areas of subsidies, and delaying some capex and the public sector wage harmonisation (which we think together could be worth another c3% of GDP).
Even the tax measures alone, if implemented, will have an impact and help to reduce the deficit, while implementing all the measures will bring about a more significant reduction. Moreover, if the measures are made permanent (currently capex and wage harmonisation are envisaged as temporary), that will result in a fiscal adjustment amounting to a hefty 6% of GDP, which will bring about a significant adjustment in the primary balance (the primary deficit is projected at 13% this year in the WEO). We certainly see scope for cutting capex which, at 13% of GDP, is high and much higher than the region (around 3-4% of GDP).
As such, we detect more willingness to do reforms, which is encouraging, compared to our observations in the Spring and last year, and under most circumstances a 3% adjustment alone would be considered big. The authorities are even planning to do more. However, whether this reflects a new-found vision of policy discipline, or is merely a necessary adjustment to lower availability of funding, remains to be seen.  
However, next year is an election year (with a presidential election in October 2023), so it remains unclear to us if the government will do reforms. The elections may reduce the government's incentive to pursue these spending measures (or even if they do, they could be offset by spending pressure elsewhere). We are concerned about the risks of additional pre-election spending.
In the meantime, financing is an issue, with limited financing options amid large financing needs, while official reserves are falling. The government has had to rely more on domestic sources of financing, although banks may be reaching capacity, and central bank financing. External financing is limited (although Maldives has been able to rely in the past on bilateral support from China and India, and regional financing from the Middle East). Meanwhile, Maldives doesn't have market access (market access was lost over a year ago and even the five-year sukuk issue in March 2021, and tapped later, was done at a high rate, with a coupon of 9.875% but priced to yield 10.5%). In truth, it is not clear to us that Maldives ever had "normal" market access for typical benchmark sized bonds as opposed to smaller private-placement type issues tapping specific markets. There is still time, however, ahead of the 2026 refinancing, although reserves may run out before then on their current trajectory. Reserves have fallen by 18% this year, to stand at US$658mn in August (IFS data). The level of reserves could force a deeper adjustment.
The authorities haven't requested an IMF programme to our knowledge (although if ever a country needed one…). Yet the closer we get to the election, the shorter the window is to get one.
We downgrade our recommendation on Maldives (Caa1/-/B-) to Sell from Hold, with a yield of 19.3% (price US$77.0) on the MVMOFB 9.875% 2026 sukuk on a mid-price basis as of cob 26 October on Bloomberg. The bonds have fallen 23pts (-23%) this year – they were at par at end-2021 – with the yield up 940bps, and are down 18pts since we assigned a Hold on 29 April, since when global financial conditions tightened more markedly, although their high coupon has meant they have performed slightly better than the index (a total return of -17% ytd vs -24% for the Bloomberg EM Sovereign USD index). However, given the decline so far, our downgrade may be late with most of the damage already done, while a sticky investor base may support prices from here.  
While we recognise the tourism-led recovery and welcome greater willingness to pursue fiscal reform measures, we are now more negative given implementation risks, especially ahead of an election, and lack of visibility over financing sources, especially as we expect tighter global financial conditions to persist for some time. The fall in reserves will add to already limited financing options. Maldives always has the option of going to the IMF for a programme and such a request could be seen as positive by bondholders, although there might also be concerns as to what any programme would contain given the debt situation. Meanwhile, investors may be concerned that new bilateral lending will make any restructuring, if needed, more complicated.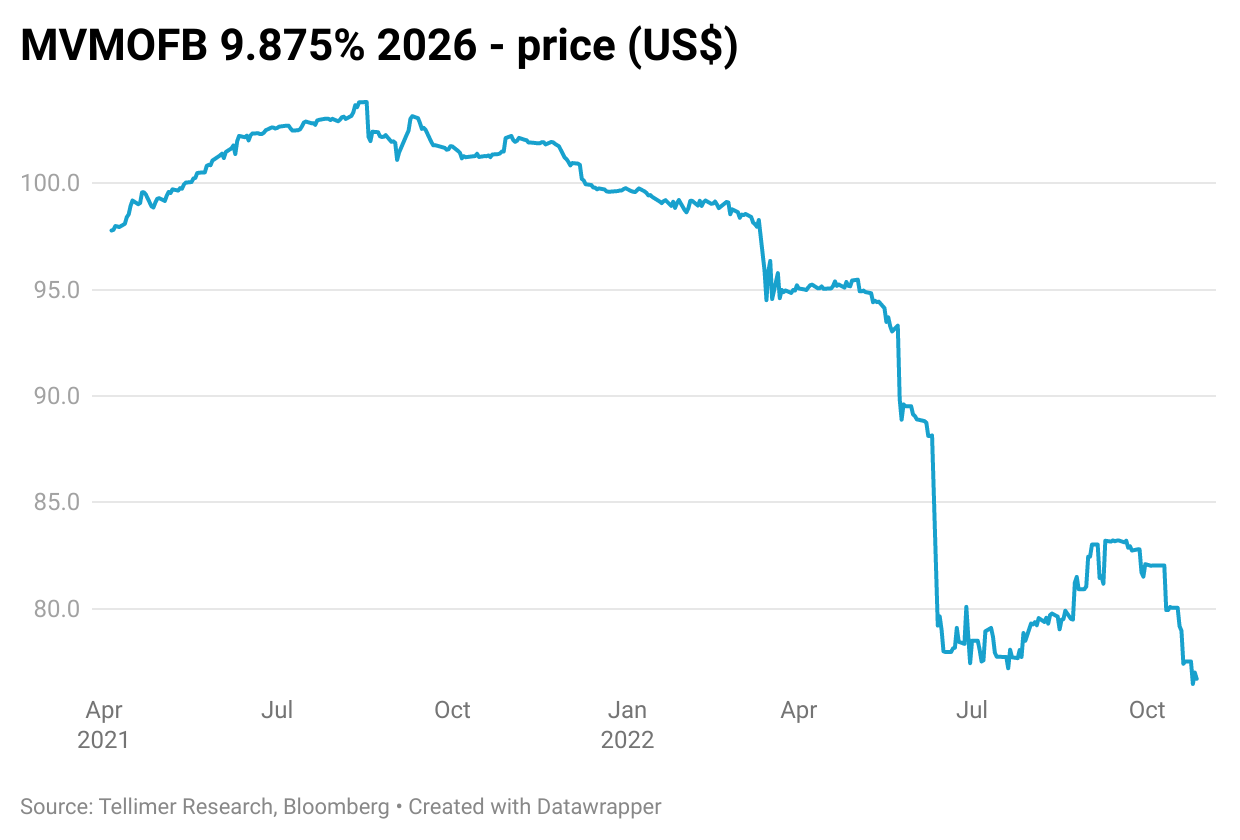 Mozambique
The IMF announced staff-level agreement on the first review of the extended credit facility (ECF) in September, and arguably little has changed since then, although, usefully, the thrust of the latest projections is captured in the new WEO.
As noted in the IMF statement at the time, board approval is expected in December, although it could even be sooner than that, all being well. We just hope the staff report will be published this time so we can finally see all the programme details and numbers.
It has been a good start to the programme, with strengthening economic recovery, proactive monetary policy and an improving fiscal situation. Under the programme, the primary balance (after grants) sees a gradual improvement from -2.1% of GDP in 2021, reaching balance in 2024 (and rising steadily thereafter) while the overall fiscal balance (after grants) goes from -4.8% of GDP in 2021, reaching balance in 2027.
A key focus of the programme is fiscal reform (VAT and the public sector wage bill). VAT reform is about broadening the base, eliminating exemptions and zero-rated items, to enable the high VAT rate to be cut (from 17% to 16%). The net yield is estimated at 0.7% of GDP in the first full year and it will strengthen non-hydrocarbon-related taxes. Reform of the complicated wage bill structure, which involves an upfront cost, is about efficiency and simplification. The wage bill is high (13.8% of GDP in 2021), which is high for the region (c8-9%), and the aim is to get this down. The programme envisages a gradual improvement in the primary balance, incorporating some of the impact of these measures.
Public debt is still high but is expected to fall over the medium term; seen as sustainable on a forward-looking basis. After rising to 120% of GDP in 2020, due to the pandemic, public debt fell to 106% in 2021, and is expected to ease further to 102% this year. It is projected to fall thereafter to 84% in 2026, and to 71% in 2027, helped by the onset of LNG production and high nominal GDP growth (with growth in dollar GDP averaging c10% over the medium term).
Meanwhile, there is little new on LNG, with the first exports from ENI's FLNG offshore platform expected in a matter of weeks, as anticipated.
Nonetheless, as we've noted before, there are risks, not least the fragile security situation. Fiscal financing also remains a concern, however, and the authorities have had to rely on the domestic market, although the programme is expected to catalyse other official sector financing.
We maintain our Buy on the MOZAM 5% 2031 bond with a yield of 16.0% (price US$67.8) on a mid-price basis as of cob 25 October on Bloomberg.
This section is based on separately published report. For more detail, see Mozambique: Notes from the 2022 IMF Annual Meetings, published on 26 October.
Senegal
Senegal's IMF programme is coming to an end, with the third and final review of the joint stand-by arrangement (SBA)/stand-by credit facility (SCF) due by year-end. Discussions for the final review are planned for early November.
But while performance at the time of the second review in June was broadly satisfactory, we think the IMF statement published on 6 October following the conclusion of the recent staff visit signals a different tone. Reading between the lines, we think it provides a clear warning to the authorities that they need to do more and act more quickly on the fiscal position at a time when conditions have become more challenging. What happens next, therefore, has taken on greater significance.
Fiscal policy is where the main concern lies as the government seeks to contain further slippage in the overall deficit in the face of "soaring energy subsidies", now estimated at over 4% of GDP. The government remains committed to its revised deficit target of 6.2% of GDP for this year, as per its supplementary budget in May, which it revised up from 4.8% in its initial budget due to new spending needs. But, while revenues have performed strongly, and have been boosted by one-off proceeds from an asset sale, the government has since been forced to cut investment spending to accommodate higher subsidies and higher spending on public sector wages in order to stick to the 6.2% target.
Even if the revised target is met, that would make it three consecutive years of a fiscal deficit of 6% of GDP or more. And, as a result, the recent persistent and sizeable fiscal deficits have led to a sharp rise in public debt, which has increased from c60% of GDP pre-Covid to 77% now (2022 WEO projection). Debt is, however, seen as sustainable and assessed to be at moderate risk of debt distress, although that assessment is increasingly borderline. That said, the coming on-stream of oil and gas production, expected next year, will help the debt dynamics.
Meanwhile, the programme targets a gradual narrowing in the fiscal deficit in 2023 to 4.5% of GDP, and to 3% by 2024, consistent with the WAEMU convergence criteria. Yet these targets now look difficult to achieve.
Tellingly, the IMF noted in its press release – in unusually stark language, in our opinion – that fiscal consolidation efforts are insufficient.
Much, therefore, rides on the government taking prompt action, in our view, in order to arrest adverse debt dynamics and reassure official creditors and investors. But, while it may recognise the situation, there could be a question mark over its willingness and ability to do something about it, especially after losing its majority in July's legislative elections and ahead of presidential elections in 2024, and if the Fund is no longer involved. We understand the authorities have not yet expressed any interest in a successor arrangement or programme extension.
We downgrade our recommendation on Senegal's dollar bonds to Hold from Buy with a yield of 10.8% (price US$73.5) on the SENEGL 2033s and 11.6% (price US$60.8) on the SENEGL 2048s on a mid-price basis as of cob 20 October on Bloomberg.
This section is based on separately published report. For more detail, see Senegal: Notes from the 2022 IMF Annual Meetings, published on 21 October.
South Africa
Discussions on South Africa were largely business as usual, with a vastly improved outlook compared to this time of year in 2020 on the back of improved terms of trade but little change since this time last year. Whatever reform momentum that may have emerged in the summer of 2021 has since given way to the stasis that we have come to expect from the policymaking front in South Africa, with the looming ANC elective conference in December likely to preclude any meaningful progress before year-end and the campaigning for the May 2024 general election creating only a limited window after that.
The IMF has revised its 2022 growth projection up slightly since April, but it is still down relative to last October due to worsening load-shedding and the flooding in KZN, while the 2023 projection has been revised down by 0.3pp relative to the previous two WEO updates due to the global growth slowdown and tightening of financial conditions (less severe than the -0.9pp global average). That said, the IMF's medium-term growth projection of 1.4% reflects severe structural problems, and may even be seen as optimistic compared to the South Africa Reserve Bank's (SARB's) own potential growth forecast of c1% from its latest policy meeting.
Record load-shedding and, more recently, strikes by workers at state-owned port operator Transnet have laid bare some of South Africa's key constraints and prevented South Africa from realising the full benefit of the current commodity price boom. The crisis at Eskom has put the government into crisis management mode, forcing it to finally confront the severe issues that have been left to fester but can no longer be ignored. While the increased urgency is welcome, though, it will be a long time before the current measures bear fruit, and, in the meantime, the economy will continue to pay the price.
Inflation has been revised up versus the last two WEO updates, but is projected to decline to the SARB's 4.5% target midpoint over the medium term. However, both survey- and market-based indicators of longer-term inflation expectations have risen over the course of the year, notwithstanding some recent moderation, leading some to worry that expectations could become de-anchored. Overall, though, there seems to be little concern about the SARB's ability and willingness to defend its price stability mandate, and markets are pricing in what looks to be an overly hawkish 175bps of hikes over the next year.
On the fiscal front, the WEO's forecasts have improved since April but still differ significantly from those of the National Treasury (NT), with the budget deficit projected to widen to 7.5% of GDP and public debt to rise near 85% of GDP over the medium term versus the NT's targets of <4% of GDP and <70% of GDP, respectively. With limited evidence that the government will be able to hold the line on its wage bill and state-owned enterprise (SOE) transfer targets, we also think slippage is likely. Rising interest rates will also continue to erode fiscal space and make debt stabilisation even more difficult. That said, the MTBPS on 26 October demonstrated a commendable commitment to fiscal discipline, notwithstanding how difficult it will be to deliver on the consolidation targets.
Our conversations were not all doom and gloom. South Africa also has some important buffers not enjoyed by many of its peers, with nearly 90% of its public debt stock denominated in local currency, an average maturity of 13.25 years on its domestic debt and 14 years on its external debt, a positive net international investment position exceeding 15% of GDP, a freely floating currency that effectively absorbs any external shocks, and relatively strong institutions including the SARB, NT and judiciary, among others.
As such, South Africa is still far from the precipice, but the direction of travel is clearly negative. The country will not be able to sustain under the current model forever, especially if global financial conditions remain tight. However, there appeared little optimism that South Africa will be able to reverse course. The series of domestic and external shocks experienced in recent years have failed to galvanise meaningful change, and with the luxury of ample (but shrinking) runway it is not clear what could spur a reckoning that forces the tough decisions needed to set South Africa on a sustainable long-term path.
That said, it is not too late to right the ship. While the prospects look grim from where we sit now, with the same issues and solutions having been discussed ad nauseum at the Annual Meetings and beyond for at least five years running, we hope that the government follows through on its fiscal consolidation targets and that the ANC's elective conference in December injects new energy and urgency into the reform agenda as we enter 2023. Until then, South Africa's economy will continue to forge ahead, still far from skirting disaster but with the road leading inexorably towards the cliff.
We retain our Hold recommendations on South African hard currency debt at US$80.86 (8.9% YTM, 477bps z-spread) for the SOAF 5 ⅞ 04/20/2032s and on the ZAR and local currency debt at ZAR 18.53/US$ and US$81.44 (11.53% YTM) for the SAGB 8 ¼ 03/31/2032s at the time of writing on 21 October Bloomberg.
This section is based on separately published report. For the full standalone note, see South Africa: IMF meetings paint familiar picture, published on 19 October.
Tajikistan
The situation has changed a bit since the Spring Meetings; when it was relatively early on after the war in Ukraine had started and there was a lot of uncertainty about its impact, while the IMF's last Article IV dates from February.
The expectation, for an economy very dependent on remittances from Russia, was that we would see a large impact, but this hasn't happened and Russia's economic contraction has itself been milder than expected. The Tajikistan story, with minimal spillovers so far, is consistent with what has been seen elsewhere in the region. Remittance flows dropped initially but rebounded quickly, although data deficiencies mean it is difficult to know for sure.
As a result of stronger-than-expected remittances, the IMF has revised upwards its real GDP growth projection for this year to 5.5% in the WEO, after revising growth down by 2.5ppts in the aftermath of the war (essentially returning the growth forecast to where it was in the Article IV). And this could be an underestimate – real GDP over the first nine months of the year rose 7.8% yoy. Growth has been broad-based, across construction, agriculture and services, not just reliant on a single driver, although data quality is not ideal. However, the caveat is that the outlook is still uncertain.
Stronger remittances have also helped boost FX reserves. Reserves have increased this year, standing at US$3.4bn in August (some 34% of projected 2022 GDP) based on IMF IFS data (reserves including gold), a rise of nearly US$0.9bn (+36%) this year. Meanwhile, inflation, in single figures, has also been surprisingly low, monetary policy is tight and the fiscal deficit remains under control. However, there is little to add on the Roghun dam compared with the Spring Meetings.
The authorities have recently renewed their interest in an IMF programme, under the ECF, although we detected little interest in a programme during the Spring Meetings, and discussions continue. With a current account surplus and increasing reserves, we see no BOP need. Rather, we think what is driving the programme interest is the investment needs of the dam, with a programme acting as both a rubber stamp to help attract investors and to provide reassurance over debt sustainability.
But we think a programme potentially raises some thorny issues for the Fund and investors, as we've noted before, with the Roghun dam's implications for the DSA and whether the Fund will get the necessary disclosure of information and degree of transparency about the project that it needs to complete the DSA.
We maintain our Buy on the TAJIKI 7.125% 2027 bond with a yield of 22.8% (price US$63.1) on a mid-price basis as of cob 19 October on Bloomberg.
This section is based on separately published report. For more detail, see Tajikistan: Notes from the 2022 IMF Annual Meetings, published on 20 October.
Turkey
Like South Africa, our conversations on Turkey may as well have been a copy and paste from the April meetings. Since then, the rate-cutting cycle has resumed and inflation has continued to climb, pushing the real policy rate to -73%, and the central bank (CBRT) has continued to double down on its unsustainable "liraisation" policies. Further, President Erdogan has promised to keep cutting the repo rate into the single digits and has outlined plans for a spending binge ahead of the June 2023 elections.
There seems to be consensus that the marginal impact of further rate cuts at this point is likely quite low, since the CBRT's unorthodox policies have muddled the transmission mechanism. That said, the signalling effect is quite important, with the central bank cutting its policy rate by another 150bps last week to just 10.5% and signalling that another 150bps cut was likely at next month's meeting before hitting pause on the current cutting cycle.
The sustainability of these policies comes down to what happens to the balance of payments and whether domestic confidence will remain high enough to prevent an exodus from the banking system. For now, there is no sign of significant deposit outflows from the banking system but there is a clear influx into real assets (with housing prices up 185% in August) and hedging via non-monetary gold imports (which averaged cUS$1.35bn in the six months to August from cUS$350m in the six months to February).
While the current account deficit widened to US$40bn in the first eight months of 2022 versus US$13bn in the same period last year, this was largely been driven by energy imports. Indeed, the non-energy non-gold current account surplus rose from US$13bn to US$23bn over that same period. That said, the current account has been funded mainly by errors & omissions, which reached US$28bn in the period versus US$13bn last year, and it is unclear how durable this trend will be.
For now, Turkey can continue to muddle through with its liraisation policies. But it is unclear how long the BOP stability will persist, especially if energy prices stay high and/or errors & omissions begin to decline. Further, if the rollover rates for Turkish corporates begin to decline and/or a crisis of confidence causes a mass exodus of FX deposits from the Turkish banking system, then the temporary calm we have seen could give way to a severe crisis.
Indeed, the biggest revision relative to the April 2022 WEO is the Fund's current account projections, with the deficit projected to average 2.6% of GDP over the medium term versus 0.8-1.6% of GDP in April. This, in turn, will pass through to continued exchange rate depreciation, with an implied exchange rate of 23.6/US$ on average in 2023 (>20% below the current level) and projected annual depreciation of 10% per year thereafter through 2027, based on our own calculations from the WEO data.
On the other end of the spectrum, there was still a relatively sanguine attitude towards the fiscal. While the tiny US$2.5bn budget deficit seen over the first nine months of the year is likely to give way to a much wider deficit in the last quarter of the year as Erdogan's pre-election stimulus leads to a backloaded spike in spending, the IMF is still projecting a budget deficit of just 4.2% of GDP on the year and public debt of just 37.5% by the end of 2022.
But, while there is room to accommodate Erdogan's pre-election spending binge for the time being, the direction of travel for the budget is quite concerning. The IMF projects a deficit of c6% of GDP over the medium term, pushing public debt to 45% of GDP by 2027. While this is still low, it will get increasingly difficult for Turkey to finance its deficit in an environment of tight global financial conditions. Conversely, increased reliance on domestic financing risks crowding out the private sector.
Generally speaking, there seems to be broad consensus that the direction of travel in Turkey is unsustainable and that, on the current trajectory, a crisis is more a matter of when than if. However, few people seem to think that a crisis is imminent, and there was even some optimism that political change in the mid-2023 elections could lead to a course correction in H2 23 (although there is concern that the opposition's ability to unwind Erdogan's web of unorthodox policies could be limited).
We retain our Sell recommendation on TRY and local currency government debt and Hold recommendation on Turkish eurobonds.
Uganda
Uganda once again provided a rare glimmer of light in what was otherwise a grim series of meetings. Although the near-term growth projections in the WEO were revised slightly down and inflation revised slightly up, the forecast is still for robust growth of nearly 7% over the medium term and a convergence of inflation around the Bank of Uganda's (BoU) 5% target. Indeed, Uganda's 6.6% average growth projection from 2023-26 places it as the eighth highest among all EM, surpassed only by several African peers and Guyana.
Under the ongoing IMF ECF, worth US$1bn and scheduled to last until June 2024, Uganda has thus far exceeded its fiscal targets, with the budget deficit coming in at 7.4% of GDP in FY 21/22 versus the revised 7.5% ECF target. That said, there will likely be some slippage in FY 22/23, with the projected 4.7% of GDP deficit versus the 3.7% ECF target. In any case, public debt is still projected to decline from an already-low 52% of GDP peak in FY 21/22 to just 43% by FY 26/27.
Lifting up the hood using official government data, the budget deficit came in at just 28% of what was anticipated in the first quarter of FY 22/23. However, this was driven by a sharp undershoot on capex, reaching just 42% of the target, while current expenditures reached 91% of target and revenue & grants reached 99%, pointing to a deterioration in budget composition. And, despite the low debt burden, interest payment absorbed over a quarter of government revenue in Q1 22/23.
Nonetheless, Uganda's performance under the ECF has thus far been encouraging. Still, the second programme review, which was due at the end of June, has still not been completed, hinting at some slippage on the structural reform front. While we do not expect the ECF to fall off track, with the next review mission expected next month, this shows that it will not be all smooth sailing under the programme and that, setting aside the positive headline figures, reform implementation must be improved.
On the monetary policy front, the BoU has hiked by 350bps over the past five months to 10%, exactly in line with where inflation printed in September. While the 0% real policy rate is higher than the -2.4% median across our sample of 66 emerging markets, more hikes may be required amid continued tightening by developed market central banks. While real credit growth has declined into marginally negative territory, after averaging 7% in 2021, this is more likely evidence of fiscal crowd out than monetary tightening. 
On the external front, the current account deficit is projected to widen from c10% of GDP this year to c13% by FY 24/25 on the back of oil investment, but the increase should be offset by FDI and the deficit is projected to moderate to c7% of GDP by FY 26/27 after oil production comes online. While production is expected to commence in the first half of 2024, there was some scepticism in our conversations about whether the projects would stay on schedule.
Although reserves have declined by cUS$500mn YTD, reaching US$3.8bn in August, they remain relatively healthy, at c4-4.5 months of imports. Further, the risk of capital flight has now decreased, with non-resident holdings of domestic debt falling from a peak of US$850mn in Q3 21 and US$770mn in Q1 22 to US$685mn in Q2 22 (90% of which is in longer-term bonds).
That said, the risk of UGX overvaluation is still very present, with the IMF estimating that the currency was modestly overvalued in 2021 (with an extremely wide -8% to +48% error band) and the currency appreciating by c25% in real effective terms since. As such, further UGX depreciation may be required if Uganda's current account deficit remains wide to prevent a continued drawdown of reserves.
Nonetheless, we still think that local Ugandan debt is attractive, with limited beta to an EM asset class beset this year by declining risk sentiment and likely to remain under pressure amid an elevated risk of global recession and ongoing Fed rate hikes (with markets now pricing in a terminal rate of c5% in March 2023). As such, we retain our Buy recommendation on five- and 10-year government bonds.
Yields have ticked up since we initiated the recommendation a year ago, but we calculate a -6% total return over that period versus -14% for the Bloomberg EM Local Currency Index amid relatively stable UGX and high nominal yields, while yields >17.5% now on the UGANGB 17 04/03/2031s make for an even more attractive starting point.
Uzbekistan
The situation has changed a bit since the IMF Article IV was concluded in June; bearing in mind the Article IV mission took place in late March/early April soon after the war in Ukraine had started, and there was a lot of uncertainty and, hence, caution at the time about its impact. Concern centred on the expected fall in remittances from Uzbek workers in Russia as well as the impact of lower investment from Russia and a reduction in Russian financing.
But such fears have not materialised and things now look better, largely because the expected fall in remittances did not happen; if anything, they have increased.
As a result, the macro outlook is seen as pretty good. The IMF's projection for real GDP growth this year has been revised up to 5.2% in the latest WEO, up from 3.4% in the Article IV, with growth mainly driven by private consumption and government spending. Monetary policy has been tight, with the central bank demonstrating its independence, while the authorities target a gradual fiscal consolidation.
That said, financing has become more challenging because of tighter global financing conditions and rising risk aversion, while financing from Russia (and elsewhere) is harder to come by. This has also made privatisation more difficult. Meanwhile, if there were any plans for another eurobond issue this year they will have fallen by the wayside given market conditions. This is why they have asked for more money from IFIs. They receive a lot of financial support from the World Bank and Asian Development Bank. As a result, we think financing needs for this year are covered. Meanwhile, international reserves, including gold, stand at a very comfortable US$34bn (as per the IMF IFS, latest month is August) – still c50% of GDP; such that we think Uzbekistan is a net public external creditor.
We don't think there is any interest in, or need for, an IMF programme, although deeper Fund engagement could be seen as a positive by investors. With a vanishing current account deficit, and ample official reserves, there is hardly a BOP need. However, we do wonder if a non-financing arrangement may be something for the authorities to consider, eg a PCI, as investors will welcome regular board oversight and better visibility, and there is a good story to tell.
We maintain our Buy on the UZBEK 3.9% 2031 bond with a yield of 8.9% (price US$69.7) on a mid-price basis as of cob 21 October on Bloomberg, while we still see the short-duration 4.75% 2024s at a yield of 9.4% (price US$94.4) as attractive for defensive investors.
This section is based on separately published report. For more detail, see Uzbekistan: Notes from the 2022 IMF Annual Meetings, published on 24 October.
Themes
As we outlined in our curtain-raiser report, the key macro themes that persisted throughout the meetings included slower global growth and higher inflation, tighter global financial conditions and rising debt vulnerabilities – especially with the rising risk of debt distress in many frontier and low income countries – and what to do about them (including improving the debt restructuring framework and new lending tools). While, on the ground, the new (central bank digital currencies – CBDCs) and old (climate change) also featured prominently in the policy discussions.
On the growth front, global growth projections in the new WEO were unchanged relative to the July update at 3.2% in 2022 but revised down by 0.2% in 2023 to 2.7%, bringing the downward revisions since the full April WEO to -0.4% and -0.9%, respectively. Downward revisions were more severe for advanced economies (AEs), with 2023 growth revised down by 0.3% since July and 0.9% since April compared with just 0.1% and 0.7%, respectively, in emerging market and developing economies (EMDEs).
Global growth is projected to reach 2.7% of GDP in 2023 (1.1% in AEs and 3.7% in EMDEs), but the IMF sees a 25% chance that it falls below 2% and projects a "technical recession" (ie two consecutive quarters of negative qoq growth) for one-third of the global economy by GDP in either 2022 or 2023. Despite relatively stronger growth forecasts, though, economic scarring is still expected to be more severe in EMDEs than AEs, with 2024 output still 6.2% below the pre-Covid trend in 2024 in EMDEs versus 2% in AEs (excluding the US).
Meanwhile, inflation forecasts have once again been revised up to 8.8% in 2022 (7.2% AEs, 9.9% EMDEs) from 8.3% in July and 7.4% in April, and inflation is projected to decline but remain elevated at 6.5% in 2023 versus the 4.8% projection in April. Further, risks are skewed firmly to the upside, stemming from volatile food and energy prices and the war in Ukraine, among other things, raising the risk that large forecast errors continue in the months and years ahead.
While the IMF still assesses the risk of a de-anchoring of inflation expectations and a wage-price spiral as being contained, an even tighter monetary policy stance may be required moving forward if inflation proves more persistent than currently expected. This could tighten financial conditions for EMDEs even further, with the yield on the EM sovereign index already reaching a record 9.25% (excluding the exceptional pandemic/global financial crisis periods) and 30 countries in the index yielding double digits.
As such, the risk of debt distress in EM (especially among smaller EM and frontiers) will remain elevated, not only if yields increase but even if they simply stabilise at current levels (with many EMs already locked out of the market and struggling to meet large external funding needs). This topic was at the fore in many of our discussions, with many people wondering who might be "the next Sri Lanka". Countries that garnered the most concern included Pakistan, Ghana, Egypt, Kenya and Tunisia, among others, although this is largely already reflected in current bond prices, while some smaller island economies (the Bahamas and Maldives) are also seen as in the mix. Nigeria, too, was dragged into the discussion by comments from its finance minister that mistakenly alluded to a desire for debt restructuring, forming a hot topic in after-hours conversations.
Against this backdrop, there was an increased sense of urgency for many countries to secure IMF-funded programmes to plug their funding gaps, with many seizing the opportunity to hammer out face-to-face discussions. Indeed, Tunisia departed DC with a staff-level agreement in hand and Egypt received one soon after, Ghana seemingly made progress towards a programme (although in Ghana's case, and mistakenly in our opinion, investors were disappointed that more wasn't said), Bangladesh initiated discussions on the new resilience and sustainability facility (RSF) facility (following Rwanda's and Barbados' lead), Pakistan continued discussions to renegotiate the programme in light of the recent flooding, and Malawi subsequently reached staff-level agreement on a disbursement under the new food shock window and programme monitoring with board involvement. Others, like Ethiopia and Lebanon, seemingly made little progress at all.
With debt distress looming for many EMs, there remains an active discussion about refining the framework for sovereign debt restructuring for smoother and more timely resolution ahead of a potential wave of defaults. As we saw at the Spring Meetings, there is broad consensus that the Common Framework for debt restructuring was not working, given the lack of participation and persistent delays (with Ethiopia stuck in the mud, Chad's restructuring request seemingly put on ice and Zambia's bondholders pushing back against apparent flaws in the DSA/restructuring process), amid the usual finger-pointing as to who is to blame (with many singling out China as the key hurdle in the restructuring process and others, erroneously we think, citing private creditors).
And although there may be some consensus on how to improve the Common Framework, and the IMF has made some recommendations on this – supported by the IMFC – including expanding its scope beyond low income countries, it may still come down to implementation, while the recommendations may come too late to help existing cases. Conversely, they may fall short of the deeper overhaul that some think is required.
This raises the risk that future restructurings will be similarly drawn out. Zambia and Sri Lanka will be important test cases in this regard (respectively within and outside the Common Framework), with delegations for each country conducting a whirlwind of meetings with the key stakeholders during the week in an attempt to move their cases forward.
Overall, the tone at the Annual Meetings was quite grim, an observation that even the IMF managing director Kristalina Georgieva admitted in recent comments, despite the pleasure of seeing all the familiar faces in person again. Slowing growth and stubbornly high inflation, tight global financial conditions and rising debt sustainability risks are likely to make for a difficult path for EMs, and especially more vulnerable countries, in the months ahead, at the very least, and potentially even longer.
As such, while many investors seemed to buy into the view that the ongoing sell-off has unlocked pockets of deep value, few, if any, were willing to say that we have reached the trough, with financial conditions likely to continue tightening until the Fed reaches its terminal rate and global inflation has durably slowed.