Hungary's Prime Minister Viktor Orban and the ruling Fidesz party have dominated Hungarian politics for a generation. But, on 3 April, they face their toughest electoral challenge since 2006. Nevertheless, Fidesz still enjoys a 5 percentage point lead in opinion polls.
An incumbent victory obviously entails a continuation of existing policies: resisting EU policy consensus on social ('pro-family') and foreign (Russia-Ukraine) issues but not by enough to fall foul of EU conditionality for releasing development funds to Hungary.
The competitiveness of the election is a result of the unification of opposition parties in an electoral pact at the end of 2020 – after three election cycles when their disunity fragmented the vote – and because economic indicators, eg the misery index of inflation plus unemployment rate, are deteriorating.
The joint opposition is made up of diverse parties – from the left, green and right – but is generally more pro-European, pluralistic and anti-Russian than Orban's Fidesz-KDNP coalition. An opposition victory would de-risk access to EU funds, which Orban's illiberal social policies have, at times, jeopardised, similar to Poland.
The main risk is how, after 16 years in power, Orban reacts in the unlikely case of a defeat.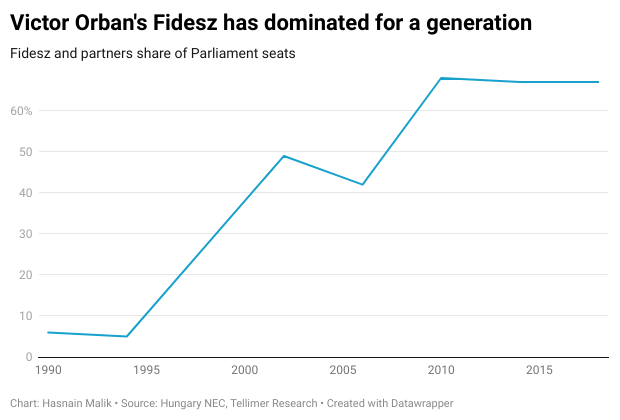 Equities underperforming and relatively cheap
Hungary equities are dominated by three stocks: OTP Bank, MOL Magyar Oil and Richter Gedeon in pharma. Hungary has underperformed EM Europe peers this year, particularly OTP and Richter Gedeon, and is valued significantly more attractively, relative to history, compared with those peers.
Related reading
The countries exposed to Russia's economic crisis, 2 Mar 2022
Russian oil embargo impact, 7 Mar 2022