Hungary improved its prospects of securing full access to EU recovery funds, worth US$7.5bn or 3.8% of 2022 GDP, by dropping its veto on EU-wide funding for Ukraine and 15% minimum corporate tax rates, on 12 December.
This matters when the fiscal deficit is running at 5.4% of GDP in 2022, according to IMF forecasts, inflation is almost 20% (the real interest rate is negative 9.5%) and GDP growth is slowing sharply (from 5.7% in 2022 to 1.8% in 2023, according to IMF forecasts).
Hungary is a liquidly traded, leveraged emerging equity market play on any de-escalation in Ukraine, given c16.5% of its primary energy supply is from Russian gas.
Hungary equities (Budapest Stock Index) are down 28% year to date in total US$ return terms – along with Poland, it is the worst performer in European EM (ex-Russia and Ukraine). They are the cheapest in the peer group.
Trailing price/book is 0.8x (for ROE of 17%), a 40% discount to the five-year median;

Forward price/earnings is 4.5x (for 5.5% dividend yield), a 60% discount to the five-year median.
Hungary accounts for 17bps of MSCI EM and 19% of MSCI Eastern Europe. The three stocks making up MSCI Hungary are bank OTP (51%), pharma Richter Gedeon (25%) and oil and gas MOL (24%).
Back from the abyss
It appears that Prime Minister Viktor Orban, who has led the elected right-wing Fidesz-KDNP parliamentary supermajority since 2010, has once again managed to force an EU compromise that improves macroeconomic prospects.
While rule of law reform milestones are meant to be tied to the release of EU recovery funds, this compromise likely disappoints those hoping for clear reform in governance and social policy.
This marks a turnaround from the bleak picture painted in September.
The European Parliament's designated Hungary as an "electoral autocracy", with a 74% majority of members.

The European Commission proposed restricting a portion of EU funding for Hungary – under the 'conditionality mechanism' that is invoked in cases where the principle of rule of law is breached.

Hungary's Justice Minister Varga signalled a willingness to address EU concerns on corruption and democratic deficiencies (more than its infringement on human rights).

The European Council had up to three months to approve the restriction recommended by the European Commission – to do so requires a qualified majority, ie at least 15 out 27 countries, and countries representing at least 65% of the total EU population.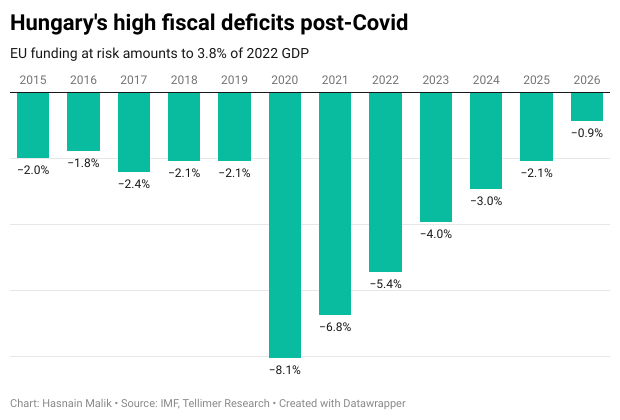 Related reading
Hungary promises reform again as EU funding imperiled, Sep 2022
Hungary: Windfall tax in Orban's state of emergency de-rates equities further, May 2022
Hungary: Orban's big win is unexpected and means more of the same, Apr 2022