Around 30% of the world's adults do not have a bank account. The reasons for this shocking level of financial exclusion are many, but the disruptive power of technology has already shown that it can make a big dent in this number.
In this report, we highlight those markets where fintech upstarts could prove most successful at lifting financial inclusion levels, and dive deeper into the most promising markets we have identified.
There is no quick fix to the problem of financial exclusion…
Across the world, 1.7bn adults do not have access to a banking account. This is comparable in scale to the 2.2bn individuals without access to clean drinking water. Just as mobile phone connectivity has improved much more quickly than access to basic sanitation, we think technology could play a major role in reducing the incidence of financial exclusion. Individuals will increasingly see access to finance, and the digital footprint it provides, as one of their key routes to escaping poverty.
Myriad factors contribute to financial exclusion, but some of the most important reasons are the following...
…but technology makes a big difference
Technology has already demonstrated that it can play a key role in improving financial inclusion. In Kenya, the massive success of M-Pesa, a mobile phone-based digital payments platform, has helped to double the rate of financial inclusion in less than a decade.
Improved access to finance carries broader economic benefits through the potential for higher levels of investment and better private sector resource allocation. The success of M-Pesa has fostered a significant level of financial innovation in Kenya, with digital disruptors active in areas ranging from agricultural finance to real estate.
Where we see the biggest scope for improvement
From a conceptual perspective, we think the biggest improvements can be made where:
Financial inclusion is currently poor; and

The level of technology infrastructure is conducive to facilitating new, lower-cost ways of reaching financially excluded customers.
By considering a broad range of indicators of financial and technological sophistication, we can identify those emerging markets where fintechs could make a meaningful difference to financial inclusion, and those where they are less likely to make a difference. Our findings are summarised in the chart below.
In general, we would consider markets in the top-left quadrant (such as Vietnam) as offering the best potential for fintechs to address financial exclusion; these markets have good technology infrastructure, but poor financial infrastructure. The opposite is the case for markets in the lower-right quadrant. Markets in the top right (like South Korea) have good tech infrastructure, but financial inclusion levels are already high. Those in the lower left (like Pakistan) have tremendous scope to improve financial inclusion, but the tech infrastructure is still poor.
Translating these findings into a single fintech financial inclusion score highlights Vietnam, the Philippines, Egypt and Mexico as markets where fintechs could accelerate financial inclusion most. In contrast, we see less scope for fintechs to drive improvements in Oman, Sri Lanka, Kuwait and Ethiopia.
We provide more details regarding our methodology in the Appendix. But, first, we dig deeper into the four markets where we think fintechs can make the biggest difference to financial inclusion.
Four markets where we see technology lifting financial inclusion
Vietnam
Based on our methodology, Vietnam ranks as the emerging market where fintechs could have the biggest positive impact on financial inclusion. A tech-savvy population that benefits from high mobile phone and internet penetration, with affordable data access. However, rates of financial inclusion are poor, with below-average bank account penetration and limited access to bank branches and ATMs.
For these reasons, Vietnam remains a predominately cash-based economy. Even for online purchases, c90% are settled through cash on delivery, the highest proportion within Southeast Asia. We think there is substantial scope to convert the bulk of these cash transactions into digital payments. The government is also supporting the shift towards electronic payment media; eg the State Bank of Vietnam has (at least temporarily) dropped its proposed 49% foreign ownership cap on e-payment companies.
Vietnam, like other emerging markets, has experienced strong growth in digital payments during the pandemic; the country's largest mobile wallet company, MoMo, saw its users doubling from 10mn to 20mn during 2020. The fintech ecosystem has grown strongly in past few years; there were 123 active fintechs in 2020 compared with just 44 in 2017 (source: fintechnews.sg); payments firms (39%) are the most active choice for entrepreneurs, followed by lending (24%) and blockchain (13%).
We highlight some active Vietnamese fintechs:
MoMo is Vietnam's biggest e-wallet company, with over 20mn mobile wallets; it aims to reach 50mn by 2023. It processes cUS$14bn in annual transaction value. MoMo began as a person-to-person (P2P) payments company via a mobile wallet app but has since expanded its offering into airtime top-ups, bill payments and merchant payments, with c100,000 payment points nationwide. It has also built a credit-scoring system that could allow it to expand into digital lending. Its investors include Standard Chartered, Goldman Sachs and Warburg Pincus. The company has announced that it plans to list its shares by 2025.
Nextpay is the product of a merger between e-wallet service provider Vimo and point-of-sale startup mPOS, both of which were founded in 2014 by the incubator NextTech. Nextpay provides exposure to both the payments infrastructure opportunity in Vietnam (over 40,000 POS deployed) and a consumer-oriented mobile wallet business (1.5mn wallet users in 2019). Nextpay plans to expand to Indonesia and Myanmar, and is looking to list by 2022.
Zalopay, launched in 2017, is a mobile payment app that sits within Zalo. Since its introduction in 2012, Zalo has become the most popular messenger app in Vietnam, with more than 100mn users worldwide (in 2019). This close linkage gives ZaloPay a big advantage over its competitors. We think Zalopay can mimic the success of WeChat Pay in China, which operates on a similar model. As per Cimigo, Zalopay is one of the country's three most popular e-wallets, accounting for 90% of the market (the others being MoMo and Moca).
The Philippines
The Philippines also scans well for the fintech opportunity; the country has high mobile phone penetration and is also a leading exporter of high-tech goods, pointing to an indigenous technology skill base. At the same time, financial access is poor, with below EM-average levels of bank account and credit penetration.
The country had c200 active fintech start-ups in 2020, according to a report published by fintechnews.ph. Payments firms represented around one-third of these start-ups, followed by digital lenders (27%) and remittance fintechs (12% of total), reflecting the country's status as one of the top remittance receivers globally. Blockchain (8% of total) is also a rapidly growing sector in the Philippines; the central bank currently appears supportive.
Interesting fintech companies in the Philippines include:
PayMongo is a payment infrastructure company that helps small businesses and entrepreneurs accept online payments. Its products include a payment API that can be integrated into websites and apps, allowing businesses to accept payments from bank cards and digital wallets like GrabPay and GCash. In September 2020, PayMongo received cUS$12mn in Series A round led by global payments giant Stripe.
Uploan targets the advanced salary lending market, offering employees of partnered corporates flexible and convenient loan solutions. It also offers insurance products to its customers. Uploan has developed its own credit-scoring model to deliver same-day salary-deducted loans for employees. The start-up raised US$10.6mn Series A funding in February 2020.
DiskarTech is a 'super app' powered by Rizal Commercial Banking Corporation (RCBC), which is listed on the Philippine Stock Exchange. It offers various banking products to its customers, such as payments, savings, insurance and, more recently, lending. It only launched in July 2020 but has already become popular due to its innovative products targeting the unbanked population and its attractive savings rates.
Egypt
Egypt scores well in our ranking of emerging markets where fintechs can boost financial inclusion. Around half of the population is connected to the internet, while mobile penetration stands at 94%. At the same time, only around one-third of adults have a bank account, while bank branch and ATM infrastructure is also lagging.
Egypt's regulatory environment also seems favourable for fintechs, with the launch of the Fintech Egypt platform, and the introduction of a fintech regulatory sandbox that allows startups to test their ideas in a controlled environment.
As elsewhere, the Covid pandemic has helped accelerate the development of digital finance in Egypt; for example, the number of mobile wallets increased by 17% during March-October 2020. That said, transactions remain largely cash-dominated, with a relatively high level of currency in circulation, indicating still huge potential for the digital transformation of financial services.
We highlight some interesting fintech companies in Egypt:
Fawry provides payments services to 20mn individuals through multiple channels such as online, mobile wallets, and at more than 225,000 physical locations such as ATMs and stores. With more than 3mn financial transactions on daily basis, Fawry became the first Egyptian electronic payments company to reach US$1bn market valuation (as we discussed in our "20 best stocks through the pandemic" report in January), just a year after its August 2019 IPO.
Paymob is Egypt's largest digital payments company – it has more than 12mn users and processes c85% of the country's mobile wallet transactions. Paymob raised US$18.5mn of funding in its April 2021 Series A funding round, making it the largest Series A fintech transaction in Egypt. The company has plans to expand internationally, first into Sub-Saharan Africa and then into the GCC.
Thndr, an investech company, aims to make it easy for people to invest in stocks, bonds and funds, without charging them any commission. It recently (August 2020) received a brokerage licence. High-profile international firms like Zerodha in India and Robinhood in the US, which have become two of the largest retail brokerage houses in a very short span of time, signal Thndr's potential to emerge as the leading retail investment platform in Egypt.
Mexico

We think Mexico also represents an attractive environment for fintechs to drive financial inclusion. Mexico is youthful (in a LatAm context), with high penetration rates for mobile phones (90% of the population) and internet access (70%). On the other hand, around half of the adult population is unbanked. Cash utilisation in the economy is also high. Our Mexican consumer survey suggests Mexican fintechs have stronger growth potential than in other emerging markets, largely due to their ability to service financially excluded individuals.
The above factors have made Mexico the largest fintech hub in Latin America, slightly ahead of Brazil, and its ecosystem is still growing rapidly. The Mexican fintech ecosystem is dominated by payments and lending, which together account for almost two-thirds of the fintech population, while the weighting of insurtech and investech firms is lower than in other emerging markets.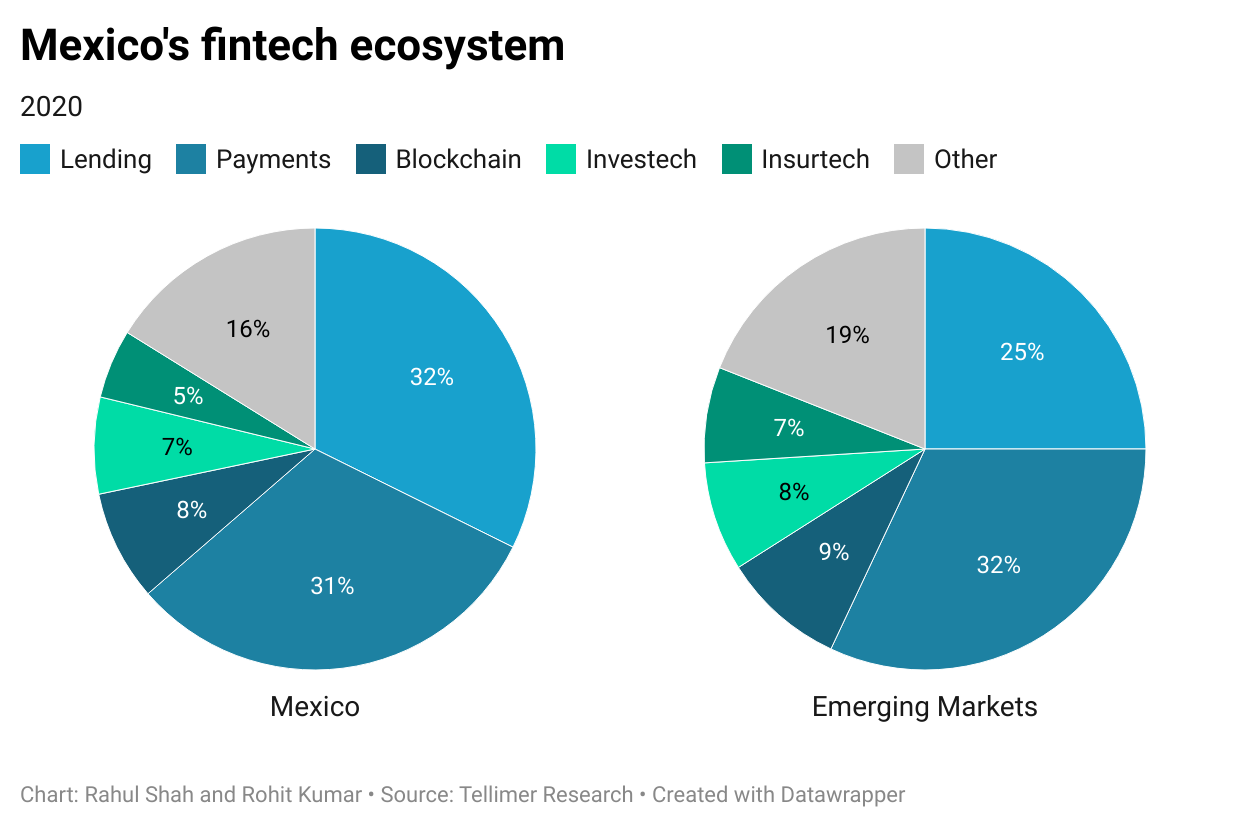 Mexico's government is supportive of digital transformation and introduced the Fintech Law in 2018 to regulate payments and crowdfunding businesses and also introduced a framework for open banking. Since these changes, various neobanks like Albo and Klar have come into existence, bringing innovative products and services to the marketplace and posing a long-term threat to traditional banks.
We highlight a small selection of interesting fintech companies in Mexico:
Clip enables businesses to accept card and digital payments by providing them with the necessary hardware in a portable form. The technology helps businesses to both increase revenue and gain greater insights regarding the nature of these sales. Clip has so far raised cUS$160mn equity funding via nine rounds. If it continues its positive trajectory it could join the growing ranks of fintech unicorns.
Konfio is a Soft Bank Group company. It provides online loans to small and medium-sized enterprises (SMEs). Through its proprietary technology, Konfio monitors and analyses credit behaviour and other data types to assess borrowers' creditworthiness, allowing the company to disburse loans within 24 hours. In contrast, traditional SME loans can take months to approve, and require guarantees and collateral. Konfio has plans to broaden its product offering to include loans backed by collateral or guarantees, which would allow it to issue larger loans than its current average ticket of US$20,000.
Bitso is an exchange platform designed to enable seamless cryptocurrency trading. Bitso crossed the 1mn user landmark in 2020. It is the dominant operator in Mexico, with a 95% market share. The company has plans to broaden its footprint elsewhere in Latin America and beyond (it is already active in Argentina).
Acknowledgements: We would like to thank Rabail Adwani for his assistance with this report.
Appendix
Our fintech financial inclusion score ranks countries based on their level of financial and technological sophistication. From a top-down perspective, we consider markets with low levels of financial inclusion as having the biggest scope for improvement. But realising this improvement through fintechs requires a certain level of technological infrastructure to be in place.
To determine each market's level of financial and technological sophistication we considered a broad range of factors, as highlighted in the diagram below (with tech factors on the left and financial sophistication measures on the right). Dark green indicates a high level of sophistication, dark purple an extremely low level of development.
Combining these elements allows us to derive a ranking of each market's fintech financial inclusion potential.
The underlying data for these individual factors are presented in the following tables.