Africa is stepping up vaccine production to avoid a repetition of the inequitable vaccine distribution that occurred during Covid. Nigeria's government approved indigenous vaccine production last week and South Africa just announced the production of its first vaccines. Increased vaccine production could help boost the low vaccination rate on the continent.
Ghana's Q2 GDP growth of 4.8% beat Bloomberg consensus, putting the country on track to meet the government's projection of 3.7%, although meeting the IMF's projection of 5.2% may be a stretch. In Nigeria, oil production is sinking to new lows, with OPEC's direct communications source quoting below 1mbpd – less than Angola, Algeria and Libya. The question is, how low can Nigeria's oil production go?
And in markets, Nigeria's naira continues to depreciate, now at NGN712/USD in the parallel market, while the yield curve is flattening.
Ghana declares end to Marburg virus, as Nigeria kicks off vaccine production
Ghana has officially declared an end to the Marburg virus, 42 days after the first case in West Africa was found in the country. There were three cases and two deaths. The disease is as deadly as Ebola and as yet there are no vaccines for it.
African countries are making strides on local vaccine production, perhaps pushed into action after the inequitable distribution of the vaccines during the peak of the Covid crisis. Over the past week, Nigeria's government approved the local production of vaccines through a partnership between Bio Vaccine Nigeria Limited (BVNL) and Serum Institute of India. This comes months after the WHO Hub – the WHO's technology transfer hub based in South Africa – announced in February that Nigeria and five other African countries would be the first recipients of mRNA vaccine technology.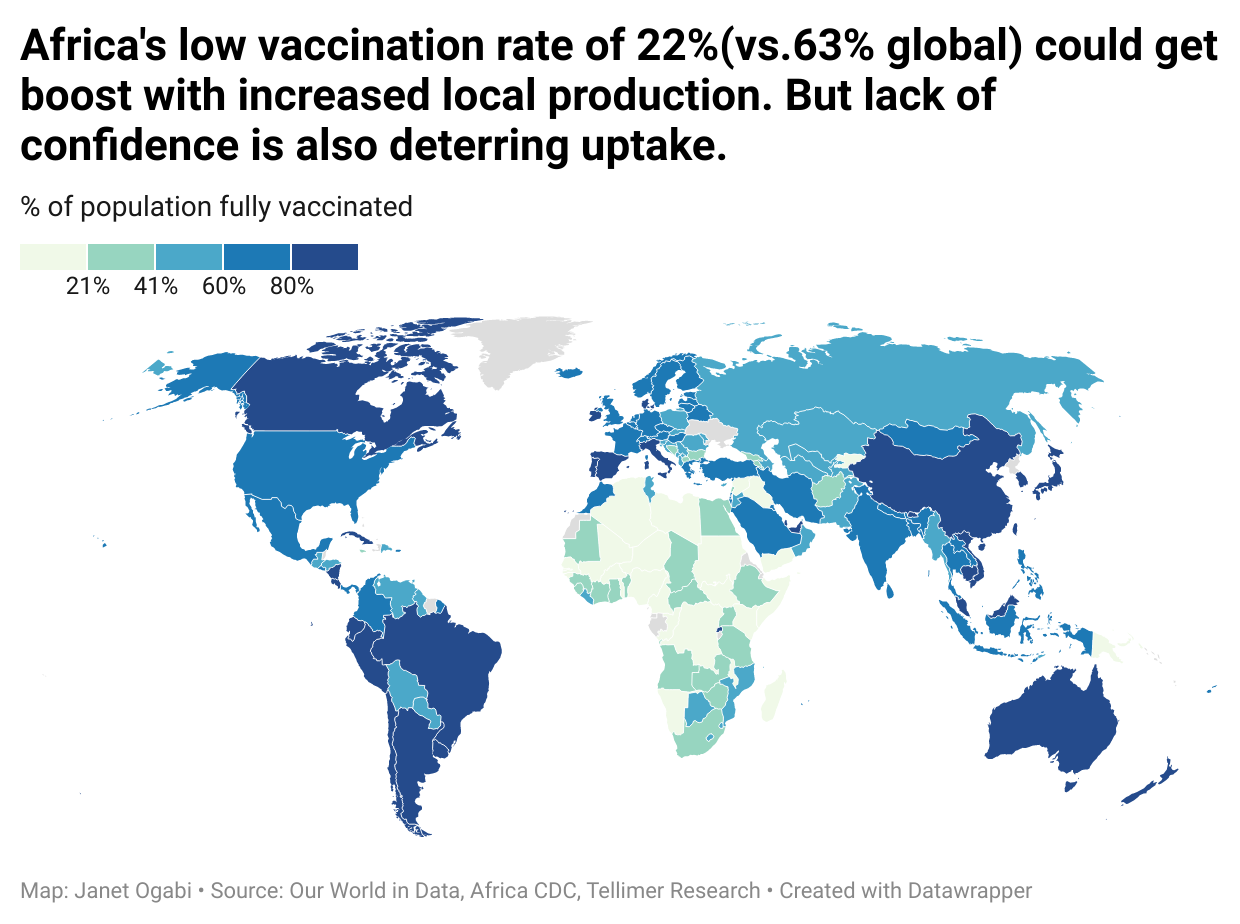 Having local vaccine production could help boost the low vaccination rate on the continent, but there is still a need to improve the uptake of the vaccines that are already available.
Nigeria's oil production hits new lows, as gas project inches forward
Nigeria's oil production is getting worse rather than better. The latest OPEC data show Nigeria produced less than 1mbpd in August, at 972kbpd. This is according to the bloc's direct communications source. Based on secondary sources, OPEC puts Nigeria's oil production at 1.1mbpd.
We stated back in June that the government's plan to speedily ramp up production by August to meet its OPEC quota was unrealistic. However, we did not expect production would take a turn for the worse. The OPEC data means Nigeria produced less oil than Angola and Algeria (and even Libya, based on the secondary sources).
The government is making some progress on the Nigeria-Morocco Gas Pipeline Project. On 15 September, a memorandum of understanding was signed between Nigeria and Morocco for the US$25bn project, which will cut across 13 African countries and eventually link with the Maghreb Europe Gas Pipeline (GME) and the European gas network to aid supplies to Europe. While no firm timelines have been set, the final investment decision is expected to be made in 2023.
Ghana's GDP growth surprises
Ghana's economy recorded impressive growth in Q2 22, expanding by 4.8% yoy. This beat the Bloomberg consensus of 2.7% and the previous quarter's growth of 3.4%. Growth was driven by improved manufacturing and agricultural activities. The impressive growth means it can meet the government's projected 2022 growth of 3.7% (revised lower from 5.8% in July) more easily, but perhaps not the IMF's projection of 5.2%.
The country's central bank is expected to meet on 26 September and is expected to hike rates by another 75bps to 22.75% to tame inflation. Inflation reached 34% in August – the highest since 2001 – not helped by 39% depreciation of the cedi so far this year. The country is in talks with the IMF for a US$3bn financing programme to help it navigate through its economic problems.
Senegal appoints a prime minister three years after the office was abolished
On 17 September, Senegal's President Sall reinstated the position of prime minister by appointing a former economy and foreign minister, Amadou Ba.
It comes three years after the office was abolished by Sall in 2019, and after the president's party narrowly won the parliamentary elections in July, with the ruling party losing its absolute majority in parliament for the first time since independence in 1960.
We expect this to curb the president's enthusiasm to run for a third term in 2023, an issue which has caused political tension in the country. Violent protests erupted earlier in June over the president's authoritarian grip. Senegal is known for its stable democracy but if Sall does pursue a third term – as his predecessor attempted in 2012 – it could jeopardise the country's stability amid a worrying trend of coups in the region.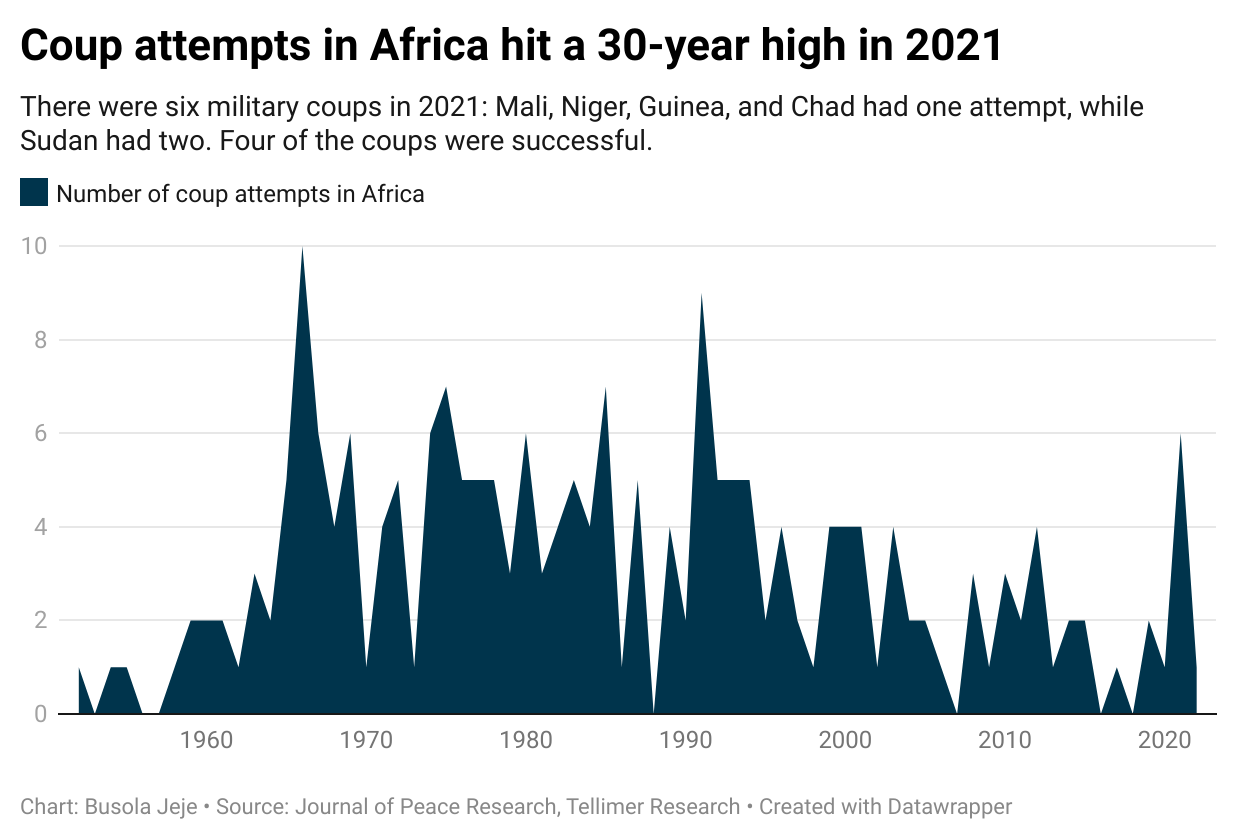 Upcoming events
Cote d'Ivoire inflation (23 September)
Cote d'Ivoire's inflation in July was flat at 5.4% (after it spiked 170bp in June). But analysts now expect inflation could accelerate to 6% for the month of August, which would be a ten-year high.
Central bank interest rate meetings: Nigeria (27 September) and Ghana (26 September):
Ghana and Nigeria are scheduled to hold their rate meetings next week, and we expect them to follow the US Fed and hike rates to curb inflation. The two countries recently recorded record-high inflation numbers for August. Nigeria inflation was 21% (the highest since 2005) and Ghana reported 34% (the highest since 2001).
Tellimer will be hosting a series of in-person bilateral meetings – with an online option available – with IMF teams and governments from emerging and frontier markets. Our full list of countries is here.
Our West African research
Markets
Nigeria's equities market posted a loss of 0.2% over the past week, taking the year-to-date gain to 16%. Market breadth was negative with 36 losers and 16 gainers. The bulk of the losses was driven by selloffs in SEPLAT, ACCESSCO, TOTAL and GTCO.
As interest rates pick up, local Nigerian investors are likely to exit the equities market, which explains its losing streak. Looking ahead, we expect interest in the Nigerian market to remain tepid.