According to GIPC (Ghana Investment Promotion Centre), Ghana expects to receive US$3bn in FDI by the end of 2021. Ghana ranks in the top 10 investment destinations in Africa according to the World Bank, and is the largest gold producer in Africa (surpassing South Africa for the first time in 2019) and the second-largest cocoa producer, making it one of West Africa's richest countries.
The GIPC said that Ghana recorded FDI of a little above US$2.6bn in 2020, translating into a 139% yoy increase from its 2019 figure of just US$1.1 billion. However, the GIPC data on FDI differs markedly from the World Bank, which recorded a 52% yoy decline in Ghana FDI in 2020 to US$2.0 billion (from US$3.9 billion in 2019). The key cause of the vastly different growth numbers is the huge disparity in the 2019 FDI figure, between the World Bank's US$3.9bn and the GIPC's US$1.1bn.
The IMF expects FDI to rebound sharply this year, projecting net FDI inflows to double to US$2.6bn (3.4% of GDP), rising steadily to US$5bn (5% of GDP) by 2025. However, we think both the GIPC and IMF projections for 2021 seem optimistic, given inflows of only US$780mn in the first half of 2021, and we do not expect such a strong rebound to materialise as investors are deferring investments due to the pandemic. However, we do expect to see some growth in 2021 which is likely to be driven by an inflow of investments as c122 projects are registered in the agriculture, oil & gas, building & construction, general trading, manufacturing and services sectors.
The main sectors contributing to FDI in Ghana
In H1 21, foreign investments were concentrated in the service and manufacturing sectors, with the tourism and banking segments topping the chart in the services sector. Ghana recorded real GDP growth of 3.9% yoy in Q2 21, but this was below the pre-pandemic growth levels, which averaged 7% in 2017-19. This growth was largely due to expansion in trade, manufacturing, information and communication, health & social works, supported by the relaxing of Covid-19 measures, border re-opening and government incentives.
The recovery is uneven across sectors, as services and agriculture expanded 11% yoy and 5.5% yoy respectively, while industry contracted 4.3% yoy on the back of an 18.9% decline in the mining and quarrying segment from the effects of the pandemic on capital expenditure.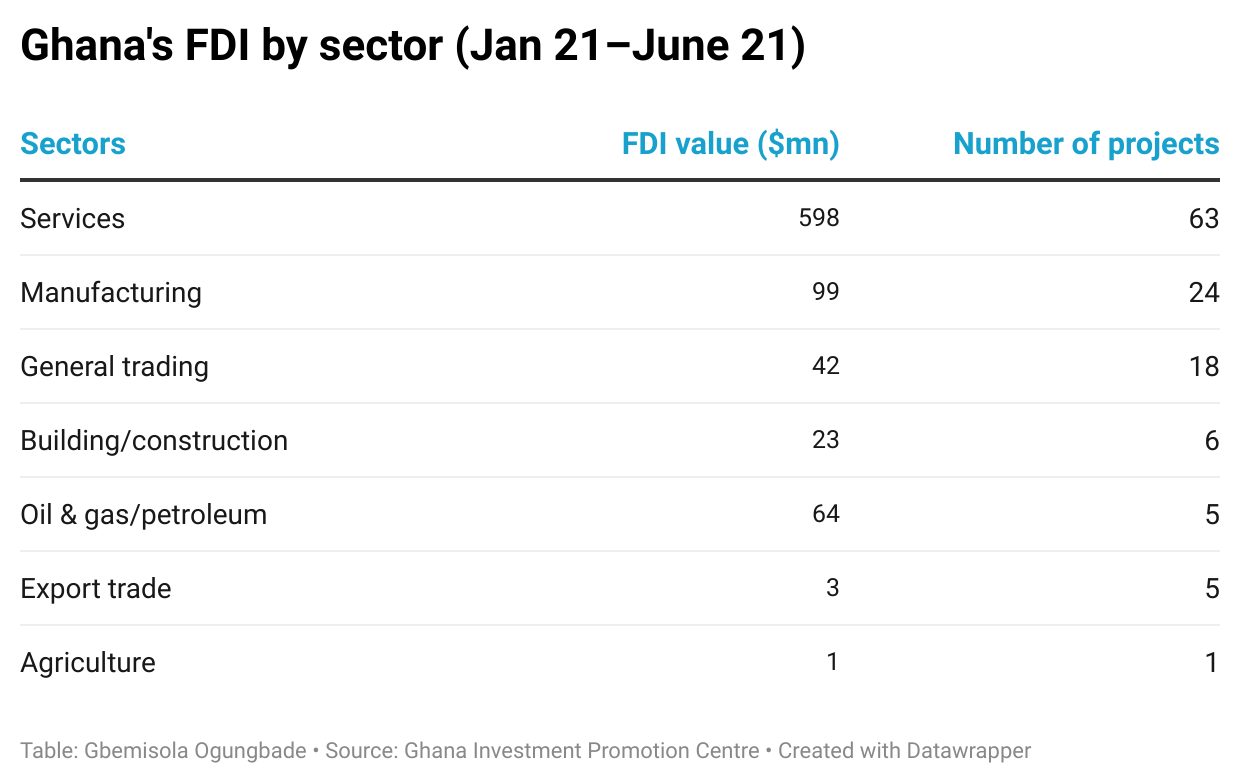 Singapore accounted for the largest investment value (US$308mn) in H1 21, investing significantly in Ghana's manufacturing/industry sectors (in companies including Olam Ghana, which specialises in agricultural produce and ingredients, and Wilmar Africa, a manufacturing company).
Ghana also has a large number of foreign investors from India, the Netherlands and the United States, investing in sectors including industry, trading, services, and areas such as pharmaceuticals, ICT, and agricultural machinery. These countries leveraged the GIPC's investment promotion programmes and the AfCFTA (African Continental Free Trade Agreement) to break into Ghana's economy.
Services and manufacturing are attracting the lion's share of credit
As of Q1 21, the service sector was the largest beneficiary of credit with 27.5%, followed by manufacturing and construction with 24.4% and 10.7% respectively, which collectively represents 62.6% of total credit.
On the other hand, the NPL ratio was 9.2% for the service sector, 19.0% for manufacturing and 24.4% for construction. The investment opportunities and projects channelled to these sectors should help with Ghana's economic recovery and enhance stability for the banking sector, while improving funding and interest income for the banks.
A positive outlook for FDI inflows into Ghana, as a source of non-debt creating flows (ie capital inflows that aren't associated with borrowing/debt), will help improve the country's balance of payments and, other things being equal, support stronger reserve accumulation. This will help improve Ghana's resilience to shocks and may help lead to credit rating upgrades. The IMF projects a current account deficit of 2.2% of GDP this year, widening to 3.5% in 2022, and averaging 4.5% over 2023-25.
However, in the near-term, investor concerns have focused on the fiscal side of Ghana's twin deficits, amid worries over financing and debt sustainability.
Factors attracting investment in Ghana
Availability of transportation and distribution networks such as railways, ports and air links, as well as sound infrastructure and access to raw materials. About 80% of the annual budget for the transport sector is channelled into road infrastructure projects according to the Ministry of Transport, as it is estimated that road transport accounts for 96% of combined domestic passenger and freight traffic. Construction and rehabilitation of airport infrastructure is also continuing to take place outside of Accra. In addition, Ghana has one of the most advanced IT ecosystems and one of the largest tech incubators in West Africa, registering a total of 38 tech hubs in 2020. This led Twitter to establish its Africa hub in Accra, while Hyundai and KIA are to set up their assembly plants in Ghana by the end of 2022. Germany chose Ghana as its location for the West African centre of global health.

Policies and reforms: In order to offer a favourable investment environment, the government implemented some reforms and policies to speed up the industrialisation process and promote economic activity. The 1D1F (1 District, 1 Factory) is a major reform to set up factories in all the c260 districts in Ghana, for the purpose of promoting the country's competitiveness and comparative advantage.

Political stability and a good level of safety: Ghana consistently ranks in the top three African countries for freedom of speech and press freedom according to the World Bank, which helps it build strong social capital.

Attractive investor incentives: Tax rebates for manufacturing industries, export duties, favourable terms of trade and working conditions are all attractive to investors. The government implemented policies to lower the cost of doing business, enhance the business environment, and transform the economy into one of the most business-friendly in Africa.
Possible solutions to FDI problems in Ghana
Address the regional variations in infrastructure and skills as the northern, upper east and upper west regions currently lack desirable asset bases, suffer from limited investment in education and economic development projects, as well as the network infrastructure needed to attract FDI.

Diversification of investment resources: Ghana is overly concentrated on the export of oil, cocoa and gold, which together account for c75% of total exports. These resources were affected by the global economic slowdown, resulting in high government debt from heavy reliance on international funding. However, the government is looking to expand the service sector – which accounts for 50% of GDP – by developing new factories and industrial parks, and freezones to help localise the manufacturing sector. These actions should help to address structural issues, reduce the reliance on imports as well as increase the stability of the currency.

Improve policy implementation. Many good policies have not been implemented properly, partly due to a lack of appropriate regulatory adjustments. The government should endeavour to match economic development proposals with changes to the administrative system in order to attract investment.