Ghana's general election, scheduled for 7 December, is now only two months away. It is set up to be a contest between incumbent Nana Akufo-Addo (NPP) and ex-president John Mahama (NDC), the third time consecutively they will have faced each other.
The elections are crucial, not because we see much chance of unrest or irregularities, but because they come at a critical time, in the midst of the pandemic and when the post-pandemic policy response will matter. Ghana, after all, has an established track record of power alternating between government and opposition. There have been three such alternations over the past 20 years, since John Kufour (NPP) defeated long-time leader Jerry Rawlings (NDC) in 2000, which has helped to cement Ghana's reputation for multiparty democracy (see Table).
We don't see much difference between the two main parties in terms of the broad tenets of macroeconomic policy either – inflation targeting and a floating exchange rate, supported by an independent central bank, and broad fiscal orthodoxy. However, investors may suspect that commitment to fiscal discipline may be weaker under the NDC than the NPP. But, whoever wins, the next government will face the challenge of managing the post-pandemic recovery, with limited room for manoeuvre.
The election could be competitive. According to one recent poll, 62% would vote for John Mahama (NDC). This comes as the initial post-2016 election shine for Akufo Addo's NPP as the party of economic competence and anti-corruption has worn off. Added to this, a weakening economy, with slower growth and rising inflation, does not tend to benefit the party in power whatever the cause. That said, the opposition's lack of resources mean they still face an uphill challenge. Conversely, the NPP's initial response to the pandemic was seen by some as effective, which may count in its favour. Moreover, the benefits of incumbency and changes made by the Electoral Commission (for instance, to voter lists and electoral boundaries) will favour the NPP. 
Economy under pressure
Ghana has been hit hard by the pandemic in an election year as global demand and domestic activity has slowed. Total exports fell 9% yoy in first eight months of the year, led mainly by the lower oil price, as gold and cocoa export earnings have held up. Real GDP contracted in Q2, falling by 3.2% yoy, due to weaker external demand and the impact of lockdown measures – although we note that the Q2 performance was still better than most (see here). GDP growth is expected to fall to c1-2% this year (the government expects 0.9% while S&P forecast 1% and the IMF 1.5% ), compared to 6.5% in 2019. But at least it is still in positive territory.
The Bank of Ghana moved quickly to support the economy, cutting the policy rate by 150bps to 14.5% on 18 March, but has since kept rates unchanged (the last MPC meeting concluded on 28 September). The cedi also weakened during February-March, appropriately in our view, but has remained stable since then, perhaps due to currency intervention. Official reserves have fallen this year.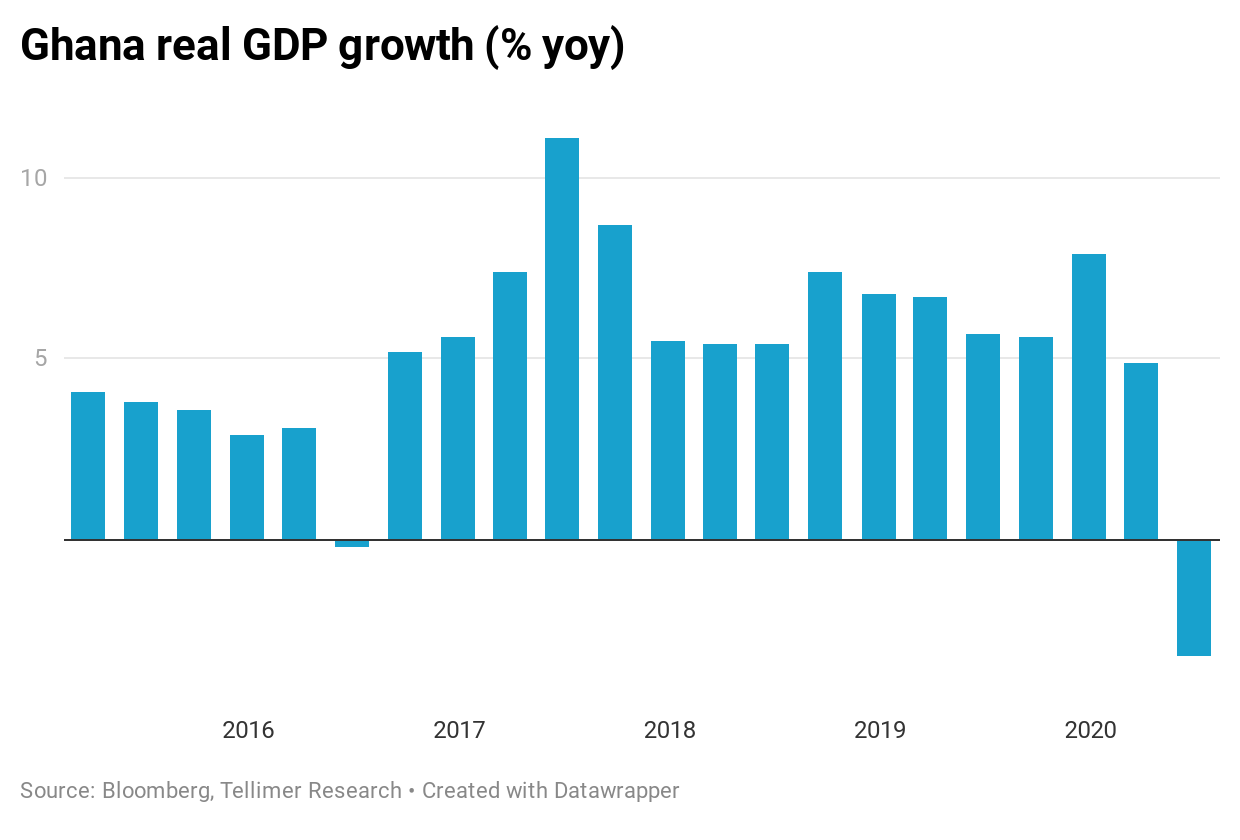 Policy space is, however, becoming more limited amid higher inflation, a wider fiscal deficit and a rising public debt burden. Inflation has jumped to over 10% (10.5% yoy in August), which has constrained further central bank easing. The fiscal deficit (excluding financial and energy sector restructuring costs) is expected to widen sharply this year, with the government's revised deficit target of 11.4% of GDP, as set out in the mid-year budget review in July, compared with its initial target of 4.7% and a 4.8% deficit outturn last year. S&P forecast 13.5%. Indeed, the central bank reports that the fiscal deficit is even slightly ahead of the revised target, based on provisional data for the first seven months of the year. Public debt rose to 68% of GDP in July, up from 62% at end-19, according to central bank figures.
Questions on fiscal commitment go unanswered
Understandably, the fiscal impact of Covid has forced the government to suspend, temporarily, its fiscal rules, as it stated in July. However, one side effect of Covid is that we will never know if this government was going to be able to stick to its own self-imposed fiscal rules, keeping the deficit below the 5% limit in the fiscal responsibility law in an election year, and avoiding the customary pre-election spending binges that have accompanied previous elections.
This year was always going to be a key test of the government's fiscal discipline, after the ruling NPP inherited a large deficit from the outgoing NDC in 2017 following the last election. Yes, the intent was there. But we will never know if the words would be backed up by action. Moreover, the economic impact of Covid may give the government cover to boost public spending even more, especially in a tight race.
Slow pace of expected fiscal consolidation
That the budget deficit is expected to worsen this year due to the pandemic, and deteriorate so much, is not unusual. Other countries are seeing the same thing – although Ghana's fiscal deterioration (to the tune of nearly 7ppts of GDP) appears to be at the upper end of what we are seeing elsewhere in emerging and frontier markets.
What is more worrisome for investors is the slow pace of planned fiscal consolidation thereafter. The government is expecting to take four years to bring the deficit down to below the 5% limit specified in the now-suspended fiscal responsibility law; that is, the government doesn't expect to return the deficit to pre-Covid levels until 2024. The deficit is only expected to fall to 9.6% in 2021 and 7.1% in 2022, before declining to 5.2% in 2023. We think this time frame is at the upper end of expected fiscal consolidations based on an (admittedly small) sample of emerging market countries using IMF data, and may be a source of disappointment to investors, especially given the rise in the public debt burden. It leaves Ghana exposed to vulnerabilities and with little scope to respond flexibly to further shocks.
We find that three-quarters of planned post-Covid fiscal consolidations last two to three years in a broad sample of eight EM and FM countries, across a range of sovereign ratings, for which IMF data is available. We define this as the length of time (in years) it takes for a country to return its fiscal deficit to, or close to, its pre-pandemic level. Only one fiscal consolidation lasts four years (Ghana) and only one is longer than that (five years in Seychelles). Granted, the projected fiscal impact of the pandemic is bigger in Ghana (at c6.6ppts of GDP) than in some other countries, but even that size of deterioration is not really an outlier; it ranks as close to the median in our sample.
However, Ghana's previous fiscal consolidation efforts have been somewhat disappointing. They have relied on spending cuts – which may be difficult to sustain – and one-off measures, due to persistent revenue underperformance. Domestic revenue mobilisation has been a constant challenge for the authorities.
Indeed, more generally, we think investor attention will increasingly turn to prospects for fiscal consolidation and withdrawal of policy stimulus across EM as the initial crisis phase of the pandemic eases.
Investment outlook
While Ghana's eurobonds have been one of the top index performers during the market rebound, with a total return of 40% since the market low on 23 March (placing it seventh overall), they have underperformed the market this year. Ghana has seen a total return in the EMBIGD of -6.1% in the year to 30 September compared with -0.5% for the index.
Yields remain elevated – c10% for the 32s – reflecting, we think, investor worries about policy space, fiscal sustainability and debt dynamics, and perhaps residual concerns about the debt service suspension initiative (DSSI). However, Ghana yields stayed relatively flat through July-August, suggesting little reaction to the mid-year budget review itself. But the bonds did weaken in September with the market sell-off. Ghana's EMBIGD constituent rose 92bps over the month (about the same as Angola), compared with 9bps on the overall index. This suggests Ghana risk may be more related to external drivers than domestic ones.
Increasing perception of default risk is also evident in the renewed widening of the price of the World Bank partial guaranteed 10.75% '30s bond relative to the non-guaranteed 7.625% '29s.
Ghana's sovereign rating is also under pressure (B3/negative, B-/stable, B/stable). S&P downgraded its rating to B- on 11 September due to fiscal deterioration and expected slow pace of fiscal consolidation. Moody's put Ghana on negative outlook on 17 April, which threatens a fall into its CCC-equivalent category (along with Angola, the Republic of Congo, Gabon and Mozambique).
However, on a positive note, liquidity conditions remain favourable. Official reserves are still healthy, with gross reserves of US$8.6bn in August (four months of import cover, on central bank data), although net reserves have fallen to US$4.6bn. And, despite a US$10bn stock of bonds, debt service on the US$ bonds is also manageable in the near term, with virtually no amortisation over 2021-22 and very little over 2023-24, thanks to active liability management.
We maintain our Hold on Ghana's 29s with a yield of 9.3% (YTC basis), and z-spread of 870bps, as of cob 5 October on Bloomberg (indicative mid-price basis).
We recognise a bullish case can be made. Assuming this government will not default before an election, and a new government may not do so immediately either (especially if the ruling NPP is re-elected), that should mean Ghana remains current for (at least) the next six months; provided also it is not forced into seeking PSI through DSSI. That makes Ghana's 9-10% running yield on its longer bonds the most attractive in SSA sovereigns (excluding Zambia, which could default over that horizon, and Angola).