GLOBAL
US Treasuries had quite a volatile session yesterday, with the weaker than expected CPI reading out of the States initially sending 10yr yields down to lows of around 2.67%. Some persistent hawkish talk from Fed members, however, saw all of the declines for yields erased through the latter half of yesterday's session, with the 10yr benchmark still trading around 2.80% this morning. The market may have gotten ahead of itself in pricing out rate hike risk, but it also showed just how much is priced in now and that any further data misses in the US will keep the downside pressure on yields. The shape of the UST curve, meanwhile, continued to invert with the 2v10 spread, at one point, dropping below -50bp. This inversion continues to speak to growing economic risks and suggests that the USD will remain under some pressure over the near term. German bunds also rallied yesterday, but underperformed their US counterparts following the release of the US CPI numbers. The market is still pricing in around 46bp worth of rate hikes from the ECB in September, which is keeping front-end yields anchored and flattening the curve to the most since December.
In the commodity space, Oil prices have steadied this morning following yesterday's rally. The market was supported by reduced bets on aggressive Fed hiking after the softer than expected US CPI data, which weighed heavily on the USD. As a result, the front-month Brent contract climbed towards its recent intraday peaks around $98.80 per barrel, just below the future's 200DMA technical resistance level. Yesterday's gains also came despite the EIA report confirming what the API data showed the day prior, that US crude inventories and output increased significantly last week. High retail gas prices have clearly had an impact on the demand for fuel in the US, and given the deteriorating economic conditions there, we expect this trend to continue. These rising inventory levels and continued demand concerns as the global economy slows are what are keeping prices contained for now. The day ahead, meanwhile, will be another important one as we will see the release of the OPEC and IEA monthly outlook reports. The OPEC release will be of particular interest given the decision earlier this month to increase output by a marginal amount in September. Traders will be looking to see if this means that OPEC really is tapped out in terms of output.
AFRICA
Egypt: The planning ministry reported that the Saudi Egyptian Investment Co (SEIC), owned and set up by Saudi Arabia's Public Investment Fund (PIF), has acquired minority stakes in four Egyptian companies worth around $3bn. The four companies are Abou Kir Fertilizers & Chemical Industries Co., Misr Fertilizer Production Co., Alexandria Container and Cargo Handling Co., and E-Finance. The purchases are part of the kingdom's commitment to channel resources to the Egyptian economy, which has come under pressure as a result of the war in Ukraine. The kingdom has pledged $10bn of investments into Egypt in sectors such as health care, education and agriculture. It already provided support in March, when it deposited $5bn in Egypt's central bank. According to the planning minister, the Saudi deals are "within the framework of the state's plan to expand the ownership base and encourage foreign direct investment." Overall, financing from the Gulf states provides an important backstop to Egypt as it looks to stabilise its finances.
Ghana: The Bank of Ghana (BoG) is reportedly set to purchase gold produced by local mining companies in local currency instead of dollars under its ambitious gold buying program. The gold will be purchased from the mining companies at the prevailing global market prices in cedis. Further details indicate that the BoG will commence the purchase of gold in cedis starting next month. The program is seen as contributing to Ghana's foreign exchange reserves and strengthening its balance of payments.
Kenya: In the latest financial stability report, the Central Bank of Kenya has warned of a supplier loan default spike after the presidential elections. According to the CBK, regime changes at both national and county levels could delay payments of pending bills for suppliers or works delivered, leading to an increase in bad loans for lenders with outstanding loans. Pending bills have continued to rise despite a three-year-old circular by Treasury secretary Ukur Yatani directing ministries, parastatals, and counties to prioritize payment of verified arrears in their budgets. The CBK now fears paying the bills could be complicated by the political transition, affecting the mountain of bad debt held by financiers and their asset quality.
Uganda: To help finance energy projects as it seeks to develop its oil industry, Uganda plans to sell infrastructure bonds. According to Secretary to the Treasury Ramathan Ggoobi, the domestic debt will be used to "expedite" the commercialization of the country's oil and gas sector. Ggoobi added that the Finance Ministry will provide details of the tenure and amounts to be raised at a later stage. Uganda dropped plans to sell infrastructure bonds last year amid concerns about refinancing maturing debt. Confirmation since then that plans to make Uganda a regional oil hub are going ahead has boosted the outlook for the economy.
Southern Africa: Sovereign defaults by both Zambia and Zimbabwe have reportedly raised the Batoka Gorge hydro-electric project by around 23% to almost $5bn. According to the Zambezi River Authority, the plan, which is being developed by General Electric and Power Construction Corporation of China Ltd., needs credit support. This may be raised through development bank guarantees, government guarantees or partial credit and risk guarantees. The Botaka project includes a 181-meter high dam and two power stations on either bank of the Zambezi river and will generate 2,400 megawatts. Building was planned to start in 2020 but was delayed by the Covid-19 pandemic and is yet to begin. The developers are also seeking tax incentives from both countries.
South Africa: In a move that further undermines Africa's already meagre capacity to produce doses, South Africa's Aspen Pharmacare yesterday announced that it would stop making coronavirus vaccines from the end of this month due to a lack of orders. Aspen currently produces vaccines for Johnson & Johnson and in March, it struck a deal to produce, price, and sell its own-brand version of the shot for African markets. The deal was considered a game changer for the continent hampered by sluggish western handouts and a lack of access. But while only a fifth of adults in Africa are fully vaccinated, according to the African Centres for Disease Control and Prevention, demand for shots has failed to materialize.
Forex: Ghanaian cedi slump drives inflation to a multi-decade high
Ghana's July CPI report showed that inflationary pressures remained entrenched in the economy. Specifically, headline inflation accelerated to 31.7% y/y from 29.8% y/y in June, surpassing consensus expectations of a rise to 30.9%. This was the fastest pace of price growth in the economy since November 2003 and marked the 11th straight month inflation has exceeded the top of the Bank of Ghana's (BoG) 6%-10% inflation target range as a persisting sell-off in the cedi raised the cost of imported goods like cooking oil and gasoline. Food-price growth quickened to 32.3% from 30.7% in June, while non-food inflation accelerated to 31.3% in July from 29.1%.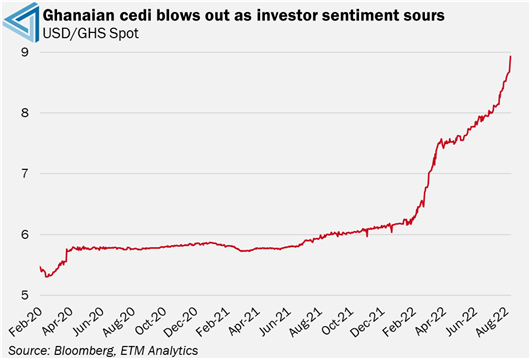 The cedi has weakened by over 40% since the start of the year, making it Africa's worst performing currency among those tracked by Bloomberg. The cedi has plunged to successive record lows this year amid factors such as a loss of investor confidence due to a worrisome fiscal outlook further compounded by challenging external conditions, several rating downgrades and limited dollar supply against a backdrop of increased demand. While Ghana has engaged the International Monetary Fund for a program to address its fiscal and economic challenges, further weakness continues to be priced in for the cedi. For context, the 12-month GHS non-deliverable forward is currently trading just shy of 11.400 per dollar, while the USD/GHS spot is just below 9.00.
While prices pressures are expected to start moderating as Ghana's harvest season approaches and the cost of wheat and other global commodities fall, the BoG may consider tightening monetary policy at the September meeting if cedi weakness persists.     
Fixed Income: Ghana dealt another blow as it receives its second credit rating downgrade in less than a week
Ghana is under fire from sovereign credit rating agencies. Just days after S&P downgraded Ghana's sovereign credit rating, Fitch downgraded Ghana by two notches to CCC, eight levels below investment grade. Recall that Fitch cut Ghana's credit rating to B- in January with a negative outlook. Fitch said in a statement released yesterday afternoon that the downgrade reflects the deterioration in the country's public finances, which has contributed to a prolonged lack of access to the Eurobond market, leading to a significant decline in external liquidity.
The agency forecasts that in the absence of new external financing sources, international reserves will fall close to two months of current external payments by the end of the year. Fitch noted that the government had requested support from the IMF, which is likely to lead to additional financing from the IMF and other multilateral lenders. However, the government's high-interest costs and structurally low revenue as a percentage of GDP have increased the likelihood that IMF support would necessitate some form of debt treatment, adding that this is not the base case scenario.
Fitch said that the high interest burden on local-currency debt also means that the inclusion of a domestic debt treatment cannot be ruled out. Fitch estimates that Ghana faces $2.75bn of external debt servicing in 2022, including amortisation and interest, and $2.8bn in 2023. Access to external financing will remain tight, as Ghana is likely to remain locked out of Eurobond markets, which had come to be a regular source of external financing for the government, according to Fitch.
Macroeconomic: Egypt's real interest rate remains negative in July, weighing on the EGP's carry appeal
While Egypt's real bond returns remain positive, with the 10yr local currency bond yield trading more than 4 percentage points above inflation, the country's real interest rate (policy rate – inflation) remains negative. For context, headline inflation accelerated from 13.2% y/y in June to 13.6% y/y in July. This compares to Egypt's benchmark policy rate of 11.25%, meaning that the real interest rate sits at -2.35%.  
Up until the start of this year, Egypt had enjoyed some of the highest real rates in the world, bolstering the carry appeal of domestic assets. Egypt's attractive carry had resulted in mass inflows into domestic bills and bonds, with investors around the world taking advantage of the high real yields on offer. While Egyptian local currency bonds still offer relatively high real yields, the negative real interest rate is weighing on the outlook for the Egyptian pound, detracting from the appeal for foreigners to buy local currency bonds.
As highlighted in recent commentary, the risk of another devaluation in the Egyptian pound is intensifying. The combination of the compressing interest differential with the US, mass outflows from domestic assets and a significant trade deficit are compounding risks for the EGP. To highlight just how significant currency risks are, the 12-month EGP NDF is trading at 23.66, which compares to the USD/EGP spot at 19.14. This implies that the professional market is pricing in a more than a 20% devaluation in the EGP over the next 12 months. While currency risk is detracting from the appeal of local currency bonds for foreign investors, Egyptian Eurobonds still offer real positive yields without the currency risk. That said, the real yield on offer in Egyptian Eurobonds has compressed significantly, falling from a peak of 3.74% in March to 0.36% when looking at the 10yr Eurobond yield vs inflation.