Finance minister Ken Ofori-Atta presented the draft 2022 budget in parliament, which seeks to strike a balance between supporting economic recovery after the pandemic and accelerating fiscal consolidation and placing debt on a sustainable path.
The budget envisages a reduction in the fiscal deficit to 7.4% of GDP from 12.1% in 2021 (incl. the financial sector reform and energy sector costs) by raising revenues by 43% or 4pps of GDP and containing spending which is set to rise by 11% and actually decrease slightly in terms of ratio to GDP.
We note that we have made the expenditure comparison by including the financial and energy costs in the 2021 number. The primary balance is projected to improve to a surplus for the first time since the pandemic, of 0.1% of GDP against a deficit of 4.7% in 2021.
This fiscal consolidation path is more ambitious than the one previously charted in the medium-term fiscal framework released in August to guide the budget preparation. In it, the total deficit was seen to decline to 7.9% of GDP this year and the primary balance to be a deficit of 0.4%, to turn to surplus only in 2023.
However, while the budget seems like a decent attempt to put public finances on a sustainable path, whether the government will be able to pull it off is another story.
First, the ambitious revenue increase plan raises questions about its viability, especially as some of the tax measures, such as the tax on mobile money transactions, have already received opposition at home.
Moreover, the minority MPs have pledged to oppose the tax changes that will impose burden on the population, and this creates a serious risk for the passage of the budget as the ruling party NPP controls a slim majority of just one seat, if we count the independent MP who votes with NPP. The 2021 budget was narrowly passed this year, with 137 against 134 votes, as some minority MPs were absent. And this year's budget was not as controversial as this one, at least judging by the reactions to it at home.
Another risk, if the budget is adopted, is its implementation. Will the government be able to meet its ambitious fiscal targets? Will it be able to pass the needed tax changes, included the unspecified review of the tax exemptions and rise in fees and charges, so as to help shore up revenue? GDP growth projections seem more realistic but again much will depend on the recovery of the mining sector. The government has also not released debt projections for the medium term and it is not clear how they expect the charted fiscal plan to impact debt levels, although the planned primary surpluses suggest they intend to arrest their rise.
In any case, the budget faces several risks - from its adoption to its implementation, and it is yet to see whether the government could pull it off although many will likely remain sceptical.
Macroeconomic framework
The 2022 budget is based on a GDP growth projection of 5.8% y/y, accelerating from 4.4% in 2021 on the expected sharp recovery in the industrial sector, and more specifically mining. Growth is expected to be driven by improved oil and gold production. Agriculture is seen to grow at a flat rate in 2022 while growth in the services sector is seen to slow down. Other macroeconomic projections for 2022 include eop inflation of 8.0% and gross foreign reserves of at least 4 months of imports. We note that the October inflation was 11.0% and reserves stood at 4.9 months of imports at end-September having received a boost in August by to the IMF SDR allocation of USD 1bn. A large part of the SDR will be used to finance the 2022 budget.
The medium-term projections envisage average GDP growth of 5.6% in 2022-2025, non-oil growth of 5.9%, inflation within the target range of 8+/-2%, a fiscal deficit within the fiscal rule of 5% by 2024, a primary surplus over the period, and gross foreign reserves of at least 4 months of imports.
Revenue measures seek to broaden tax base
The budget relies on a set of measures aimed at improving revenue collection and broadening the tax base (as the government estimated that only 8% of the population were paying taxes) while at the same time providing stimulus to certain sectors. They are set to raise revenues by at least 3pps of GDP in 2022 and even more over the medium term. Among the key measures is reviewing the system of tax exemptions although the finance minister did not provide details. Surprisingly, the government removed the road tolls which some expected to be increased, but introduced an unexpected levy on digital transactions. Some measures aim to improve tax compliance including through digitalisation of government services, while others seek to stimulate certain sectors such as SMEs and small-scale gold miners. The measures include:
Approval and implementation of revised tax exemption bill;

Implementation of measures to increase property rate collection;

Removal of 50% discount on benchmark values for imports for selected goods and the 30% discount for vehicles;

Introducing an electronic transaction levy of 1.75% on the value of digital transactions with part of the funds to be used to road infrastructure and public transportation projects;

Removal of road tolls

Review of fees and charges to increase them by an average of at least 15% in 2022 and thereafter automatically by the average inflation rate

Reduction of withholding tax for small-scale gold mining from 3.0% to 1.5%

Raising the current turnover threshold for income tax for self-employed individual persons from GHS 200,000 to GHS 500,000;

Removing the 3% flat VAT rate and applying the standard 12.5% VAT rate to all firms except retailers with turnover of between GHS 200,000-GHS 500,000.
Spending-side measures seek to contain their increase
The government plans to contain spending and some of the measures include conducting regular payroll audits and performing staff rationalisation to optimise the size of the public sector workforce. The government also plans to subject all new projects to expert assessment so that their efficiency is established before they are approved. In addition, priority will be given to existing investment projects, as well as new ones funded with grants from development partners, and new PPP projects or concessions that are wholly or partially funded by a private sector partner. The government will also suspend purchases of vehicles for ministries and agencies except when approved by the chief of staff on a pre-approved budget provision. Efforts will be made to reduce off-budget expenditures and enhance commitment control.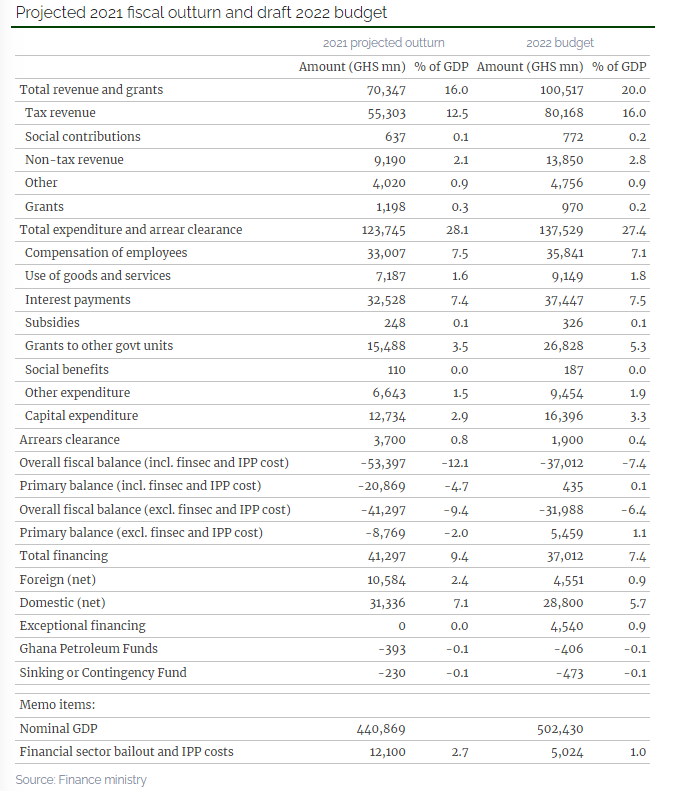 Deficit financing
The financing of the fiscal deficit will include GHS 4.6bn net external financing and GHS 4.5bn exceptional external financing which is entirely from the IMF's USD 1bn SDR allocation provided this August. The external borrowing includes at least USD 750mn on international markets with an option to increase this by further USD 750mn for budget support and liability management. The instruments that could be used include Eurobonds, social, green or sustainable bonds, or term loans/bridge financing. The net domestic financing is planned at GHS 27.9bn or 5.6% of GDP.