Three years have passed since the start of the air, land and sea blockade of Qatar by the Arab Quartet (Saudi, UAE, Egypt, Bahrain). An event that sent a shock wave for diplomats and geopolitical analysts has, over this time frame, barely caused a ripple for investors in equity markets.
In the same way that investors have not punished Qatar relative to other rich GCC oil exporters during the blockade, they are not rewarding its arguably stronger macroeconomic outlook now.
The longer Qatar demonstrates its resilience to the blockade, the longer oil prices remain well below fiscal break-even, and the more investors doubt the GCC is able to wean itself off hydrocarbon revenues, the citizen welfare and expatriate labour, the more Qatar should outperform.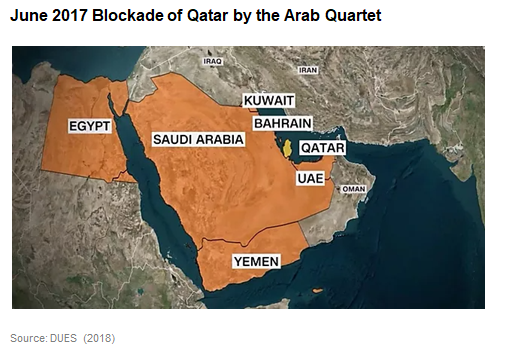 The blockade shows little sign of being lifted
The blockade crystallised splits on policies regarding the Muslim Brotherhood, Iran, Turkey, Libya and East Africa). Most of the splits remain as wide today as they were in the run up to the June 2017 blockade.
Although a softening of stance on some of these issues by individual members of the blockading states has occurred and entirely separate divisions among the blockading states have emerged (eg divergence of mission goals in Yemen between Saudi and the UAE or Saudi's unilateral hike in VAT), sufficient unity in favour of the blockade remains.
The one link between Qatar and these nations that has remained unaffected throughout this period is the Dolphin Gas Pipeline, which transports gas from Qatar to the UAE. However, recent gas discoveries in the UAE may eventually make this source of gas redundant.
Qatar has proved its resilience
Qatar has withstood the disruption to trade and food security resulting from the blockade as a result of three factors:
Extremely deep sovereign wealth resources;

Sufficiently united domestic politics (in part, due to resurgent nationalist sentiment, the iconagraphy of the Emir and robust authoritarian tools); and

Durable external relations (with the US, for whom it hosts the Al Udeid regional air force base, as well as with countries like Turkey, with whom its close relations triggered the blockade in the first place).
This has been demonstrated most recently by Qatar's direct fiscal stimulus in response to Covid-19 disruption, which is significantly higher than that of GCC peers.
Qatar equities have performed in line with rich GCC oil exporters, all outperforming Dubai
After a 10% drop in the first few days after the blockade was announced on 5 June 2017, Qatar equities have, over the three years since that date, performed in line with those from Saudi and Abu Dhabi, the two oil-rich protagonists on the other side of the blockade, and those from Kuwait, which has not participated in the blockade.
Indeed, Qatar's stronger forecasts (real GDP growth, fiscal balance, corporate earnings growth) and higher sovereign reserves to underpin its currency peg (second only to Kuwait in terms of reserves relative to money supply) do not appear to be driving much differentiation in valuation relative to its oil-rich GCC peers.
Over the same three-year time frame, Dubai equities have substantially under-performed (US$ total returns), de-rated (valuation versus history) and become less actively traded (average daily value versus history).
We draw the following conclusions from these observations:
Qatar is the top GCC pick for those who doubt diversification;

Dubai is the most vulnerable to ongoing GCC splits; and

Geopolitical risk hurts the region but does not drive differentiation.
Qatar is the top GCC pick for those who doubt diversification
For those who doubt the likelihood of the GCC hydrocarbon exporters ever successfully diversifying away from their reliance on hydrocarbon-based revenues (oil, gas, chemicals) and the recycling of these into the public sector and citizen welfare, Qatar likely offers the most sustainable version of this economic model and this is not reflected in the valuation of its equities.
Qatar has by far the highest level of sovereign wealth relative to its citizen base and is second only to Kuwait in terms of the reserves cover of its money supply (which relatively de-risks its currency peg).
Saudi has many more citizens to support relative to the size of its sovereign resources and Abu Dhabi arguably has at least as large contingent liabilities from the government-related enterprise sector (if GREs in both Abu Dhabi and Dubai count on implicit UAE sovereign support, not to mention the fiscal transfers to poorer emirates – Ajman, UAQ, RAK, Sharjah – in times of trouble).
Dubai is the most vulnerable to ongoing GCC splits and duplication
As the most diversified, open and externally driven economy in the region, Dubai has perhaps had the most to lose from the fragmentation of intra-regional supply lines (the port of Jebel Ali and the Dubai International Airport were material entry points for goods and passengers ultimately bound for Qatar) and the signal sent to foreign multinationals and expatriates of all nationalities by the expulsion order given to Qatari nationals immediately after the blockade.
Furthermore, the blockade of Qatar (which triggered new policies to attract foreign businesses and tourists) has arguably acted as one of the catalysts for more intense competition in duplication strategies across the GCC with Qatar, Saudi and the UAE all relaxing foreign ownership and visa rules - obviously, Crown Prince Mohammed bin Salman's Vision2030 strategy is also an important catalyst.
The risk of duplication in diversification strategies across the GCC (all targeting international tourism, travel, finance, entertainment) is not new for Dubai but it has less sovereign wealth to rely on to finance this (compared with Qatar) and a much smaller, more saturated indigenous population to address (compared with Saudi).
Investors appear to tar the all GCC oil exporters with geopolitical (and oil price) risk rather than differentiate
Whether splits or lack of coordination within the GCC, persistent friction between Iran and the US (and members of the GCC), or oil price, it appears that these risks, in general, are applied fairly indiscriminately across the GCC oil exporters.
For example, over the past few years, fund flows resulting from changes in weights assigned to individual stocks in widely tracked indices (MSCI EM, FTSE EM) or entire countries (the UAE and Qatar upgrades to EM in 2012-13, Saudi in 2018-19 or Kuwait in 2018-20) have been far more influential.
As those index-related flows subside and, for some, the runway left for the old economic model built on hydrocarbon revenues, citizen welfare and and expatriate labour runs out then, perhaps, the different level of vulnerability to geopolitical and oil price risks will drive much more differentiation at the country level.
Related reading
UAE-Qatar: Gas finds make detente less likely
Qatar: GCC split is about regional risk, not Qatar alone
Saudi pares fiscal deficit, hits consumer, prepares for long oil war, splits GCC
Saudi and GCC currencies: Drop the pegs while FX reserves still comfortable?
Kuwait, GCC: The expat debate stirs again
GCC: The Gulf is not a safe haven unless (at least) oil prices recover