Garanti BBVA (GARAN) intends to purchase up to US$350mn of its senior bonds, as detailed in the table below. The buybacks will take place in the month following the announcement (dated 16 April) through "one or more open-market transactions". 
Table 1: Garanti - Key bond buyback details
| Bond name | Purchase up to (US$mn) | Amount out (US$mn) |
| --- | --- | --- |
| GARAN 6.25% 2021 | 100 | 500 |
| GARAN 5.25% 2022 | 150 | 750 |
| GARAN 5.875% 2023 | 100 | 500 |
Source: Company announcement, Bloomberg
In each case, the maximum purchase amounts equate to 20% of the amount outstanding of the bond.
Garanti BBVA only has four USD-denominated bonds outstanding. The notable exception in this liability management exercise is the GARAN 2027, the only USD-denominated subordinated bond. It is possible that regulatory approval was needed to purchase this Basel III subordinated bond, all of which is still included in Tier 2 capital (based on YE 2019 disclosures). In addition, in total capital ratio calculations, this instrument helps offset the impact of TRY weakness on risk-weighted assets.
GARAN is buying back these securities even though the bank has not issued a USD-denominated bond since May 2017 (the GARAN 2027s were issued then, the last senior bond was placed in March of that year). The bank's announcement may help address any concerns there may have been about foreign currency liquidity at major Turkish banks.
GARAN's decision may also lead to speculation regarding buybacks at other Turkish banks. While we cannot rule this out, we note that other Turkish banks did not follow Vakifbank when that issuer bought back bonds. The chart that follows shows the Turkish senior bank bonds we track, in price order.
Chart 1: Turkish banks' senior USD bonds - Offer prices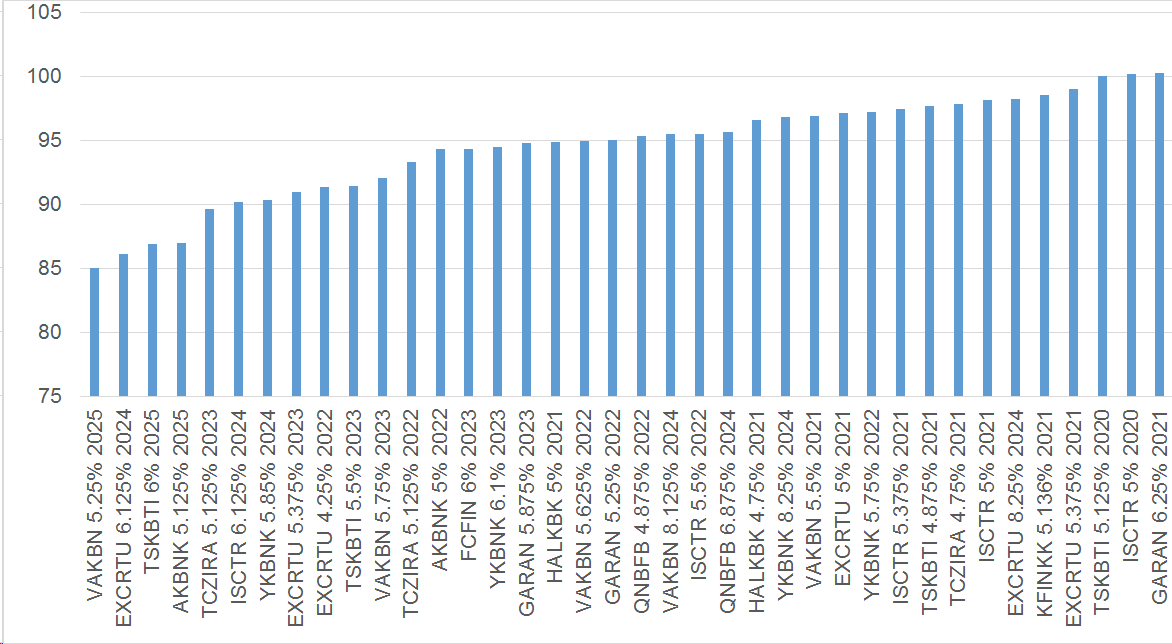 Source: Bloomberg. Indicative levels.
For our latest thoughts on Garanti BBVA, see this link.