The latest UN FAO World Food Price index (published on 8 July) declined again from the March 2022 all-time high: down 2.3% in June, following 0.3% and 0.8% declines in April and May, respectively, but up 23% yoy, and up 69% from the May 2020 trough.
This third consecutive month of small decreases suggests that the impact of what remain high crude oil prices and sporadic protectionism in food trade (eg China fertilisers, India wheat, and, albeit temporarily, Indonesia palm oil and Malaysia poultry) appears to be moderating and giving way to global recession fears.
The past three months come after a very sharp yoy acceleration in February and March, following the Russia-Ukraine war. Both countries are major global exporters of specific food commodities – for example wheat, at 18% and 11%, respectively. Although military setbacks, sanctions, and domestic pressure on President Putin may lead Russia to de-escalate, the moment of any lasting negotiated settlement still appears far off.
The index had reached a new all-time high in March: the move up in the overall food index over the past two years is much greater than that seen prior to the 'Arab Spring' of 2011 (when the index increased by c40% in a year) but yoy increases are decelerating.
This latest reading suggests that while conditions have ameliorated somewhat, they remain acutely difficult for countries with high household spending on food and high dependency on imports of food – for example, Bangladesh, Egypt, Jordan, Lebanon, Nigeria, Pakistan and the Philippines.
And within this subset – excluding Egypt and Nigeria – there is also net import exposure to high crude oil imports, and the 48% increase in average Brent ytd, compared to the full 2021 year average, is clearly very unfavourable for them.
The emerging market beneficiaries from high commodity food prices, at least from a trade perspective, are the following:
Asia: Indonesia, Malaysia, Thailand, Vietnam

Africa: Ghana, Ivory Coast, Zimbabwe

Europe: Iceland, Poland, (Ukraine prior to the Russian invasion)

LatAm: Argentina, Brazil, Chile, Peru
Among the components of the food index, vegetable oil and cereals were down, whereas sugar, meat and dairy were up.
Vegetable oils – down 8% mom and up 34% yoy, driven by seasonally higher production, and the expectation of higher exports from Indonesia (given high domestic inventories), and demand destruction (rationing) amid such high prices. Palm oil is a key export for Indonesia and Malaysia.

Cereals – down 4% mom and up 28% yoy, driven by seasonal harvest output in the northern hemisphere, improved crop conditions for wheat in Canada and Russia and for maize in the US, and expectations of demand weakness. Wheat, a key food import for Egypt, was down 6% mom, although still up 49% yoy.

Sugar – down 3% mom and up 9% yoy, driven partly by currency depreciation and lower ethanol prices in Brazil. The main emerging market sugar exporters are Brazil, Thailand and India.

Meat – up 2% mom and up 13% yoy, driven by disruption in Ukraine and avian flu outbreaks, and China's removal of bovine import restrictions from Brazil. The main emerging market exporters include Brazil, India and Argentina.

Dairy – up 4% mom and up 25% yoy, driven mainly by output concerns in Europe (early summer heat wave) and low global inventories of milk powder demand. Developed markets are the main exporters of dairy.
The next update of this index is due on 5 August.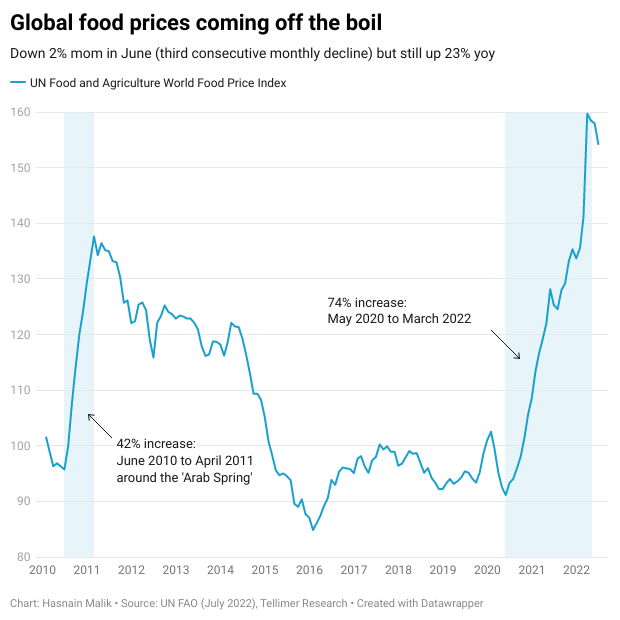 When determining interest rates, policymakers tend to focus on core inflation and treat some of the variation in food items as seasonal or temporary. However, for governments that subsidise food items, this food price spike creates fiscal stress and, for countries reliant on food imports, it drives a deterioration in the trade balance.
Furthermore, for the mass, poorer segment of the population, food inflation is generally an acute concern – the 'Arab Spring' coincided with a c40% increase in 2010-11 – and this translates into risk for governments facing re-election or attempting to implement structural reforms that challenge vested interests. Recent protests in Tunisia, for example, are as much about frustration with cost of living increases, in the absence of employment growth, as they are about Covid management and corruption.
Countries with both a high proportion of household expenditure on food and a significant net import bill for food include Bangladesh, Pakistan and the Philippines in Asia, Egypt and Nigeria in Africa, and almost all of the Middle East (particularly Jordan and Lebanon).
Food accounts for a large proportion of household expenditure in countries such as Argentina, Ghana, Ivory Coast, Kazakhstan, Kenya, Morocco and Ukraine but, at the macroeconomic level, this is offset by net exports of food. That, of course, does not mitigate the risk of social unrest from the poorer segments of these countries if the bump in export revenues does not trickle down.
Food exposure in EM
Cheapest commodity equity markets
Our Country Index in this context
Exposure to net fuel and food imports are factors incorporated into our EM Country Index, where the weight attached to these factors can be customised.
Related reading
Commodity exposure in EM: Stick or twist, June 2022
Food security in EM in the time of inflation, disruption, and now protectionism, May 2022
Food protectionism and inflation: India's wheat export ban the latest example, May 2022
Indonesia Palm Oil export ban cannot last, Apr 2022
MENA's reliance on Russian/Ukrainian wheat imports raises risk of hunger (Curran), Mar 2022
OPEC+ decision suits Saudi, US, Russia but no oil price relief for importers, June 2022
Emerging-Frontier Equity Monthly – June: US recession fear, China reopening hope, June 2022