We present our top picks for the rest of this year – an update to our top picks for 2021, published in December. Our revised Top 5 comprises Buys on hard currency bonds in Angola, Ecuador and Rwanda, and local debt in Egypt and Zambia. Three of these are new additions (Ecuador, Rwanda, Zambia), while two picks (Angola and Egypt) are unchanged from our top picks for the year. We have removed Ethiopia, Mozambique and Sri Lanka.
The year so far
EM hard currency sovereign bonds as a whole have struggled this year, with a total return on the EMBIGD of 0.9% YTD (by the end of last week), while the EMBI spread has fallen by just 8bps this year to 344bps, although it is only 14bps wide of its stimulus-fuelled post-pandemic low (330bps), which was seen in June. Yet the EMBI spread is still some 50bps off the levels we saw immediately pre-pandemic (290bps in January 2020) and well above its all-time lows (238bps in April 2010 and January 2013), suggesting there is room for some further spread compression. 
However, the overall weakness masks some strong performance from idiosyncratic cases. The best performers, with returns well into double-digits, have been Zambia, Ecuador, Sri Lanka and Angola, which partly reflects catch up given how much they sold off last year, while Zambia's rally also reflects hopes for a market-friendly outcome after the recent election.
At the other end of the scale, the worst performers have been Ethiopia (default concerns under the Common Framework), El Salvador (financing concerns amid the lack of an IMF programme), Colombia (fiscal risks) and Peru (policy outlook after the election), again reflective of some country-specific issues.
Yet, while EM financing conditions remain supportive – nominal yields on EM sovereign dollar bonds are still only c4.4%, and near-term tailwinds for EM abound from the very strong post-pandemic cyclical global recovery, the vaccine rollout and increased economic resilience to each successive new wave of infections, higher commodity prices and still supportive global monetary conditions – there are risks on the horizon.
These risks include from Covid itself (with new strains or weakened immunity from vaccinations), rising debt burdens in many EM (especially low-income countries), higher global and EM inflation (with concerns about bottlenecks amid the rapid post-pandemic recovery), prospects for fading global policy stimulus (both fiscal and monetary) and a Chinese slowdown.
In particular, while we think systemic risks from a repeat of the Taper Tantrum are overblown, frontier and smaller EM are especially vulnerable to higher global interest rates as the US Fed looks to withdraw monetary stimulus. Meanwhile, sovereign defaults have been few (and those that have occurred this year – two of them – are essentially ongoing from last year) and we haven't seen a wave of countries rush to the Common Framework to copy Ethiopia's lead.
Our Top 5 picks
We summarise our top picks below.
1. Buy Angola 9.375% 2048
We retain our Buy on Angola in our Top 5, with a yield of 8.7% (z-spread 727bps) on the 9.375% 2048s as of cob 14 September on Bloomberg (mid-price basis). Angola (B3/CCC+/CCC) has been one of the better-performing markets this year (helped by the recovery in oil prices), with a total return of c20% YTD on the '48s, compared with 0.8% on the Bloomberg EM Aggregate Index. However, the improvement in sentiment has seen Angola yields trade through frontier yields for similar maturity (c10-year) dollar bonds, with the yield on the Angola 29s at 6.9% compared with c7.1% on the Tellimer Frontier Index.
We reiterated our Buy on Angola after the IMF approved the fifth review of the EFF in June. Although approval was expected, it showed Angola continues to move in the right direction. The IMF noted at the time the authorities' strong commitment to sound policies, and the ongoing fiscal adjustment, aided by higher oil prices, which is reinforcing debt sustainability. The sixth review is approaching and we have no reason to think that that assessment will be any different.
Angola has also benefitted from bilateral debt restructuring from China (estimated at over US$5bn), as well as DSSI relief (a final extension was approved by the Paris Club on 27 July), which will have helped to reduce its otherwise high gross financing needs (GFN). GFN was expected by the IMF in June to be below 10% of GDP over 2021-23. The IMF SDR allocation in August (amounting to US$1bn, 6% of gross reserves) will also have boosted external liquidity. Net reserves, however, are still low, standing at US$9.6bn on 13 September, albeit up nearly US$1bn this year.
Added to this, Moody's upgraded Angola's rating from Caa1 to B3 on 13 September, Moody's first ratings upgrade on the country in five years (although, other than a default, there is only one way for the rating to go at that level). Moody's noted that the upgrade reflected an improving credit profile, consistent with B3 peers. It cited stronger governance (albeit from weak levels) and improving fiscal metrics, as well as liquidity and funding risks, helped by higher oil prices and fiscal consolidation. Moody's expects the government debt/GDP ratio to decline to 95% this year, from 122% in 2020, and to fall below 80% in 2023. 
Still, downside risks remain, notably with debt sustainability still on a knife edge, vulnerability to lower oil prices and tighter external financing conditions, and the IMF programme due to come to a close at the end of this year. Bondholders will be expecting a successor arrangement. On the domestic front, presidential elections are scheduled for next year, which could test the president's resolve for more fiscal austerity amid signs of reform fatigue. The IMF expected modest growth this year in its April WEO, of c0.4%, although this is little to write home about after a five-year recession.  
2. Buy Ecuador 5% 2030
We add Ecuador to our Top 5 after upgrading our recommendation to Buy from Hold recently, with a yield of 8.6% (z-spread 762bps) on the 5% 2030s as of cob 14 September on Bloomberg (mid-price basis). Ecuador (Caa3/B-/B-) has been one of the best-performing markets this year (following the market-friendly election result), with a total return of c40% YTD on the '30s, compared with 0.8% on the Bloomberg EM Aggregate Index. Over 8% yield for an improving credit still seems attractive to us, especially one with Ecuador's post-restructuring debt service profile, compared with the yield on the Tellimer Frontier Index of c7.1%.
Our upgrade is based on the authorities' commitment to sound policies, structural reforms and the IMF programme, and strengthening ability to pay. It follows the recent IMF staff level agreement (SLA) on the combined second and third reviews of Ecuador's US$6.5bn (661% of quota) extended fund facility (EFF), which was approved a year ago, after the first review was approved in December 2020. Board approval of the reviews is expected in the coming weeks. It is also expected to catalyse additional multilateral support while reserves have been boosted by the SDR allocation.
That said, fiscal and structural reform implementation still poses a challenge while we await more detail on financing arrangements. The main downside risks are if the IMF programme goes off track and/or lower oil prices.
3. Buy Rwanda 5.5% 2031
Rwanda issued a new 10-year eurobond to strong demand last month, with its benchmark US$620mn bond issuing below initial guidance at just 5.5% amid US$1.6bn of bids (of which 84.5% were holders of the existing 6.625% 2023 bond). Yields have fallen even further since, reaching just 4.85%.
The proceeds of the issuance were used to fund a tender offer on the 6.625% 2023 bond, of which US$61mn is still outstanding of the initial US$400mn. The tender greatly reduces near-term liquidity risk, with an extremely light maturity profile over the next decade. The increased size of the new bond will also reduce the illiquidity premium that weighed on prices for the 2023s.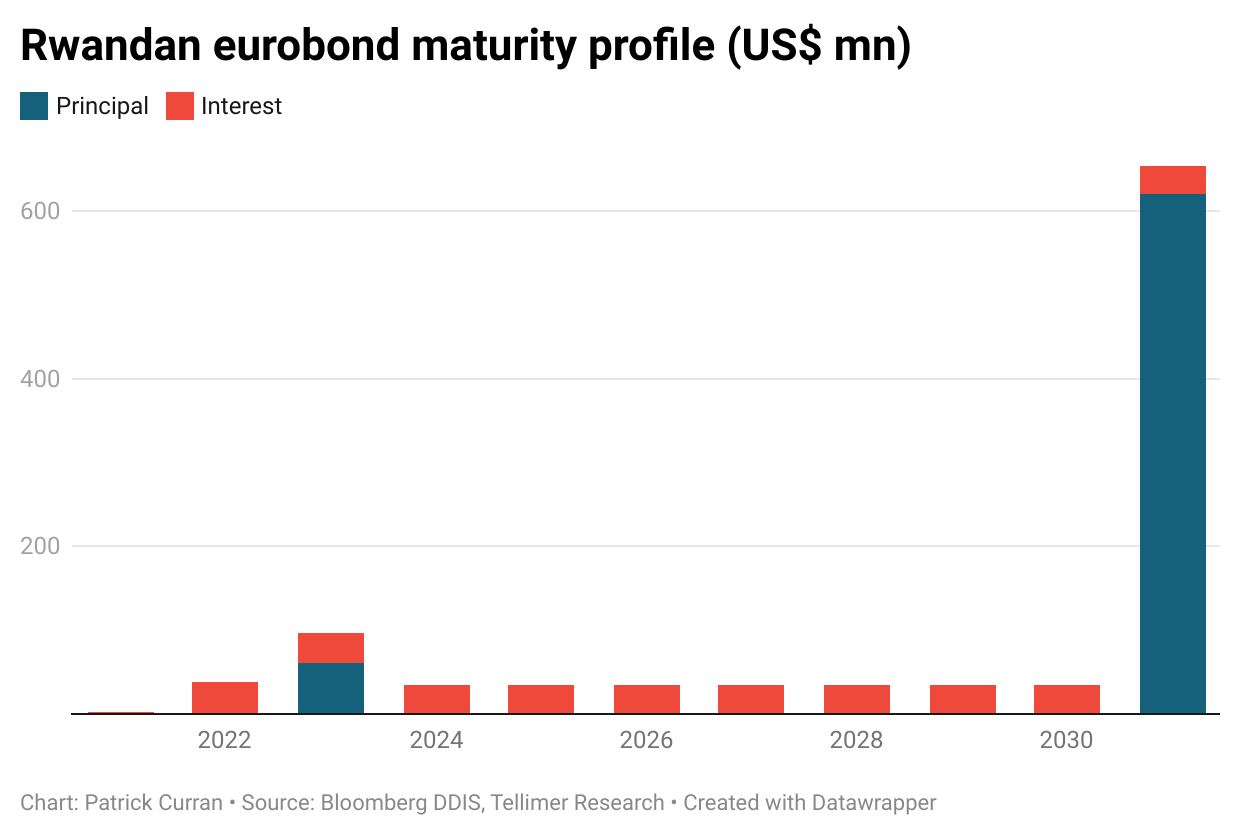 We assigned a Buy recommendation on the Rwanda 5.5% 2031s on 31 August. We still think the country has one of the continent's best growth stories (with Ethiopia descending into crisis, it is probably rivalled only by Senegal and Cote d'Ivoire – growth is projected to average over 7% from 2022-26 and inflation expected to remain subdued, around 5% or below), and as such will continue to be an investor favourite.
Perennially large twin deficits (with a projected average budget and current account deficit of 8.4% and 12.3% of GDP, respectively, over the next three years) could quickly lead to imbalances if Rwanda fails to shift from a public sector and debt-driven growth model, with public debt projected to reach 80% of GDP this year (although the mix is highly concessional, leading to favorable debt dynamics).
But, in the near term, the successful liability management exercise and US$220mn SDR allocation will give Rwanda the policy space it needs to implement its reform agenda and set debt on a sustainable downward path. As such, we add Rwanda 31s to our Top 5 trades at a price of US$105.1 (yield of 4.85%) as of cob on 15 September.
4. Buy Egypt T-bills
We made Egyptian T-bills one of our Top 5 picks last July 2020 on the basis of its high real yield and forecast for EGP stability, and kept it in our Top 5 when we last reviewed it in December. Not much has changed in the nine months since – the 12-month T-bill yield has stayed flat at 12.8% and inflation, despite a recent food-driven uptick, is unchanged at 5.7% yoy. At 2.6%, Egypt still has the highest real policy rate of 50 economies tracked by Bloomberg. Meanwhile, EGP has traded flat since December and reserves have ticked up marginally to US$40.7bn on the back of external issuance and IMF funding.
The key difference this time around is how crowded the trade is. After having fallen from US$20bn before Covid to US$7bn last May, foreign T-bill holdings have risen steadily to US$23bn in June – the highest level on record and 23% of the total T-bill stock. Alongside gross external financing requirements of nearly US$33bn in 2021/22, capital flight or a sudden stop of funding could trigger a liquidity crisis. This makes Egypt one of the more vulnerable countries to a potential Taper Tantrum, though it increasingly looks like the Fed will be able to engineer a soft landing, with UST yields stable over the past two months even with a taper of asset purchases now widely expected by year-end.
On the external front, Egypt's Q1 current account deficit widened to a record US$5.7bn (5.8% of GDP) on the back of a widening trade deficit. However, the trade deficit is largely unchanged in H1 21, with strong export growth now largely balancing growth in imports. And while EGP overvaluation remains a concern, with the REER rising c60% since the 2016 devaluation, lower inflation has caused the REER to stabilise over the past year and the IMF sees it as being fairly valued in its July review. In addition, Egypt continues to enjoy ready access to external markets (with another sukuk issuance expected in H1 22) and the IMF sees a sharp rise in FDI this year, providing a stickier source of external financing.
On the fiscal front, the 2020/21 surplus of 1.4% of GDP beat the IMF's 0.9% forecast, with debt rising only marginally on the year to 90.6% of GDP versus the IMF's 92% forecast. In its most recent DSA, the IMF said that Egypt's debt was sustainable but not with a high probability. Egypt plans to reduce its debt to 75% of GDP by 2025/26 by maintaining a 2% of GDP primary surplus from 2022/23 on, but, with interest payments absorbing over 50% of government revenue, it will have to walk a fiscal tightrope to avoid a debt crisis. And with the IMF programme having expired in July, it no longer has a policy backstop (though there still seems to be strong buy-in from policymakers).
Overall, while the Egyptian carry trade looks crowded and risks will remain elevated amid large fiscal and external financing needs, we think it is still attractive. Aside from high real rates and prospects of EGP stability, positive catalysts include Egypt's strong growth outlook (projected at 5.2% this year and 6% over the medium term), the recent inclusion of Egypt on the Financial Times Russell Bond Index and pending inclusion of Egypt in JP Morgan's GBIEM index (expected as soon as October) and the planned resumption of its privatisation drive (starting with an IPO of the state company behind its new capital city early this year, with only one of the 23 state companies identified for privatisation sold so far).
Local Egyptian debt has been one of the top-performing EM bond markets ytd, and we expect that outperformance to continue. However, Egypt is especially vulnerable to a swing in market sentiment, so the risks are elevated and must be closely monitored (see here for a more complete outline of Egypt's fiscal and external risks). We retain 12-month Egyptian T-bills in our Top 5 at a price of 12.8% at cob on 15 September on Bloomberg.
5. Buy Zambia local bonds
Since Hakainde Hichilema (HH) was elected President last month, Zambian assets have been on a tear. The kwacha (ZMW) has rallied by 18% versus the US$ (bringing the rally to 39% since mid-July), the ZAMBIN 8½ 04/14/2024s have rallied 18% to 79 cents on the dollar (bringing the rally to 47% ytd) and its 5-year Treasury bond has rallied by 29% (with the yield falling from 32% to 23.5%).
After years of economic mismanagement under former President Lungu, Zambia's economic outlook will greatly improve under the guidance of the business-friendly economist HH. So far, he has said all the right things, promising to restore macroeconomic stability, resolve Zambia's debt crisis, crack down on corruption and reverse the erosion of political freedom seen under Lungu. He also appointed a relatively technocratic cabinet with the goal of securing an IMF programme by year-end.
HH has also gone out of his way to reassure bondholders. In a tweet on 2 September, he said "Creditors to Zambia need not worry about our current financial position. We will arrive at an amicable and mutually beneficial solution to our debt. We will engage transparently and in good faith. As the youth of Zambia would say, 'Bally will pay.'"
However, despite HH's reassuring statements, any IMF-backed restructuring will likely need to include some combination of nominal haircuts and cashflow relief to set debt on a sustainable path, and think the recovery value on its eurobonds will be below current pricing. As such, we recently reaffirmed our Sell recommendation on Zambian eurobonds, with the eye-watering rally this year providing a good opportunity to take profits.
On the other hand, despite the recent rally, we still think local government debt is attractive. Even though real government bond yields are now slightly negative (c23.5% for 5-year debt versus inflation of 24.4% in August), if ZMW holds steady the nominal carry is attractive and BOP dynamics are still a major tailwind for the currency.
Preliminary data indicate that the current account surplus narrowed to US$0.7bn (15.2% of GDP) in Q2 from US$0.8bn (16.8% of GDP) in Q1 as growth in imports outweighed exports, but high copper prices and foreign portfolio inflows have kept the balance of payments firmly in surplus territory and fiscal consolidation under HH will likely slow the rebound in imports.
That said, the risk of capital outflows has risen materially, with non-resident holdings of government bonds doubling to ZMW45bn in the first half of the year (25% of the total outstanding), and has likely risen in the months since amid strong demand from foreigners at domestic bond auctions. However, with IMF funding now likely to be forthcoming (potentially unlocking other sources of financing too) and a large current account surplus, Zambia is equipped to withstand a degree of outflows, and with bonds comprising 97.5% of non-resident holdings, the risk of a sudden rush to the exits is reduced.
Overall, while the upside for ZMW and local debt has diminished substantially in recent months and the trade has become relatively crowded, we think the high nominal yield and prospect for continued ZMW stability nonetheless makes local currency bonds attractive. We recently initiated a Buy recommendation on the ZAMGB 11 01/25/2026s, and add the trade to our Top 5.
Our opposing recommendations reconcile our views that Zambia is in the midst of a substantially positive policy shift, but that recovery value on the eurobonds will likely be below current levels. Since the local debt is likely to be excluded from the restructuring, it can capture the upside from the policy shift while avoiding the uncertainty over the restructuring terms.
Ratings vs. Spreads
Source: Tellimer Research, Bloomberg. Defaults excluded. Argentina and Sri Lanka omitted (off-scale). Prices as of 15 September on Bloomberg (mid-price basis).