This is the third and final report in our series covering our traditional end-of-year review for emerging and frontier fixed income markets, the outlook for the year ahead and top picks for 2022 that have been published separately in recent days. For our 2021 outlook, published last year, see here.
Our top picks for 2022
We present our top picks for 2022. Our Top 5 comprises Buys on Cote d'Ivoire, Mozambique and Pakistan dollar bonds, a Buy on Uganda local and a Sell on Tunisia dollar bonds.
Our new Top 5 marks a complete overhaul since our last update, Top picks for Q4 2021, published in September, with five changes. We have removed our Buys on dollar bonds in Angola, Ecuador and Rwanda, and local debt in Egypt and Zambia (although we retain the Buys on each).
We also highlight eight other trades to watch for the year ahead, namely Angola, Argentina, El Salvador, Ethiopia, Ghana, Sri Lanka, Ukraine and Zambia. And we include our ratings versus spreads chart.
Our Top 5 picks
1. Buy Cote d'Ivoire
We add Cote d'Ivoire (Ba3/BB-/BB-) to our Top 5, with a yield of 5.5% (z-spread 429bps) on the 6.125% 2033 dollar bonds as of cob 14 December on Bloomberg (mid-price basis). Despite a small negative total return (-0.5% YTD to 10 December), Cote d'Ivoire has outperformed the EMBIGD this year (-1.7%), although it has performed broadly in line with the index in the market sell-off since September (-2.5% vs -2.7%).
Cote d'Ivoire has weathered the pandemic well with solid fundamentals, signalled by strong growth (+6%), fiscal discipline (c5.5% deficit) and a modest debt burden (50% of GDP). And crucially, with the post-Covid emphasis on fiscal and debt sustainability, while the planned fiscal consolidation has been delayed by one year due to the emergence of extra spending pressures, with the deficit now expected to converge to the 3% WAEMU convergence criteria by 2024 instead of 2023, this is not expected to be destabilising and nor does it put debt sustainability at risk.
In addition, financing needs looks manageable, but recourse to the IMF remains an option if conditions dictate. Cote d'Ivoire is no longer in an IMF programme after its joint ECF/EFF finished in December 2020, and there seems little interest – or need, at this stage – for a successor programme or unfunded arrangement.
Cote d'Ivoire also scores well on our debt sustainability and external vulnerability scorecards (something which is likely reflected in its strong credit rating).
Still, it feels unusual for a par asset to be in our Top 5, reflecting in part the lack of compelling value elsewhere. That said, with our top picks consisting of a high yield name, a distressed special sit and a local currency, we think there is room for a safe haven or solid credit (low beta) to diversify our portfolio in case of another adverse shift in risk sentiment. We think Cote d'Ivoire (or other Francophone names such as Senegal or Benin) offer that role.
2. Buy Mozambique
We add Mozambique (Caa2/CCC+/CCC) to our Top 5, with a yield of 10.7% (z-spread 954bps) on the 5% 2031 dollar bonds as of cob 14 December on Bloomberg (mid-price basis). Mozambique has performed in line with the index this year, with a total return of -1.5% YTD (to 10 December) compared with -1.7% for the EMBIGD, and has fractionally outperformed in the market sell-off since September (-1.0% versus -2.7%).
Mozambique was also one of our top picks coming into this year (replaced in our update, Top picks for Q4 2021, in September) as we were attracted by its high yield (then 9%) given the manageable debt service on the bonds amid massive investment in the LNG industry. Annual interest is still only US$45mn over the next two years before the coupon steps up in 2024, while amortisation on the US$900mn issue doesn't commence until 2028.
That investment thesis essentially remains the same but has been somewhat dented by delays to the gas projects and a worsening security situation. This culminated in TotalEnergies' declaration of force majeure in April after the insurgency in the Cabo Delgado province earlier this year. While Mozambique's armed forces, with help from Rwanda and the SADC, have had some success in fighting the militants, the situation remains fragile and recent reports say that attacks have spilled over into Niassa province and Tanzania. An escalation of the insurgency remains a risk to our view.
Still, despite this, the bonds have held up reasonably well, perhaps (ex post) justifying their inclusion as one of our top picks for 2021 a year ago and leading us to include them again this time around. Moreover, among the other high yield sovereigns (we count eight other sovereigns with dollar bonds yielding 10% or more, excluding those in default), we think Mozambique has one of the better debt service profiles on its bonded debt in the near term relative to its debt situation, repayment capacity and macro-policy orientation, outside REPCON (also low debt service but the bond is too small).
Next year's catalyst may be the resumption of TotalEnergies' project activity in 2022, as it indicated at its Investor Day in September. The company said it expected gas production to begin in 2026, marking a two-year delay compared with the original timetable. The resumption of TotalEnergies' activity would therefore be welcomed by investors as a positive sign that the gas is back on track, while ENI's FLNG project has been unaffected and we wait for Exxon Mobil's FID. Conversely, if a longer delay transpires, that would be more of a concern to bondholders, bringing with it risks to debt sustainability, with public debt pushed well over 100% of GDP after the pandemic (projected at 134% this year in the latest WEO), and perhaps even renewing concerns over the potential for a Common Framework treatment.
3. Buy Pakistan
We upgraded our recommendation on Pakistan eurobonds from Hold to Buy on 22 November on the back of the announcement of a staff-level agreement with the IMF on the approval of the sixth EFF review and an out-of-cycle 150bps rate hike by the State Bank of Pakistan (SBP). In light of an overheating economy and deteriorating balance of payments (BOP) outlook, these moves were necessary to preserve BOP stability in Pakistan and reverse the decline in reserves.
Just over three weeks later, we are still awaiting approval from the IMF Executive Board of the sixth review, and there is a risk that it will not materialise if the government fails to deliver on certain prior actions. However, the SBP's decision to hike rates by another 100bps on 14 December has helped solidify its policy shift (taking total hikes to 275bps since September), and a US$3bn injection of funding from Saudi Arabia has helped to boost Pakistan's flagging reserves while its reform programme is finalised.
To be clear, Pakistan is not out of the woods yet. Rapid import growth (+75% yoy over the first five months of FY 21/22) has continued to outstrip exports (+27% yoy), widening the trade deficit by US$12bn over that period and pushing the current account to a US$5.1bn deficit from a US$1.3bn surplus over the first four months of FY 21/22.
However, the recent tightening by the SBP shows that the government is willing to take decisive action and, along with the prior actions outlined in the IMF's staff-level agreement, will help push Pakistan's policy focus back from growth to stability. If Pakistan is able to deliver on its promises and get its IMF programme back on track, we still think it is one of th strongest EM reform stories.
Spreads on the PKSTAN 7 ⅜ 04/08/2031s have been volatile, and have widened by c45bps since we upgraded them to Buy. While failure to secure Board approval from the IMF could lead to some further weakness, with spreads sitting c110bps wide of the mid-June low we think there is significant upside if the review is approved and a compelling long-term investment thesis if reforms are sustained over time (recognising that, as we've seen regularly in the past, some slippage and backsliding is to be expected).
As such, we add our Buy recommendation on Pakistan's eurobonds to our Top 5 picks heading into 2022 at a mid-price of US$99.75 (mid-YTM of 7.41%) on 14 December on Bloomberg for the PKSTAN 7 ⅜ 04/08/2031s, with relatively high yields compared with similarly rated peers, despite a generally positive reform trajectory.
4. Sell Tunisia
On 13 December, we affirmed our Sell rating on the BTUN 5 ¾ 01/30/2025 US$-denominated eurobond at the prevailing price of US$75 versus a target price of US$66, which we revised from our prior target of US$74 in September due to rising external liquidity risks (with shortages of key imports and reserves artificially propped up by short-term financing) and limited prospects for meaningful reform (with the ongoing political crisis continuing to simmer without any resolution in sight).
And indeed, the political malaise deepened on Monday with President Saied announcing the suspension of parliament for the next 12 months leading up to a constitutional referendum on 25 July and parliamentary elections on 17 December. While tough economic reforms and an IMF programme could be easier to push through with more centralised control, we don't think they will be a high priority over the next year, despite statements from the prime minister last week that IMF talks are imminent.
Saied's power grab also increases the risk of political unrest, with widening cracks in his popularity (protests scheduled for 17 December are the first potential flashpoint ahead of the early year protest season). It will be increasingly important for Saied to maintain the support of the military, unions, and population to avoid a coup, which will make it difficult to push through unpopular reforms like wage and subsidy cuts. Further, it increases the likelihood of pushback from the West, which has thus far been relatively hands-off, potentially threatening needed financial support and risking sanctions.
While Tunisia's external commercial maturity profile is relatively light in the near term, a heavy reliance on trade credits to finance imports in recent years makes Tunisia vulnerable to a BOP crisis, and shortages of key imports hint at growing cracks in Tunisia's BOP. Tunisia can potentially muddle through with financial support from the GCC, but this will only kick the can down the road. The timing of a potential debt restructuring is uncertain, but we think it is inevitable absent a major policy shift, which we see as increasingly unlikely (see here for an outline of what is required).
While markets have increasingly priced in the risk of default in Tunisia, we think that its external imbalances are still underappreciated. As markets gain an appreciation of the extent of Tunisia's economic crisis, and its political crisis continues to get in the way of meaningful reforms, external liquidity concerns will only continue to rise. As such, we add our Sell recommendation on the BTUN 5 ¾ 01/30/2025s to our Top 5 picks heading into 2022, with the price of cUS$75 on 14 December sitting c13% above our target price of US$66.
5. Buy Uganda local
On 27 October, we initiated a Buy recommendation on 5-year and 10-year local government debt, with the real 10-year yield topping 12% at the time. Not much has changed since, with yields largely unchanged and a marginal increase in inflation. Further, the UGX has continued to be one of the best performing EM currencies, rising c3% YTD even as the JP Morgan EM Currency Index has fallen by c11% over that same period.
The currency has been supported by an influx of portfolio investment, with foreign holdings of government debt rising from cUS$300m in Q2 20 to cUS$800m in Q2 21. However, at just 10.5% of the total domestic debt stock and less than 20% of gross FX reserves, this compares favorably to other consensus carry trades like Zambia (31% of the debt stock and 100% of reserves) and Egypt (25% of the debt stock and 60% of reserves, looking only at T-bills). Further, 85% of the stock is held in bonds.
The key risk is Uganda's wide current account deficit (which the IMF projects to exceed 7% of GDP in 2022 and 10% over the medium-term) and UGX overvaluation (the IMF flagged UGX as being modestly overvalued in June, and with the current account deficit widening by 5pp to a record 12.3% of GDP in Q2 we think its overvaluation may have increased even further).
That said, the macro outlook is still quite positive, with Uganda agreeing to a three-year, US$1bn ECF programme with the IMF in June to help meet its large external financing needs and debt projected to be on a sustainable downward trajectory (although with some risk of fiscal slippage if revenue collection is not improved as envisaged).
With the possibility of a 'tightening tantrum' in 2022 as developed market central banks tighten monetary policy in response to higher inflation, EM currencies could remain on the back foot. However, as a relatively illiquid and low-beta currency, UGX is relatively well-positioned to withstand any potential EM currency weakness (overvaluation notwithstanding).
And, although inflation is projected to rise in Uganda as well (to 5% in 2022, according to the IMF), the Bank of Uganda may still have some space to loosen monetary policy if fiscal consolidation improves the monetary transmission mechanism as envisaged by the IMF, potentially leading to some duration gains for holders of longer-term government bonds.
Overall, given elevated real yields, subdued inflation and a long-term structure for foreign holdings, we think the trade is attractive, and with the government continuing to resist eurobond issuance in favour of concessional borrowing and syndicated non-concessional loans, the local debt market is a compelling way to get exposure to one of the continent's more stable macro stories (high growth/low inflation and low debt/IMF-backed fiscal consolidation, offset by high twin deficits and institutional weakness).
As such, we add our Buy recommendation to domestic government bonds to our Top 5 picks heading into 2022, preferring either the UGANGB 16 ⅝ 08/27/2026s at a yield of 13.32% or the UGANGB 17 04/03/2031s at a yield of 14.13% on 14 December on Bloomberg.
Eight other trades to watch in 2022
We highlight eight other trades/assets to watch for next year. Most of them are high yield or distressed cases (some are more distressed than others), representing mainly idiosyncratic risks, and therefore positive developments could be a catalyst for strong gains from fairly depressed levels.
Angola
Angola (B3/CCC+/CCC), on which we have a Buy, and one of our top picks for Q4, is a trade to watch next year ahead of the parliamentary elections in August, with a yield of 8.5% (z-spread 733bps) on the 8% 2029s and 9.8% (z-spread 847bps) on the 9.375% 2048s as of cob 14 December on Bloomberg (mid-price basis). Angola has outperformed the EMBIGD this year, with a total return of 11.1% YTD (to 10 December) compared with -1.7% for the index, although most of its gains were achieved in the first nine months of the year. Since the market sell-off in September, Angola (-6.6%) has underperformed the index (-2.7%).
With near-10% yields (albeit on the long-duration bonds), Angola should begin to look attractive compared with most other EM and frontiers in a benign international environment. High oil prices (+60% this year on last year, on an average basis, and expected to remain at the US$72 per barrel level next year) should also help support the near-term outlook.
However, there are two key issues going into 2022. First, what happens after the end of the IMF programme, which is due to expire this month? Economic policy has been anchored by the US$3.7bn (361% of quota) three-year IMF programme approved in December 2018, and augmented to US$4.5bn (434% of quota) in September 2020. Performance under the programme has been good, with the authorities showing strong ownership and commitment to the programme; the sixth and final review is underway. A short programme extension, or approval of a new programme, would help support investor sentiment, particularly if the authorities look to come to the international bond market in the new year.
Second, political risks may begin to loom ahead of next year's elections. Persistently low growth and declining income levels, together with high inflation (27% yoy in November), a weaker currency and ongoing fiscal consolidation could undermine the government's popularity ahead of the elections. A united opposition might be able to capitalise on growing popular discontent towards the ruling MPLA. However, a closely contested election, amid concerns over the risk of election fraud and social unrest, could impact market sentiment.
In addition, Angola is vulnerable to lower oil prices (eg caused by a slowdown in China) and higher global interest rates (eg due to Fed tightening).
Argentina
Argentina (Ca/CCC+/CCC), on which we have a Hold, is a trade to watch next year pending progress on IMF programme negotiations, with the 2030 dollar bonds priced at US$35.2 (yield of c22%) as of cob 14 December on Bloomberg (mid-price basis). Argentina has underperformed the EMBIGD this year, with a total return of -10.7% YTD (to 10 December) compared with -1.7% for the index.
With such depressed prices, Argentina could be the trade of the year if policies are normalised only a little bit and IMF programme discussions make tangible progress. For instance, even if yields only fell to 12% (still well wide of the frontier market yield, as calculated by Tellimer, which stands at 9.5%), that would imply a price of cU$56 (nearly 60% upside). Recall also that on some of the longer bonds, the coupon is beginning to step up more sharply too, which could make them more attractive.
But we've said this numerous times before, and Argentina generally disappoints.
However, time is running out if Argentina is going to avoid a default to the IMF and the Paris Club by March 2022. If Argentina cares about its reputation among IFIs, that may sharpen its focus.
After another US$1.9bn principal payment to the Fund on 22 December, and a modest US$0.7bn payment on 28 January, payments pick up significantly thereafter, starting with a US$2.9bn principal repayment in March. Altogether, US$19.2bn is due in 2022.
But the IMF's statement on 10 December, following staff meetings with a technical delegation from Argentina, provides little hope that an agreement is around the corner, and is not much to show for some 18 months of programme discussions. The statement said that they have "advanced the technical work", and reached some "general understandings", yet it is not even clear if the authorities share the same diagnosis of fiscal policy and the inflation problem. An "appropriate monetary policy with positive real interest rates" may be anathema to Vice President Cristina Fernandez. Why "broad support...within the international community" is needed is unclear, perhaps another sop to the government. Moreover, these have been technical discussions, and however near or far apart they may be, a political agreement (both by the Argentina government and Congress) will also be needed.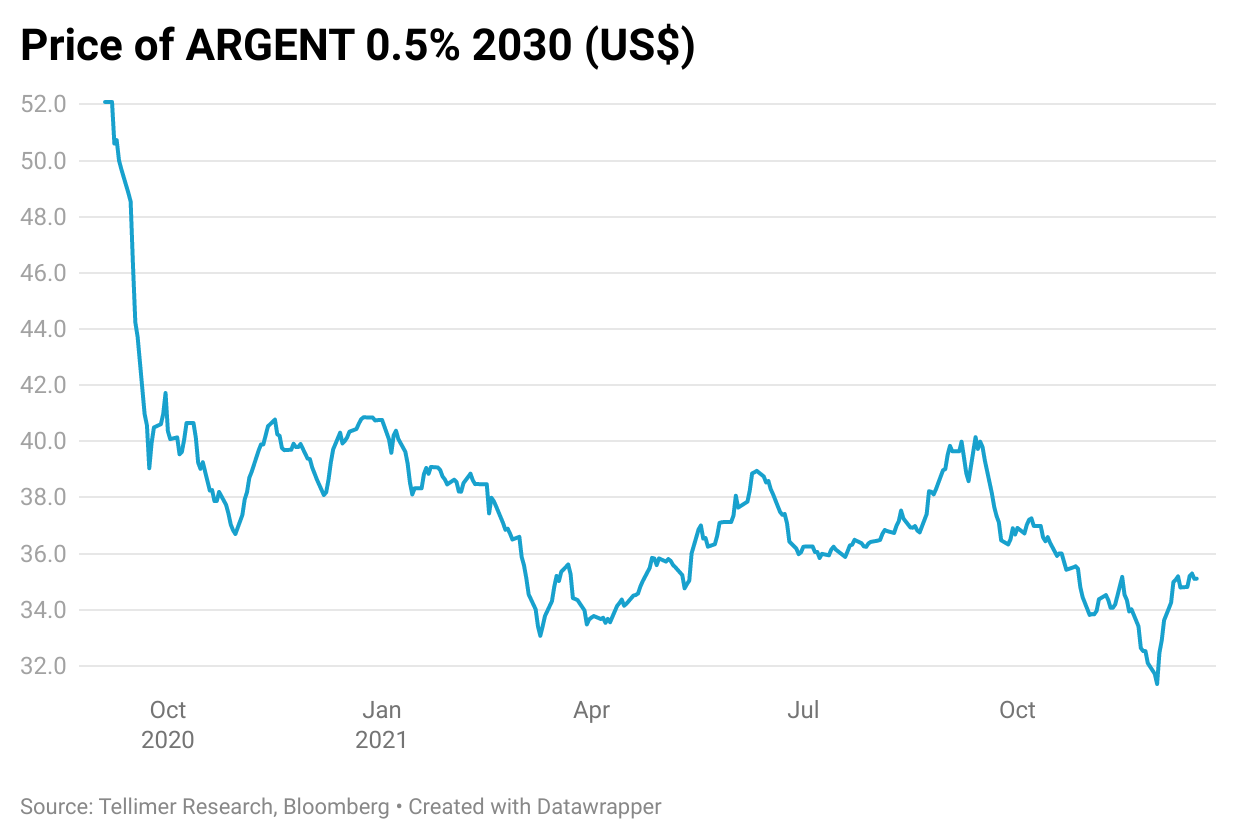 El Salvador
El Salvador (Caa1/B-/B-), on which we have a Hold, is a trade to watch next year, at a price of US$65 on the 8.25% 2032s (yield of 15.0% and z-spread 1376bps) as of cob 14 December on Bloomberg (mid-price basis). El Salvador has been the second-worst performer in the EMBIGD this year, with a total return of -25.1% YTD (to 10 December) compared with -1.7% for the index. It is the fifth-highest yielding sovereign after distressed Sri Lanka, Ethiopia, Tunisia and (of course) Argentina.
El Salvador's bond's poor performance this year began in May after the government-controlled legislature removed top judges and the attorney general, attracting criticism from the US and other foreign governments, and putting in doubt hopes of an IMF programme. At the time, the yield on the 32s was below 7%, and the bond was trading above par. Fast forward, and the situation has deteriorated by more than anyone expected, including ourselves, with a Fund programme all but ruled out, no doubt partly due to its concerns over the risks arising from the country adopting Bitcoin as legal tender. The bond is now priced in the mid-60s (with a peak to trough fall this year of 47pts).
The marked fall in bond prices may now bring them more into line with some estimates of expected recovery values in certain scenarios, and any positive signals on policy direction or securing external funding could be a strong catalyst for gains. However, risks remain and investors will be nervous ahead of the looming US$800mn maturity of the '23s (24 January 2023) without better visibility over how the government intends to repay it and its refinancing plans. The '23s, trading at US$80 (mid), would offer 20pts upside if they are paid. Alternatively, nervous investors may prefer the protection of the lowest cash price bonds, the '50s, at a price of US$56.
Ethiopia
After falling by c35% from their January peak to just cUS$66, we upgraded our recommendation on the ETHOPI 6 ⅝ 12/11/2024 eurobond to Hold from Sell on 7 December. Our rating balanced several factors, including the Common Framework debt restructuring (for which it is still unclear if private creditors will be included), the ongoing civil war (which shows no signs of slowing down) and the state of Ethiopia's economy (on which there is little timely information or data).
We still think the government is keen to exclude the eurobonds from the restructuring, although it is unclear if this will satisfy the Common Framework principle of "comparability of treatment" or bring debt below the IMF's sustainability thresholds, so there is still a risk of private sector involvement (PSI). However, under 'normal' exit yield assumptions the bonds are already trading at or below recovery value, per our estimates.
That said, the situation in Ethiopia is far from normal, with an ongoing civil war that threatens to tear the country apart. As such, we don't see yields 'normalising' for quite some time, and there is still substantial downside risk to prices if the conflict escalates (with an uncertain endgame that encompasses everything from a coup, to a prolonged and violent civil war, to the disintegration of the country along regional and ethnic lines).
Balancing these factors, we see the bonds as currently reflecting 'fair value'. However, this is a fuzzy concept given the high degree of uncertainty and Ethiopia. While there is substantial upside if the restructuring and conflict are resolved, there is also no telling how far prices could fall if the conflict continues to worsen. Heading into 2022, it will be increasingly important to monitor developments on the ground to avoid being caught wrongfooted (both in terms of prices and ESG considerations).
Ghana
Ghana (B3/B-/B), on which we have a Hold, is a trade to watch next year, with a yield of 11.0% (z-spread 976bps) on the 8.125% 2032s as of cob 14 December on Bloomberg (mid-price basis). Ghana has been one of the worst performers in the EMBIGD this year, with a total return of -12.2% YTD (to 10 December) compared with -1.7% for the index.
It all comes down to the fiscal, and lack of fiscal credibility. While double-digit yields, and to be fair, little immediate threat of default, could begin to look attractive compared with most other EM and frontiers in a benign international environment, even on unchanged policies, a durable rally, and re-rating, look unlikely without a stronger fiscal commitment from the authorities.
The much anticipated 2022 budget last month, seen as a litmus test of the government's fiscal credibility after the recent sell-off in its foreign bonds amid mounting concerns over debt sustainability, did little to reassure investors. While the government projects a narrowing in the fiscal deficit (ex-restructuring costs) from 9.4% of GDP in 2021 to 6.4% in 2022, it relies on overly optimistic revenue assumptions, with 43% revenue growth, due mainly to better tax compliance and revenue administration, which seems unlikely.
Investors might prefer to wait to see actual evidence of revenue gains before leaping in.
Sri Lanka
Sri Lanka is teetering on the edge of default, with reserves falling sharply month after month to just US$1.6bn in November (of which just US$1bn is liquid FX), equaling less than a month of imports and just over two months of external debt service. While the government continues to reassure investors that it will honour its foreign debt obligations, including a US$500m eurobond in January and a US$1bn in July, via ad hoc bilateral financing and FX swaps, restructuring seems to be inevitable beyond January.
Even turning to the IMF at this point (which the government continues to resist in favour of "homegrown reforms") is unlikely to prevent a restructuring, as a programme will take time to negotiate from square one and is unlikely to materialise in time to solve Sri Lanka's liquidity constraints. In addition, even an IMF-backed reform programme will struggle to put debt on a sustainable trajectory, so the IMF will likely require a restructuring to satisfy its requirement of not lending into an unsustainable situation.
Indeed, bonds have adjusted to reflect the near certainty of default, with the SRILAN 6.85 03/14/2024s falling by c23% since we downgraded to Sell on 15 July and c32% from their mid-June peak to just cUS$52 on 14 December. We retained our Sell recommendation on 1 December with a target price of US$55 for the SRILAN 6.85 03/14/2024s, with bonds now likely to trade relatively rangebound moving forward, but there could still be some downside as Sri Lanka inches closer to default.
The 2022 eurobonds are more interesting, with the US$500m SRILAN 5 ¾ 01/18/2022s trading at cUS$89 and the US$1bn SRILAN 5 ⅞ 07/25/2022s trading at cUS$66. While we think default is inevitable, it could be delayed if some of the government's promised bilateral financing materialises (which looks increasingly unlikely). That said, with bonds priced to be paid in January, we downgraded the SRILAN 5 ¾ 01/18/2022s to Sell from Hold on 8 December (we are agnostic on the SRILAN 5 ⅞ 07/25/2022s).
We think Sri Lanka is the EM most likely to default heading into 2022, but the timing is still uncertain and it remains to be seen if it will restructure proactively (ie by reaching out to the IMF and creditors before payments are missed) or if policymakers will continue to keep their heads in the sand and run reserves into the ground before being forced to default under duress, which could lead to a more onerous restructuring process and lower recovery values.
Ukraine
Ukraine (B3/B/B), on which we have a Hold, is a trade to watch next year given the escalation of the threat of military conflict with Russia, with a yield of 8.3% (z-spread 708bps) on the 7.375% 2032s as of cob 14 December on Bloomberg (mid-price basis). Ukraine has underperformed the EMBIGD this year, with a total return of -4.8% YTD (to 10 December) compared with -1.7% for the index, although its underperformance since the market sell-off in September has been more pronounced (-8.4% vs -2.7% for the index).
The immediate outlook for Ukraine bonds may be determined in Moscow, as the threat of conflict with Russia weighs on investor sentiment. The sharp rise in Ukraine yields since September (+c200bps; +c250bps YTD) reflects the renewed threat of a war with Russia, following the recent build-up of Russian troops on the border and rising tensions with Moscow, amid intelligence reports that President Putin is planning a winter invasion. While Putin's motives are unclear, and it is not really clear how credible the threat is, the West is taking it seriously. The West's response has aimed at diplomacy and de-escalation, although it is readying sanctions against Russia just in case (see here and here). Of course, we might see a removal of the war premium if Putin de-escalates, as we saw in the spring. Conversely, any escalation would see the bonds remain under pressure, while any military incident or actual war would have more far-reaching consequences.
As a result, positive news on the IMF programme extension has been a bit of a side-show. The IMF last month approved a six-month programme extension to June 2022 after finally completing the long-delayed first review. This would however return to centre-stage if war fears recede. Then, the market focus – as usual – will be on programme compliance and implementation of the revised structural benchmarks, growth and reform prospects, and financing needs. The next review (the second review) is due from March 2022.
On the economic front, the main focus will be on financing, inflation and growth. Public sector financing needs next year remain sizeable, which we estimate at cUS$19bn (12% of GDP), a bit lower than this year, based on the IMF target of a 3.5% budget deficit, although it should be met largely from domestic financing and IFI support. A sovereign bond issue may however depend on the situation with Russia, but Ukraine should be able to cover any shortfall on this front from other sources. Meanwhile, real GDP growth, which has already slowed on the back of pandemic measures and higher interest rates in response to rising consumer price inflation (10.3% yoy in November), could remain subdued on tensions with Russia. The National Bank of Ukraine (NBU) hiked interest rates for a fifth time this year last week, by 50bps to 9%, bringing the cumulative increase this year to 300bps. The central bank expects inflation gradually to decline to its 5% target next year, although risks have shifted to the upside. Growth prospects were also revised down in its October Inflation Report, with the NBU projecting real GDP growth of 3.1% this year, rising to 3.8% in 2022, although – if that materialises – it would make the GDP warrants (-8% YTD) look interesting again.
That said, at this juncture, the risk-reward for Ukraine bonds seems asymmetric, with seemingly much more downside in the event of military escalation (even if it is low probability) than upside.
Zambia
Zambian eurobonds have rebounded sharply since defaulting last October, rebounding from a low of cUS$42 last October to cUS$79 after a more reform-minded administration emerged from elections in August. Indeed, Zambia is the top-performing EM hard currency trade of the year, with the ZAMBIN 8 ½ 04/14/2024s up by c47% on the year as of 14 December. Local currency debt has performed well too, with ZMW up by c30% on the year and the ZAMGB 13 08/29/2026s up by c56%.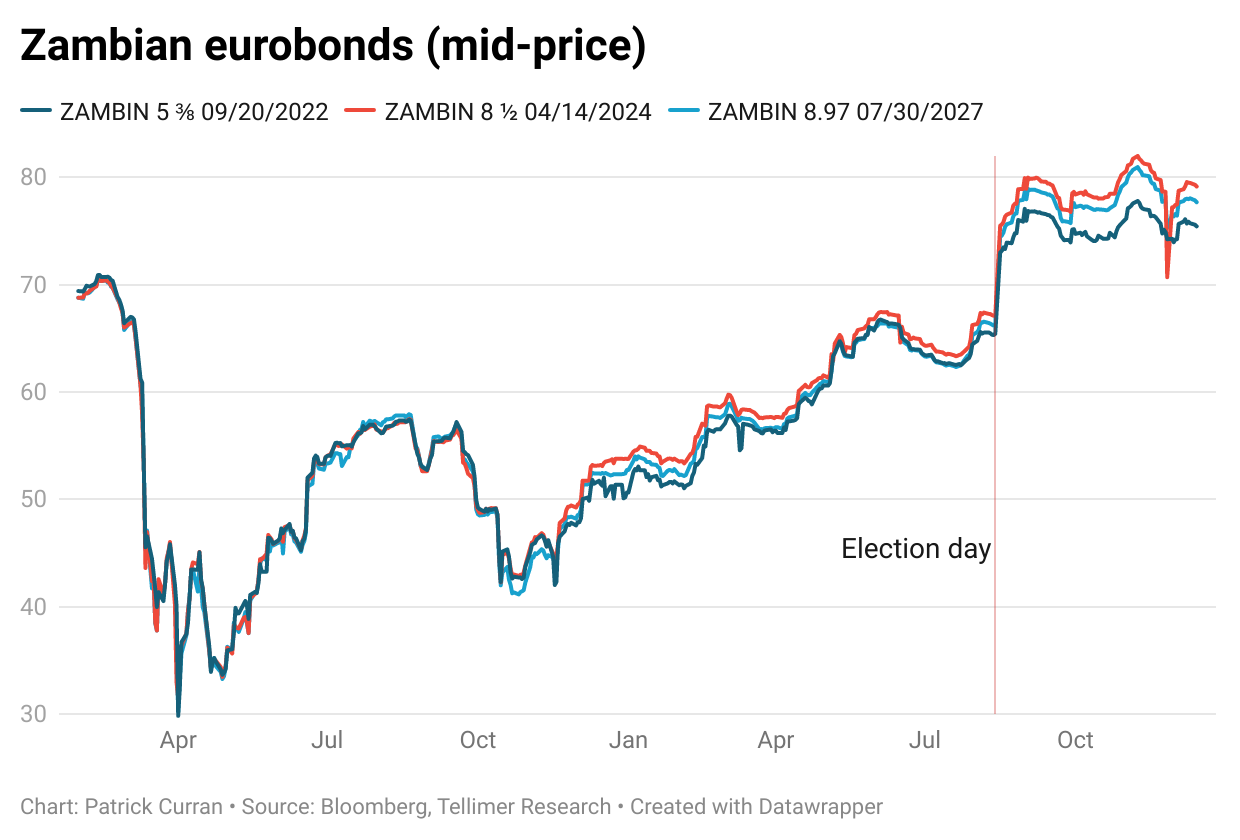 And, with the "New Dawn" administration now in office nearly four months, there are finally some signs of progress on the debt restructuring, with the government reaching a staff-level agreement for a three-year IMF programme on 3 December and anticipating Board approval at some point in Q1 22 subject to "receipt of the necessary financing assurances" from official creditors. This will pave the way for discussions with official and private creditors, allowing the restructuring to move forward in earnest.
However, it is still early days and, to our knowledge, the government has not yet taken any substantial steps to engage with creditors. Further, private creditors could take issue if they are simply presented with an IMF programme and debt sustainability analysis (DSA) without being given any substantial input on programme modalities or assumptions, essentially presenting the contours of the restructuring to them as a fait accompli.
As a bellwether for how restructuring will be handled under the Common Framework (Chad doesn't have any eurobonds and Ethiopia is in the middle of a civil war, so they are less likely to be seen as setting precedents), it will be essential that creditors are on board with the process and do not feel like they are taking a backseat to the IMF and official sector creditors in the restructuring talks.
While Zambia is undoubtedly in the midst of a major positive policy and economic shift, we still think eurobonds are priced at or above recovery value and leave little room for further upside, and retain our Sell recommendation.
However, with local debt likely to be excluded from the restructuring and high copper prices supporting ZMW, we think 5- and 10-year Treasury bonds are a compelling way to gain exposure to Zambia's reform story (albeit with elevated risks, with foreigners holding 31% of domestic debt).
With IMF negotiations and the debt restructuring likely to gather steam in early 2022 and the new administration seeking to meet high expectations for reform, Zambia will be an interesting trade to watch next year.
Ratings vs. spreads
Source: Tellimer Research, Bloomberg. Yields as of 17 December (mid-price basis). Not shown are Argentina, El Salvador, Ethiopia, Sri Lanka, Tunisia (off-scale), Lebanon, Suriname, Zambia, Venezuela (in default), Grenada, Seychelles (too small).