We present our strategy picks for 2021. Our Top 5 comprises Buys on Angola, Ethiopia, Mozambique, Sri Lanka and Egypt T-bills. Two of these are new Buy recommendations (Angola and Ethiopia), while three picks (Mozambique, Sri Lanka and Egypt T-bills) are unchanged from our H2 outlook in July.
We also highlight seven other trades to watch for the year ahead, including Ecuador, Pakistan, Ukraine, Turkish local and Turkish credit; highlight a selection of other HY names that could benefit from a continuation of the global rally; and discuss local currency opportunities as the world anticipates a weaker dollar.
But of course, it's been a traumatic and eventful year because of the Covid pandemic, so we review 2020 and present our outlook for 2021. 
Policy makers have responded to the negative economic impact of the pandemic and initial market dislocation in March/April with an exceptional global policy stimulus in advanced economies, and some EM too, which is driving asset prices. Total policy stimulus around the world amounts to 20% of global GDP. We've seen 3685bps in interest rate cuts since February, twice what we saw in the whole of 2008 during the GFC, and a massive expansion of central bank balance sheets through bond purchasing programmes and QE. Negative-yielding government debt has swelled to over US$18tn.
Unprecedented global stimulus and the view of low for long rates has underpinned risk assets, turbo-charged by the result of the US election on 3 November and positive vaccine news.
EM hard currency sovereign bonds have been pulled up by the year-end rally, after a flat first nine months, with a total return of 4.3% YTD. Nominal EM yields fell to an all-time low of 4.3% in late November, and have since touched even lower levels, although this masks a difference in performance, with HY lagging until recently the overall rally. HY may, however, still offer value, while IG may look expensive. With the Tellimer frontier market yield at 6.7%, the frontier premium – proxied by the difference between B-rated sovereigns yields and the EM nominal yield – is 244bps; still 108bps wide of its historical average.
Capital flows to EM have returned after the outflows seen during the worst of the pandemic and sovereign bond issuance has boomed. The record single-month portfolio outflow seen in March (US$90bn, according to the IIF) was recovered by July, and total portfolio flows for the year stand at US$175bn (to November), mostly into debt. While a remarkable recovery, it is however only 56% of what we saw in 2019, and well down on the record US$439bn in 2010. EM hard currency sovereign bond issuance amounts to over US$200bn YTD.
But we've also seen a record number of sovereign bond defaults, too, and investors may be worried about future debt relief initiatives and changes to the rules of the game forced on them by the official sector. 
While pandemic related risks may dominate in the near term, these global tailwinds are expected to continue into 2021. But we think two points are worth making. First, the real economy has lagged the recovery in investor sentiment. Second, the world emerges from Covid with a debt mountain. How governments deal with these issues, and how the public reacts, may help to shape the investment outlook in 2021.
Our top picks for 2021
We present our top strategy picks and provide a brief description of the motivation of each one.
We have made two changes to our Top 5 picks since our last Fixed Income Strategy Outlook on 23 July (our top picks for H2).
We add:
Buy on Angola 9.375% 2048, which we've upgraded from Hold.

Buy on Ethiopia 6.625% 2024, which we've upgraded from Hold.
We remove:
Senegal 6.75% 2048. We retain our Buy and still like the story, with the bonds performing well and benefiting from long duration, but yields have fallen to 6% (z-spread 477bps).  

Iraq 6.752% 2023. We retain our Buy on this short-duration idea, with a yield of 7.2% (z-spread 697bps), but find other trades more compelling.
We retain our Buys on Mozambique, Sri Lanka and Egypt local T-bills.   
Our Top 5
1.     Buy Angola 9.375% 2048
We add Angola (Caa1/CCC+/CCC) to our Top 5, upgrading our recommendation from Hold to Buy, with a yield of 10.1% (z-spread of 908bps) on the ANGOL '48s on a mid-price basis as of cob 11 December on Bloomberg (at a mid-price of US$93.0). Angola has been among the biggest beneficiaries of the year-end rally, with the bonds rising c16pts since end-October after trading in a narrow range around 80 since their post-Covid recovery, although they are still 17pts below the pre-Covid high this year. That would imply a yield of 8.4%. The prevailing yield of 10.1% also compares with 7% on similar duration (but higher rated and less leveraged) Nigeria '38s.
Our investment thesis is simply a HY, long-duration oil play. Angola should benefit from expectations of gradually rising oil prices from next year, with the latest consensus survey on Bloomberg showing Brent prices rising to US$48pb in 2021 compared with US$43 YTD (currently, US$50.0 as of cob 11 December on Bloomberg), which is consistent with the IMF programme assumptions in the third review in September. This should begin to ease fiscal and external financing constraints. In addition, debt service suspension under DSSI and enhanced debt service relief from China, along with IMF (and other donor) financing, will also support the financing outlook, while strong ownership of the IMF programme underscores investor sentiment.
But it is not without risks. Downside risks mainly relate to lower oil prices, although weak implementation of the IMF programme and limited external liquidity in the context of a high debt burden are additional challenges. Net reserves fell to US$8.3bn on 10 December, according to the central bank, down US$3.3bn (-29%) this year (from already low levels). Public debt is projected at 123% of GDP in 2020 by the Ministry of Finance. Inflation at 24% yoy in October poses an additional challenge to policymakers in an environment of weak growth. Real GDP growth is projected at -3.6% this year, according to the Ministry of Finance in October, which marks five consecutive years of recession, and is forecast to be flat in 2021. The IMF WEO is however a bit more optimistic, with growth of 3.2% next year.
Compliance with the IMF programme will be crucial and, after bondholders dodged a bullet with the IMF review in September by avoiding PSI, we all know what happens if the programme goes off track again. As the IMF warned in its DSA, "further debt relief may be needed if downside risks materialize".
2.     Buy Ethiopia 6.625% 2024
We add Ethiopia (B2/B/B) to our Top 5, upgrading our recommendation from Hold to Buy, with a yield of 6.1% (z-spread of 579bps) on the ETHIOPI '24s on a mid-price basis as of cob 11 December on Bloomberg. Ethiopia has been one of the clear underperformers of 2020, but we think has a strong fundamental and reform outlook.
Ethiopia has been the star growth performer of the past decade and looks set to stay atop the pile in the years ahead, ranking as the most attractive country in SSA for "scaled and cheap manufacturing", according to our regional manufacturing scorecard. However, Ethiopia is at a key inflection point and, after years of state-led growth, must transition to a more private sector-led model for its historically high growth performance to be sustained.
While private sector investment has increased in recent years, there is scant evidence of industrialisation and the business environment remains challenging. That said, the government also has one of the more ambitious reform agendas in the emerging and frontier universe, focusing on:
Modernising the monetary policy framework by introducing a benchmark interest rate and moving to a hybrid regime of inflation and monetary base targeting within the next two years;
Moving towards a market-driven exchange rate in the next two years to reduce accumulated REER overvaluation and erase the parallel market premium (currently, around 25%);

Financial market liberalisation, including formation of a new stock market authority at some point in 2021;

Privatisation, including Ethio Telecom in H1 21 and Ethiopian Sugar Co shortly thereafter, as well as formulating a road map to foreign participation in the banking sector; and

Infrastructure investment, including the massive 6,450 MW Grand Ethiopian Renaissance Dam (GERD), which is now 75% complete and will increase installed capacity by 2.5x
In addition, Ethiopia was resilient in 2019/20 in the face of the Covid crisis (albeit hard to compare directly since it is on a fiscal year basis and only encompasses one-quarter of the crisis), with real growth staying positive at 1.9% yoy, the current account deficit contracting from 5.3% to 4.5% of GDP amid strong export growth and remittances, a slight widening of the budget deficit from 2.5% to 3.5% of GDP, and debt declining from 57.6% to 56.1% of GDP.
However, positive sentiment towards Ethiopia was derailed by the emergence of a conflict between the federal government and Tigray region in early November. This prompted its lone eurobond to initially sell off by nearly 200bps, and, while it has since returned to pre-conflict levels, it has underperformed the EMBI Africa index by c125bps over the period.
As we have previously written, the conflict will likely continue to simmer and could distract from Ethiopia's reform efforts, with markets likely to continue pricing in a higher political risk premium now that the genie of ethnic conflict has been let out of the bottle and Prime Minister Abiy's honeymoon phase has been brought to an abrupt end.
However, we think the fundamental outlook for Ethiopia is still favourable and, while some slippage from its ambitious reform agenda is probably inevitable, it continues to offer one of the more compelling reform stories on the continent. That said, we preferred at to wait until there was more clarity on the state of the crisis before upgrading our recommendation on Ethiopia's 2024 eurobond.
Now that the crisis appears to have been de-escalated from a full-blown civil war to a guerrilla conflict, we feel comfortable upgrading Ethiopia '24s from Hold to Buy. Admittedly, as a result of our caution we missed the initial buying opportunity opened up by the crisis. But, with its YTD underperformance of the 'B'-rated EMBI average nearing 150bps (surpassed only by El Salvador and Bolivia), it is not too late to buy into Ethiopia's reform story at a relatively steep discount.
3.     Buy Mozambique 5% 2031
We retain our Buy on Mozambique (Caa2/CCC+/CCC) in our Top 5, with a yield of 8.9% (z-spread of 816bps) on the MOZAM '31s on a mid-price basis as of cob 11 December on Bloomberg (at a mid-price of US$91.0). After being fairly stagnant since their post-Covid recovery, the bonds have enjoyed the same kind of year-end rally as other names, rising c8pts since end-October, and they are now only 6pts below the pre-Covid high this year. That would imply a yield of 7.9%.
Our investment thesis remains the same, supported by manageable debt service on the bonds amid massive investment in the LNG industry. Annual interest is only US$45mn over the next three years before the coupon steps up in 2024, while amortisation on the US$900mn issue doesn't commence until 2028. Total's financing deal in July was a crucial milestone and, while Exxon's final investment decision (FID) has been pushed back to next year, we don't think this is a problem provided it moves forward. Additional support to our view is provided by the authorities' interest in an IMF programme, as they dust off their plans from the beginning of the year. Notwithstanding the global rally, we think the stamp of approval of an IMF programme would be a good fundamental catalyst for the bonds.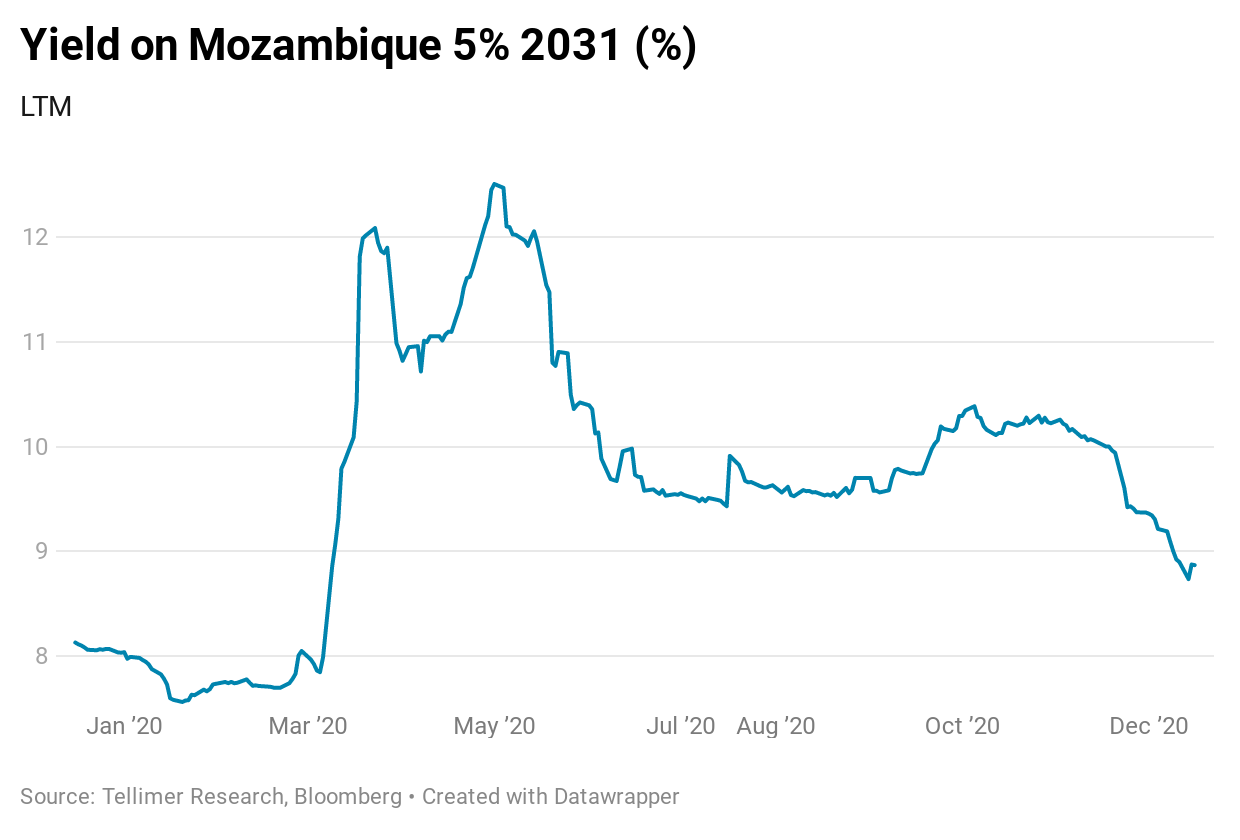 Downside risks remain. These include lower energy prices and anticipated oversupply in the LNG market, political risks and domestic security risks. Domestic macro risks are also present. The IMF noted public debt remains in distress, projected at 114% of GDP in 2020, although is regarded as sustainable in a forward-looking sense. Despite the anticipated arrival of LNG revenues later in the decade, fiscal consolidation will still be needed in the medium term. The deficit is projected to swell to 7.1% of GDP this year. Finally, ESG considerations, given the country's reputation during the hidden debt crisis, may also impact the bonds' performance.
4.     Buy Sri Lanka 6.85% 2024
We retain our Buy on Sri Lanka (Caa1/CCC+/CCC) in our Top 5, particularly, but not limited to, the '21s and '24s eurobonds, with the former priced at US$89.3 (yield of 26.4%) and the latter at US$62.9 (yield of 23.9%) on a mid-price basis (cob 11 December, Bloomberg). For more details, see our recent research here and here.
Sri Lanka's eurobonds have been on a rollercoaster this year. We initiated a Buy on the SRILAN 6.85% 24s on 10 June at a mid-price of cUS$71 and named it as one of our top picks for H2 20 on 23 July, which was followed by a rally of c16% to cUS$84 after elections in early August. This prompted us to downgrade to Hold, but the bonds rallied another c10% to cUS$90 by early September.
At that point it became clear that the government would not use its new mandate to pursue an IMF programme, which prompted the 24s to plummet c37% to US$58 by 28 October. Amid what we saw as excessive pessimism, we upgraded back to Buy on 2 November, with the bonds rallying by c18% to US$68 over the following month.
However, a downgrade by Fitch at the end of November and S&P on 11 December has seen prices fall another c11% to cUS$60 and has created, in our mind, another opportunity to buy. With a z-spread above 2500bps on the '24s, we think the market is overpricing the risk of default, with a spread nearly twice that of the next non-distressed sovereign (Tajikistan 27s, at c1000bps).
Reserves have continued to drop to US$5.55bn at the end of November, slightly less than short-term external debt obligations of US$6bn. However, Sri Lanka's willingness to pay remains high and we think reserves will remain high enough to service the next US$1bn eurobond amortisation in July 2021, with strong remittances and subdued imports offsetting the collapse in tourism revenue.
In the medium term, Sri Lanka will have to consolidate its budget deficit to make its debt sustainable. The 2021 budget shows little commitment to austerity, as we expected, but aims for ambitious consolidation from 2022 onwards. While we think slippage is likely, we think Sri Lanka will continue to avoid default over the short term and that recovery values aren't likely to be too far below current prices.
5.     Buy Egypt T-bills
We retain our Buy on Egypt local currency in our Top 5.
We named 12-month Egyptian T-bills as one of our Top 5 picks for H2 20 (and followed it with a more substantive research note here). Since then, the average yield has dropped from 13.5% to 13% while inflation has ticked up slightly to 5.7%, giving Egypt amongst the highest real yields in the EM universe. Further, we believe that the backdrop for EM assets will remain favourable in the low for long interest rate environment and, with only a handful of countries with real rates above 2%, we think Egypt stands out as a particularly attractive carry trade opportunity.
The key risk remains potential EGP overvaluation, with the REER rising over 60% since the late-2016 devaluation and 12-month NDFs trading c10% above the official rate. However, EGP has continued to appreciate this year, rising c2.5%ytd, and the IMF said in October that it did not see the currency as being overvalued. Regardless, the central bank's buffers remain robust enough to maintain currency stability, with reserves gradually rising over the past five months to US$39.2bn (c7 months of import) in November.
The trade has also become notably more crowded since we first recommended it in July, with foreign holdings of Egyptian debt rising from a low of US$9bn this spring to US$24bn in November, according to Finance Minister Maait. However, with holdings still below the pre-Covid high of US$29bn and global risk sentiment continuing to improve, there is still some room for further inflows.
In addition, markets are still supportive of the credit despite high debt (c90% of GDP forecast for FY 20/21, mostly in EGP), with Egypt issuing US$5bn across the eurobond curve in May and a US$750m green bond in October to strong demand. Egypt is planning to raise another US$7bn on the international market and issue a debut sukuk in H1 21 and is continuing with plans to deepen the domestic market by introducing its first floating-rate bonds by mid-2021 and getting its local debt settled by Euroclear by next November.
Egypt's performance this year has been impressive, with growth hitting 3.6% in 2019/20 and a projected 2.8% in 2020/21 (among the highest post-pandemic growth rates globally, albeit difficult to compare since it is on a FY basis). Meanwhile, the primary surplus is on track for a 0.5% surplus this year despite Covid, and the government remains committed to returning to a 2% surplus thereafter, which will reduce public debt to 77% of GDP by 2025, per IMF projections.  
Robust remittances (up c20% yoy from June to September and 11.6% YTD) will help offset a decline in tourism revenue, with the IMF expecting a slight widening of the current account deficit in 2020/21 from 3.2% to 4.2% of GDP before narrowing gradually to 2.7% over the medium term. And, while Egypt has not yet looked to the IMF for a successor program when its current program expires in June, we think there is sufficient domestic buy-in for its reform efforts to continue and that the IMF will remain an option if balance of payments pressures re-emerge.
While negative political headlines will continue to present a material risk, we think investor sentiment towards Egypt will remain favorable and that, in a world of rock-bottom interest rates, Egypt stands out as a particularly attractive carry trade opportunity. We therefore reiterate 12-month Egyptian T-bills as one of our Top 5 picks for 2021.
A short note on the performance of our Top 5 during 2020
We didn't manage to review and actively manage our Top 5 regularly enough this year, given events, to make a review of our performance too meaningful. However, we make two observations.
First, our top picks for H2, which we presented in July, after the market had stabilised, performed well, although we – as most other investors – were saved by the year-end rally. We calculate a total return of 11.4% over the period from 21 July-11 December compared with 4.4% on the EMBIGD. Performance was helped by pro-active and opportunistic trading of Sri Lanka's trading range following the bond's ups and downs (total return +19%), and our long-duration pick Senegal, which benefited from narrowing in yields (+16%). Our other picks also outperformed the index – Mozambique (+9%), Egypt T-bills (+7%) and Iraq (+6%). 
Second, it is a different story for our top picks coming into this year, which we presented in our 2020 Outlook last December. A simple passive strategy of buy and hold – through the crisis – would have generated a total return of -2.5% YTD against 4.3% on the EMBIGD. However, most still performed well, led by Tajikistan (+14%), and our three corporate picks were also in the positive 4-10% territory. We were, however, let down by our Buy recommendation on Ecuador, which of course unravelled in March. The total return on Ecuador, given by the EMBIGD constituent, is -49% YTD. Ouch. 
Other trades to watch in 2021
We highlight seven other trades/assets to watch for next year.
Ecuador
Ecuador (Caa3/B-/B-), on which we have a Hold, is a trade to watch next year pending the outcome of its presidential election in February, with a yield on the 0.5% 2030 of 12.9% on a mid-price basis as of cob 11 December on Bloomberg (at a mid-price of US$65.3). The bonds are some 12pts lower than their first day of trading on 1 September after the restructuring (the longer bonds are down 6-8pts) and have missed out on the year-end rally.
Investors are waiting for more visibility over the political outlook, despite a restructuring that eases near-term payment risks and with policy discipline and financing reinforced under the new IMF programme. The main candidates in the election on 7 February are Andres Arauz, who is supported by former Ecuadorian President Rafael Correa, the conservative Guillermo Lasso of the Creo party and Yaku Perez, the indigenous Pachakutik party candidate, in a crowded field of 16 overall. Current president Lenin Moreno (PAIS party) is not standing. According to a recent Cedatos poll on voting intentions, Lasso is likely in the lead (just), with 23%, Arauz on 20% and Perez on 11%, although all the leading candidates have also seen a drop in support. In the face of low ratings and a fragmented field, it looks likely the election will head to a second round, although there is still plenty of time to go and there remains potential for surprises. Failure to win outright in the first round (50% or more, or more than 40% with a 10pts lead over the second placed candidate) will see a second-round run-off on 11 April. The new president will take office on 24 May.
Bonds would likely react favourably if Lasso is elected, but could fall on an Arauz victory. Lasso may be the market's preferred candidate and he is more likely to stick to the IMF programme and policy orthodoxy (although implementation could still be a challenge). But he may face a tough challenge in a second round if the anti-market vote unites against him and may face obstacles from the left in Congress if he does win. Recall that Lasso lost to Moreno in the second round in the last election in 2017, although Moreno split from Correa, and ended up trying to be more orthodox and market friendly than we would have expected. Conversely, markets will likely be concerned by a leftist victory and the potential return, or influence, of Correa, under which willingness to implement the IMF reform programme may weaken.
But even before we get to February, the IMF programme may be tested again. The IMF approved a new US$6.5bn EFF on 1 October and staff-level agreement on the first review was announced on 23 November. Approval of the review "in coming weeks", subject to completion of some prior actions, will provide cUS$2bn in financing. One of the conditions is passage of anti-graft legislation, which is currently going through the National Assembly, although timing is tight ahead of recess on 16 December, and given some political resistance and pre-election jockeying.
Ukraine
Ukraine (B3/B/B), on which we have a Hold, is a trade to watch next year as investors await progress (or otherwise) on the stalled IMF programme review. The yield on the longest US dollar bond (7.253% 2033), which the government tapped on 11 December, is 6.2% (z-spread of 521bps) on a mid-price basis as of cob 11 December on Bloomberg.
Ukraine – a high-beta name – has been among the biggest beneficiaries of the year-end rally, with the '33s rising about 14pts since end-October, and yields are within touching distance of their pre-Covid lows (eg 5.7% on the '32s compared with 6.1% today). That implies some additional upside is possible, and the tap of the '33s showed strong demand, amid a flurry of reports of other new official sector financing. The World Bank has approved a US$300mn Covid loan, while Europe has approved US$640mn in macro-financial assistance from the EU and US$640mn for infrastructure projects from the EIB.
But Ukraine no longer looks cheap. We think a lot of the good news must now be priced in (and the market must be thinking that Ukraine will do enough to keep the IMF on side) and it will be hard to sustain these kind of levels without an IMF agreement. The issues that need to be addressed to complete the third review are well known, relating especially to the anti-corruption framework and central bank independence. Our concern is that completion of the review (assuming it happens at all) could take well into the first quarter, if not beyond.
Risks to the bonds seem asymmetric at this stage, with more downside if the IMF money doesn't come through than upside if it does, especially in light of still sizeable 2021 fiscal financing needs. We estimate next year's financing needs are of the order of US$20bn (c15% of GDP), little changed from this year. Markets may not be so forgiving if the review looks to be going nowhere, while the authorities cannot always rely on stimulus-fuelled investor demand from the search for yield.
That said, Parliament's passing of two bits of legislation this week, which are important to the IMF and the international community, could finally mark a positive step forward after progress had stalled. Rada approved the 2021 budget with a headline IMF-compliant fiscal deficit of 5.5% of GDP and passed new illicit enrichment legislation following constitutional court rulings in October that had acted to undermine this aspect of the anti-corruption framework. It remains to be seen if the legislation is acceptable to the donors.
Pakistan
Pakistani eurobonds are another key trade to watch in 2021. As we have highlighted in our recent research, Pakistan's achieved notable improvements to its fiscal and external accounts under an IMF program that began in mid-2019 but the program has fallen off track post-Covid and Pakistan must quickly return to its planned consolidation path to keep debt on a sustainable trajectory. Conversely, if the program falls apart then external liquidity pressures could remerge, with external buffers still very low notwithstanding the recent improvement.
This makes for a relatively binary outlook for Pakistani eurobonds, which have performed in line with their 'B'-rated peers YTD. If the program is put back on track, then spreads could compress. But if it is revealed that it has gone irreparably off course, then spreads will undoubtedly widen as it will become increasingly difficult to Pakistan to fund its high external funding needs, given limited buffers and an indeterminate amount of its funding pipeline tied to the IMF program review.
While Covid clearly necessitated a recalibration of the program and some minor slippage should not be concerning, the second program review remains outstanding after nine months and we think a delay of this magnitude speaks to more fundamental disagreements. It is possible that Prime Minister Khan's commitment to program targets has wavered in the face of increasing political pressure, with the Pakistan Democratic Movement, an alliance of 11 opposition parties, launching a mass protest movement in October.
The key sticking points reportedly include raising electricity tariffs and tax collection to reduce imbalances in the electricity sector and bring the budget deficit closer to initial program targets, and we think slippage is likely since Pakistan's budget targets rely on overly optimistic revenue projections. In addition, the margin for error is low, with reserves less than two months of imports and the interest bill absorbing over 50% of government revenue (though most of this is domestic).
That said, initial success under the IMF program pre-Covid was promising, and, if that performance can be replicated – even in slightly watered-down form – post-2020, then we think spread compression would be warranted (with its EMBI spread still 140bps wider YTD). But if Prime Minister Khan's government succumbs to populist pressure and fails to get the program back on track, Pakistan's recent gains could give way to sustained weakness.
While we retain our Hold recommendation on Pakistani eurobonds, we include it as a trade to watch for 2021 given its potential for large binary movements one way or the other.
See here for a much more detailed analysis.
Turkey local
Aside from Egypt, Turkey jumps out as a potentially attractive carry trade opportunity. With a 12-month T-bill yield of c15% versus inflation of 14% in November, the real yield is not nearly as high. However, TRY may have finally hit an inflection point, with the replacement of leadership at the finance ministry and central bank (CBRT) possibly marking a shift towards orthodox policy.
After dropping over 30% from the start of the year through 6 November, TRY appreciated by nearly 13% in the wake of the leadership change and 475bps rate hike on 19 November. It has since weakened as the likelihood of sanctions from the US and EU has increased, but the initial round of US sanctions imposed this week is relatively light and TRY is still 8% stronger since 6 November. With TRY down almost 40% in real effective terms over the past five years and nearly 50% below its 10-year average, it is unlikely to be overvalued and may have finally stabilised.
But, if the policy shift is not sustained, weakness could re-emerge, and Erdogan has notably continued to decry high interest rates in recent weeks despite the space he has given to the new CBRT governor to tighten policy. It is therefore still a material risk that, once the TRY crisis is seen to be over, Erdogan reverts to his old habits of coercing unorthodox policy, as he did the wake of the 2018 currency crisis.
In addition, further policy hikes are needed to reduce external imbalances and contain inflation. The current account swung to a US$31bn from over the first 10 months of the year versus a US$9.6bn surplus in the same period last year as imports expanded 2.6% yoy while exports declined 8.4% through November. And, while net reserves have picked up by US$13.7bn to US$15.6bn in the week through 4 December, they remain miniscule relative to short-term external debt of US$182.5bn and are deeply negative when swaps of US$61.3bn are stripped out.
While the risks will remain elevated, we would be remiss not to acknowledge the transformative potential of the recent policy shift if it is sustained. It would represent a major inflection point, and one of the biggest policy shifts in the EM universe this year. With nominal rates at c15%, there is ample potential to profit from the carry trade if TRY remains stable. And, while foreign portfolio inflows have reached US$1.9bn (US$700m government debt, US$1.2bn equities) in the four weeks since the CBRT governor was replaced, foreign holdings of government debt are only US$6.2bn versus are US$15.4bn at the end of 2019 and a high of US$70bn in 2013, so the trade is far from crowded.
While we await more tangible signs of a durable policy shift in Turkey, it could be a major beneficiary of inflows against the backdrop of low rates and a weak dollar and stands out as a particularly attractive carry trade opportunity to monitor in 2021. The next monetary policy committee (MPC) meeting is on 24 December and will be an important signal of the CBRT's willingness and ability to stay the course.
Turkey sovereign credit
For many of the same reasons Turkish local currency debt is a potential trade to watch for 2021 (eg a major shift towards more orthodox economic policy – see here, here and here), Turkish credit could also be an outperformer. YTD, Turkey's EMBI spread has widened by c100bps versus c60bps for the EMBI index as a whole. And Turkey's EMBI spread of c500bps is well above the 'BB'-rated average of 300bps and Turkey's own 2015-19 average of 350bps, pointing to significant room for compression if its policy adjustment is sustained. 
And despite grim external metrics, Turkey's fiscal outlook is still relatively healthy compared with that of its peers. The IMF projects public debt will rise from 33% of GDP in 2019 to 41.7% in 2020 and 50.4% by 2025, with the fiscal deficit rising from 5.6% of GDP in 2019 to 7.9% in 2020 and 7.4% by 2025. While this is a notable departure from the conservative policy that saw the deficit average 2.4% of GDP from 2010-19, solvency is not an imminent concern.
With sharply negative net reserves and large external funding needs, external liquidity is the more pressing issue. But, of the US$182.5bn stock of short-term external debt, less than US$6bn is owed by the government (not including another US$35bn by state banks). And despite deteriorating fiscal dynamics in 2020, total interest will still consume less than 10% of revenue per IMF estimates.
If the market remains supportive of Turkey, then the risk of a liquidity event will remain continued. The government's recent 2031 eurobond issuance was more than 2x oversubscribed, pushing Treasury's total borrowing this year on international markets to US$8.75bn. Strong demand will likely persist against the backdrop of low interest rates in developed markets and an improving fundamental outlook in Turkey.
As we mentioned before, there is a material risk that the recent policy shift turns out to be short-lived. In addition, the risk of sanctions from the EU and US will continue to push up the risk premium for the foreseeable future, and recent balance of payments data points to severe vulnerabilities. But, if the CBRT continues to tighten monetary policy and the Treasury follows through on its plans to boost credibility and attract foreign investment, Turkey's credit spread could be a notable outperformer in 2021 as it claws back some of its recent underperformance.
As for the carry trade, the upcoming MPC meeting on 24 December will be a key signpost of the CBRT's ability and willingness to continue tightening policy and rein in the unsustainable credit-fueled growth of years past. We will also be keenly monitoring the rhetoric of President Erdogan to ensure he does not reverse course once the worst of the currency crisis is past. In the meantime, Turkish credit will be one of our key trades to watch in 2021.
Other HY names
Other HY names that stand out, and which could benefit from catch-up in a global rally (high beta), and a narrowing of the HY-IG spread, could include El Salvador, Costa Rica, the Bahamas and Tajikistan. Tajikistan is one of the highest-yielding performing names (after Sri Lanka and Laos) that hasn't defaulted (excluding Argentina and Ecuador), although it is illiquid. Yield hungry investors may prefer El Salvador to Costa Rica, despite the latter's interest in obtaining an IMF programme, although both face challenging external financing situations. The Bahamas tapped its 8.95% 2032s successfully earlier this month. But they all face their own challenges and may be high yielders for a reason.
Local currency
In a weaker US dollar environment, and declining yields on hard currency bonds, investors may begin to look at local currency trades. Our favourite local currency trade remains Egypt, and we also looked at Turkish lira in this section. Ghana has one of the highest real interest rates in the world although we'd be cautious on the currency. Real interest rates are also high in Ukraine, although threats to central bank independence and the stalled IMF programme mean we'd be cautious there too.
Ratings vs Spreads
2021 outlook and market developments
Policy makers have responded to the negative economic impact of the pandemic and initial market dislocation in March/April with an exceptional global policy stimulus in developed markets, and some EM too, which has led to a recovery in investor sentiment in H2, although it hasn't always been smooth as second wave fears returned in the autumn.
The IMF notes that the total support packages in developed markets, from fiscal (direct support and guarantees) and monetary policy, averages 20% of GDP, although it is smaller in EM and much smaller in LICs (about 2% of GDP). We've seen a total of 3685bps in interest rate cuts since February across a mix of 38 developed and emerging market economies in the BIS database, which is around twice what we saw in the whole of 2008 during the GFC. Developed markets have pursued more QE, which has even been adopted by over a dozen EM, and central banks have seen a massive expansion of their balance sheets through bond purchasing programmes. The amount of negative-yielding debt swelled to over US$18tn, with the Portugal 10-year recently becoming a member of the negative interest rate club.
The view of low for long rates has underpinned risk assets. And although the market recovery weakened through September-October, due to second wave fears, the result of the US election on 3 November swiftly followed by positive vaccine news has stoked a strong year-end rally across the board. US equities have reached all-time highs. Fixed income markets have also seen solid returns.
EM fixed income has also enjoyed a market recovery, albeit to a lesser degree compared with other assets, with corporate hard currency outperforming sovereign hard currency and local currency. 
EM hard currency sovereign bonds have seen a strong year-end rally on the back of the US election result and positive vaccine news. By end-October, the total return on the EMBIG was still pretty much flat for the year, although this might be considered a success after having been -20% at one point, but the year-end rally has pulled this up to modest positive territory (+4.3%) by cob 11 December. Nominal EM yields fell to an all-time low of 4.3% in late November, and have since touched even lower levels.
Capital flows to EM have returned after the outflows seen during the worst of the pandemic. Portfolio outflows amounted to US$90bn in March, comprising US$55bn in equity and US$35bn in debt, according to the IIF's capital flows tracker, the biggest single month of outflows since the data began in 2005; although it was still lower than the total outflows seen during the GFC, when outflows reached US$134bn over four consecutive months from September-December 2008. However, the outflow seen in March was recovered by July, and total portfolio flows for the year stand at US$175bn (to November), although most of this is into debt (US$158bn, some 90% of the total). With one month to go, the total portfolio flows of US$194bn we saw in 2018 may be achievable. While a remarkable recovery, it is, however, only 56% of what we saw in 2019, and well down on the record US$439bn in 2010. And over one-quarter of inflows YTD are into Chinese equities.
The decline in yields and stabilisation of market sentiment has also allowed sovereign borrowers to return to the international bond market. By end-November, we calculate EM hard currency sovereign bond issuance was US$190bn YTD, 20% more than in the whole of 2019, and another US$11.5bn has been issued so far this month. This takes total issuance to over US$200bn. One highlight was Cote d'Ivoire, which became the first country in Sub-Saharan Africa (SSA) to issue a eurobond since the pandemic started.
Indeed, with a few exceptions, yields on many SSA bonds are now back to pre-Covid levels, after generally lagging the market recovery earlier in the year. 
But we've also seen a record number of sovereign defaults on bonded (external) debt this year, at least in terms of recent history. We count six countries and seven default events. Most (four countries, five events) are in Latin America (Argentina, Belize, Ecuador, Suriname twice), with one in the Middle East (Lebanon) and one in Africa (Zambia). Zambia became the first county in SSA to default on its bonds since the pandemic started.
However, we don't think Covid is to blame for this rash of defaults – most would have happened anyway (Argentina, Lebanon, Suriname, and Zambia). Two defaults may be more directly attributed to the impact of Covid, namely Ecuador and Belize.
Moreover, these default episodes may have lessons for the future, in terms of the growing use of consent solicitations as a sort of standstill, and the use and perceived abuse of collective action clauses (CACs) to reduce holdouts and as a coercive measure to threaten non-tendering holders.
But two points are worth making:
The real economy has lagged the recovery in investor sentiment, and second wave fears and further national or regional lockdown measures over much of the developed world, may have dented activity further in Q4 following the Q3 rebound. The IMF WEO projects World real GDP growth to rebound next year to 5.2%, after -4.4% this year, with developed markets growing by 3.9% (from -5.8% this year) and EM growing by 6.0% (-3.3%). The US and Eurozone are both expected to see strong growth in 2021 (3.1% and 5.2%, respectively), although it remains to be seen how much of the recent weakness will be carried into next year. The market is more optimistic on US growth, perhaps buoyed by hopes of fresh US fiscal stimulus under a Biden administration, with the Bloomberg consensus at 3.9% growth in 2021. Within EM, China and India lead the way, with growth of 8.2% and 8.8% next year, and China is one of the few countries to see positive growth this year (1.9%). Latin America, SSA, MENA and Emerging Europe are all expected to see growth of 3-4% next year, after some steep declines in GDP this year. World trade volumes also pick up (8.3% growth next year in goods and services compared with -10.4% this year).
The world emerges from Covid with a debt mountain. Fiscal stimulus, and the impact of automatic stabilisers, is projected to push government debt globally up from 83% of GDP in 2019 to 98.7% in 2020, rising by 20.2% of GDP in developed markets, 9.6% in emerging markets and 5.5% in low income developing countries (LIDCs). We think this will place an emphasis on fiscal consolidation next year, especially for those countries with higher debt burdens and less fiscal space.
EM hard currency performance
The total return on the EMBIGD is now 4.4% YTD (to close 11 December). The top performers have generally been frontiers and smaller EM, led by Uruguay (+15.3%), and followed by Tajikistan (+14.0%), Cote d'Ivoire (+13.1%), Nigeria (+12.9%), Guatemala (+12.6%), Senegal (+12.5%) and Ghana (+12.1%). The worst performers are generally comprised of the defaulters, although, interestingly, two of the bottom 10 (El Salvador and Sri Lanka) haven't sought a restructuring or standstill of some kind with either official or commercial creditors, or both. Lebanon (-74.7%) has been the worst performer, followed by Ecuador (-48.8%), Venezuela (-31.6%), Sri Lanka (-30.7%), Argentina (-25.7%), Belize (-18.3%), Zambia (-17.8%), El Salvador (-10.2%), Suriname (-9.3%) and Angola (-4.3%). Just ahead of these we also find Bolivia (-2.3%), Costa Rica (-1.5%), Ethiopia (-0.4%), Iraq (+2.8%) and Belarus (+3.2%). However, despite a tough year, we observe that more countries by number (if not market cap) have seen double-digit returns this year (18) than negative returns (13).
The spread on the EMBGID is 365bps (cob 11 December), compared with its peak of 721bps on 23 March, but it still remains 74bps above the level at the start of the year. That might sound like it still offers some value, although the question remains whether EM risk can and should return to pre-Covid levels.
But behind the overall rally in EM debt, a two-speed recovery emerges as HY names have generally lagged the wider rally until recently, and they have only now begun to catch up with higher-grade bonds in light of the post-US-election/vaccine rally in the last two months. While nominal EM yields are now 40bps below where they were at the end of 2019, we calculate the IG yields are some 90bps tighter, while HY yields still 7bps wider.
The frontier market yield, as calculated by Tellimer, stands at 6.72% (as of cob 11 December), using as a proxy for frontiers an (unweighted) average yield for selected B-rated sovereigns. This compares with a peak of over 12% at the height of the pandemic. But the recovery was slow, and while frontier yields fell to 7% by September, they widened to 8.2% in October after the second wave sell-off. The frontier yield is now only 7bps wide of its end-2019 level. This might suggest HY valuations are getting stretched. But HY is still 40bps wide of its pre-pandemic low in February and c90bps wide of our series' low in January 2018. Of course, the HY world may be different today to what it was then.
But HY valuations may still compare favourably to higher grade EM. With nominal EM yields of 4.3%, we calculate the 'frontier premium', which we proxy by the difference between our B-rated sovereign basket and the EM nominal yield, is therefore 244bps. That is still 108bps wide of its historical average (pre-pandemic), suggesting HY frontiers have some value relative to EMs, although clearly the default cases and idiosyncratic risks elsewhere show that differentiation is as important as ever.
Moreover, we calculate the HY-IG spread at 477bps, which is still c100bps wide of where it was at the beginning of the year. In fact, with IG yields c2% on our measure, compared with nearly 3% at the beginning of the year, it is IG that may look more expensive than HY.
10%-ers
There are 11 countries with sovereign US$ bonds that have a yield of 10% or more (or are in default), on our count. That is only three more than this time last year, and the constituents are largely the same. The new additions are the Seychelles, Angola, REPCON and Sri Lanka. Tajikistan has fallen off the list, although, with a yield of 9.9%, is just below the threshold.
CCC-rated or below
There are nine countries with ratings in the CCC-rating bucket or below, across the three main agencies, excluding this year's default cases and Venezuela. The probability of default for a country in the CCC territory is quite high. The one-year implied probability of default for a country rated in the C-CCC category is 26.5%, according to Fitch (the default probabilities for the other agencies may differ).
The entries also encompass a wide range of yields, suggesting investors take a different view of default likelihood, with Laos, the Maldives and Sri Lanka seen as the most vulnerable.
International crisis response
No review of the EM year is complete without a mention of the official sector crisis response for emerging markets and especially low income countries. This has largely taken two forms. First, expansion of the IMF's emergency lending facilities. To date, 71 countries have benefited from RFI/RCF disbursements and the Fund reported that it had received over 100 requests for help (that's over half its membership). Colombia, for example, became the first country to draw on one of the IMF's precautionary credit lines. The IMF also provided new programmes (notably to Ukraine and Egypt) or augmented existing programmes for some countries and provided debt relief to certain low income and fragile countries under its CCRT facility.
Second, in the clamour of calls to go further and provide debt relief, the G20's debt service suspension initiative (DSSI) was launched in April. This allows the 73 eligible low income or IDA-only countries to seek temporary deferral of debt service owed to bilateral creditors. According to the World Bank, 44 countries (60% of those eligible) have participated, of which 36 have signed an agreement (MOU) with the Paris Club (see here). The total amount deferred over the suspension period (1 May – 31 December) is US$2.5bn from the Paris Club and US$5bn in all (ie including non-Paris Club bilaterals), although this seems to fall well short of the initial intentions. The G20 agreed in October to extend DSSI by six months to June 2021 and a further extension if needed will be considered in April.
Private sector participation in DSSI has been low. Participation of private sector creditors in DSSI was encouraged, under the comparability of treatment provision, but participation was voluntary and at the request of the borrower. However, take-up has been low, much to the official sector's chagrin, in part because of issuer concerns about the implications for their credit rating and limitations that are imposed on commercial borrowing. Only three countries are said to have sought comparable relief from commercial creditors (Zambia we know of, maybe the others include Chad and Grenada).
Moreover, we note that of the six sovereign defaulters we've witnessed this year, five are outside DSSI. And even Zambia is not obviously characterised as a liquidity crisis where DSSI is the most appropriate response.
But the shadow of DSSI may have been a negative factor faced by some of the eligible countries, resulting in yields being higher than some of their peers, a sort of yield premium, and thereby limiting their market access, although such concerns may have dissipated in the year-end rally.  
For next year, two issues are worth watching in terms of the global policy response and its impact on EM. First, the G20's Common Framework, which goes beyond DSSI, seeks to bring other non-traditional bilateral creditors into the usual Paris Club-type approach to sovereign debt restructuring. While a welcome step forward and long overdue, details are sparse, and it remains unclear to bondholders if it will mean a change in the rules of the game in some way, in terms of how restructurings are dealt with, compared with the established best practice and demonstrated approach based on experience.
Second, now is a good time to resurrect discussion on an IMF SDR allocation, last seen in 2009, given impending US political change. While such a move faces some opposition, on the basis that the allocation benefits mostly the rich countries that don't need the additional liquidity, we argue the opposite, that the biggest beneficiaries are those members whose IMF quota is a bigger percentage of their existing international reserves. These tend to be smaller emerging markets and poor countries.
Outlook for 2021
As we exit a traumatic year, investor optimism has certainly taken an upward turn since the US election and positive vaccine news. This may have been reinforced by three other factors. First, investors are also counting on a new US fiscal stimulus to support the economy, and news this week of bipartisan support on a US$0.9trn package may provide a further boost to sentiment, although it is much smaller than the markets would like. Second, OPEC may have proven it is no longer indifferent to oil prices despite internal divisions. The recent OPEC+ agreement should also help to support oil prices, alleviating external liquidity and fiscal pressures among oil exporters, although the stability and reliability of the recover in demand remains a constraint on prices. The Brent consensus forecast on Bloomberg is for prices to average US$48pb in 2021 compared with US$43pb this year. Finally, the anticipated multilateral and rules-based approach to global policy of the incoming US administration may also help to support investor sentiment to EM.
These tailwinds are expected to continue next year, and prospects for EM assets look positive, with low for long rates, global policy support and a hoped for easing in the pandemic. Low for long rates should help to anchor the front end, while long-term yields should be contained by central bank bond purchases. The Bloomberg consensus is for 10-year US bond yields to rise by just c40bps next year, from 0.87% to 1.24%. Even a rising path for US bond yields should not present too much of a risk to EM, if this occurs at a gradual pace, although a sharper and abrupt upward move (as seen in 2018) would present more of a challenge. Key upside risks to this trajectory (ie higher yields) are the size of US fiscal deficits and stimulus plans and/or negative inflation surprises (higher inflation).
This backdrop has three investment implications for EM – preference for HY, duration and a weaker US dollar. Everyone is bearish on the dollar, based on discussions at recent investor conferences (virtually, of course). This should favour local currency trades in EM, although we might be wary of the consensus trade.
Perhaps as importantly, if and when the pandemic subsides, and that will largely be a function of the speed and success of the global vaccination rollout, investor attention will focus on signs of the global economic recovery. Economies will need to see self-sustaining and sustainable growth to work off debt, reduce the extent of fiscal austerity and re-absorb the newly unemployed, preventing longer-term scarring, disenfranchisement and popular discontent in the post-pandemic era.
Risks
But global risks remain. These include:
1.     Pandemic-related risks. Continuing threat from the coronavirus pandemic, and the efficacy and logistics of vaccines.
2.     The timing, speed and shape of the global economic recovery. Moreover, the full economic impact of the coronavirus pandemic has not yet been realised and may only be seen with a lag. Government support measures may mask the extent of the impact, while economic scarring (hysteresis effects) may mean that the cyclical recovery is hindered by structural damage to the economy.
3.     US fiscal stimulus plans may fall short of what the market is expecting, or prove ineffective in boosting the economy. But bigger stimulus risks triggering a more abrupt rise in US bond yields and/or stoking inflation concerns (although slack demand and excess capacity suggests inflation shouldn't be much of a concern in the near term).  
4.     Geopolitical risks, around US/West-China, Russia and the Middle East continue to exist. While there is hope that President-elect Biden's reported foreign policy approach, moving back to multilateralism and rebuilding alliances, may help to reduce global tensions, expectations are high and it could take time to recover from Trump's unilateral approach.
5.     Global trade tensions could resurface, reigniting concerns over a global trade war, which will undermine business confidence, just as the global economy attempts to recover.
6.     Post-Brexit European uncertainty may weigh on Europe's economic recovery.
7.     Weaker dollar is the consensus trade but a more abrupt move could unsettle markets. If the dollar defied expectations, and strengthened, that could also be unsettling, given market positioning.
Specifically for EM:
8.     The timing, speed and strength of domestic economic recoveries.
9.     The fiscal impact and impact on debt sustainability post Covid has still to be revealed, while economic prospects for some countries that are particularly dependent on sectors that have been most affected by coronavirus (eg travel and tourism) is not yet clear.
10.  Fiscal consolidation presents a key risk to many EM, particularly smaller and frontier EM, where concerns over debt sustainability are greater and who have more limited policy space. Investors may begin to discriminate across markets in terms of the credibility of adjustment plans, along with issues over the timing (when to start) and pace of consolidation.
11.  Threats to central bank independence within EM could grow as governments rely on monetary financing to finance wide deficits amid limited financing options and/or seek to override central bank anti-inflation objectives to boost growth. This will undermine investor sentiment, causing higher bond yields and weaker currencies.
12.  Rising risks of sovereign default. Debt sustainability concerns, and limited payment capacity, may trigger more sovereign defaults, although we think these are likely to reflect idiosyncratic country cases rather than a systemic EM crisis.
13.  Debt relief initiatives for EM. Calls for debt forgiveness – especially for poor and vulnerable countries – may grow if the pandemic lingers and/or given the impact of the pandemic on debt sustainability, as the official sector seeks to boost its response and following the perceived limited private sector participation in DSSI. Investors may fear a widening in scope of debt relief initiatives, changes to the rules of the game, and/or compulsory private sector participation (burden sharing). 
14.  Implications of China corporate default wave. The authorities' willingness to tolerate (even allow) recent defaults, including on hard currency bonds, rather than step in to bailout distressed companies, punctures the moral hazard trade and will require reassessment of standalone creditworthiness and state support. It seems unlikely the authorities would allow this to morph into a systemic crisis but investors may be worried over who is next, which could have implications for capital flows to China, although displacement of capital to other destinations could benefit other EM.
15. Oil price. Oil prices remain a key risk factor for many frontier and emerging markets, and the outlook will depend on the strength and speed of the global economic recovery and the ability of OPEC+ to manage effectively supply and its members' compliance with production quotas.