We present our top strategy picks and provide a brief description of the motivation of each one.
We have made two changes to our Top 5 picks since our last Fixed Income Strategy Outlook on 23 July (our top picks for H2).
We add:
Buy on Angola 9.375% 2048, which we've upgraded from Hold.

Buy on Ethiopia 6.625% 2024, which we've upgraded from Hold.
We remove:
Senegal 6.75% 2048. We retain our Buy and still like the story, with the bonds performing well and benefiting from long duration, but yields have fallen to 6% (z-spread 477bps).  

Iraq 6.752% 2023. We retain our Buy on this short-duration idea, with a yield of 7.2% (z-spread 697bps), but find other trades more compelling.
We retain our Buys on Mozambique, Sri Lanka and Egypt local T-bills.   
Our Top 5
1.     Buy Angola 9.375% 2048
We add Angola (Caa1/CCC+/CCC) to our Top 5, upgrading our recommendation from Hold to Buy, with a yield of 10.1% (z-spread of 908bps) on the ANGOL '48s on a mid-price basis as of cob 11 December on Bloomberg (at a mid-price of US$93.0). Angola has been among the biggest beneficiaries of the year-end rally, with the bonds rising c16pts since end-October after trading in a narrow range around 80 since their post-Covid recovery, although they are still 17pts below the pre-Covid high this year. That would imply a yield of 8.4%. The prevailing yield of 10.1% also compares with 7% on similar duration (but higher rated and less leveraged) Nigeria '38s.
Our investment thesis is simply a HY, long-duration oil play. Angola should benefit from expectations of gradually rising oil prices from next year, with the latest consensus survey on Bloomberg showing Brent prices rising to US$48pb in 2021 compared with US$43 YTD (currently, US$50.0 as of cob 11 December on Bloomberg), which is consistent with the IMF programme assumptions in the third review in September. This should begin to ease fiscal and external financing constraints. In addition, debt service suspension under DSSI and enhanced debt service relief from China, along with IMF (and other donor) financing, will also support the financing outlook, while strong ownership of the IMF programme underscores investor sentiment.
But it is not without risks. Downside risks mainly relate to lower oil prices, although weak implementation of the IMF programme and limited external liquidity in the context of a high debt burden are additional challenges. Net reserves fell to US$8.3bn on 10 December, according to the central bank, down US$3.3bn (-29%) this year (from already low levels). Public debt is projected at 123% of GDP in 2020 by the Ministry of Finance. Inflation at 24% yoy in October poses an additional challenge to policymakers in an environment of weak growth. Real GDP growth is projected at -3.6% this year, according to the Ministry of Finance in October, which marks five consecutive years of recession, and is forecast to be flat in 2021. The IMF WEO is however a bit more optimistic, with growth of 3.2% next year.
Compliance with the IMF programme will be crucial and, after bondholders dodged a bullet with the IMF review in September by avoiding PSI, we all know what happens if the programme goes off track again. As the IMF warned in its DSA, "further debt relief may be needed if downside risks materialize".
2.     Buy Ethiopia 6.625% 2024
We add Ethiopia (B2/B/B) to our Top 5, upgrading our recommendation from Hold to Buy, with a yield of 6.1% (z-spread of 579bps) on the ETHIOPI '24s on a mid-price basis as of cob 11 December on Bloomberg. Ethiopia has been one of the clear underperformers of 2020, but we think has a strong fundamental and reform outlook.
Ethiopia has been the star growth performer of the past decade and looks set to stay atop the pile in the years ahead, ranking as the most attractive country in SSA for "scaled and cheap manufacturing", according to our regional manufacturing scorecard. However, Ethiopia is at a key inflection point and, after years of state-led growth, must transition to a more private sector-led model for its historically high growth performance to be sustained.
While private sector investment has increased in recent years, there is scant evidence of industrialisation and the business environment remains challenging. That said, the government also has one of the more ambitious reform agendas in the emerging and frontier universe, focusing on:
Modernising the monetary policy framework by introducing a benchmark interest rate and moving to a hybrid regime of inflation and monetary base targeting within the next two years;
Moving towards a market-driven exchange rate in the next two years to reduce accumulated REER overvaluation and erase the parallel market premium (currently, around 25%);

Financial market liberalisation, including formation of a new stock market authority at some point in 2021;

Privatisation, including Ethio Telecom in H1 21 and Ethiopian Sugar Co shortly thereafter, as well as formulating a road map to foreign participation in the banking sector; and

Infrastructure investment, including the massive 6,450 MW Grand Ethiopian Renaissance Dam (GERD), which is now 75% complete and will increase installed capacity by 2.5x
In addition, Ethiopia was resilient in 2019/20 in the face of the Covid crisis (albeit hard to compare directly since it is on a fiscal year basis and only encompasses one-quarter of the crisis), with real growth staying positive at 1.9% yoy, the current account deficit contracting from 5.3% to 4.5% of GDP amid strong export growth and remittances, a slight widening of the budget deficit from 2.5% to 3.5% of GDP, and debt declining from 57.6% to 56.1% of GDP.
However, positive sentiment towards Ethiopia was derailed by the emergence of a conflict between the federal government and Tigray region in early November. This prompted its lone eurobond to initially sell off by nearly 200bps, and, while it has since returned to pre-conflict levels, it has underperformed the EMBI Africa index by c125bps over the period.
As we have previously written, the conflict will likely continue to simmer and could distract from Ethiopia's reform efforts, with markets likely to continue pricing in a higher political risk premium now that the genie of ethnic conflict has been let out of the bottle and Prime Minister Abiy's honeymoon phase has been brought to an abrupt end.
However, we think the fundamental outlook for Ethiopia is still favourable and, while some slippage from its ambitious reform agenda is probably inevitable, it continues to offer one of the more compelling reform stories on the continent. That said, we preferred at to wait until there was more clarity on the state of the crisis before upgrading our recommendation on Ethiopia's 2024 eurobond.
Now that the crisis appears to have been de-escalated from a full-blown civil war to a guerrilla conflict, we feel comfortable upgrading Ethiopia '24s from Hold to Buy. Admittedly, as a result of our caution we missed the initial buying opportunity opened up by the crisis. But, with its YTD underperformance of the 'B'-rated EMBI average nearing 150bps (surpassed only by El Salvador and Bolivia), it is not too late to buy into Ethiopia's reform story at a relatively steep discount.
3.     Buy Mozambique 5% 2031
We retain our Buy on Mozambique (Caa2/CCC+/CCC) in our Top 5, with a yield of 8.9% (z-spread of 816bps) on the MOZAM '31s on a mid-price basis as of cob 11 December on Bloomberg (at a mid-price of US$91.0). After being fairly stagnant since their post-Covid recovery, the bonds have enjoyed the same kind of year-end rally as other names, rising c8pts since end-October, and they are now only 6pts below the pre-Covid high this year. That would imply a yield of 7.9%.
Our investment thesis remains the same, supported by manageable debt service on the bonds amid massive investment in the LNG industry. Annual interest is only US$45mn over the next three years before the coupon steps up in 2024, while amortisation on the US$900mn issue doesn't commence until 2028. Total's financing deal in July was a crucial milestone and, while Exxon's final investment decision (FID) has been pushed back to next year, we don't think this is a problem provided it moves forward. Additional support to our view is provided by the authorities' interest in an IMF programme, as they dust off their plans from the beginning of the year. Notwithstanding the global rally, we think the stamp of approval of an IMF programme would be a good fundamental catalyst for the bonds.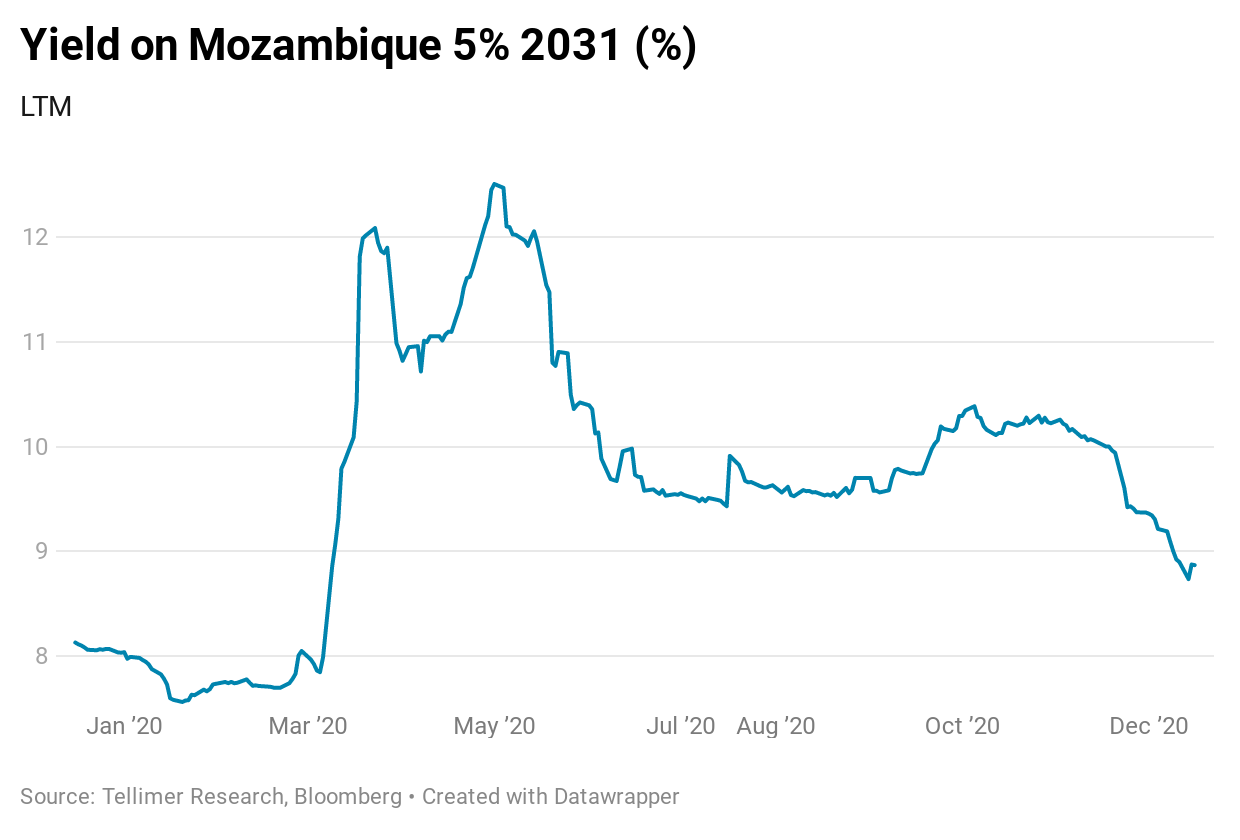 Downside risks remain. These include lower energy prices and anticipated oversupply in the LNG market, political risks and domestic security risks. Domestic macro risks are also present. The IMF noted public debt remains in distress, projected at 114% of GDP in 2020, although is regarded as sustainable in a forward-looking sense. Despite the anticipated arrival of LNG revenues later in the decade, fiscal consolidation will still be needed in the medium term. The deficit is projected to swell to 7.1% of GDP this year. Finally, ESG considerations, given the country's reputation during the hidden debt crisis, may also impact the bonds' performance.
4.     Buy Sri Lanka 6.85% 2024
We retain our Buy on Sri Lanka (Caa1/CCC+/CCC) in our Top 5, particularly, but not limited to, the '21s and '24s eurobonds, with the former priced at US$89.3 (yield of 26.4%) and the latter at US$62.9 (yield of 23.9%) on a mid-price basis (cob 11 December, Bloomberg). For more details, see our recent research here and here.
Sri Lanka's eurobonds have been on a rollercoaster this year. We initiated a Buy on the SRILAN 6.85% 24s on 10 June at a mid-price of cUS$71 and named it as one of our top picks for H2 20 on 23 July, which was followed by a rally of c16% to cUS$84 after elections in early August. This prompted us to downgrade to Hold, but the bonds rallied another c10% to cUS$90 by early September.
At that point it became clear that the government would not use its new mandate to pursue an IMF programme, which prompted the 24s to plummet c37% to US$58 by 28 October. Amid what we saw as excessive pessimism, we upgraded back to Buy on 2 November, with the bonds rallying by c18% to US$68 over the following month.
However, a downgrade by Fitch at the end of November and S&P on 11 December has seen prices fall another c11% to cUS$60 and has created, in our mind, another opportunity to buy. With a z-spread above 2500bps on the '24s, we think the market is overpricing the risk of default, with a spread nearly twice that of the next non-distressed sovereign (Tajikistan 27s, at c1000bps).
Reserves have continued to drop to US$5.55bn at the end of November, slightly less than short-term external debt obligations of US$6bn. However, Sri Lanka's willingness to pay remains high and we think reserves will remain high enough to service the next US$1bn eurobond amortisation in July 2021, with strong remittances and subdued imports offsetting the collapse in tourism revenue.
In the medium term, Sri Lanka will have to consolidate its budget deficit to make its debt sustainable. The 2021 budget shows little commitment to austerity, as we expected, but aims for ambitious consolidation from 2022 onwards. While we think slippage is likely, we think Sri Lanka will continue to avoid default over the short term and that recovery values aren't likely to be too far below current prices.
5.     Buy Egypt T-bills
We retain our Buy on Egypt local currency in our Top 5.
We named 12-month Egyptian T-bills as one of our Top 5 picks for H2 20 (and followed it with a more substantive research note here). Since then, the average yield has dropped from 13.5% to 13% while inflation has ticked up slightly to 5.7%, giving Egypt amongst the highest real yields in the EM universe. Further, we believe that the backdrop for EM assets will remain favourable in the low for long interest rate environment and, with only a handful of countries with real rates above 2%, we think Egypt stands out as a particularly attractive carry trade opportunity.
The key risk remains potential EGP overvaluation, with the REER rising over 60% since the late-2016 devaluation and 12-month NDFs trading c10% above the official rate. However, EGP has continued to appreciate this year, rising c2.5%ytd, and the IMF said in October that it did not see the currency as being overvalued. Regardless, the central bank's buffers remain robust enough to maintain currency stability, with reserves gradually rising over the past five months to US$39.2bn (c7 months of import) in November.
The trade has also become notably more crowded since we first recommended it in July, with foreign holdings of Egyptian debt rising from a low of US$9bn this spring to US$24bn in November, according to Finance Minister Maait. However, with holdings still below the pre-Covid high of US$29bn and global risk sentiment continuing to improve, there is still some room for further inflows.
In addition, markets are still supportive of the credit despite high debt (c90% of GDP forecast for FY 20/21, mostly in EGP), with Egypt issuing US$5bn across the eurobond curve in May and a US$750m green bond in October to strong demand. Egypt is planning to raise another US$7bn on the international market and issue a debut sukuk in H1 21 and is continuing with plans to deepen the domestic market by introducing its first floating-rate bonds by mid-2021 and getting its local debt settled by Euroclear by next November.
Egypt's performance this year has been impressive, with growth hitting 3.6% in 2019/20 and a projected 2.8% in 2020/21 (among the highest post-pandemic growth rates globally, albeit difficult to compare since it is on a FY basis). Meanwhile, the primary surplus is on track for a 0.5% surplus this year despite Covid, and the government remains committed to returning to a 2% surplus thereafter, which will reduce public debt to 77% of GDP by 2025, per IMF projections.  
Robust remittances (up c20% yoy from June to September and 11.6% YTD) will help offset a decline in tourism revenue, with the IMF expecting a slight widening of the current account deficit in 2020/21 from 3.2% to 4.2% of GDP before narrowing gradually to 2.7% over the medium term. And, while Egypt has not yet looked to the IMF for a successor program when its current program expires in June, we think there is sufficient domestic buy-in for its reform efforts to continue and that the IMF will remain an option if balance of payments pressures re-emerge.
While negative political headlines will continue to present a material risk, we think investor sentiment towards Egypt will remain favorable and that, in a world of rock-bottom interest rates, Egypt stands out as a particularly attractive carry trade opportunity. We therefore reiterate 12-month Egyptian T-bills as one of our Top 5 picks for 2021.