This is the first of a series reports covering our traditional end-of-year review for emerging and frontier fixed income markets, the outlook for the year ahead and top picks for 2023 that will be published separately in the coming days.
For our 2021 review and outlook for 2022, published last year, see here and here.
Review of the year
It's been a brutal year for EM (and most financial assets in general) dominated by one main issue – inflation – although a late-year rally has helped recoup some losses.
EM sovereign dollar bonds have seen a total return YTD of -16.4% (to 2 December) – at its lowest, in mid-October, they were down 26%, according to the Bloomberg EM Sovereign USD index. That's by far the worst annual return since data began, and the picture is the same on the JPM EMBIG's longer history of data.
It is also only the sixth negative annual return we've had (on the combined series) and the fourth in the past decade. Moreover, we've never had two consecutive years of negative bond returns (after the small minus in 2021) – although we think reports of the death of EM are exaggerated (see here for why).
EM corporate hard currency performed similarly badly, with a total return of -13%, slightly outperforming EM sovereigns. But local currency performed the best among the EM fixed income sector, with a total return of -10%, perhaps due to some domestic currency resilience as many EM central banks tightened pre-emptively.
However, most other risk assets didn't fare much better. Unsurprisingly, most fixed income classes have suffered in the face of inflation, with global fixed income seeing a total return of -15%, while USTs are -11%, although US corporate HY (-10%) outperformed IG (-16%). But even inflation-linked bonds (-20%) have not provided the protection they are supposed to. And equities, which may provide some inflation protection, also suffered due to a combination of slower growth and rising interest rates. EM (-19%) and Frontier (-23%) equities suffered even more.
The best-performing asset, among our selection, has been commodities (with the GSCI +26%). 
This performance comes in the context of the global inflation shock caused by the post-pandemic policy stimulus and the deterioration in the external environment linked to Russia's war in Ukraine (the twin shocks of war and rates). Inflation has risen to multi-decade highs around the world and global interest rates are heading to their highest since the global financial crisis, as the spectre of stagflation returned.
Our broad measure of EM inflation, which was already rising throughout last year, peaked at over 14% yoy in June, up from 8.2% at the end of 2021 (and reached a high of 8.6%, up from 5.6% in December, if we exclude Turkey). However, it has since eased – to 13.5% including Turkey and 7.4% excluding Turkey in October – amid signs that the global inflation cycle has turned.
As a result, central banks around the world, in developed as well as emerging markets, have been tightening monetary policy aggressively in order to prevent inflation becoming more persistent and, especially in EM, destabilising inflation expectations and their currencies.
In particular, the US rate outlook has been the main market driver – and led to a general risk re-pricing and a stronger dollar – with 375bps of rate hikes by the Federal Reserve, taking the Fed Funds policy rate to 3.75-4.00%, as US CPI inflation peaked at 9.1% yoy in June (US inflation has since eased to 7.7% in October), while US bond yields have also risen sharply. The 10-year yield has risen from 1.5% to 3.6% currently (a rise of some 200bps this year), peaking at 4.2% in October (the highest level since 2008). Market expectations see the Fund funds rate peaking at nearly 5% by mid-2023.
The US dollar has also strengthened in response, in a flight to safety and as the relative interest differential has shifted in its favour vis-à-vis major currencies. At its peak, the dollar appreciated by nearly 20% by October (on a nominal effective basis according to the DXY index), although it has since eased a little on the back of lower inflation prints and market expectations of a more dovish rate outlook. The dollar has depreciated by 8% since its peak, but still leaving it c10% stronger on the year.
In all, we've seen a net increase of 14,310bps (143.1ppts) in global policy interest rates this year across a mix of 38 developed and emerging market economies in the BIS database (through to 28 November), or 11,110bps if we exclude Argentina and Turkey. Together with the 2,655bps (2,955bps) that we saw during 2021, that means a cumulative tightening in the post-Covid cycle of 16,965bps (14,065bps). That is increases that are nearly five times larger than the cuts we saw during Covid in 2020 (3.5x if we exclude Argentina and Turkey). We saw a net reduction of 3,510bps in global interest rates over from March-December 2020, or 3,935bps if we exclude Argentina and Turkey.
Put another way, while the initial monetary response to the pandemic was lauded for being huge, it has been dwarfed by the response to the post-Covid inflation threat (and appropriately so, in our view, given the rise in inflation, if a little late in developed markets after central banks held on to the view for too long that inflation was transitory).  
However, there are signs that the global tightening cycle is nearly over (or at least the more aggressive part of it), with EMs leading developed markets out thanks to their earlier pre-emptive action. We think more EMs are now at or close to the peak in this hiking cycle, with some central banks on hold, and a few beginning to cut, although this is hugely conditional on the global inflation outlook.
As a result, while central banks, at least in developed markets and, especially, in the US, remain laser-focused on inflation, attention will surely shift to the outlook for slower growth and the risk of recession as we see signs of disinflation and that the anti-inflation medicine is working. That said, market expectations of 50bps in cuts by the Fed in the second half of next year seem optimistic to us and could be a cause of further market volatility if they do not materialise. 
Other global developments
In addition to the global inflation shock, three other developments are worth noting:
1. Russia's war in Ukraine
The war has entered its 10th month as hopes for a quick peace have been repeatedly dashed. In fact, the war has intensified in recent weeks as Putin reacts to Ukraine's military gains and its retaking of Kherson in early November with sustained missile strikes and attacks on Ukraine's infrastructure, including its energy grid, perhaps in a last-ditch war of attrition (see here and here).
The conflict shows no sign of ending, ahead of the crucial winter period (for both sides), although the mainstream international community will hope that its continued support for Ukraine (diplomatically, militarily and financially), along with Russia's military losses (and its economic collapse), will – absent a military victory for either side (however that is defined) – lead Moscow to a negotiated peace that is acceptable to Kyiv.
Putin, meanwhile, may hope, absent a military victory, that a prolonged war will lead to divisions in the western alliance and war fatigue that he can exploit. However, the risk of miscalculation and escalation (and use of tactical nuclear weapons) remains.
2. China
China's economy has been rocked this year by recurring Covid outbreaks, and the impact of the authorities' zero-Covid strategy (resulting in many major cities and provinces being put under lengthy lockdowns often at short notice – this affected some 200mn citizens in October, according to reports), challenges in the property sector and slowing global demand.
Real GDP growth is expected to slow this year to 3.2%, according to the IMF, down from 8.1% in 2021, although growth should pick up next year assuming the gradual lifting of the zero-Covid strategy. The Fund projects growth of 4.4% in 2023 and 2024.
Meanwhile, the authorities have stepped up support for the property sector, although problems could weigh on activity and confidence for some time, while the slow and piecemeal approach to dealing with offshore bond defaults adds to uncertainty for investors. Still, concerns held at the end of last year over spillovers and possible systemic risks from the property developers' crisis and rising bond defaults have not materialised.
The recent public protests, and the authorities' response to them in terms of crackdowns, and tensions over Taiwan add to the downside risks.  
3. Oil
Oil prices softened in the second half of 2022 (-25% since June), having reached a high of U$128 per barrel in March, as fears over slower global growth mounted, although prices still average US$100/b YTD (currently US$86 for Brent). This is still US$30/b higher than in 2021. Buoyant oil prices have supported oil-exporting EM (notably in the Middle East/GCC region and Angola), although for many this benefit has been offset by the deterioration in global financing conditions and rising borrowing costs.
Oil prices are expected to remain at around this year's average level in 2023 (averaging US$96/b for the year, according to the Bloomberg analyst survey), in line with the OPEC+ target.
EM fundamentals
The resulting tightening in global financial conditions, and near 'sudden stop' in capital flows, as well as the associated period of US dollar strength, and developed markets slowdown, has hit all EM. This has led to slower growth in EM, while higher food prices and weaker domestic currencies have increased inflation.
EM currencies have fallen c10% ytd against the US dollar, on the Bloomberg index, although this masks wide differences (and, in some cases, EM currency depreciation has been less pronounced than in developed market currencies – G10 currencies have fallen pretty sharply against the US dollar too).
Among the main selected EM and frontier currencies, Ghana (-56%), Sri Lanka (-45%), Argentina (-39%), Egypt (-36%), Turkey (-29%), Pakistan (-21%), Hungary and Mongolia (-17%), and Colombia (-15%) have seen sharp declines while Georgia (+15%), Uruguay (+14%), Brazil (+7%), Costa Rica (+6%), Mexico (+5%) and Peru (+4%) have strengthened, according to the Bloomberg WCRS currency ranker.
Moreover, a generalised risk re-pricing (certainly in yields but less so in terms of the country risk premia) has raised external borrowing costs, for those that still have access to the market.
Those EM with higher debts and funding needs, and that are more reliant on foreign capital and with less space to absorb the shock, have been perceived by investors as most vulnerable. In particular, those countries with higher external financing needs relative to reserves are seen as especially at risk.
EM bond performance
It's been a brutal year for EM bonds, with a total return of -16.4% YTD (to 2 December) on the Bloomberg EM Sovereign USD index. Within the index, high yield (-12.1%) has outperformed investment grade (-19.5%) this year.  
However, the late-year rally has helped recoup some of the losses. November saw the best monthly performance this year by far – and perhaps the best since December 2008 – with a total return of 7.9% on new optimism over the global inflation and rate outlook. Before then, at its worse, the market was down 26% in October (with IG -28% and HY -23%).
In spread terms, the spread on the Bloomberg EM Sovereign USD index fell by 58bps in November to 395bps, where it remained on 2 December (although it is still 58bps wide ytd). The spread on the IG constituent narrowed by 27bps in November to 113bps (but has since widened 3bps to 116bps as of 2 December, 9bps wider ytd) while the HY constituent saw its spread fall by 102bps in November to 682bps (and has since narrowed a further 3bps to 679bps, and is now just 83bps wider this year).
Meanwhile, the average yield on EM sovereign dollar bonds on the Bloomberg EM Sovereign USD index, which rose to a high of 9.25% on 21 October, has fallen to well below 8% now. It closed 2 December at 7.69%, already down 17bps from end-November, after declining 95bps in November. However, it is still 284bps wide on the year (the JPM EMBI yield, on our measure, is lower at 7.4% presently, having risen 255bps this year and peaking at 9%, while the EMBI spread has widened by 57bps ytd to 387bps).
Within the Bloomberg index, the yield on the IG constituent is now 4.86% (+227bps ytd although -65bps in November), having reached close to 6% in October, while the yield on the HY constituent is now 10.57% (+339bps ytd, but -139bps in November). The HY yield was close to 13% in October.
Frontier yields
The frontier market yield, as calculated by Tellimer, using as a proxy for frontiers an (unweighted) average yield for selected B-rated sovereigns (excluding defaults and Argentina), which stood at 9.1% last December, is now 14.3% (as at 2 December). That's down nearly 400bps from its peak of 18% in October, and it has fallen by 37bps just in the past two days, although it is still c520bps higher this year.
The "frontier premium", the difference in yield between the Tellimer Frontier market yield and the EMBI yield, is c691bps – compared with a pre-Covid average of 137bps. This signals potentially relatively better value in frontier sovereigns, albeit with greater risks and lower market liquidity.
Sovereign bonds: Winners and losers
Within EM sovereign dollar bonds, the best and worst performers this year have generally been among special situations and distressed cases, while some oil exporters have also been propelled into the top-performing bracket.
The five best performers this year (to end-November, based on the Bloomberg EM Sovereign USD index) are Tunisia (+4.0%), Ethiopia (+2.6%), Costa Rica (+2.5%), Turkey (+1.6%) – the only four countries that have seen positive returns this year – and Iraq (-0.2%). Costa Rica is perhaps something of a 'normal' outlier.
The five worst performers (excluding Russia, which has been excluded from the index) have been Ukraine (-74%), Pakistan (-52%), Ghana (-46%), Belarus (-44%) and Lebanon (-44%); with Ukraine and Belarus for obvious reasons, Lebanon still in default, and Ghana and Pakistan suffering from distress.
Concerns over Ghana distress and risk of a bond default have been mounting for over a year, and the government finally announced its intention to restructure on 28 November, after announcing its intention to commence formal engagement with the IMF on 1 July.
Unlike Ghana, Pakistan is not seeking to restructure its foreign bonds – and paid off a US$1bn Sukuk on 2 December – although investors have been unsettled by the rise in political uncertainty and the implications of the massive floods.
Having said that, a number of countries that have sold-off sharply this year enjoyed a strong performance in November, witnessed by the outperformance of high yield last month.
Among the top performers were Belarus, Sri Lanka, Ukraine, Ethiopia and Ghana.
10%-ers
We count 30 countries as having yields on US dollar sovereign bonds of 10% or more, or are in default, of which 23 have yields of 10% or more and 7 are in default. This includes index and off-index issues, so capturing Russia and Venezuela (excluded from the index) and small issues that aren't index eligible (REPCAM 25s, REPCON 29s and GRENAD 30s). We acknowledge that some countries on our list may have bonds on the curve that yield less than 10%; for example we include Gabon 24s and Mongolia 24s although their longer bonds (eg Gabon 31s and Mongolia 31s) are below 10%, and conversely Angola which is on our list has shorter bonds that yield less than 10%.
The number compares to 13 on our count last year (which consisted of nine with yields of 10% or more and four in default). The count has increased sharply this year amid the more challenging global financing conditions. We counted it had already risen to 27 in May.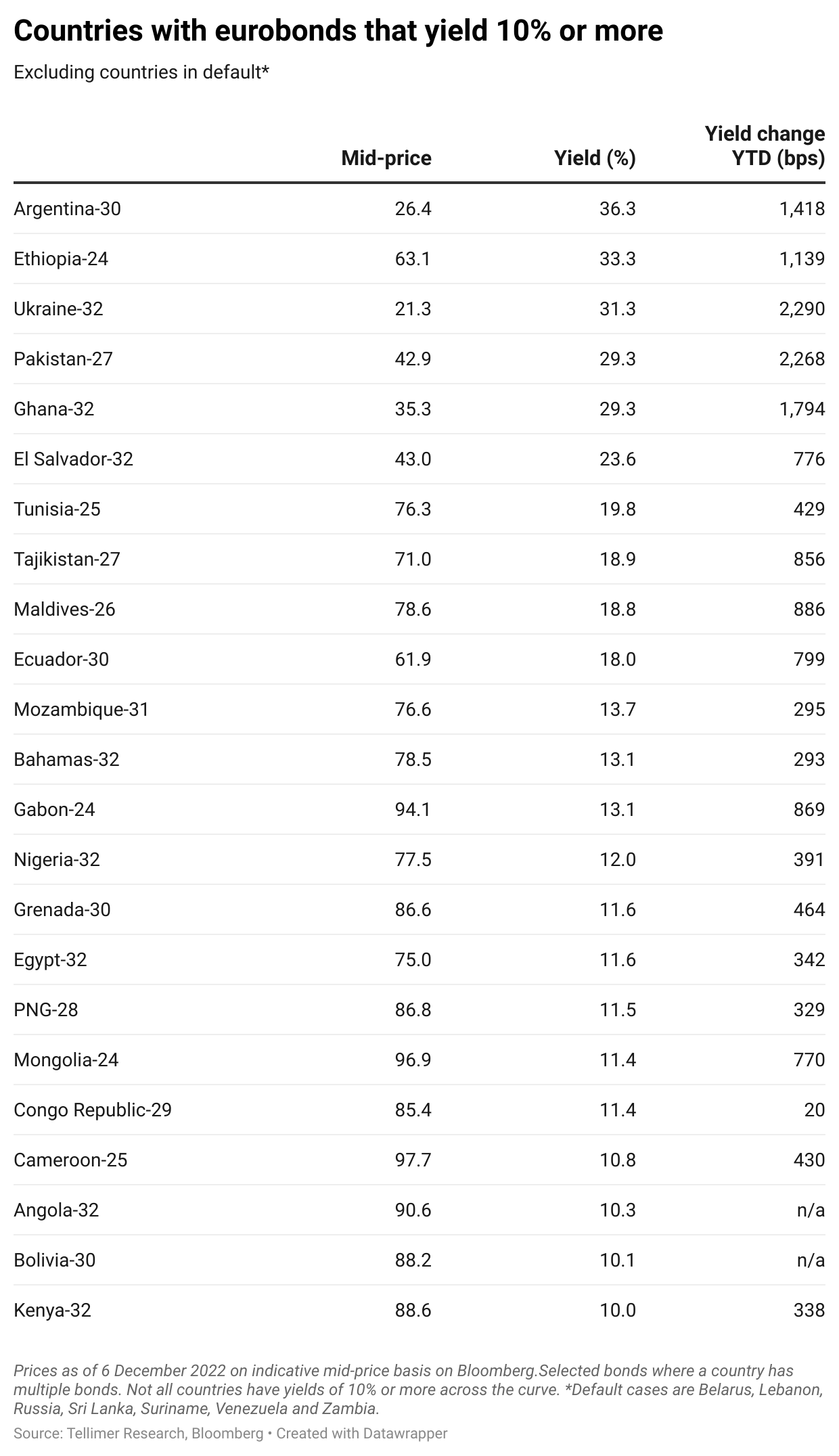 In our alternative methodology, we count 23 countries in the Bloomberg index as having yields on US dollar sovereign bonds of 10% or more, or are in default, as of 2 December (this approach therefore excludes smaller off-index issuers and those that are excluded from the index - it may therefore have a narrower focus, but enables easier comparison over time than our manual count); that's 32% of the index by number of countries – ie one-third of the index remains locked out of the market.
But the number of 10%-ers is now falling, from a peak of 31 in July (43% of the index) on the index methodology, and still c30 in October. The number has fallen quite sharply over the past month, following the November rally, to 25 as of end-November, and has fallen by another two since then.
Those that have exited are Gabon, Mozambique, Rwanda, Senegal, and more recently, Honduras and Iraq (Cote d'Ivoire also exited after briefly breaching the threshold).
However, it is still twice the number at the end of 2021 (when it stood at 12 on the index measure, and 13 on our separate count).
In a longer historical context, the count exceeds the amount seen during the peak of the pandemic in 2020 (21) and in the global financial crisis (GFC) over 2008 (19). However, as a share of the index, it remains much lower than during the GFC when c70% of the index was in distress on this measure (the index was much smaller then although there have been a lot of changes to the index since then which make the calculation more complicated).
We think we can be confident in saying it reached the highest share this year since the GFC.
Meanwhile, in spread terms, we count 16 countries (22% of the index) as having spreads of 1000bps or more. This is down from a peak of 21 (29% of the index) in July and again briefly in September. It compares to eight at the end of 2021.
EM sovereign issuance
EM hard currency sovereign bond issuance stands at US$86.4bn year-to-date (to end-November), based on our calculations using data from Bond Radar. Despite a surge over the past two months, this is still only half the amount seen in the same period last year as primary market activity has been subdued all year on the back of the twin external shocks of war and rates. It means issuance will reach some US$94bn this year if it continues at this rate in December, which we think would be the lowest since 2015.
Most of this issuance has been in investment grade (IG), which has accounted for 71% of the total this year, with high yield at 26% and crossover 3%. Indeed, besides Turkey – the only HY issuer since Guatemala in early August – there has been no meaningful HY issuance, or single-B issuance, since Angola in April.
HY issuance has amounted to just US$22.7bn this year from just 12 sovereigns. This compares with US$60bn (35% of total issuance) from 27 issuers in 2021.
Sovereign defaults and distress
We count four sovereign bond defaults so far this year, after two in 2021 and six in 2020, although we should be careful not to generalise from this given that three of these (Russia, Belarus and Ukraine) are due to very specific circumstances that investors have been able to differentiate. Russia's (and Belarus's) largely follow the implementation of international sanctions following Putin's invasion of Ukraine that have blocked payments to bondholders, while the war has eroded Ukraine's ability to pay.
Meanwhile, the fourth (Sri Lanka) had long been anticipated in the aftermath of the pandemic, due to the authorities' weak pre-emptive policy response, and the war in Ukraine finally pushing it over the edge.
In addition, this year, Ghana announced on 28 November that it will seek to restructure both its domestic debt and foreign bonds, although details are still vague and it remains current on its international bonds (it launched its domestic debt exchange on 5 December). Malawi also recently confirmed its intention to restructure some of its debt, including commercial debt, as part of its IMF engagement, although – like Chad – it doesn't have any foreign bonds. Its commercial debt takes the form of loans from regional development banks. Curiously, in our view, neither have mentioned this being done in the context of the Common Framework.
Meanwhile, another default candidate Ethiopia – which is still seeking a Common Framework debt treatment, two years after its request – remains current. Chad announced a restructuring agreement under the Common Framework in November, including for its commercial debt, although it doesn't have any bonds.  
As a result, we count seven countries as currently being in default on their international bonds – Venezuela (since 2017), Lebanon, Suriname and Zambia (2020), and Belarus, Russia and Sri Lanka (2022); eight if we include Ukraine after its consent solicitation agreed to suspend payments for two years.
Still, despite concerns over a new wave of sovereign defaults, the number of default cases this year is still only a handful (and three-quarters due to a war rather than 'policy') and even if sovereign default rates have picked up, compared with the pre-pandemic period, they remain low and fairly well contained, and generally concentrated in smaller and frontier EM (with the exception of Russia) rather than in more systemic countries, so that the risks of spillover are perhaps more muted.
However, plenty of other sovereigns are priced for distress, and so more defaults could follow with a lag. To this point, a year ago, we counted 13 countries with sovereign US$ bonds with a yield of 10% or more, or in default. Today, there are twice as many, which may carry risks going into 2023.