This is the first of three reports covering our traditional end-of-year review for emerging and frontier fixed income markets, the outlook for the year ahead and top picks for 2022 that will be published separately in the coming days. For our 2021 outlook, published last year, see here.
Fixed income review of the year
Two global themes have dominated emerging markets, and financial asset markets more generally, in 2021:
The rise in US bond yields, stemming from concerns over higher inflation and the implications of higher US rates for EM financing conditions; triggering concerns of a repeat of the 2013 taper tantrum.

Pandemic developments, jostling between the easing and tightening of Covid restrictions around the world, vaccination efficacy and deployment, and the emergence of new variants (Delta and now Omicron), and the concomitant impact on the post-pandemic global economic recovery.
In addition, specifically to EM, there have been two other drivers of EM sentiment, namely China's property developers' debt crisis and the rebound in oil (and other commodity) prices. On the former, unless you are a holder of one of the myriad of offshore real estate bonds and have to grapple with recovery values, market attention seems to have shifted away from fears over impending defaults at Evergrande, and elsewhere, towards the impact on Chinese real GDP growth (and the associated impact on EM growth both directly via trade/investment links and indirectly via commodity prices). Meanwhile, higher oil prices (Brent +40% this year) have supported EM oil exporters.
In fact, the global optimism with which 2020 ended, and this year began, built on Biden's election victory and positive vaccine news, faded surprisingly quickly for fixed income investors.
Global inflation
Inflation has risen around the world this year, driven initially by supply chain disruptions in developed markets, and higher food and energy prices in EM, after the pandemic. However, this has given way to concerns that higher headline inflation risks feeding into higher wage inflation. In addition, as well as supply-side pressures (with supply chain and labour supply disruptions proving stickier than initially anticipated), on the demand side, post-pandemic economic reopenings could boost consumer spending, adding further to inflationary pressures.
For instance, our broad measure of EM inflation, which was already rising by the beginning of the year, now stands at 7.2% yoy and we remarked back in February on the end of the post-pandemic EM monetary easing cycle.
As a result, central banks around the world, in developed as well as emerging markets, have been tightening monetary policy aggressively in response in order to prevent inflation becoming more persistent and, especially in EM, destabilising inflation expectations.
We've seen a net increase of 2,015bps in global interest rates this year across a mix of 38 developed and emerging market economies in the BIS database (through to 6 December), compared with a net reduction of 3,510bps last year. Indeed, if we exclude Turkey, about half of the total net reduction seen last year has been reversed this year.
Taper tantrum 2.0
The sharp rise in US 10-year bond yields early in the year, on the back of investor concerns about higher inflation, and the subsequent change in expectations over the future path of US short-term interest rates, set the tone for EM assets for this year, unravelling the post-pandemic low for long view that had propped up markets last year and leading to concerns of a repeat of the 2013 taper tantrum.
After the anticipation, the US Fed announced in November that it would begin scaling back (tapering) its asset purchases and signalled that interest rates could begin to rise earlier than previously expected; Fed lift-off is now seen possibly by late 2022.
As a result, the US yield curve has shifted up and flattened, while the dollar has strengthened (adding further pressure on EM currencies and EM debt servicing costs).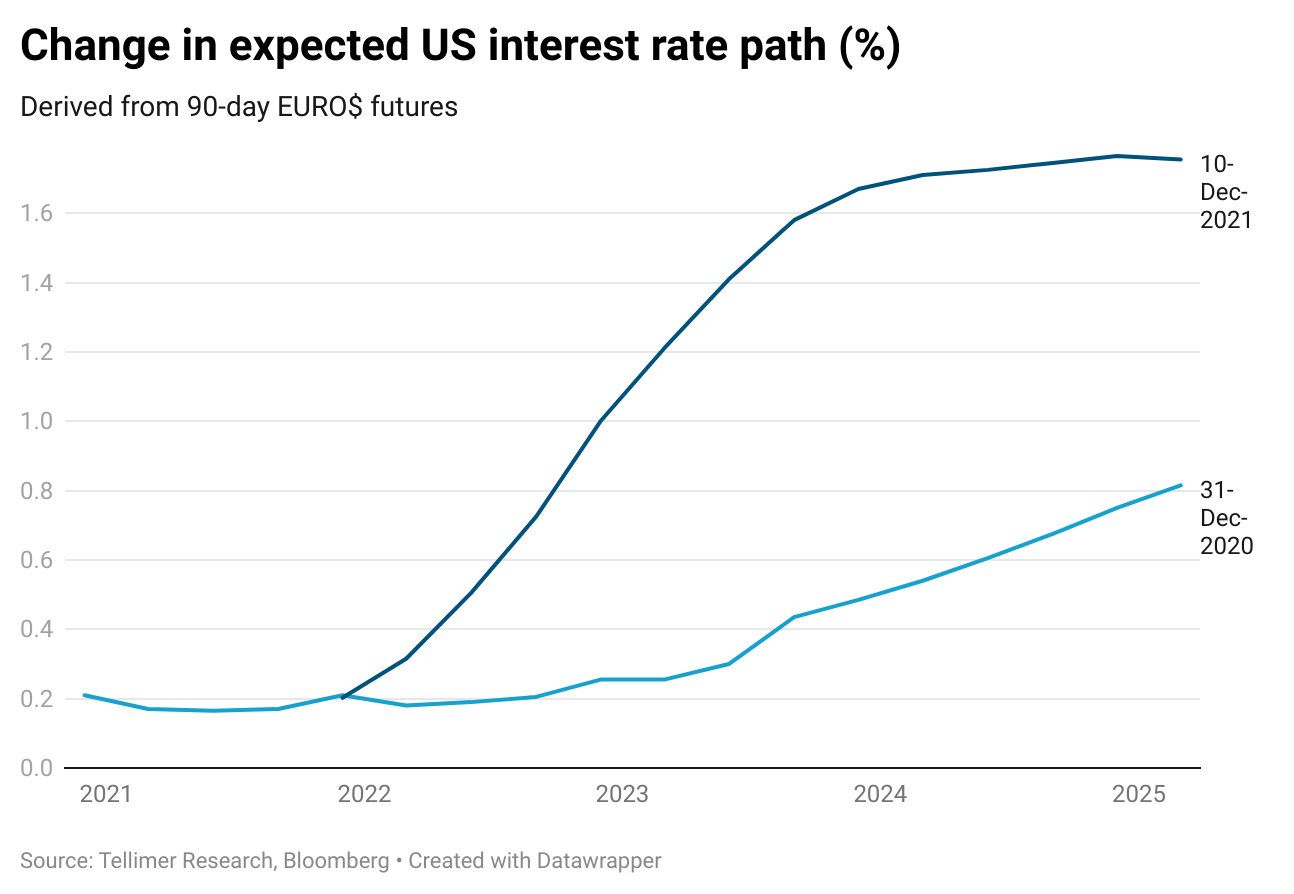 US 10-yields rose c80bps by end-March, to 1.74% (still this year's peak), but have defied expectations, including our own, that they were heading to 2% by the end of the year. The yield is now 1.48% (cob 10 December).
Still, the initial abrupt move sent a shockwave through EM and, even if the move proved somewhat less than feared, EM has still struggled to cope with the new rate environment, especially those with higher external financing needs relative to reserves and/or higher debt burdens, or other vulnerabilities. While EM as a whole may be less exposed to higher US rates than in 2013, smaller EM and frontiers may be more vulnerable.
However, US bond yields are now expected to rise only modestly from here to 2% by end-2022, and to 2.3% by end-2023, according to the Bloomberg consensus. If that's the case, the damage was done this year, and a gradual adjustment from here could be market positive. Barring of course, further adverse inflation shocks.
And such inflation concerns have since been validated in the data. US inflation hit a 40-year high in November, based on the CPI print last week, with the annual rate now 6.8%. This compares with only 1.4% yoy at the end of last year.
However, amid investor concerns that the Fed's transitory view of inflation is wrong, more market volatility is likely.
We make two further observations:
Although US inflation has not been at this level for 40 years, it obviously does so now coming from below. When inflation was last at the 7% level, in 1982, it was falling from higher rates and the Fed was coming out of the new radical money supply targeting regime under then-Chairman Paul Volcker.

Rarely since then does it seem that the Fed hasn't acted, pre-emptively or otherwise, to such a surge in inflation as we are seeing now. Central bank credibility may never have faced such a challenge since it emerged in the policy arena in the 1990s.
Asset returns
The end of the low for long view on rates, and improved prospects for the post-pandemic global recovery, has supported risk assets at the expense of fixed income, with equities tending to outperform other asset classes. But the best performer has been commodities (+36%).
Most fixed income asset classes have struggled, with the best performer being US corporate high yield (+4.4%). Inflation-linked bonds (which are designed to protect against inflation) on the other hand have also done well. Meanwhile, US Treasuries have seen negative returns, as yields there rose.
EM fixed income, meanwhile, has done poorly compared with most other asset classes, with negative returns YTD across sovereign, corporate and local currency (the US dollar index DXY is up 7% this year, whereas the expectation a year ago was for dollar weakness). EM corporate credit has marginally outperformed sovereign and local currency.
EM hard currency sovereign bonds have seen a total return of -1.7% YTD (as of cob 10 December). This compares with 5.3% for the whole of 2020, and maybe especially surprising after last year finished so strongly (the total return on EMBIGD was 5.8% in Q4 2020). In fact, it has been the worst performance in three years, and the third negative annual return over the past decade.
Indeed, except for a brief spell in the summer, following an extended rally, the total return on EM hard currency sovereign bonds has been in negative territory for most of the year.
Recurring market concerns over the pandemic and rate outlook, as well as China, however, returned in the September market sell-off, although there has been a modest recovery in recent days.
EM sovereign dollar bonds
EM yields have risen in 2021, reversing the rally we saw at the end of last year that saw nominal EM yields fall to an all-time low of 4.3% in late November 2020, before hitting even lower levels in December (an new all-time low of 4.15% on 31 December on our measure). Yields rose to 5% by March 2021, and have remained broadly around this level ever since (hitting 5.01% in late November).
The yield is currently 4.78% (as of cob 10 December); that's a 63bps rise this year, although it mainly comprises a 57bps rise in US bond yields. The EMBI spread has been, surprisingly, flat.
The spread on the EMBIGD was 366bps as of cob 10 December, with a rise over the year of only 14bp. With the implication that it means no perceived change in the EM country risk premium, despite the external environment, it seems like a modest move. However, the spread is still some 60bps wide of its pre-pandemic levels and, taking a longer perspective, over 100bps wide of its post-global financial crisis lows.
EM issuance
Nonetheless, total EM bond issuance is within touching distance of record levels. We calculate international bond issuance in EM (all currencies, sovereign and corporate) is US$757bn as of 10 December, based on Bond Radar data, only 1.5% below last year's record and with two weeks to go. However, this reflects booming corporate issuance given the pace of sovereign issuance has stalled.
EM hard currency sovereign bond issuance (on our definition) stands at US$174bn as of 10 December, after another US$1.7bn issued so far this month, following US$172.2bn through November. However, sovereign issuance looks as though it won't reach the record US$203bn seen last year.
Moreover, although next year should see a pickup in amortisation of frontier sovereign bonds, we wonder if overall EM issuance will fall further given the projected declines in budget deficits in sovereigns and, probably, less issuance out of Chinese real estate developers.
Sovereign dollar bonds: Winners and losers
Within EM sovereign dollar bonds, the best and worst performers have generally been among special situations and distress cases; the issue for investors is being on the right side of the story.
The top performer is Zambia (+48.3%), followed by Ecuador (+26.3%), Belize (+22.0%), Costa Rica (+13.3%) and Suriname (+12.7%). Zambia's top billing comes after the election of President HH in August raised hopes of a swifter and more investor friendly resolution of the default, and has already seen staff level agreement on a new IMF programme. Ecuador's strong performance follows the election of investor-friendly President Lasso in April while Belize completed a cash tender offer for its defaulted bond in November. Suriname is in default. Only two other countries (Angola and Tajikistan) saw double-digit returns.
The worst performer is Ethiopia (-29.8%), followed by El Salvador (-25.1%), Tunisia (-13.4%), Colombia (-13.3%) and Ghana (-12.2%). Ethiopia has been driven first by concerns that its Common Framework debt treatment could lead to a demand that it restructures its sole foreign bond on the principal of comparability of treatment with official creditors and, more latterly, on concerns over the intensification of civil war. El Salvador, Tunisia and Ghana all reflect policy and/or fiscal concerns, while Colombia may reflect investor concerns over policy continuity heading into next year's presidential election (a mirror of Peru this year perhaps).
Frontier yields
The frontier market yield, as calculated by Tellimer, stands at 9.52% (as of cob 13 December), using as a proxy for frontiers an (unweighted) average yield for selected B-rated sovereigns. That's a rise of 208bps this year, although much of that increase has come since September. It compares with the peak of over 12% at the height of the pandemic.
However, on an underlying basis, if we exclude the distressed names of Sri Lanka, Argentina and Ethiopia (all with yields over 16%) – and we already exclude defaulters – the frontier yield is somewhat lower, at 7.7%, although that still represents a 111bps rise this year.
The 'frontier premium', which we proxy by the difference between our frontier yield and the EM nominal yield (4.7%), has therefore spiked out to 479bps; not far off its peak during the pandemic of over 500bps and well above its historical (pre-pandemic) average of 136bps. Even on an underlying basis, the frontier premium is 300bps.
This suggests there might be some value in EM high yield and frontiers, relative to higher grade EMs, after the recent sell-off, although clearly the market is concerned that they are more exposed to rising rates and a tightening in external financing conditions, and that there might be an escalation of the number of sovereigns in distress.
Sovereign defaults and distress
There have only been two sovereign defaults this year, if we include consent solicitations to defer payments, whereas there have been no hard payment defaults yet, and those two (Belize – which has now resolved its default through a cash tender offer and associated debt-for-ocean exchange – and Suriname) are not new cases but arguably continuing cases from last year. This compares with the record of six sovereigns that defaulted in 2020.
However, a number of countries are in distress. Ethiopia (Common Framework) and Sri Lanka (exhausting its reserves) may be seen as the next most likely default candidates. On a positive note, restructuring is likely to be finalised next year in Zambia after it initially defaulted in November 2020.  
Elsewhere, Tunisia, El Salvador and Ghana also all have double-digit yields. In all, we count 13 countries with sovereign US$ bonds yielding 10% or more, or that are in default.
Global policy initiatives
Frontier sentiment may also have benefited this year from the IMF's SDR allocation, although investors are still waiting for details on official sector plans for the voluntary channelling of surplus SDRs from rich countries to poor countries, which could provide another fillip to low income countries.
Otherwise, so far, there has been no rush by other eligible countries to follow Ethiopia, and the two other cases, in seeking a Common Framework restructuring; much to the official sector's chagrin.
Amid concern over the post-pandemic debt mountain and tighter EM financing conditions, and an official sector that seems to want to see more eligible countries push for restructuring under the Common Framework, EM investors will need to continue exercising caution next year. However, as seen this year, identifying positive policy shocks in deeply distressed names could be the way to generate alpha.