GLOBAL
Oil prices had a volatile session yesterday, with Brent slumping to as low as $82.30 per barrel amid reports that Saudi Arabia was considering pushing for a 500k bpd output hike at the next OPEC+ meeting. The market recovered as the Saudis pushed back against the suggestion, with prices stabilising this morning just below $88 per barrel when looking at the front-month contract. Saudi Arabia has said that the current 200k bpd cut to production will remain in place until the end of 2023, but that OPEC+ stands ready to adjust production depending on the balance between supply and demand. This suggests that they are still more than likely to cut production further rather than increase output in order to keep prices supported.
US Treasuries ended yesterday's session relatively flat, with some initial gains as oil slumped reversed towards the end of the day as crude recovered after a report regarding oil production increases was denied by Saudi Arabia. It seems as if yields may be topping out once again, with the 2yr trading at over 4.500% while the 10yr yield holds above 4.800%. The market is well priced for an aggressive Fed rate hike trajectory, which will ultimately lead to a recession in the US and the need for a swift policy reversal later down the line. If yields have indeed peaked, it could open the door for a recovery in stock and other risk markets in the sessions ahead. However, this will depend on how tomorrow's FOMC meeting minutes are perceived.
AFRICA
Nigeria: The Central Bank of Nigeria will deliver its latest verdict on its main interest rate. Against a backdrop of a continued acceleration in inflation and further upside risks to the outlook due to devastating floods in food-producing regions and naira weakness, the CBN is widely expected to deliver another outsized rate hike. Economists polled by Bloomberg are pencilling in a 100bp rate hike, which would take the benchmark interest to 16.50%.
Democratic Republic of Congo: The International Monetary Fund announced yesterday that it had reached a staff-level agreement with the Democratic Republic of Congo on the third review under the Extended Credit Facility Arrangement. The agreement is subject to approval by the IMF management and consideration by the Executive Board, which is expected in December 2022. Completion of the review will make SDR 152.3mn ($200mn) available for balance of payment support. The lender noted that despite external shocks and increasing inflation, the post covid recovery continues to build momentum, with this year's growth expected at 6.6%. Meanwhile, amidst high uncertainty, prudent policies to bring down inflation, strengthen fiscal and foreign exchange buffers and advance the structural reform agenda will reinforce macroeconomic stability and enhance resilience.
Egypt: Construction on the $11bn wind farm in Egypt, the biggest in the world, is set to commence in 2024 and could provide electricity to Europe and Saudi Arabia. According to the Chairman of Infinity Power Holdings, one of the main companies backing the project, a consortium that includes Abu Dhabi-owned Masfar and Infinity Power Holdings, will finish building the 10-gigawatt onshore plant by 2030. The Egyptian government will buy the power, some of which may be exported via existing and planned cables to Europe, Saudi Arabia, Sudan, and Libya. Governments and investors are pouring money into wind and solar plants around the world as they seek to transition away from fossil fuels and limit global warming to 1.5 degrees Celsius above pre-industrial levels.
Kenya: The African Export-Import Bank has approved a $3bn program for Kenya. The lender, in a statement, said that it will provide $800mn financing to build 100 dams to double irrigated farmland in Kenya. Moreover, it will fund the development and operation of industrial parks to boost the country's manufacturing sector. The lender will also put in place a facility that enables the timely and sustainable supply of basic commodities such as fuel, grains, and fertilizer and will also provide support to film and performance art sectors.
Madagascar: To boost investment in public infrastructure, Madagascar will increase planned spending by 24% to 16.1trn ariary ($3.75bn) next year. According to the finance ministry, capital expenditure will jump 51% to 8.7trn ariary next year compared to 2022, helping to create a more favourable environment for private sector investments. The completion of ongoing projects and the start of new developments are forecast to lift economic growth to 4.9% from a revised estimate of 4.2% this year. The increased spending is set to result in a budget deficit of 4.3trn and represents 6% of GDP. Madagascar plans to plug the gap through external budget support and loans from agencies, including the World Bank and the International Monetary Fund.
Mauritius: Official data from the Bank of Mauritius showed that tourism revenue in the nine months ending September surged to 41.6bn rupees ($932mn) from 2.6bn rupees a year earlier after the reopening of borders in October 2021. Arrivals jumped to 638,332, compared with 9,460 a year ago. Given Mauritius is a tourism-reliant country, the increase in revenue will be a welcome boost for the economy, especially ahead of the upcoming high season.
Uganda: Data from the Finance Ministry showed that Uganda's trade gap widened 48.7% y/y to $338.5mn in September. The widening of the deficit resulted from a faster rise in inbound than outbound shipments. Specifically, imports rose by 29.3%, offsetting a 13.9% rise in exports. Imports rose due to the strong performance of private sector imports, particularly petroleum products, chemical and related products, base metals, and their products. Meanwhile, exports rose on higher coffee export receipts, maize, sugar, base metals, and products. The widening trade deficit will weigh on the current account balance, which will likely pressure the Ugandan shilling.
Forex: Kenya's remittance inflows rose in October
Kenya's key exports include tourism, tea, coffee, and horticultural products. These have historically been the main sources of export earnings and foreign currency for the country. However, over the last decade, remittances have become another key source of foreign exchange. With this in mind, it is worth looking at the latest remittance inflows data. A report from the Central Bank of Kenya showed that remittance inflows rose for a second consecutive month to $332.6mn in October from $318mn in September, representing an increase of 4.6%. The cumulative inflows for the 12 months to October totalled $3.99bn compared to $3.61bn in October 2021. The United States remained the largest source of remittances to Kenya, accounting for 57.6% in October.
The continued rebound in remittance inflows could help narrow the persisting current account deficit and improve foreign exchange supply which are all factors that have contributed to the Kenya shilling weakening this year. The shilling has lost over 7%  against the USD this year and weakened along with its East African peers as tightening financial conditions and elevated oil and food prices weighed heavily on the current and trade accounts of countries in the region and added downside pressure to currencies.
While the increase in remittance inflows may help ease pressure at the margin, the broader bias remains to the downside for the shilling. A growing external imbalance and limited foreign exchange inflows amid an unfavourable global macro backdrop are some of the factors that continue to pressure the currency,  which remains significantly overvalued on a real effective exchange rate basis. 
Fixed Income: A big two weeks ahead in terms of central bank rate decisions
While there are signs of a pivot in global monetary policy, we expect African central banks to remain hawkish in the near term as inflation across the continent continues to run hot. While international fuel and food prices have moderated, supply-side price pressures in Africa remain particularly robust. This is partly a function of persistent currency weakness and regional supply-side shocks of key goods such as food and fuel. Note that 19 of the 22 African currencies tracked by ETM are in the red against the USD this year.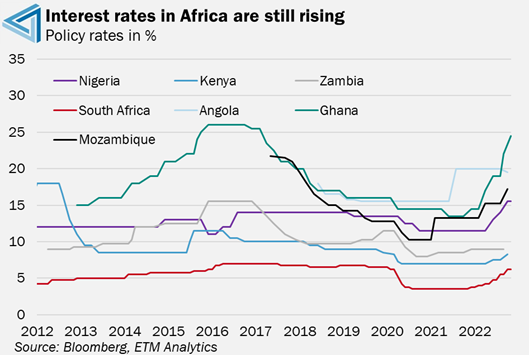 This sets the stage for the final round of African central bank rate decisions for the year. Things kick off with the Central Bank of Nigeria's rate decision today, followed by the Central Bank of Kenya and Central Bank of Zambia on Wednesday, the South African Reserve Bank on Thursday and the Bank of Angola on Friday. We also have the Bank of Ghana, Bank of Mozambique and Bank of Botswana rate decisions next week.
While several African central banks may leave their respective interest rates on hold over the next two weeks as the global economic outlook deteriorates, we are likely to see policymakers in key economies such as Nigeria, South Africa, and Keyna raise rates to quell above-target inflation and provide much-needed support for their currencies. Given the shift in global monetary policy, fixed-income traders will pay close attention to the forward guidance provided in the respective policy statements.
 Macroeconomic: Sub-Saharan Africa is expected to be the second fastest-growing region over the next 5-years
Global economic growth prospects are being dampened by a mix of headwinds, including Russia's invasion of Ukraine, interest rate increases to contain inflation, and lingering pandemic effects such as China's lockdowns and disruptions in supply chains. The combination of factors mentioned above has seen forecasters downwardly revise their global growth forecasts in recent months. The deteriorating global growth outlook has prompted a readjustment in inflation and interest projections.
Beijing announced yesterday that it is facing its most severe test of the COVID-19 pandemic, shutting businesses and schools in hard-hit districts and tightening rules for entering the city as infections have ticked higher. The market had started to hope that China would ease its zero-Covid policies. However, these hopes have been crushed by the latest round of hard lockdowns.
China is one of the largest importing markets on which Africa is highly dependent in terms of its exports. Therefore, the latest round of hard lockdowns in China, against the backdrop of deteriorating global growth conditions, points to a softer economic growth environment in Africa. That said, while Africa's economic growth prospects have turned slightly more negative recently, Sub-Saharan Africa is expected to be the second fastest-growing region in the world over the next five years.