The aluminium LME spot price touched US$3,000 per tonne for the first time in 13 years on 13 September. The metal currently trades at US$2,825/tonne and could be on track to hit US$3,000 again, as demand remains strong while supply curbs persist. Aluminium prices last closed above US$3,000 in 2008 before the global financial crisis led to a sharp crash to a trough of US$1,300 in the same year.
The spike in LME spot prices has been due to increased smelting restrictions in China (the world's largest producer) as well as rising pressures on alumina prices. In China, the Yunnan province (producer of c10% of China's production) announced tougher controls on energy consumption, which would require smelters in the region to restrict output in September-December at August volumes or lower. Yunnan smelters already shut down 1mn tonnes per annum of capacity in August.
On the other hand, the recent rising cost pressures on Alumina prices have also emanated from supply shocks. First, the coup in Guinea restricted bauxite mining (a key input for producing alumina) in the region, and the fire in a Jamaican alumina refinery restricted output.
Overall, the supply curbs are likely to keep aluminium prices elevated in the short term, despite the recent threats to demand which have led to a price correction in the 10 days since the US$3,000 level was reached.
The recent correction has been as a result of:
Alcoa Corporation's announcement on Monday that it would resume production at the 268,000 (pa) Aluma smelter plant in Brazil in a bid to book profits on the rising prices – production at the plant has been curtailed since 2015. The smelter is expected to resume in May 2022, although power challenges in Brazil could pose a challenge.

The ripple effect of China's Evergrande debacle on metal prices.
Aluminium Bahrain shares are tracking the gains in Aluminium prices
Aluminium Bahrain ("ALBH" or "Alba") stock has gained 35%, so far this year, similar to aluminium LME spot prices which have gained 33% over the same period. ALBH is trading at levels last seen in 2011 — currently at BHD0.695. We update our model with upward revisions to our aluminium and alumina price forecasts.
These adjustments lead to an increase in our target price for ALBH to BHD0.89 (from BHD0.83 previously), implying upside of 28% from the current market price of BHD0.695. The stock trades at 2.9x 2021f EV/EBITDA (versus peers at 8.8x) and offers potential 2021f and 2022f free cash flow (FCF) yield of 34% and 38%, respectively.
The culmination of our model adjustments leads to an increase in our 2021 EPS forecast for Alba to BHD0.300 (from BHD0.244 previously). The adjustments to our model include:
Increased aluminium LME price forecast to US$2,400/tonne (previously US$2,200) in 2021f and US$2,270 (previously US$2,228) over the 5-year forecast period. These are in line with the Bloomberg consensus median forecast. This implies an increased realised sale price forecast of US$2,650 and US$2,440 (including premiums) over the respective periods. Our longer-term forecast for 2027-30, is unchanged at US$2,350/tonne.

Increased alumina prices with unchanged alumina ratio to aluminium prices: Our 2021f alumina price forecast increases to US$329/tonne, given an unchanged alumina to aluminium prices ratio of 13.6% on our increased aluminium price forecast.
It is worth stating that the volatility in aluminium and alumina prices poses both upside and downside risks to our forecasts.
Expect Alba to deliver another strong set of results in Q3 21
Alba is scheduled to release its Q3 21 results on 31 October. We expect another strong result as demand and aluminium prices remained strong during the period, having hit 2011-record levels during the quarter. We expect the gains in the sale price (both LME spot and premium prices) will outweigh the increased costs in alumina prices.
Overall, we expect the boost to the company's gross profit to support net income of BHD139.7mn in the quarter, compared with BHD92.6mn in Q2 21 and a net loss of BHD11.7mn in Q3 20.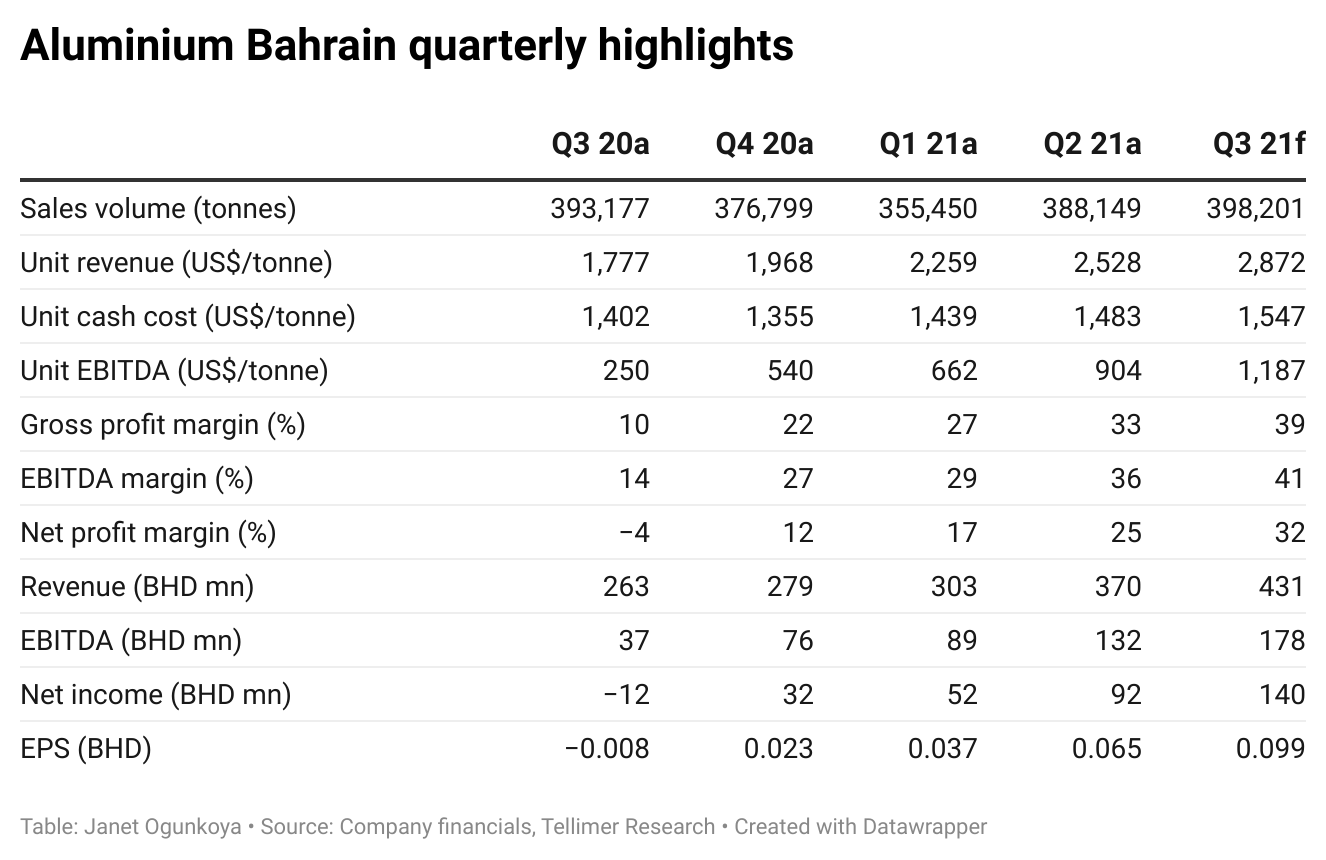 Valuation
Our December 2021 fair value for Alba is based on a discounted cash flow (DCF) valuation and net cash. The key parameters in our DCF are unchanged:
A risk-free rate of 2.3%.

An equity risk premium of 5.0%.

An after-tax cost of debt of 1.4%.
Company profile
Alba is the largest single-site aluminium smelter in the world. The company has a 1.5mtpa primary aluminium facility and produces a range of products such as billets, liquid metal, rolling slabs and standard ingots. Alba recently added its sixth potline (Line-6) with a capacity of 540 kilotonnes (kt) for an investment of cUS$3.5bn.
Alba was established in the Kingdom of Bahrain in 1968 and commenced operations in 1971 as a 120kt per annum smelter. In 2019, Alba achieved record-high production of 1,365kt of the highest-grade aluminium. As of 31 December 2019, close to 23% of its total output was supplied to Bahrain's downstream aluminium industry, while the rest is exported to Asia and MENA (36%), Europe (25%) and the Americas (16%). Alba is a major contributor to Bahrain's socio-economic development and employs 3,181 people (as at 31 December 2019), of whom over 80% are Bahraini nationals.
Mumtalakat Holding Company (the sovereign wealth fund of Bahrain) holds c69% of Alba. The other key shareholder of the company is Saudi Basic Industries Corporation (SABIC, c21%), while the remaining 10% is free float.
This report has been commissioned by Aluminium Bahrain (Alba) and independently prepared and issued by Tellimer for publication. All information used in the publication of this report has been compiled from information provided to us by Alba and publicly available sources that are believed to be reliable, however we do not guarantee the accuracy or completeness of this report. Opinions contained in this report represent those of the research department of Tellimer at the time of publication. The sponsor has had no editorial input into the content of the note, and Tellimer's fees are not contingent on the sponsor's approval of the research.