East Africa Week Ahead
 The new month kicks off with April PMI data out of Uganda and Kenya. Although the Sub-Saharan African average PMI reading rose in March, Kenya's headline PMI reading fell from 50.9 in February to 50.6 in March, its lowest level in 9 months. Expectations for future activity slipped in March to the third-lowest seen in the series history. While Kenyan firms turned more pessimistic over the outlook for the private sector, we still expect Kenya's economy to stage a marked recovery this year.
Uganda's PMI reading meanwhile rose notably in March, increasing from 51.2 in February to 53.2. Details from Uganda's PMI report showed that new orders increased for the second successive month, with a number of respondents signalling a rise in customer numbers. This expansion in new business, allied to signs of a return to a more normal economic environment and the reopening of schools, contributed to a ninth successive increase in output, according to Markit. Firms remained optimistic regarding the 12-month outlook for output, with companies expecting further improvements in new business in the coming months.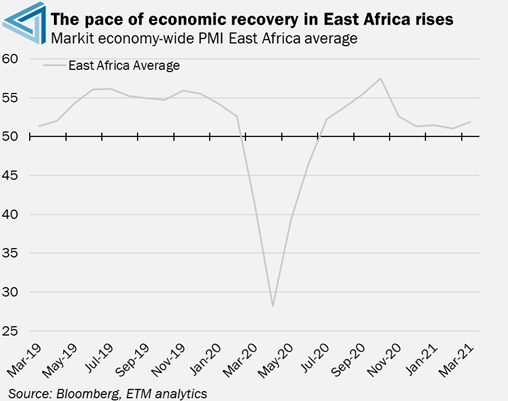 Given the high frequency of PMI, investors will keep a close eye on both Kenya's and Uganda's PMI readings this week to gauge the pace of economic recovery in both countries last month. While global tourism remains depressed relative to pre-pandemic levels, we are seeing a notable recovery in tourist activity, which given its heavy dependence on the sector, should help bolster economic activity in East Africa. It is worth noting that countries are introducing restrictions for travellers from countries experiencing surges in new infections and those who have discovered new variants of the virus. In East Africa, both Kenya and Tanzania have implemented restrictions on travellers from India.
In addition to the travel restrictions that have been implemented, Tanzania announced a raft of new COVID-19 containment measures on Monday. The Ministry of Health said in a statement released on Monday that based on the global COVID-19 situation and emergence of new variants of the virus, there's an increased risk of their importation into Tanzania. To prevent such a risk, the Ministry said that it has decided to elevate and enhance prevailing preventive measures, especially those with regard to international travel.
Soaring global commodity prices is another factor that will help underpin the regional recovery this year. ETM's proprietary models suggest that we are entering into a new commodity super-cycle, which will support regional exports and bolster foreign currency inflows. While Kenya is not a big exporter of commodities such as metals and oil, it is a major exporter of soft commodities such as coffee and of horticulture products.
On the news front, Kenyan President Uhuru Kenyatta confirmed to reporters today that he has signed an accord with his Tanzanian counterpart Samia Suluhu Hassan to build pipeline from the Tanzanian commercial capital of Dar es Salaam to the Kenyan port city of Mombasa. The pipeline will provide fuel to fire power plants, a move aimed at lowering the cost of electricity in Kenya.
International Week Ahead
Russia and China are being considered global threats to democracy, and Britain will seek to agree on decisive action from G7 countries to protect their democracies. The challenges faced range from military action, misinformation and political meddling. This will do very little to promote relations between the West and the centrally planned countries like Russia and China, but a collective is needed to hold those two countries to account.
The RBA made no changes to its monetary policy at today's MPC meeting, signalling that any changes to asset purchases and a shift for the 3-year target bond to the November 2024 tenor will be made at the July meeting. The current asset purchase programme will end in September, so the Board will need to determine before the July meeting whether or not to extend it. Upcoming employment and inflation figures, therefore, will be closely watched as any weakness will see bets rise that the RBA will indeed extend its QE purchases into Q4 of this year to get employment levels to their target.
The EU is looking to open up its borders just in time for the summer travelling season in what could provide the bloc with a notable economic boost. Travellers will, however, need to be vaccinated or if from other countries around the world, from a region that has relatively low infection rates. There will, however, be an emergency brake clause, which could see member states reimpose bans on countries where risky new variants emerge or where infections are spiking. The proposal will be discussed this Wednesday when representatives meet in Brussels.
Market
It has been another relatively subdued trading session so far, with several major Asian markets still shuttered for public holidays. Equities across Europe are mixed and US futures are weaker following a slump in tech stocks. The USD, however, is rebounding, which has put most risk assets on the back foot.
The latest Institute of International Finance (IIF) data showed that inflows into emerging market stocks and bonds reached $45.5bn in April from a downwardly revised $9.8bn in March. This was the highest monthly figure since January and compared with $6.6bn in the corresponding month of 2020.
While EM portfolio flows have improved, the global reflation theme is likely to see investors becoming more judicious in where they allocate funds. As such, frontier markets, which face numerous structural challenges, could experience outflows in the coming months. For now though, investors are expected to remain locked into the attractive yields on offer in the frontier market bond space.
Zooming in on East African bonds, while Kenya's 2029 local currency sovereign bond yield has fallen in recent sessions, the broader bias in Kenyan bond yields has been firmly to the upside this year. Driving much of the topside movements on the belly and long-end of Kenya's bond curve has been uncertainty over comments from National Treasury that Kenya is looking to restructure some of its debt. Moreover, the announcement from National Treasury in February that it plans to increase spending by 4.1% in the 2020/21 fiscal year saw Kenya's 2029 bond yield leg higher.
Looking ahead, with fiscal risks tilted firmly to the upside in Kenya, we expect investors to continue demanding a massive fiscal premium for holding Kenyan bonds.
Meanwhile, data from the International Monetary Fund has shown that several East African nations have benefitted from the international lender's $142.7mn debt relief program. In East Africa, Rwanda has enjoyed the most debt relief of $71.23mn, while Tanzania followed at $26.43mn and Ethiopia at $19.71mn. Kenya and Uganda were not part of the 28 countries included in the IMF's debt relief program.
According to IMF, Rwanda continues to be hit hard by the impact of the pandemic. The IMF said that a strict economic lockdown, weak global demand and supply chain disruptions affected all sectors of Rwanda's economy. The shock of the pandemic on Rwanda's health care system and economy has seen the country's fiscal and external financing needs rise to 5.1% and 4.0% of GDP, respectively, in the 2020/21 fiscal year. As is the case with Kenya, fiscal risks in Rwanda are skewed to the upside.