A version of the note below was originally published as part of our IMF/World Bank Annual Meetings summary report on 27 October.
In Ethiopia, there continues to be a large discrepancy between relatively rosy WEO forecasts and what appears to be a grim economic reality on the ground. WEO forecasts were relatively unchanged from April, projecting real GDP growth to converge to c7% over the medium term, public debt to decline to 35.5% of GDP by 2025, and the current account deficit holding steady at c3% of GDP after a temporary increase closer to 4.5% in the previous and current fiscal years.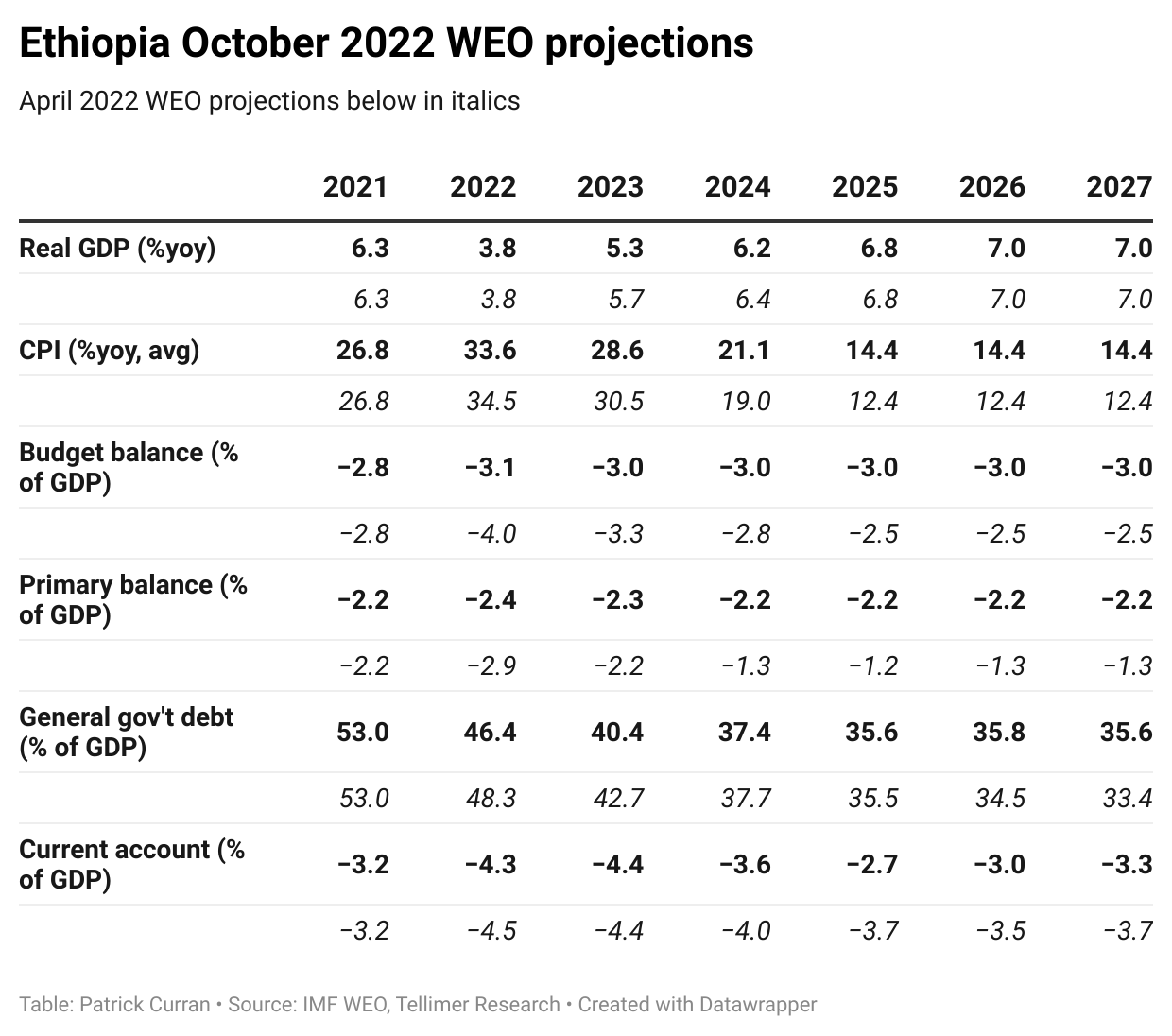 However, Ethiopia's reserves are worryingly low, at just US$1.6bn as of the latest official print in March, equivalent to just 1.15 months of trailing goods imports. The exchange rate market also points to significant balance of payments pressure, with ETB trading at a c90% premium in the parallel market. In an interview with Reuters, State Finance Minister Eyob Tekalign Tolina said that exchange rate unification is a key policy goal but that it will be done only gradually, meaning severe imbalances in the FX market are likely to persist for the foreseeable future.
There has also been little progress on negotiations for Ethiopia's IMF programme or Common Framework debt restructuring, both of which have been in stuck in limbo due to the conflict. The problem is a bit circular, with official creditors unable to hash out a restructuring until a staff-level agreement is in place and the IMF unable to finalise a programme until there is clarity on how Ethiopia will plug its large external financing gap, both of which are likely to require some sort of lasting solution to Ethiopia's conflict before meaningful progress can be made.
On this front, there has finally been some positive news. The "indefinite humanitarian truce" that was declared in March, which itself was somewhat shambolic, dramatically unravelled in late August when Tigrayan forces accused the government of launching a joint offensive with the backing of Eritrea. In October, UN Secretary-General António Guterres warned the Security Council that fighting is "spiralling out of control" and that civilians are "paying a horrific price" due to the suspension of aid deliveries, "indiscriminate attacks" on residential areas, and reports of "sexual violence and other acts of brutality". However, on 3 November, the Ethiopian government and Tigrayan leaders announced another truce, on the back of African Union-mediated negotiations in Pretoria.
It remains to be seen if the deal will last or if it will be yet another false start on the road to a more durable peace. Against this extremely uncertain backdrop, the economic reform and debt restructuring agenda might remain on the back burner. Indeed, the issue was given life at the Annual Meetings, with dozens of protestors marching outside of the World Bank and IMF buildings to implore the international community not to provide financial support to the government until the siege of Tigray is brought to an end, illuminating the difficult political and ethical components of the ongoing negotiations.
The conflict has also led to reduced donor flows, precluding the IMF from reaching a staff-level agreement and creditor negotiations from gathering any real momentum. Until donor flows resume in large enough size to plug Ethiopia's large external funding gap, IMF and creditor negotiations will remain stuck in the mud. State Finance Minister Eyob has expressed disappointment in how slow the Common Framework process has been, saying "It's completely disappointing that it has stuck…We trusted the fund and we trusted G20 countries".
When the process does move forward, it is still unclear what Ethiopia's restructuring will look like. Eyob said that "Ethiopia does not have a solvency issue, it's more of a short-term liquidity issue", adding that there was no danger of it defaulting on its debts. This echoes our debt sustainability analysis (DSA) from last February and meshes with the IMF's own forecasts for a declining debt burden. However, the IMF still needs to update its own DSA, and it is not clear if official creditors will reprofile Ethiopia's debt without the participation of private creditors to satisfy the principle of equal treatment.
Overall, we think Ethiopia is still a long way off from a solution to its economic crisis and believe it is too early to tell whether the recent ceasefire will lead to a durable end to the conflict. In the meantime, however, it will likely continue to service its lone US$1bn eurobond due to the limited US$66m annual coupon burden, with the next US$33m payment due on 11 December. With bonds trading just above US$60, this provides a pretty hefty running yield and will insulate bondholders from losses if Ethiopia does eventually restructure its debt on or before the December 2024 maturity date. As such, we retain our Hold recommendation on the ETHOPI 6 ⅝ 12/11/24s.