22 November 2020
Emerging-Frontier Equity Monthly – November: Our top picks after the rally

Hasnain Malik
Strategy & Head of Equity Research @ Tellimer Research
22 November 2020
Covid-19 vaccines and US$ weakness drive global equity and commodity rally; EM-FM still cheap, tourism a geared play
Technology equities, except for Alibaba and Tencent, kept pace, ignoring regulatory risks in the US, EU, and China
We explain why India over Brazil in large EM, premium of Tech in small EM, GCC much higher oil price need, Turkey's turn


22 November 2020
November in Emerging and Frontier
Global backdrop
In November the global backdrop featured the following.
Vaccine booster for all equities (EM tourism is a geared play).

Regulation hit mega Tech equities in China more than in US.

Frontier politics in the US has not derailed US equities.

US$ weak, Euro and CNY strong (a positive combination for EM).

Oil price bounces, but no way near enough for GCC et al.

Inflation and currency hawks diverge wildly on Gold and Bitcoin.
Vaccine booster for all equities (EM tourism is a geared play)
Pfizer-BioNTech announced over 90% effectiveness in their Covid-19 vaccine study. Similar announcements about the Russian Sputnik V and Moderna vaccines followed. The prospect of an ultimate return to normal, putting risks associated with availability and distribution of the vaccine to one side, drove a rally in liquid sectors and markets which have lagged Tech ytd, eg the MSCI Developed Markets ex-Technology index was up 13%, and cyclical commodities, eg Copper, Iron Ore, and Aluminium, were up c8%. The most operationally geared part of emerging markets to vaccines is arguably in the Tourism sector, which, on the basis of the sector's contribution to GDP, favours markets like Thailand (up 25%).
Regulation hit mega Tech equities in China more than in US
In global Tech, the scrutiny of regulators has ratcheted up with, for example, the US Department of Justice anti-trust lawsuit initiated against Google, regulators in China halting the IPO of Ant Group, and the EU about to announce new draft rules on the sector (Digital Services and Markets Acts).
This regulatory spotlight impacted mega China Tech App equities (Alibaba down 11% and Tencent down 1%) whereas mega US Tech (Google up 7%, Facebook up 3%).
Frontier politics in the US has not derailed US equities
Biden won the US presidential election but Trump has not yet conceded. The Democrats retained their majority in the House of Representatives, with a lower seat count, but failed to win a majority in the Senate.
There is still no agreement in Congress over a second fiscal stimulus package. There has also been public disagreement between (outgoing) Treasury Secretary Mnuchin and Federal Reserve Chair Powell over whether to continue with all emergency lending facilities.
The US equity market was up 9% (measured by the S&P 500 index, whether including the Tech sector, or not), a rally perhaps driven as much by the vaccine as the completion (almost) of the election.
US$ weak, Euro and CNY strong; a positive combination for EM
The trade-weighted US$ index is down 2.4% whereas the Euro is up 1.8% and the Chinese Renminbi is up 2.2%.
The drivers of CNY appreciation are likely sustainable (faster growth than the US, loose US policy, China's high positive real interest rate). This should ultimately help the export competitiveness of rivals in Asia (eg India, Bangladesh, Vietnam).
Euro strength has helped the peripheral EU equity markets of Poland (up 27%) and Hungary (up 24%), although, ironically, it is the vetoes of these two countries over the "rule of law" provision in the EU 7-year budget (Covid-19 stimulus) and the EU ability to issue joint debt (a first step towards fiscal union), which is one threat to that strength.
Oil price bounces, but no way near enough for GCC et al
Hopes of ultimate demand recovery from Covid-19 vaccines and expectations of an extension to OPEC+ output cuts outweighed updated OPEC forecasts (which imply a deeper drop in 2020, above 5-year inventories in developed markets) and reported tension on output restraint compliance between Saudi and the UAE.
Oil price is up 20% (although still far below the fiscal breakeven price of the Saudi and the rest of the GCC (ex-Qatar), Iran, Iraq, and Kazakhstan).
Inflation and currency hawks diverge wildly on Gold and Bitcoin
For those concerned that very loose monetary and fiscal policy is going to lead, ultimately, to much higher inflation and the erosion of the fiat value of money, Gold and, and much more controversially, Bitcoin have offered alternatives to equities, bonds, cash, and other investment options (eg real estate).
Since early October, Bitcoin has diverged and this has accelerated this month. Bitcoin is up 36% mtd and 160% ytd, compared to Gold flat mtd and up 21% ytd. Bitcoin is back close to its end-2017 peak just before its 85% crash over the subsequent year or so.
Technology: Alibaba and Tencent alone react to negatives, other EM Tech powers on
This month has seen a number of negative fundamental developments for the Technology sector globally:
Increased regulatory scrutiny across the US (Google anti-trust lawsuit), China (Ant Group IPO handbrake), and the EU (imminent new rules on Tech),

The application of nationalist regulation (eg the US presidential executive order prohibiting US investment firms from trading in 31 Chinese companies deemed by the Defense Department as having links to the Chinese military, and, in India, the Competition Commission's approval of Reliance's bid for Future Retail against the complaints of Amazon and the interim stay awarded by the Singapore International Arbitration Centre).

The prospect of vaccines decelerating the outsized penetration gains from Covid-19 (working, shopping, and learning from home).
However, these negative factors have been reflected in a very inconsistent fashion in equity performance, with China Tech Apps alone materially underperforming. Even in this segment, merely Alibaba (down 11%) and Tencent (down 1%) – the two most directly in the local regulatory spotlight – bore the brunt whereas the likes of Meituan, Netease, and JDcom were up 2-8%.
Meanwhile, Small EM-FM Tech (up 14%), Korea-Taiwan Hardware (up 12%, helped also by signs of a detente between South Korea and Japan), and US Mega Tech (up 7%) appeared oblivious to any of these risks.
Small EM-FM Tech – internationally-listed stocks
Indeed, the scarcity of internationally-listed Small EM-FM Tech companies continues to drive outperformance as they attract both "crossover" investors from global Tech and small EM-FM dedicated investors (who rightly see faster growth in these companies than in the banks, conglomerate, real estate, and state-owned enterprise sectors which dominate locally-listed equities).
The internationally-listed Small EM-FM Tech stocks that we track (Delivery Hero, Despegar, Epam, Jumia, Kaspi, Mailru, Network Intl, Opera, Mercado Libre, Sea, Yalla, Yandex) are up 15% (weighted by market cap), outperforming all other indices.
Even a company reporting results with worrying underlying trends, eg Sea (up 16%) with dependence on a single game in its digital entertainment segment, decelerating US e-commerce growth and ongoing cash burn, continues to outperform.
Furthermore, the latest IPO in the US in this category, Russian e-commerce player Ozon, is reportedly on track to meet its capital raising target (US$825m).
This scarcity is also driving premium valuation (relative to history) for the internationally-listed Small EM-FM Tech.
Large EM (non-Tech)
Among the non-Tech laden parts of EM, the commodity exporters of Brazil (up 21%), Russia (up 19%), and South Africa (up 13%, albeit with dampeners from Tencent, up merely 5%, and gold plays Anglogold Ashanti, flat, and Goldfields, down 9%) outperformed India (up 9%).
Recent homegrown positives in Brazil are that the bill to enshrine central bank autonomy has passed in the Senate and Finance Minister Guedes has publicly reiterated the commitment to fiscal control and structural reform (eg tax and privatisation). Externally, key commodities for Brazil have rallied: the price of soybean (c15% of exports), crude oil (10%) and iron ore (10%) are up, respectively, 12%, 20% and 8% mtd.
However, Brazil's outperformance versus India, on the one hand, and peer commodity exporters, on the other, looks undeserved in our view.
Brazil versus India
India offers exposure to an economic reform story (albeit a similarly stuttering one) with fewer political obstacles in its path. India is also significantly cheaper (based on trailing PB and PE relative to history).
India Prime Minister Modi's government has a much stronger political mandate than that of Brazil President Bolsonaro.
Modi's own party controls 56% of the lower house of parliament and his coalition controls 62%. In the Indian upper house, it controls 38% and its coalition controls 49%. The next general election is not until May 2024.

The recent (11 November) gains made in the Bihar state legislature election suggest that Covid-19 has not diminished the mass appeal of Modi's BJP and coalition partners (and it is the state legislatures that appoint members of the upper house of parliament).

In contrast, Bolsonaro has no major party to call his own in Brazil's parliament, his coalition has a fraction more than 50% of the lower house and merely 33% of the upper house, and the largest parties in the governing coalition in each of the lower and upper houses control merely 8% and 15%, respectively.

To a degree, the municipal elections in Brazil served as a referendum on Bolsonaro just as much as the Bihar state elections did in India on Modi. Again, the contrast is stark, with the loss in Brazil's largest cities by four out of the six candidates backed explicitly by Bolsonaro.

The next general election is due by October 2022 and focus on unpopular structural reform is arguably already giving way to more populist impulses (eg the proposal to make permanent some elements of the Covid-19 fiscal stimulus package, against the grain of Finance Minister Guedes's rhetoric).

The speaker of the lower house (Rodrigo Maia), who has been instrumental in marshalling support for the reforms passed thus far (ie pensions), is not seeking re-election in February 2021 – this month's Congressional overturn of Bolsonaro's July 2020 veto means that the reduction of corporate payroll tax will continue and may be a sign of Maia's influence already waning.

President Bolsonaro's eldest son Flavio, who is also a member of the upper house, has been formally charged by state prosecutors in Rio de Janeiro over alleged corrupt activities in the decade prior to 2018. While corruption allegations are neither new in Brazil politics – from all parts of the ideological spectrum – nor for Bolsonaro and his personal circle, they can add to the distraction away from reform as the next election cycle approaches.
Brazil versus other EM exporters
South Africa, in large EM, and Russia and Saudi Arabia, in smaller EM, offer cheaper options than Brazil for those wishing to play the rotation from Tech-heavy ytd outperformers (China, Korea, Taiwan) to commodity-export ytd underperformers. Compared with Saudi Arabia and South Africa, Russia has more fiscal policy credibility.
All three of these are cheaper than Brazil on trailing PE versus history. Merely Saudi Arabia and South Africa are cheaper on trailing PB versus history.
Russia is on a higher PB premium versus history. However, a comparison of absolute trailing PB and ROE is strikingly in Russia's favour: 1.2x PB with 7.1% ROE for Russia, compared with 2.2x and 4.8% for Brazil.
Small EM-FM (non-Tech)
Outperformers: Wider Europe, LatAm, parts of ASEAN
In non-Tech small EM-FM, the most striking regional outperformance this month is in the following:
Wider Europe (eg Turkey, Hungary, Poland);

LatAm (eg Mexico, Colombia, Chile); and

Parts of ASEAN (Thailand, Indonesia, Philippines).
Wider Europe
Turkey (up 35%, with the FX rate up 9%) saw a policy reversal after personnel changes at the head of the central bank and finance ministry, a 475bp policy rate hike to 15%, implying about a 250bp forward-looking real interest rate, as well as a ceasefire in Nagorno-Karabakh (which yielded benefits for both Turkey and Russia).

Hungary and Poland (both up c25%) were driven by Euro currency strength, despite the conflict between these two and all other members of the EU on the "rule of law" provision in the joint EU budget and, in the case of Poland, mass protests against the ban on abortion.

Georgia (Bank of Georgia up 38%) benefited from an incumbent election victory (albeit Georgia Dream was just shy of its own absolute majority) where disputes did not morph into persistent mass protests.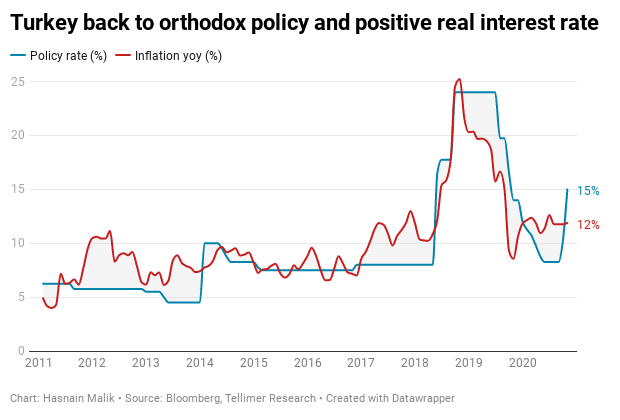 LatAM
The drivers of outperformance were the pick-up in commodity prices, with Copper up 8% for Chile (up 17%) and Peru (up 10%, despite the impeachment of President Vizcarra by a fractious Congress opposing his popular anti-corruption efforts and the stop-gap nature of new technocratic President Sagasti), and Oil, up 20% for Colombia and Mexico (both up c20%), and US$ weakness (with FX rates up 5-6% in Colombia and Mexico).
Parts of ASEAN
The drivers of outperformance in ASEAN were hopes of a revival in tourism, a sector which equates to over 10% of GDP in Thailand (up 25%) and, to a lesser degree, the RCEP regional trade agreement, which should help all the ASEAN bloc, and stronger commodity prices, with the 7% rise in both coal and palm oil helping Indonesia (up 16%).
Value in Czechia, Hungary, Poland, Philippines
Among this month's outperformers, the cheapest equity markets, with trailing price/book on a c15% discount to the 5-year median, are Czechia, Hungary, and Poland in Wider Europe, and Philippines in Asia.
Underperformers: GCC, South Asia, Africa
The underperforming regions this month are the following:
GCC and Kazakhstan.

South Asia (Bangladesh, Pakistan).

Africa (North and sub-Sahara).
GCC and Kazakhstan
While Russia, Colombia, and Mexico were up c20%, the best performer in peer oil exporters in the GCC and Kazakhstan was Saudi (up merely 8%, driven, specifically, by the prospect of more domestic investment from the sovereign wealth fund PIF). Dubai and Abu Dhabi (both up c6%) performed less well than might be expected in the context of the oil price bounce, vaccine-related hopes for the re-opening of tourism and travel, further legal reform to attract expatriates, and in Dubai, at least, equity price/book valuation still at a 30% discount to the 5-year median. The underperformance of Kuwait (up 1%) is more easily explained (completion of inflows related to MSCI EM index inclusion).
South Asia
Bangladesh (up 3%) lagged after the buying of stocks by local proprietary funds, set up with cheap government financing, and sponsors, induced by new regulations, faded, as did Pakistan (up 1%), as investors focused on the absence of news on the resumption of the IMF Extended Fund Facility, the upturn in Covid-19 infections, and protests from the political opposition, more than on continued surplus in the current account.
Africa
Excluding the FX-restricted, mainly local-to-local-only markets of Zimbabwe (up 43%) and Nigeria (up 9%), there is much more muted investor reaction to tourist revival hopes in the most exposed markets, eg merely a 5-6% rise in Egypt, Mauritius, and Morocco (although, in the case of Morocco, investors appear to be brushing off the fiscal and trade risks resulting from the resumption of hostilities with Polisario in Western Sahara, particularly local investors for whom equity dividend yield is slightly higher than local bond yield). Kenya (up 4%) is discussing a multi-year IMF program, while Ghana (down 1%) is nearing its competitive election (7 December) with low expectations of tighter fiscal control thereafter. Zambia became the first sub-Saharan country to default post Covid-19.
Among this month's underperformers, the cheapest equity markets, with trailing price/book on large discounts to the 5-year median, are Dubai (31% discount), Mauritius (57%), Pakistan (28%),
Performance and valuation mtd summary
Global EM and FM equity strategy recap
External factors affecting the global EM and FM equity universe are worth a reminder first.
Investors are still overwhelmingly in the mood to bet on Technology whatever the outcome and, for now, ignore increasing regulatory risk of any type (US anti-trust, Chinese fintech, US and China national defence).

Fiscal stimulus in the US may be delayed by a lack of clear majorities in Congress, but the economic damage from Covid-19 means it should still be on the way (and, in combination with loose monetary policy, this could be a driver of US$ weakness relative to the Renminbi or Gold or Bitcoin, but not necessarily the Euro, Yen, or the more distressed EM currencies, like Argentina Peso or Brazil Real or Nigeria Naira).

Commodities are still split between cyclical ones starved of capital for expansion and demand (particularly Oil), those beginning to see shortages and supply chain disruption drive price up (Food), those tied to structural growth in newer technology (Lithium, Cobalt and, to a lesser degree, Copper), and those offering an alternative store of value to the US$ (Gold, Silver).

Remittances are proving more robust than feared and a less sharp but lengthier decline is playing out. Meanwhile, tourism is decimated but there are precedents that show that, where travel restrictions and lockdowns have eased, there is clearly pent-up demand.
In this context, our top-down preferences are for the following.
In Tech, Korea-Taiwan Tech Hardware offers more value relative to history than China Tech Apps and small EM and FM Tech (eg Mercado Libre, Sea, where valuations are most stretched and the scarcity of Tech exposure is reducing with new IPOs).

In large EM, after Tech, India is our top pick because it offers a combination of value, growth, low currency risk and credible policy, albeit it is a shadow of the 'incredible India' of the past decade, in comparison to Brazil or South Africa.

In small EM and FM, Asia generally offers a clearer and more sustainable path back to growth (in a post-Covid world) than Africa, wider Europe, GCC-Levant, or LatAm and our top country picks are Vietnam (job-creating manufacturing exports, low inflation, albeit with prohibitive foreign ownership limits), Indonesia (cheap with, finally, the legislation in place to enable structural reform) and Pakistan (cheap with a generational change underway in security and governance).

Small EM and FM may claw back some of their underperformance in recent years relative to large EM as local investors take up the reins from foreign institutional investors (following the decimation of dedicated small EM-FM funds and the marginalisation of these markets to investors benchmarked to the main EM indices), attracted by relatively juicy equity dividend yields compared with local real interest rates and government bond yields, and less easily able to tunnel their wealth overseas.

In commodity exporters, there is enough consensus distrust across the group to revisit those with relatively stronger fiscal positions and credible fiscal policy, and reasonable valuation relative to history: Chile, Qatar, and Russia.

In distressed markets, for those with higher risk tolerance, the only one that is retracting some of its calamitous policies, albeit very reluctantly and perhaps only because it cannot tolerate much more distress, is Turkey (while the likes of Argentina, Lebanon, Nigeria and Zimbabwe are still pointed in the wrong policy direction).
FM equities cheaper than EM and both cheaper than DM
---
Disclosures
This report is independent investment research as contemplated by COBS 12.2 of the FCA Handbook and is a research recommendation under COBS 12.4 of the FCA Handbook. Where it is not technically a res...
Full Tellimer disclaimers