30 April 2021
Emerging-Frontier Equity Monthly – April: India crisis, FM rare top spot

Hasnain Malik
Strategy & Head of Equity Research @ Tellimer Research
30 April 2021
Commodities soared and US Tech back leading global equities as US$ eased and US yields paused for a breath
India lagged Large EM due to its Covid-19 crisis, outperformers were Brazil and Saudi (Commodities), Taiwan (Tech)
Frontier (driven by locals) takes rare pole position among benchmark indices, Small EM-FM Tech also outperformed


30 April 2021
US Mega Tech (up 14%) regained its leadership role for global equities, but Tech was not in the vanguard so clearly in Large EM, with Tech in China, Korea, and Taiwan (up 3-4%, with TSMC, up 8%, an exception). Instead, Commodity-driven Brazil and Saudi (up 8-9%) led the way. The laggard in Large EM was India (flat), weighed down by a full-blown Covid-19 healthcare crisis.
We argue the valuation of the investment case in India stands up to a stress test of its corporate earnings growth expectations.
Frontier (up 7%) enjoyed a rare pole position among the benchmark indices, outperforming Developed, Emerging and Frontier-Emerging (all up 3-4%). Apart from continuing appetite for equities by local investors (there are so few foreign-dedicated funds left) and help from a weaker US Dollar, there was no binding theme across Frontier's disparate largest stocks and countries (c70% of FM is Vietnam, Morocco, Kenya, Romania, and Bahrain/Kuwait). Even Small EM-Frontier Technology (up 15%), which does garner a cross-over investor base of global EM and Tech investors, outperformed global Tech peers.
We highlight the continuing attractiveness of equity dividends for local investors when compared with local real interest rates.
Tourism-driven markets generally lagged, eg Thailand (down 2%) and smaller ones like Georgia and Sri Lanka (both down 2%), although Dubai (up 3%) and Mauritius (up 4%) bucked this trend.
While we argue that in the context of a stuttering and uneven recovery, there is place for Tech, Commodity, and Tourism exposure in a global EM and FM equity portfolio, it is Tourism exposure that offers the most attractive valuation.
Our monthly review of emerging (EM) and frontier (FM) equity markets is laid out as follows.
The month's performance in Emerging and Frontier in charts

Global backdrop: Commodites soar as US yields take a breather

Technology EM: small EM-FM stocks steal the show

Non-Tech EM: India's health crisis, FM's disparate high flyers

Performance and valuation summary table: equities, commodities, currencies

Global EM equity strategy recap in 600 words with downloadable slides: Tech vs Commodities and Tourism; Locals vs Foreigners

Recent reports: links to over 40 reports on global issues, ESG, countries in every EM region
1) Month in Emerging and Frontier in one chart
2) Global backdrop: Commodities on a tear
US inflation expectations appeared to settle, helping Tech sector equities in general, with 10 Treasury yield flattish (down 4bps) and with continuing dovish rhetoric from the Federal Reserve, the trade-weighted US Dollar was weaker (down 1.7%). US growth forecasts were raised in the IMF's latest global update, driven by faster vaccination and fiscal stimulus.

The Euro strengthened (up 3.4%), helping equities and FX rates in all connected economies (eg Poland equities up 9% and FX rate up 5%, and, respectively, Morocco up 4% and 2%, Iceland up 11% and 3%).

Commodities continued to march higher with Copper (up 13%, in part due to concerns on mining nationalisation in Peru) and Oil (up 8%, despite Saudi-led output increases by OPEC+ and concerns over the demand outlook in the EU and India) taking the lead in hard commodities and Sugar (up 21%), Wheat (up 16%), and Palm Oil (9%) doing so in soft commodities.

In Cryptocurrency, Bitcoin (down 9%) had a rare month, in recent times, of underperformance versus Gold (up 3%), although other cryptocurrencies did much better, eg Ethereum (up 50%) and, at perhaps the most wildly speculative end of the crypto spectrum, Dogecoin (up 475%).

Covid-19 second and third waves spiked infections from LatAm to South Asia, most notably in India (flat, underperforming large EM peers) where a full-blown healthcare crisis is underway, but also in Bangladesh, Pakistan, and Sri Lanka.

US-China relations continued to deteriorate with the US leading the EU, UK, and Australia in applying sanctions, and China (up 3%) making its largest incursion into Taiwan (up 8%) airspace.

US-Russia relations went through a round of brinkmanship after the build-up of Russian forces around Ukraine, before a drawdown and indications of a summit between the two countries' leaders later in the year.

US-Iran indirect negotiations crept forward amid ongoing attacks between Israel and Iran in the cyber, maritime, Syria spheres. In contrast, diplomatic talks between Saudi and Iran were hosted in Iraq and the Saudi Crown Prince made relatively dovish remarks about overlapping neighbourly interests (despite ongoing military exchanges with the Iran-aligned Houthis in Yemen).
3) Technology EM: Small EM-FM steals the show
Large EM Tech – TSMC and Korea-Taiwan Hardware led the way after amid continuing semiconductor shortages and announcing an even higher capex budget than previously guided (US$30bn versus US$25-28bn). China Applications (up 3%) performance suffered only briefly with regulatory attention, first the confirmed fine for Alibaba, second an imminent fine reportedly for Tencent, and third the opening of a monopoly investigation of Meituan Dianping. Indian IT Services (down 1%) were dragged down by the local Covid-related crisis.

Small EM-FM Tech (up 15%) benefited from a return of risk appetite, following stabilisation of US yields and a resumption of Covid-19 lockdowns.
4) Non-Tech EM: India Covid crisis, FM high flyers
Large EM: India's underperformance stands out
Sum of all Covid-19 fears realised amid structural constraints
A year ago, we argued that India represented the "sum of all fears" on Covid-19 at a time when the consensus was that the pandemic posed a bigger threat to more aged populations (which are typically prevalent in more advanced economies). In common with many of the large population, developing countries with large populations, while it has a fairly young demographic profile (28% are below the age of 15 years old), four factors meant that containing the spread of infection and implementing lockdown counter-measures were problematic:
High urban population density – almost 14,000 inhabitants per square km in urban areas of over 0.5m;

Weak healthcare infrastructure – merely 4% of GDP spent on healthcare;

High degree of informal labour (on daily wages) – almost 85% of non-agricultural labour is informal; and

Urban to rural migration flows.
India's sheer size means that, as these fears are borne out, the absolute size, rather than the number proportionate to population, of infections and deaths is on a scale not seen anywhere else: eg over 330,000 new cases reported on 23 April.
Compounded by policy errors
That sum of all fears has been brought into play by a series of recent policy errors:
Mismanagement of components needed for hospital treatment (beds, medicines and oxygen);

A vaccine rollout slowed by bureaucratic friction and a lack of uniform policy enforcement by the federal government;

Misinformation on best practice (eg wearing masks and social distancing);

Uninterrupted mass religious gatherings and mass political rallies; and

Allegedly, the under-reporting of deaths.
What may be compounding matters is a strain of Covid-19 that is even more infectious and more dangerous than previous strains for younger and healthier members of the population.
While the tragedy and trauma resulting from these structural constraints and policy errors are now being felt, there is some solace in that these policy errors can be reversed; examples such as the UK, albeit after a period of weeks and months, demonstrate this.
The problem remains, though, that the sort of lockdown implemented in the UK is not possible in economies like India (or, for that matter, in countries like Indonesia, Nigeria and Pakistan) without equally fatal consequences from poverty and hunger (as opposed to Covid-19).
Stress testing the Indian equity investment case
India has been our favourite large EM equity market on the basis of its imperfect mix of cheap valuation versus history, partial reform and structural growth. Two questions for investors arise from the current situation, though.
1) Is Modi's government in trouble, with a risk that it is ultimately weakened or replaced and the appetite for partial reform disappears?
Of course, a hiatus in reform is likely as the management of the healthcare crisis becomes all-consuming for a while.
And Modi's prospects of tightening his grip on state legislatures and the upper House of Parliament may have dimmed – the upper house, or Rajya Sabha, has a portion of its members voted for by the state legislatures every year, with c30% of seats scheduled for election between April to August 2022, and in which Modi's BJP has 39% of seats and his coalition has 48%, compared with 55% and 61%, respectively, in the lower house, or Lok Sabha.
But, in the medium term, the political opposition in India still lacks a charismatic leader to galvanise an electoral machine that rivals that of the BJP.
The current state of Indian politics (because of the current state of the Congress party) cannot be compared to the evenly matched two-party system of the US, which dethroned Trump in the election, or the right versus left divide in Brazil, which might do the same to Bolsonaro.
The opposition parties did not capitalise on the emotive and disruptive farmers' protests, so why should they prove politically any more opportunistic during this crisis?
2) Does the sell-off in equities represent an opportunity for fresh investment or a moment to reduce exposure and let the dust settle?
The fiscal deficit in 2021, forecast at 10% of GDP by the IMF, will obviously also take a hit. While this means more crowding out of private sector credit, with total government debt/GDP of c90%, the absence of significant short-term external debt (to GDP, the ratio is merely 5%) and a healthy buffer of foreign reserves (17 months of import cover) should make for low risk to the FX rate.
Therefore, to answer the question above, consider what forward PE valuation (versus the five-year median) would look like with more modest aggregate earnings growth.
Current published expectations imply a very sharp bounce-back this year: 12% real GDP growth and 17% nominal GDP growth, according to the IMF, and 38% aggregate Sensex corporate earnings growth. Obviously, these are at risk.
If the Sensex equity index consensus earnings growth is cut from c40% in 2021 to 15% then this would take forward PE from 21x to 25x, merely a 25% premium to the five-year median. Cuts to 0% or -9% (which would be a repeat of 2020) would imply a PE of 28x (40% premium) or 31x (56% premium).
Given the non-recurring nature of this episode, these stress tests on valuation of the index look relatively comforting (assuming there is the balance sheet strength at the individual corporate level to cope with the temporary hit to the operating outlook).
Small EM-Frontier: Disparate high flyers in FM
Asia – Vietnam (up 4%) was driven by strength across most sectors following the completion of an orderly round of succession in senior government posts, with the appointments of the new PM and National Assembly Chair, and its removal from the US list of currency manipulators. Bangladesh (up 5%) staged a rally late in the month, driven by relief that the government would not shutter the stock market in the current Covid-19 lockdown (breezing through any concern that the lockdown might have on the broader economy). Underperformers Thailand (down 2%) and Sri Lanka (down 2%) both suffered from fears over a prolonged delay before international tourist travel re-opens.

Africa – Egypt (flat, whereas regional peers were up 2-10%) saw the consensus favourite carry-trade for international fixed income investors continue to underperform as an equity story, precisely because the high real interest rate of 4%, which keeps that carry-trade so attractive, is also stifling domestic loan (corporate capex) and consumption growth. Outperformer Kenya (up 7%) continues to be led by Safaricom, which has likely become the most commonly held Africa ex-SA stock by any global EM fund, because of its mobile payments exposure, in place of Egypt's Commercial International Bank.

Europe – Turkey (up 2%) saw its new central bank governor leave interest rate unchanged, but publicly endorse President Erdogan's defence of the use of FX reserves in the futile defence of the FX rate over the last year and his desire for lower interest rates as soon as possible. Outperformers were Kazakhstan (up 15%, helped by higher oil price and outperformance by fintech Kaspi) and Iceland (up 11%, helped by higher Aluminium prices and Euro strength). Underperformer Ukraine (down 2%) was dragged down by a bout of Russian military brinkmanship.

LatAm – Despite strength in Copper prices, Peru (down 4%) and Chile (down 5%) underperformed on political concerns. In Peru, another fragmented Congress resulted from the 11 April election and leftist Presidential candidate Castillo is leading opinion polls before the 6 June run-off. In Chile, elections for the assembly tasked with re-writing the constitution were delayed (due to Covid-19) and the populist consensus of legislators continue to allow early pension withdrawals (driving concern over flows out of local equities and bonds).

Middle East – Dubai (up 3%) saw signs of stabilisation in the non-tourism sector (with completed house prices slightly up three months in a row for the first time in five years). Qatar (up 4%) benefited from a decree that paves the way for 100% foreign ownership of listed equities (and the potential inflow of foreign passive EM capital, which could equate to about 15 days' worth of total market trading activity).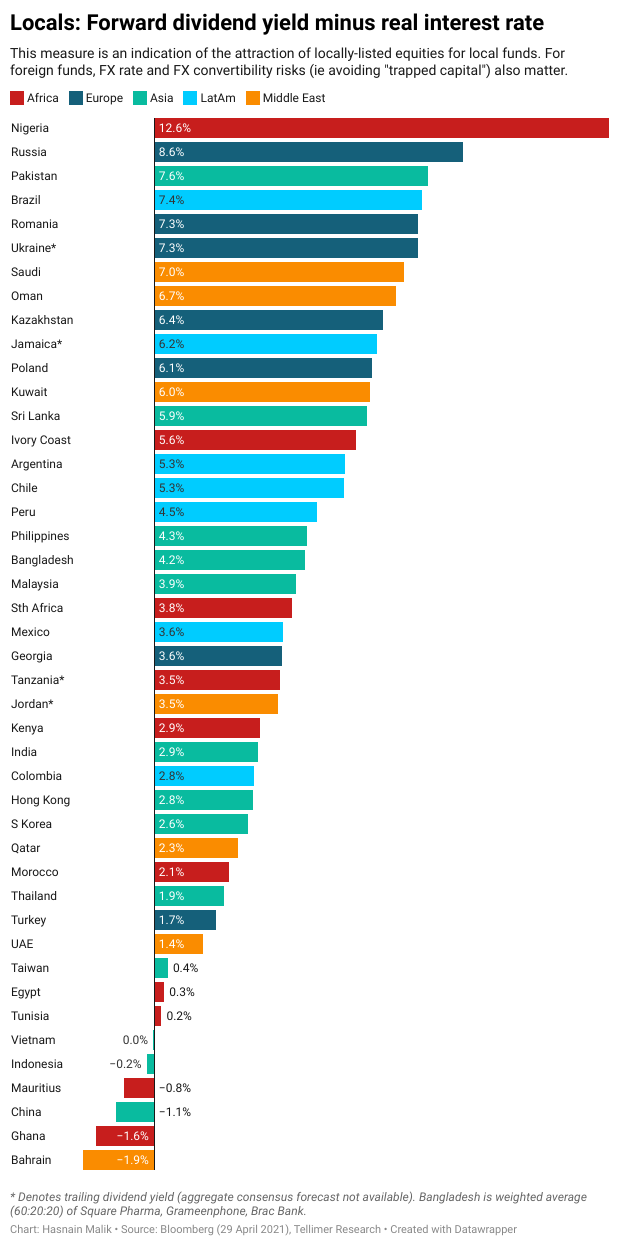 5) Performance and valuation summary
6) Equity strategy: Tech vs Commodities and Tourism; the Reformers, Locals vs Foreigners
A slide presentation that summarises this strategy view is available via this link.
Download .pdf
Amid so much uncertainty on the biggest macro factors affecting emerging markets (EM) – the Covid pandemic, US rates and inflation, the balance of local and foreign as well passive and active flows – we recommend, in large EM, a tilt from exposure to Technology's secular growth (China, Korea, Taiwan) to the stuttering post-Covid recovery in Commodities (Brazil, Russia, Saudi) and Tourism (Thailand).
Small EM-FM is generally cheaper (apart from the Technology sector, where scarce listings attract a premium) than large EM. And it is locals, driven by low interest rates, that are the catalyst for a re-rating. In contrast, foreigners are too restricted by mainstream benchmark indices or too small, if they are the heroic survivors in the dedicated small EM-FM asset class, to drive their markets as they once did on their own. This does not stop them benefiting from better performance driven by locals.
For those able to think long term – through Covid-19 disruption, on the one hand, and through the liquidity demands of periodic redemptions along the way, on the other – we stick to many of the long-term factors we have discussed before to determine our top picks, such as secular Tech growth (cheaper in EM than DM), macro growth (Vietnam, Bangladesh), reform (Indonesia, Pakistan, Philippines), resilience (Qatar) and a mix of all of these factors (India).
So far this year, the pick up in US yields, the slightly stronger US Dollar, the prospect of stronger fiscal stimulus in developed compared to emerging markets, US-China friction, and Covid-19 second waves have hurt the relative performance of emerging market equities in general. But this has also made for more compellingly valued opportunities across a range of themes:
China Technology (particularly Alibaba and Tencent), is amongst the cheapest and most liquid exposure to structural growth, which has benefited, of course, from Covid-19 disruption but will outlast it.

Alternative manufacturing locations to China that are able to benefit from US-China friction – such as Bangladesh and Vietnam – still have positive macroeconomic transformation ahead.

Commodity exporters, particularly those not at significant valuation premia versus history, like LatAm trio Chile, Colombia, and Peru, and Tourist destinations like Thailand and others at deep valuation discounts, like Dubai, Georgia, Philippines, and Sri Lanka, offer recovery opportunities, for those prepared to look beyond Covid disruption.

Homegrown structural reform continues, despite the Covid shock and domestic political challenges, in markets like Indonesia, Pakistan and Philippines.
Regardless of the foreign flows into international equity funds and the increasingly absurd misrepresentation of EM countries by benchmark index providers (eg South Korea and Taiwan have per capita incomes closer to Italy than most truly EM countries but make up 27% of MSCI EM), local investors are recognising these prospects, as reflected in the pick up in trading activity.
Out of the 50 EM and FM countries we look at, the instances where policy on interest rates, fiscal spend, FX regime, or banking supervision are so poor that they fatally undermine the investment case in locally-listed equities, for most foreign funds, is limited to perhaps 4 (Argentina, Lebanon, Nigeria, and Zimbabwe). Ironically, Turkey between November 2020 and March 2021 is the most recent example of how quickly and how much those funds can reward, from a low base, a return to better policy and how, as long as capital controls are not imposed, those funds can price the risk of poor policy (ie they remain engaged).
7) Recently published reports
Global Economics and Equity Strategy
Death of a Sell-Side Equity Analyst drives the opportunity in active management, 21 April
Passive beats Active in Emerging Market flows so far in 2021: Don't despair!, 29 April
Biden's 100 days of foreign policy: Predictability positive for emerging markets, 29 April
Debt sustainability index: Our updated scores showing the risk of debt distress (Curran), 28 April
Commodity food prices see another record increase in March, 9 April
Emerging market macro growth and equity value in one chart, 8 April
OPEC+ opens the tap unexpectedly and oil price goes up!, 2 April
Four key themes from the IMF Spring Meetings 2021 (Currran), 19 April
IMF/WB Spring Meetings, April 2021 – country notes (Culverhouse), 21 April
IMF Covid-era lending flatters to deceive (Culverhosue), 13 April
G20 agrees final extension to DSSI and supports SDR allocation (Culverhouse), 8 April
Environmental, Social and Governance (ESG)
Biden's Climate Summit: The US-China cold war and the ESG context, 22 April
Press freedom a black ESG mark for China and Vietnam, 20 April
Technology
Cryptocurrency moves further mainstream; EM could benefit most (Shah), 16 April
3 alleged SPAC scams underline the risks of booming asset class (Tiruchelvam), 25 April
Three issues with the Grab SPAC deal the market is ignoring (Tiruchelvam), 16 April
Southeast Asia Grabs the biggest SPAC deal (Tiruchelvam), 14 April
Asia
India's Covid-19 trauma is tragic and prompts a stress test of its equity story, 23 April
China air force incursions in Taiwan ignored in TSMC valuation, 13 April
US withdrawal from Afghanistan will leave neighbours wary: 5 charts to explain, 14 April
Bangladesh: 5 charts to mark 50 years of independence, 1 April
Pakistan central bank strikes optimistic tone on economic and reform outlook (Curran), 13 April
Sri Lanka: Time to take profits as upside is priced in (Curran), 26 April
Africa
How Africa has coped with Covid, and its long path out of the pandemic (Omole et al), 27 April
Egypt makes progress on reforms but external vulnerability is rising (Curran), 1 April
Ghana: Notes from the virtual IMF Spring Meetings (Culverhouse), 27 April
Our discussion with Nigeria's IMF Mission Chief – shared concerns on FX (Curran), 8 April
Our discussion with South African Reserve Bank – inflation concern overblown (Curran), 14 April
Sudan's HIPC eligibility is confirmed by IMF and World Bank (Culverhouse), 28 March
Africa digital payments: telco spin-offs to forge more listed investment options (Shah), 13 April
Europe
Georgia's politicians sign a fragile truce, 21 April
Istanbul Canal is a reminder of Turkey's strategic location and internal splits, 5 April
Turkey and Egypt: Divergence between carry trade darlings (Curran), 23 April
Russia pulls back troops from Ukraine – markets react positively (Culverhouse), 23 April
Ukraine: Notes from virtual IMF Spring meetings (Culverhouse), 16 April
LatAm
The Brazilian blowout in equities in 10 charts, 8 April
Peru's problematic politics to persist after election (as expected), 12 April
Middle East
Saudi's Vision 2030 was launched 5 years ago: 5 charts to show how it is going, 26 April
Dubai house prices stable for the first time in 5 years, 21 April
A new civil war in Lebanon: time to consider the consequences, 19 April
Iran and Israel conflict worsens as each tries to shape the next US nuclear deal, 12 April
Jordan's crises in 5 charts: No read-across from arrests for GCC or Morocco, 4 April
---
Disclosures
This report is independent investment research as contemplated by COBS 12.2 of the FCA Handbook and is a research recommendation under COBS 12.4 of the FCA Handbook. Where it is not technically a res...
Full Tellimer disclaimers