EM hard currency sovereign bond issuance was US$3.1bn in August, thereby recovering from the nil month seen in July, based on our calculations using data from Bond Radar. However, being the second lowest monthly issuance this year, that was still nothing to write home about, and it came from just three issuers (excluding Slovenia, and Singapore's SGD issue).
This continued the pattern of the generally subdued issuance seen throughout this year, as the twin external shocks of war and rates weigh on market sentiment. It brings total EM hard currency sovereign bond issuance to US$61.5bn year-to-date, about half the amount seen in the same period last year.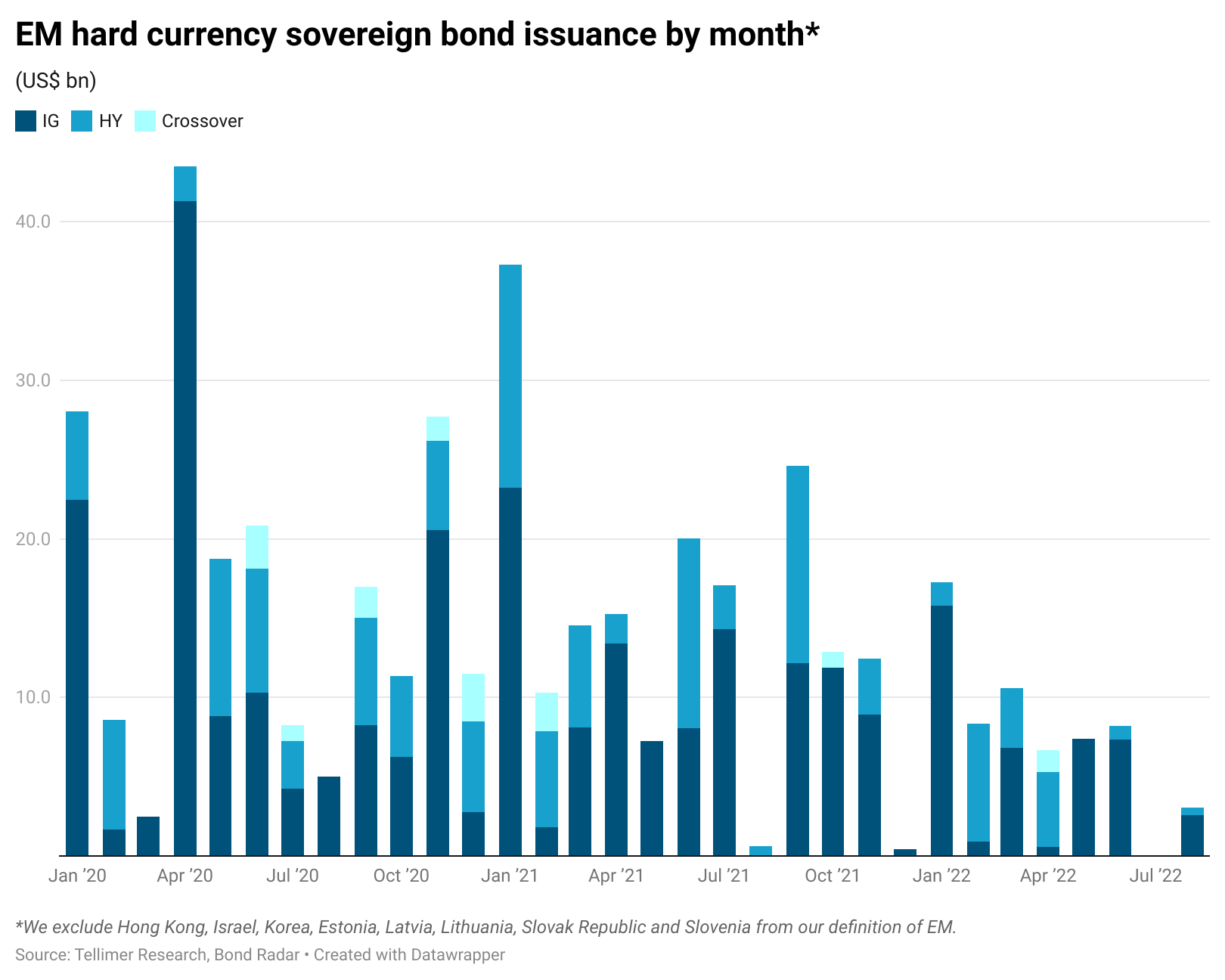 August's activity did, however, mark a fivefold increase on the same month last year, perhaps making up for the lack of issuance in July. However, August is traditionally a quiet month in the primary market, so seasonality means we might expect to see a pick-up in issuance in September, with pent-up supply, providing market conditions turn more favourable.
The vast majority of issuance last month was in investment grade (IG), which it has been for the past four months, with relatively minor high yield (HY) issuance. IG, at US$2.6bn, accounted for 84% of August's issuance, which mostly consisted of a US$1.8bn dollar bond from Mexico early in the month. Mexico also did a multi-tranche Samurai deal in late August. Romania also did a small tap of a dollar bond early in the month.
Meanwhile, HY accounted for 16% of issuance in the month. This was in just one deal, Guatemala's US$500mn seven-year bond at the beginning of the month. Guatemala's issuance was the first HY issuance since The Bahamas in June. In fact, there has only been US$1.3bn of HY issuance since April (with two nil months for HY issuance since then, in May and July).
Year-to-date, IG accounts for 67% of issuance, while HY stands at 31% and crossover 2%.
In fact, EM sovereign bonds had another challenging month in August, after a strong July, as first half gains (+2.4% at its peak) were eroded in the second half (-3.3%) ahead of Fed Chairman Powell's hawkish comments at Jackson Hole. This helped to prompt a renewed widening in US bond yields, ending the summer rally, with the US ten year bond yield rising by 54bps on the month (from 2.65% to 3.19%).
Indeed, EM spreads had narrowed to 399bps on 11 August (-65bps from end-July), their lowest level since early June, led by a HY rally, before widening back to close the month at 425bps (+88bps this year).
As a result, the total return on the Bloomberg EM Sovereign USD index was -1.0% in August. August's was the sixth negative month this year. However, HY (+0.3%) outperformed IG (-2.2%). It brings the total return for the overall index to -18.5% YTD, with HY (-17.0%) fractionally outperforming IG (-19.4%).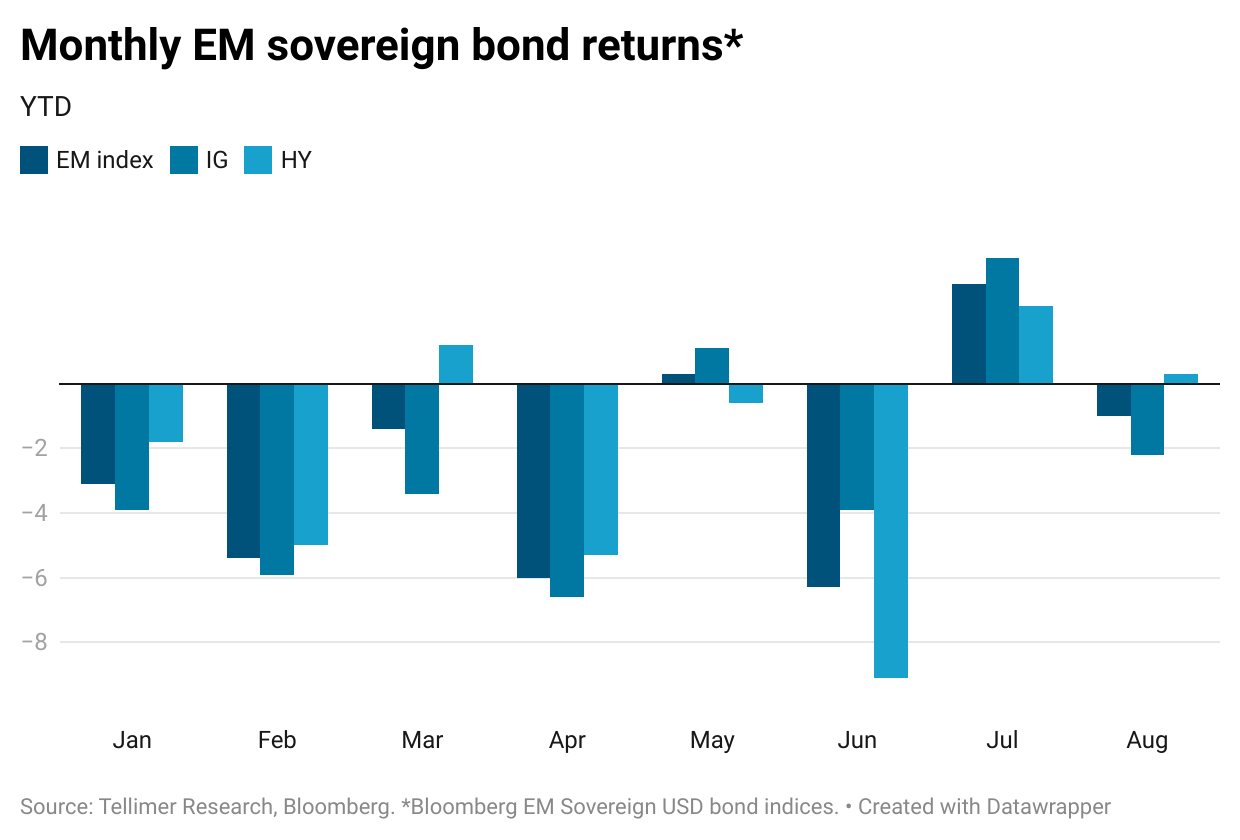 Meanwhile, the yield on the Bloomberg EM Sovereign USD index rose 13bps in August to 7.64% (and is up 279bps YTD), while the spread narrowed 39bps to 425bps, due to the higher US ten year yield. The index spread, however, is still 88bps wider YTD.
The yield on the index's HY sub-component fell 20bps on the month to 11.09% – and fell to as low as 10.3%, the lowest since June – with the spread falling by 75bps to 770bps, while the IG yield rose 31bps to 4.55%, with the spread falling by 19bps to 116bps. However, YTD, the HY yield has risen 371bps (spread +174bps) compared to the 195bps rise in the IG yield (spread +9bps).
Yet despite HY's relative outperformance on the month, and the 20bps fall in the HY yield, the c11% yield means that most HY countries are still effectively locked out of the market, which will continue to weigh on refinancing concerns. This could force more countries to the IMF (and other multilateral lenders), bilateral partners, or to consider more creative financing structures (like The Bahamas), or they will be forced to tighten policies, or to resort to potentially inflationary domestic financing, sharp exchange rate adjustments, capital controls or – in the limit – default.