4 August 2020
EM Covid-19 survey: Government support programmes are missing their mark

Rahul Shah
Head of Financials Equity Research @ Tellimer Research
4 August 2020
Poorer individuals are more likely to have suffered a loss in income than their peers…
…but informal employment and financial exclusion means they may not benefit from government support schemes
Social networks and employers of wealthy individuals seem less resilient to Covid-19, despite better support mechanisms



4 August 2020
Between 13 and 20 July, we surveyed 600 individuals in 6 major emerging markets (Brazil, China, India, Indonesia, Mexico, South Africa) to ascertain the impact of Covid-19 lockdowns on their lives. We have previously released key findings by country. We segment below our data according to the respondents' income level (in each market we split our sample into three tertiles). Future releases will highlight key differences by age and sex.
Government support initiatives may not be hitting the right targets
More low-income individuals aren't benefitting from government support than wealthier individuals. This difference seems most severe in China and India.
High-income segments are getting more help from loan moratoriums, subsidised loans and lower fees on digital payments. Low-income individuals can't benefit from such schemes if they are financially excluded. This issue appears to be most pronounced in China.
Also, high-income groups benefit disproportionately from job protection schemes. Low-income individuals are more likely to operate in the informal economy, which falls outside the scope of such schemes. This differential appears to be greatest in India and Indonesia.
Low-income groups demonstrate remarkable resilience
Around 15% of low-income individuals indicate they have not been affected by Covid-19.
However, a much larger proportion have experienced a reduction in income.
When asked about the impact of Covid-19 on friends and family, low-income respondents express lower levels of concern than their higher-income peers. Does this reflect differences in empathy or resilience? Frankly, we don't know, but we do think it is an interesting topic for future research.
Impact on employers is felt much more acutely by high-income individuals
High-income respondents point to a bigger impact of Covid-19 lockdowns on their employers' revenues, with a bigger proportion of these companies being close to bankruptcy. By market, the differential in employer revenues is starkest in South Africa.
High-income individuals' firms are also more likely to take aggressive cost-control measures, such as salary cuts and headcount reductions. For cost-cutting measures, the differences by respondent income level are greatest in India, Indonesia and Mexico.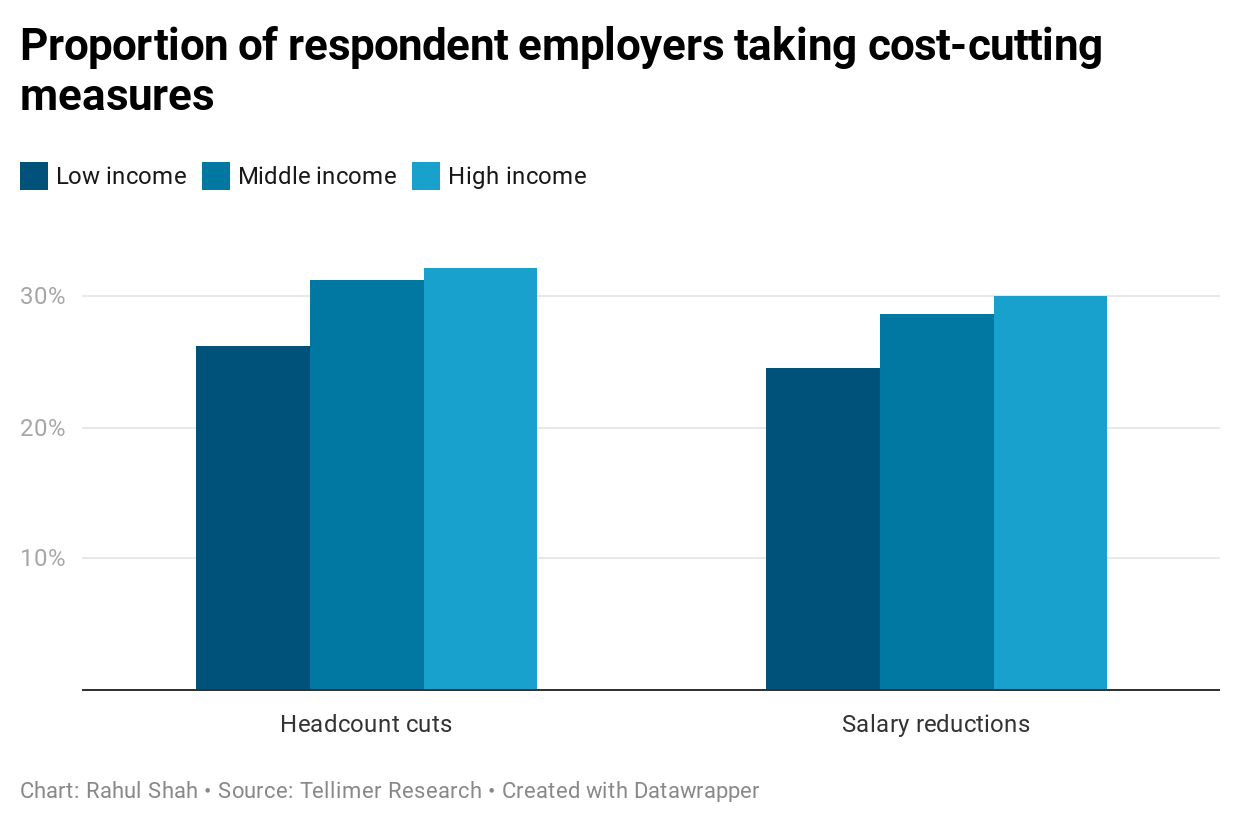 We think this reflects the greater prevalence of informal employment for low-income individuals.
---
Disclosures
This report is independent investment research as contemplated by COBS 12.2 of the FCA Handbook and is a research recommendation under COBS 12.4 of the FCA Handbook. Where it is not technically a res...
Full Tellimer disclaimers