GLOBAL
Comments from Fed Chairman Powell, who addressed the National Association for Business Economics, have sparked some market reaction in US Treasuries and in the USD. US Treasury yields launched higher in response, with the 10yr yield nudging up to 2.3369%, while the trade-weighted USD index has risen to 98.793. The USD gained ground against the majors, most notably the JPY and the EUR, both now seen as funding currencies with central banks unwilling to tighten monetary policy. The JPY has collapsed through ¥120/dlr, while the EUR has dipped back below 1.1000/dlr. While the Fed continues to hold such a hawkish tone, it seems likely that the USD will remain well supported.
The oil markets had a big start to the week, with Brent rising well above the $110 per barrel level as the EU has begun debating whether or not to ban Russian crude imports. EU officials have said that the debate will go on this week, although it has been suggested that such a ban won't be approved given the damage that it could do to the European economy.
AFRICA
Morocco: Bank Al-Maghrib will be the latest central bank to deliver a decision on its policy rate today. Policymakers at the central bank may consider raising the policy rate for the first time in 14 years to protect its currency peg with the dollar and tame inflation that is expected to ratchet up due to the war in Ukraine. Any tightening could have a minimal impact in containing price pressures that stem primarily from imports.
Nigeria: While inflation risks in Nigeria have intensified since Russia invaded Ukraine, the Central Bank of Nigeria decided to leave its benchmark interest rate on hold at 11.50% for a ninth consecutive meeting. Ongoing growth concerns underpinned the decision to leave rates on hold. It is worth pointing out that three of the ten members voted for a 25bps rate hike, while one voted for a 50bps rate hike.
Egypt: Amid a surge in wheat prices, Egypt has fixed the price of unsubsidised bread. PM Mostafa Madbouly set the price of commercially sold bread at EGP 11.50 a kilo Monday. The new fixed price for flat, round balady bread weighing 90g has been set at EGP 1.00. Concern about supplies of wheat had already pushed up the price of bread, which is a food staple in Egypt, by as much as a quarter in some bakeries, to  EGP 1.25 a loaf, while flour prices were up about 15%, according to the Cairo chamber of commerce. Note that steep rises in food prices have previously caused political unrest in Egypt.
Ghana: Data from the Bank of Ghana showed that gross reserves fell to a 10-month low of $9.55bn in February from $9.8bn in the month prior. According to the BoG, the current level of reserves provides cover for 4.3 months of imports of goods and services versus 4.3 months at the end of December 2021. Meanwhile, net reserves fell to $5.87bn from $6.1bn in January. Ghana has been able to issue Eurobonds in recent years, which has bolstered its reserve position and allowed policymakers to support the currency. However, worsening fiscal dynamics and tightening global financial conditions suggest Ghana may not be able to issue Eurobonds. This could weigh on its foreign reserves going forward.
Ghana: In a state from the Ministry of Information following the Cabinet retreat, President Nana Akufo-Ado approved "a number of measures aimed at mitigating the depreciation of the Cedi, ensuring expenditure discipline, and providing relief." Finance Minister Ken Ofori-Atta is set to provide details of the measures later this week after consultations with key social and economic actors. The statement added that relief is needed in the face of global fuel price hikes and high inflation and that priority programs meant to grow the economy should also be protected. 
Zambia: In a bid to address electricity shortages that have in the past decade hurt mining operations in Zambia, which relies almost completely on hydro power, First Quantum Minerals Ltd. plans to power its copper mines in Zambia through at $500mn solar and wind energy installation funded by a TotalEnergies-backed company and Chariot Ltd. A 230-megawatt solar plant and 200-megawatt wind farm will be built to supply the Kansanshi and Sentinel mines, which collectively produced 434,847 metric tons of copper last year, more than half of Zambia's total output. According to First Quantum, Total Eren, almost 30% owned by TotalEnergies, and Chariot Transitional Power, a unit of London- listed Chariot, will fund, build and operate the project. Meanwhile, construction is expected to start next year.
Forex: The Central Bank of Egypt hikes rates and devalues the Egyptian Pound
At an unscheduled meeting yesterday, the Central Bank of Egypt (CBE) hiked its interest rate for the first time since 2017 and allowed its currency to weaken sharply as it moved to absorb shocks from global inflationary pressures. ETM has, on several occasions, flagged the risk of a currency devaluation.
The CBE also raised the deposit and lending rates by 100bps points each to 9.25% and 10.25%, respectively, and stressed the importance of exchange rate flexibility to act as a shock absorber to preserve Egypt's competitiveness.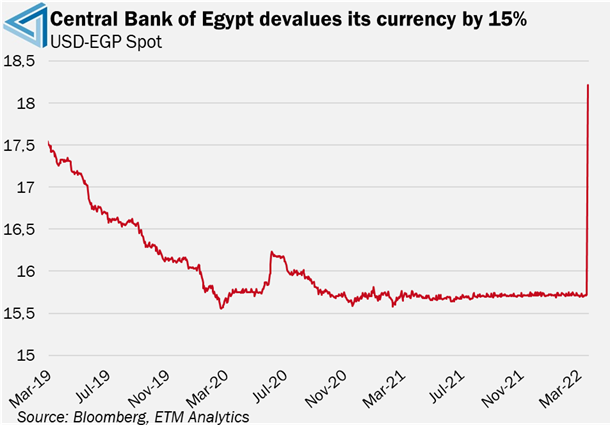 The Egyptian Pound weakened markedly after holding steady for about two years. For context, Bloomberg data shows that the EGP depreciated by nearly 16% to close north of 18.200 after weeks of pressure on the currency as foreign investors pulled out billions of dollars from Egyptian treasury markets following Russia's invasion of Ukraine. Therefore, the EGP was the worst-performing currency on the session among those tracked by Bloomberg.
The weakening of the EGP is likely to be a development that the International Monetary Fund would welcome and could pave the way for some additional support in the immediate future. Given Egypt is reportedly in talks with the IMF Fund on possible support that could include a loan, as shockwaves from Russia's invasion of Ukraine add pressure to its economy, we view the central bank's moves as increasing prospects of a deal to be agreed. Some of the factors of renewed financial support, such as a sizeable rate hike and a cheaper currency, have been met. Going forward, it will be interesting to see whether policymakers allow the EGP to float more freely or continue to manage it. Last week, we flagged that the EGP was overvalued by around 15% and that room for devaluation existed.
Fixed Income: Hawkish shift in monetary policy prompts sell-off in bonds
The sell-off in global bonds deepened on Monday after the Federal Reserve Chair delivered his most hawkish message during the Covid-era as the US economy continues to battle soaring inflation. Powell said that the Fed is prepared to raise interest rates by 50bps at the next policy meeting if conditions require. Recall that the Fed hiked rates by 25bps at its March meeting and signalled that it would deliver six more hikes of the same magnitude in the remaining months of this year.
The hawkish rhetoric of Powell's comments overnight has added to the bearish bias in the global bond market, with the 2yr US Treasury yield surging to its highest level in almost 3 years this morning. At the time of writing, the 2yr US Treasury yield was trading at 2.18%. This means that the shorter-dated 2yr US Treasury yield has climbed 145bps since the start of the year, reflecting the marked shift in US monetary policy as inflation pressures continue to surge.  
Following Powell's comments, the US derivatives market priced in seven and a half 25bps rate hikes at the remaining six FOMC meetings this year, implying that the market is baking in the risk of more than one 50bps rate hike. While traders scaled up their bets for a more hawkish policy path in the US, expectations are mounting that China will loosen monetary policy to support its ailing economy.
That said, we have seen a shift in monetary policy in Africa, with both Egypt and Ghana hiking rates aggressively on Monday, moves aimed at curbing inflation which has been amplified by the crisis in Ukraine. Note that Russia's invasion of Ukraine has triggered massive dislocations in the global commodity market and supply chain. For context, the Central Bank of Egypt raised its benchmark interest rate by 100bps to 9.25%, while the Bank of Ghana delivered a more aggressive rate hike of 250bps, taking its benchmark rate to 17.00%. The Central Bank of Nigeria meanwhile left rates on hold.
In conclusion, given that inflation is proving to be stickier than central banks had anticipated and the shift in policy from central banks around the globe, the bear flattening bias in bond markets across the world is expected to persist. Adding to this noting is lingering growth concerns, which should continue to anchor longer-dated bond yields.
Macroeconomic: Ghana delivers an outsized rate hike as Ukraine crisis amplifies inflation risks
The Bank of Ghana made headlines on Monday after it delivered a larger than expected rate hike of 250bps, taking the primary lending rate to 17%, its highest level in more than 3 years. Economists had predicted that the central bank would raise rates by 100bps. The bold move from the Bank of Ghana comes as the Cedi trades near its weakest level on record and as inflation quickened to a near 6-year high in February.
Headline inflation came in at 15.7% as food and fuel prices continue to surge against the backdrop of a depreciating local currency that has dented investor sentiment. Commenting on inflation, Ernest Addison said that the risks to inflation are on the upside, adding that the uncertainty surrounding price development and its impact on economic activity is weighing down business and consumer confidence.
Higher fuel costs have driven up non-discretionary costs in Ghana and are threatening to result in social unrest in the country. The national taxi drivers union is threatening to strike over the spike in fuel costs. It is widely expected that the war in Ukraine will amplify inflation risks as Ghana imports nearly 25% of its wheat from Russia and nearly 60% of its iron ore from Ukraine. That said, the central bank governor noted that inflation is expected to return to its targeted band of 8% +/- 2 percentage points by the end of the year.
Given that much of Ghana's inflation pressures are a function of supply-side cost pressures, we assess inflation risks to be skewed firmly to the upside. We, therefore, see the risk that inflation will likely remain above the central bank's inflation target range in the months ahead, notwithstanding the aggressive rate hike. Fiscal risks will continue to compound pressure on the Ghanaian Cedi, which has lost almost 20% this year against the USD, following several credit rating downgrades. The bearish bias in the GHS is expected to persist unless there is a meaningful shift in fiscal policy.