Dubai is back! The property market is humming – as demonstrated by the latest third-party pricing data released this last week – as a result of supportive policy, still restrained new supply, and the city's continuing allure and cost competitiveness for international expatriates.
But the global environment is getting much tougher and that matters for a relatively open economy, where multinationals, global trade and travel, immigrants and tourists are key.
Previous episodes of sharp property price decline have been driven, arguably, by external factors – eg the ripple of the global financial crisis in 2009 and the oil price collapse in 2014 – rather than local ones.
Recovery
Dubai residential property sales prices are increasing 10% yoy and are up almost 20% above the end-2020 trough, according to the REIDIN index. There is another 30% upside should prices revisit the end-2014 peak.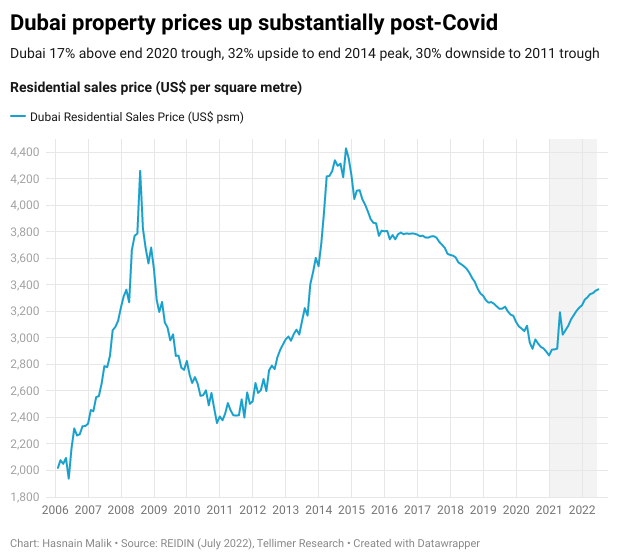 New supply in the residential segment is also more moderate compared with the run-up to the 2014 price collapse. Over 2021-22, the inventory of residential units should increase c15%, compared with over 25% in 2013-14, according to JLL data and forecasts.
The recovery in Dubai has been underpinned by a range of drivers:
Very efficient management of Covid (both in terms of minimal lockdowns and vaccine provision) and visa reform (encouraging longer expatriate residency);

High oil prices (driving investment by regional high net worth);

UAE liberalisation of gaming is underway;

In addition to Israel, foreign relations have warmed with Saudi Arabia, Turkey and Qatar; and

Formal succession in leadership at the federal level of the UAE, with the accession to the crown of Sheikh Muhammed bin Zayed al Nahyan, has taken place during the rule in Dubai of Mohammed bin Rashid al Maktoum.
Global headwinds
Tourists are back (evidenced by higher hotel occupancy – 75% in the first five months of the year, compared with 45% in the depths of Covid in 2020 and 65% in 2021, according to STR Global – and re-hiring at Emirates Airlines).
Bouts of political and economic stress from the wider region continue – prompting inbound affluent, refugee capital from the likes of India, Iran and Pakistan, etc.
However, a number of other factors are heading in the wrong direction.
Dubai is an internationally driven city, with almost 90% of the population made up of expatriates. Sooner or later, waves starting elsewhere in the world should be expected to wash up on its shores.
Dubai equities not compelling value
Bellwether Emaar Properties is on a trailing price/book of 0.7x, which is almost 10% above the 5-year median.
Dubai is relatively expensive compared with other markets where tourism is a high contributior to GDP.