At the close of 29 September, MSCI DM was down 7% month-to-date, with MSCI DM ex-US Tech down 11%. EM was down 12% and illiquid FM was down 9%.
Around the equities world this month
Global
US dollar (trade-weighted) was up 3.4% and US 10-year yield was up 69bps: higher than expected core inflation (up 0.6% in August versus 0.3% consensus expectation and 0.3% in July), another US Fed hike (75bps to an upper bound target rate of 3.25%, the third consecutive increase of that magnitude), and another round of a hawkish commentary from Fed officials. For more detailed discussions of the implications for EM, please click on these report links: US dollar and US yield.

Oil price (Brent) was down 15%: global growth concerns outweighing the absence of any visibility over the end of the Russia-Ukraine War, the resurrection of the Iran Nuclear Deal, and indications that OPEC+ might taper back output.
Asia
Korea (down 18%, with FX rate down 7%): export growth slowdown, resulting from slower global growth, is likely to worsen, with consensus expectations of 2.9% growth yoy in September, the slowest for almost two years, and this current account pressure is compounded by a real interest rate of negative 3.2%, which is contributing to the weakening exchange rate. Taiwan down 15% (with 3% FX rate fall) and Vietnam down 13% (with 1.6% FX rate fall), were two other Asian manufacturing export-biased markets which were similarly dragged down.

Philippines (down 15%, with FX rate down 5%): alongside another rate hike the central bank issued higher average inflation forecasts for 2022 (5.6% from 5.4%) and 2023 (4.1% from 4.0%), both above the target range of 2-4% – real interest rate is still negative 2.1%, implying that policy is still behind the curve. Furthermore, the closure of 175 offshore gambling firms (POGOs) and deportation of 40k Chinese workers (out of 200k currently and a pre-Covid peak of 300k, according to Leechiu) is likely to constrain the recovery of the tourism (which, pre-Covid, directly contributed about 9% to GDP, where international arrivals are running at about 10% of pre-Covid levels, and the Chinese were about 10% of all arrivals pre-Covid).
Middle East
Saudi (down 10%) suffered from the drop in oil price (down 14%), even though the last readings on the non-oil economy are very healthy – PMI of 57.7 in August and point of sale transactions growing 21% yoy in August – receding Covid restrictions should help the religious tourism sector, and, in contrast to most large EM peers, US dollar strength is a tailwind, given the robust currency peg, and rising US yields are positive for some of the largest banks which have Islamic deposit bases (ie low cost funding).
Europe
Region-wide factor were behind drops in most of the European emerging markets, bookended by Hungary (down 15%, compounded by heightened risks to the release of EU funds) and Georgia (down 7%):
Euro dropped 2.6%: the flip side of dollar strength, but also higher energy input costs – one year forward German baseload electricity price is down from its end-August peak but still almost 4x the level seen prior to the Russian invasion of Ukraine – and concern over weaker global demand for exports.

The escalation of the Russia-Ukraine War – Ukrainian territorial recovery, Russian troop mobilisation, and sabotage, undersea close to Denmark and Sweden, of the Nord Stream 1 and 2 pipelines; and

The election victory in Italy for Georgia Meloni, whose rightist coalition contains eurosceptic, anti-immigration, and dovish Russia views.
LatAm
Chile (down 11%, with FX rate down 9%) bore the brunt of global growth concerns (copper price down 6%), risks to the legislative mandate of President Boric (following his setback in the constitutional referendum), and the contraction of risk appetite with rising US yields (apart from Argentina, Chile has the lowest real interest rate, at negative 3.4%, among regional peers).

Colombia (down 10%, with FX rate down 3%) was hit by lower oil price (down 14%) and leftist President Petro's proposals for higher taxes on oil and mining companies.
Africa
South Africa (down 7%, with FX rate down 6%) was the worst performer in Africa, although this was likely as much due to its much deeper liquidity compared to regional peers as its fundamental idiosyncrasies, amidst commodity price weakness – eg gold down 4% this month and the central bank now forecasting the current account surplus falls from 3.7% of GDP in 2021 to 0.2% in 2022 (down from 2% in July and swings to a deficit in 2023 – and deteriorating Eskom electricity supply disruption (prompting platinum producers to warn about operational disruption), and a rate hike (75bps to 6.25%) which still implies a real interest rate of negative 1.4%.
Our monthly review of EM and FM equities is laid out as follows:
The month's performance in Emerging and Frontier in one chart.

Low-cost manufacturing valuation chart: Cheaper in China, Egypt, Hungary, the Philippines, Poland, Vietnam.

Commodities valuation chart: Peru in Copper, and Colombia, Oman, Qatar in Oil are cheaper than Saudi Arabia and the rest of the GCC.

Tourism valuation chart: Cheaper in Egypt, Georgia, Mauritius, the Philippines, Thailand. 

Technology valuation chart: Cheapest tech in EM is in China and Small EM.

Global performance, valuation, liquidity summary table: Equities, commodities, currencies.

EM global equity strategy overview in under 1,000 words.

EM Country scores updated.

Links to recent reports on strategy and economics in EM.
1) The month in one chart
2) Manufacturing: China Covid disrupts related suppliers but long-term shift to Bangladesh, Mexico, Vietnam et al.
3) Commodities: Demand destruction fear
4) Tourism: Post-Covid recovery, waiting for the Chinese to rejoin international travel
5) Technology: Higher risk-free yields a headwind for valuation of long-duration cashflows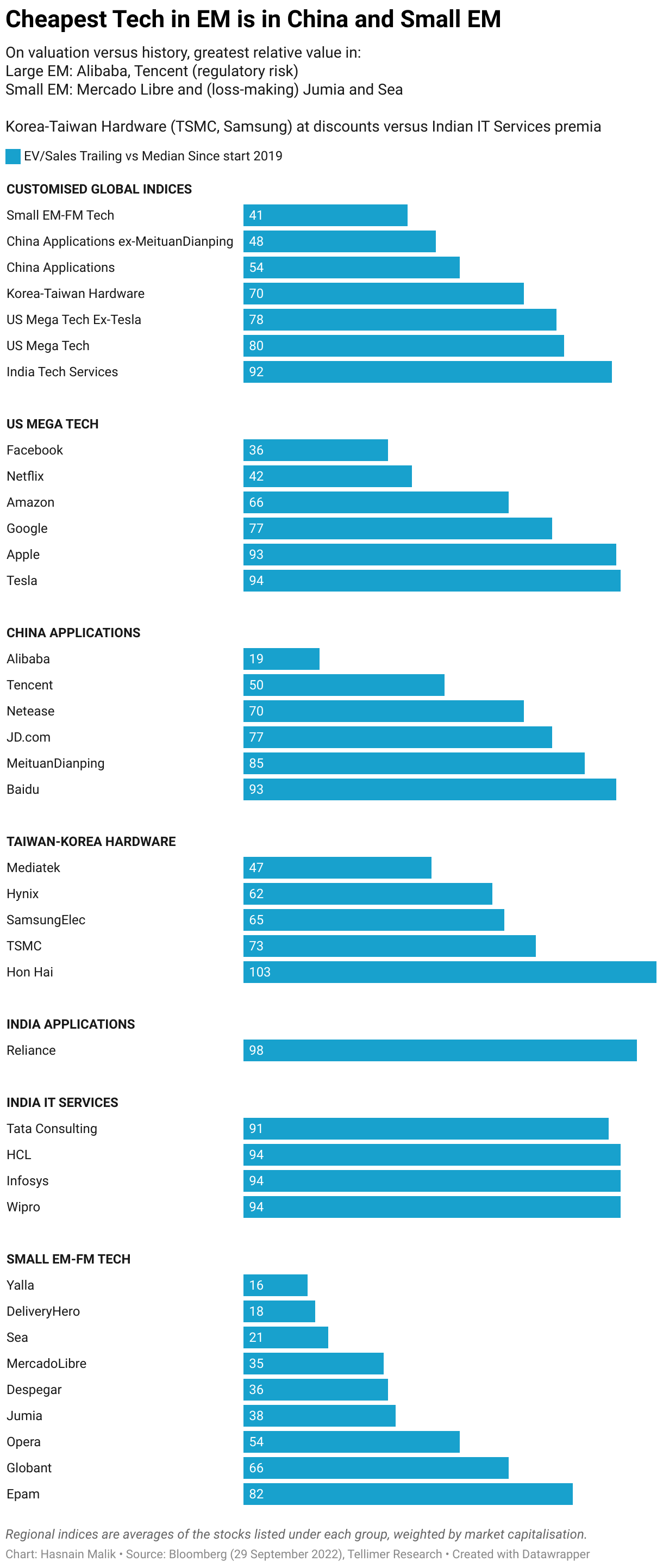 6) Performance and valuation summary
7) EM equity strategy update: Cheap tech, commodities, tourism, manufacturing and reform
MSCI EM is down 27% year to date and MSCI FM is down 25%.
Positives
The peak in US policy rates may be on the horizon, which may portend a peak in US Dollar strength too (the US real effective exchange rate is near a two-decade high).
The largest EM by far, China, has the rare capacity for stimulus.

There are pockets of EM, Saudi Arabia and the GCC that have the crude oil exports and FX reserves to provide perhaps as much downside protection as any DM after the US.

Covid should dissipate globally and that is positive for EM manufacturers (Vietnam, Bangladesh, Mexico, etc) and EM tourism economies (Thailand, the Philippines, Dubai, Iceland, Mauritius, etc) as demand recovers.

Some of the EMs with external account stress are seeking the stamp of policy credibility from the IMF and help from geopolitical allies (Argentina, Egypt, Pakistan and, albeit very belatedly, Sri Lanka).

Valuation across most of the EM and FM spectrum appears to reflect a lot of distress already; both indices are on over 30% discounts to their respective five-year median PE.
Negatives
Russia-Ukraine can escalate economically (more gas supply suspensions from Russia), militarily (eg a spread to separatist parts of Georgia and Moldova, provocation on the Finland border or in the Baltics) and geopolitically (a more forceful 'Western' response to the 'neutral' stance of China and India).

China's regulatory crackdown has still not ended, its zero-Covid strategy appears increasingly inappropriate, with the advent of the less-lethal Omicron variant, its property debt crisis has not been resolved, and the continued emphasis on public infrastructure spend may risk more capital misallocation.

Political protest movements against a backdrop of rocketing food prices or acute inequality pose a threat to the smooth working, and in some cases survival, of any incumbent government, whether autocratic or democratic, poor (Africa, South Asia) or relatively affluent (LatAm, East Europe).

Brazil, India and South Africa are not structurally reforming, with re-election the priority in all three. Reform efforts in the likes of Egypt, Indonesia, Pakistan, the Philippines and Vietnam have also been derailed by the economic stress resulting from Covid as well as food and fuel inflation.
The only guides for us remain a combination of equity market valuation and liquidity, short and long-term macroeconomic growth prospects, economic policy credibility and currency risk.
These are all key components of the customisable Tellimer EM Country Index, which also incorporates sanctions exposure, as well as longer-term ESG and climate risk factors. Contact Tellimer Insights Sales to learn more.
Recap of our top-down strategy view
Our top-down strategy view remains one grounded in active country selection over passive index-tracking, and exposure to a mix of manufacturing, tourism and tech where this exposure is cheap relative to history. That is because we try to strike a balance between short and long term, with a value bias.
That is not everyone's approach and the EM Country Index can be flexed to reflect different approaches (eg more risk-averse, less valuation-centric).
The global backdrop features the following.
Higher oil and food commodity prices (while global growth is decelerating it remains positive, the legacy of under-investment in commodity extraction persists, and the Russia-Ukraine war disrupts two major suppliers).

Dissipating global Covid disruption (higher levels of vaccination and prior infection, prior deaths of the most vulnerable, less fatal variants and intolerance of further lockdowns) but lingering lockdowns in China, which remains wedded to a zero-Covid strategy.

Strengthening US dollar (as the US Fed embarks on a rate hiking cycle and US yields move up, a prolonged Russia-Ukraine war raises European stagflation risk and drags down the euro), albeit the US real effective exchange rate is now at approximately a two-decade peak.

Except for China, much less room for policy stimulus in emerging markets (as Covid-era fiscal deficits are narrowed and interest rates are hiked to cope with higher inflation).

Pressure on local investor flows in those EMs where local interest rates and bond yields are moving up to combat inflation.
All of this adds up to a continuation of uneven, stuttering growth across EM, and a greater emphasis on country, sector and stock selection.
A mix of cheap tech, commodities, tourism, manufacturing and reform
India less appealing than before, Kenya risks now priced in
India offers exposure to many of these traits (particularly leap-frogging technology, alternative manufacturing location to China and pro-business reform), but it is no longer as cheap relative to history, particularly should monetary policy tighten at any point this year, or as committed to reform as a year ago (with Prime Minister Modi's priority now on the next general election in 2024).
Kenya, in small EM, similarly offers exposure to some of these traits (particularly leap-frogging technology and tourism revival) but the distraction of the election lingers, taking away attention from structural reform and exacerbating external liquidity pressure. Yet the valuations of both the largest stock, Safaricom, and the banks may be sufficiently discounted relative to the historical average to reflect these risks.
Off-limit markets: Argentina, Nigeria, Turkey, Sri Lanka, Russia
A poor, foreign-investor-unfriendly policy environment rules out the following markets: Argentina, Lebanon, Nigeria, Turkey, Sri Lanka and Zimbabwe. There is sufficient opportunity at appealing valuations elsewhere in EM to avoid these.
Sanctions and capital controls, driven by geopolitics as opposed to populism or unorthodox monetary policy, take Russia off limits.
Non-country strategy market: Abu Dhabi
Abu Dhabi, which is increasingly dominated by related party companies – International Holding Company, Alpha Dhabi and Aldar – has also become something of a special situation, with the interplay between these companies already more important than, for example, oil prices or regional geopolitics, for trading volume and country index performance.
8) EM Country Index scores
Our index weights c30 factors on growth (short and long term), policy credibility, politics, sanctions, ESG, equity valuation and liquidity.
The weights in the index can be changed in order to model different global themes and portfolio styles.
China, Taiwan, and Vietnam in Asia, Chile in LatAm, UAE in the Middle East, Hungary, in Europe, and Mauritius in Africa, are among the highest-ranked out of c50 emerging equity markets in our new Tellimer EM Country Index.
Brazil, South Africa and Russia among large EM equities and Egypt, Kuwait, Nigeria, Pakistan and Turkey among small EM equities are among the lowly ranked.
Around 85% of the index's weight covers factors relevant for all asset classes, with the remaining 15% specific to equities. For foreign direct investors wishing to assess a wide range of country risk factors, this model can be adjusted by simply applying zero weight to the equity market factors.
Because trading liquidity is a part of the equity component, and China is much more deeply traded than all other EM, this has a major bearing on China's score. If China and the US were only as liquid as Taiwan, for example, then their scores would drop from 139 and 122 to 67 and 19, respectively.
Contact Tellimer Insights Sales to learn more.
9) Recently published reports
Global
The US dollar dagger for emerging markets
US Dollar is still on its perch as the dominant reserves and trade currency
US bond yields at 14-year high piles more pressure on EM (Culverhouse)
Russia's setbacks in Ukraine reopen all endgame scenarios
OPEC+: The major implications of a minor increase
Food prices are back to pre Russia-Ukraine war levels
Inflationbusters! The EM stocks with positive real dividend yields (Shah, Kumar)
ESG
Central bank independence: An adult in the room, whether UK or emerging markets?
As Truss becomes UK Prime Minister, we ask 'when is a leader's age a risk?'
Emerging markets dominate foreign lobbying in the US
Asia
Pakistan: Finance minister's resignation could signal dangerous policy reversal (with Curran)
Sri Lanka: Interim Budget is encouraging but credibility will be tested (Curran)
Europe
Italy's shift right: Impact on European EM (Russia, Hungary, Greece, Turkey)
Hungary promises reform again as EU funding imperiled
Armenia-Azerbaijan clash: More tests to come for Russia in its periphery
Turkey: Another reckless rate cut (Curran)
LatAm
Brazil election risk: About how the loser concedes, not fiscal policy pivots
Chile rejects new constitution, relief for investors and renewables (for now)
Colombia: The challenges ahead for the new president (with Culverhouse)
Argentina: IMF announces staff-level agreement on second review (Culverhouse)
Middle East
Interview on Bloomberg TV on 29 September covering Saudi, Dubai, Kuwait
Africa
South Africa: Downgrade ZAR to Hold with rate hike balanced by rising risks (Curran)
Egypt: Policy pause provides few clues for the pound (Curran)
Ghana: IMF MD's comments (Culverhouse)
Kenya: Supreme Court ruling reduces political risk (Curran)
Nigerian central bank strikes orthodox tone but larger policy overhaul is needed (Curran, Ogabi)
How low can Nigeria's oil production go? (Ogabi)
Nigeria's ballooning subsidies are a problem for the budget (Ogabi)
Nigeria election polls show huge lead for underdog Peter Obi (Ogabi)