2021 Themes: Digital payments trend to outlast Covid

24 November 2020
Rohit Kumar
Global Financials/Thematics @ Tellimer Research
24 November 2020
Our survey shows consumer spending patterns have shifted towards digital payments since the start of the pandemic
Russia, Morocco, Indonesia, Lebanon and Pakistan appear well placed to shift away from cash in the coming years
Digital payments platforms led by telecos and fintechs are likely to emerge as long-term winners

24 November 2020
Thousands of years since its first use, cash still dominates the payments industry, with over 80% of the world's transactions conducted using this means of exchange. But change is afoot. The global digital payments market is expected to grow at a CAGR of 24% in 2020-25, and Covid-19 could further accelerate this trend as consumer spending patterns have seen a considerable shift towards digital payments since the start of the pandemic. Governments, regulators and private sector businesses have all been encouraging individuals to avoid cash transactions.
Digital payments improve transparency, cost efficiency and financial inclusion in the economy while consumers benefit from greater convenience and security. Markets where cash penetration is high and digital infrastructure is strong represent good scope for a shift towards digital payments; Russia, Morocco, Indonesia, Lebanon and Pakistan scan well.
Digital payments platforms led by telcos and fintechs are likely to emerge as long-term winners. Banks should benefit in the short term due to lower operating costs and higher fee income. However, long-term challenges of loss in market share and payment providers expanding into other banking products remain a major threat to the industry.
Consumers are moving away from cash
According to our survey of 600 consumers in six EM markets conducted in July, 48% of individuals are using more mobile payments and 26% are using more credit/debit cards compared with pre-Covid levels, a clear shift in preferences.
Network International, a leading payments solution provider headquartered in the UAE, has seen a pronounced change in the card usage patterns of its customers, with credit and debit cards used much more frequently for online and POS transactions than was the case pre-Covid.
Network International customers card usage patterns
Source: Network International
Strong volume growth for digital payments platforms
Transaction volumes for many digital payments providers were hurt during the initial phase of Covid-19 due to widespread and strict lockdowns impacting economic activity, but, as overall activity has rebounded, the growth in total payment volume (TPVs) has accelerated.
Covid-19 could be the turning point for digital payments in many EMs
Digital payments adoption has previously been slow in many emerging markets. We think the major issues are: i) a lack of consumer awareness; ii) a lack of consumer trust; iii) limited touch points; iv) a large undocumented economy; and v) comfort with cash usage. Now with Covid-19, consumers and merchants who were earlier reluctant to shift away from cash, are both attracted towards digital payments. This is encouraging both parties to establish relationships with digital payment providers. Previously this had proved challenging despite significant marketing and promotional activities by those providers. Our experience indicates that once consumers have signed up and feel comfortable with the digital payments process, they become regular users due to key benefits such as greater convenience and better security.
Which countries are well placed?
Looking at the cash penetration and technology infrastructure score (based on mobile and internet penetration), Russia, Morocco, Indonesia, Lebanon and Pakistan appear well placed to shift away from cash.
Implications for banks
As we have highlighted in the past, independent fintechs and telcos are leading the digital payments charge in many emerging markets, and they will remain the major beneficiaries of these changing trends, in our view. However, banks can also benefit, at least in the near-term, and we have seen strong growth recently in the digital banking operations of some EM banks, such as:
Commercial Bank of Qatar contactless card transactions are up 4x yoy in October 2020, digital channel logins are up c40% while ATM withdrawals are down 11% yoy.

Habib Bank Limited saw a 93% surge in mobile and internet banking users in 9M 2020.

Equity Bank Kenya transactions through fixed cost channels (ATMs and branches) were down c20% yoy in H1 2020, while transactions through digital channels were up c17%.
We see two key benefits for EM banks from greater adoption of digital payments.
Lower operating costs as growing digitalisation gives room to reduce the branch network (cash handling, branch operations and ATM networks contribute a significant portion to a typical bank's operating cost).

Higher fee income generated from electronic transaction fees charged to either consumers or merchants.
We take Nigeria as a key example. The country branch network has fallen from 6.6 branches per 100k adults in 2010 to 4.3 branches in 2019.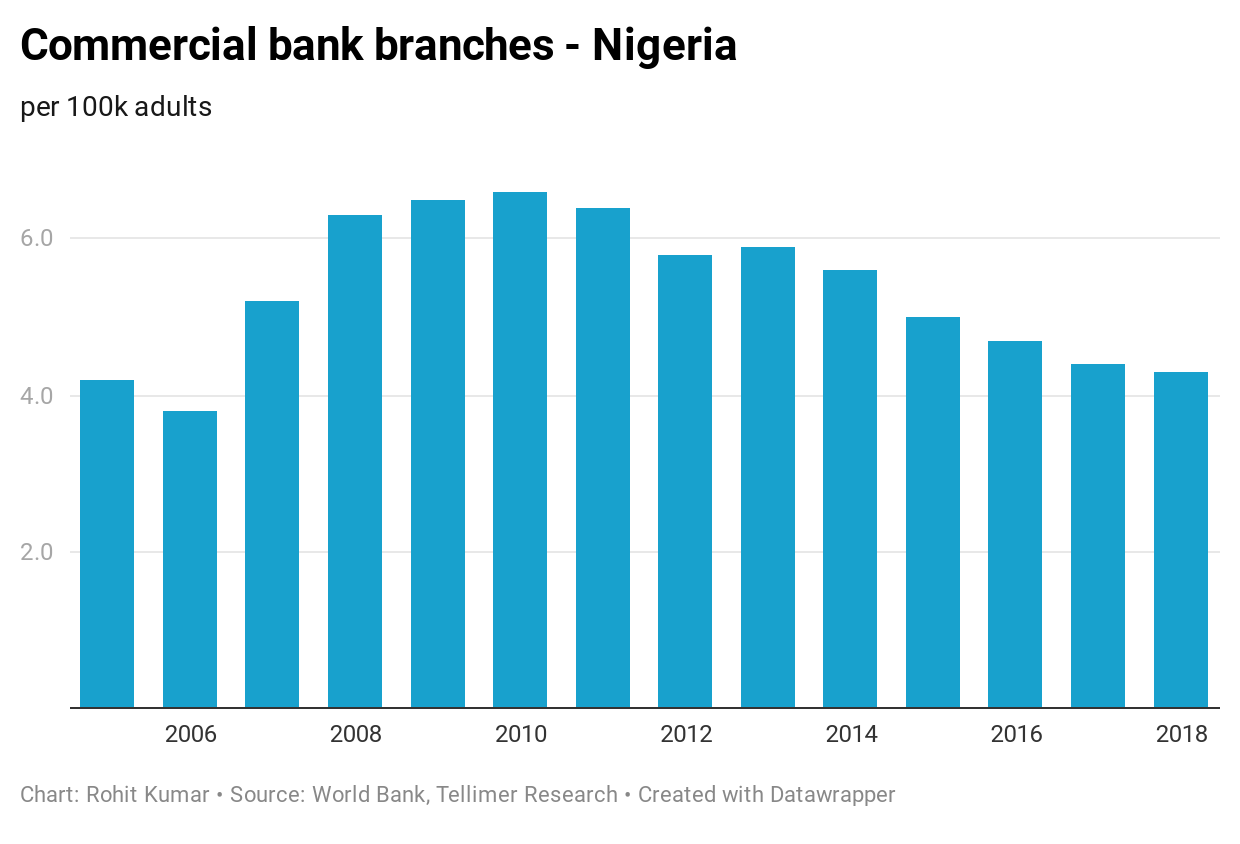 With growing digital payments volumes, E-banking fees have also grown and now contribute 21% of Nigeria's total fee non-interest income, compared to just 8% in 2014.
For banking systems in emerging markets, we see most scope for Kuwait and Russia to reduce their branch network and move towards digital banking.
Long-term challenges for banks
Although banks should benefit from the digital banking shift in the short term, the ultimate winners of the digital payments race are likely to be telcos and fintechs. We see two major challenges to the dominant position of banks in the financial services sector:
Banks could lose deposit market share. Once consumers start using digital payment platforms for their daily spending, they tend to keep a deposit in their digital wallet that would otherwise sit in a bank or in cash. As digital payment providers achieve scale, the size of this deposit base becomes significant. For example, M-Pesa, the leading digital wallet in Kenya, has deposits of KES2.4trn, equivalent to c70% of banking industry deposits.

Digital payment providers could ultimately move to other banking products. Once the digital payment providers penetrate successfully and build a large customer base, they are likely to offer other banking products such as lending, investments, etc. For example, Ant Group, the operator of Alipay, which started as a payments platform in 2004, has now developed a comprehensive ecosystem of financial services and is a major competitor to incumbent banks.
Appendix – Inputs for digital infrastructure score
Read all of our 2021 Global Themes here.
---