Following the release of the IMF's updated WEO projections at the end of April, we have updated our sovereign debt sustainability index to assess debt risks across 46 emerging and frontier markets and 27 variables. The update impacts 12 variables fully, 7 in part, and 8 are unchanged.
We have divided the scorecard into three categories:
Fiscal policy and debt dynamics.

Debt stock and flow.

Debt composition.
For each category we display the raw data in separate tables below: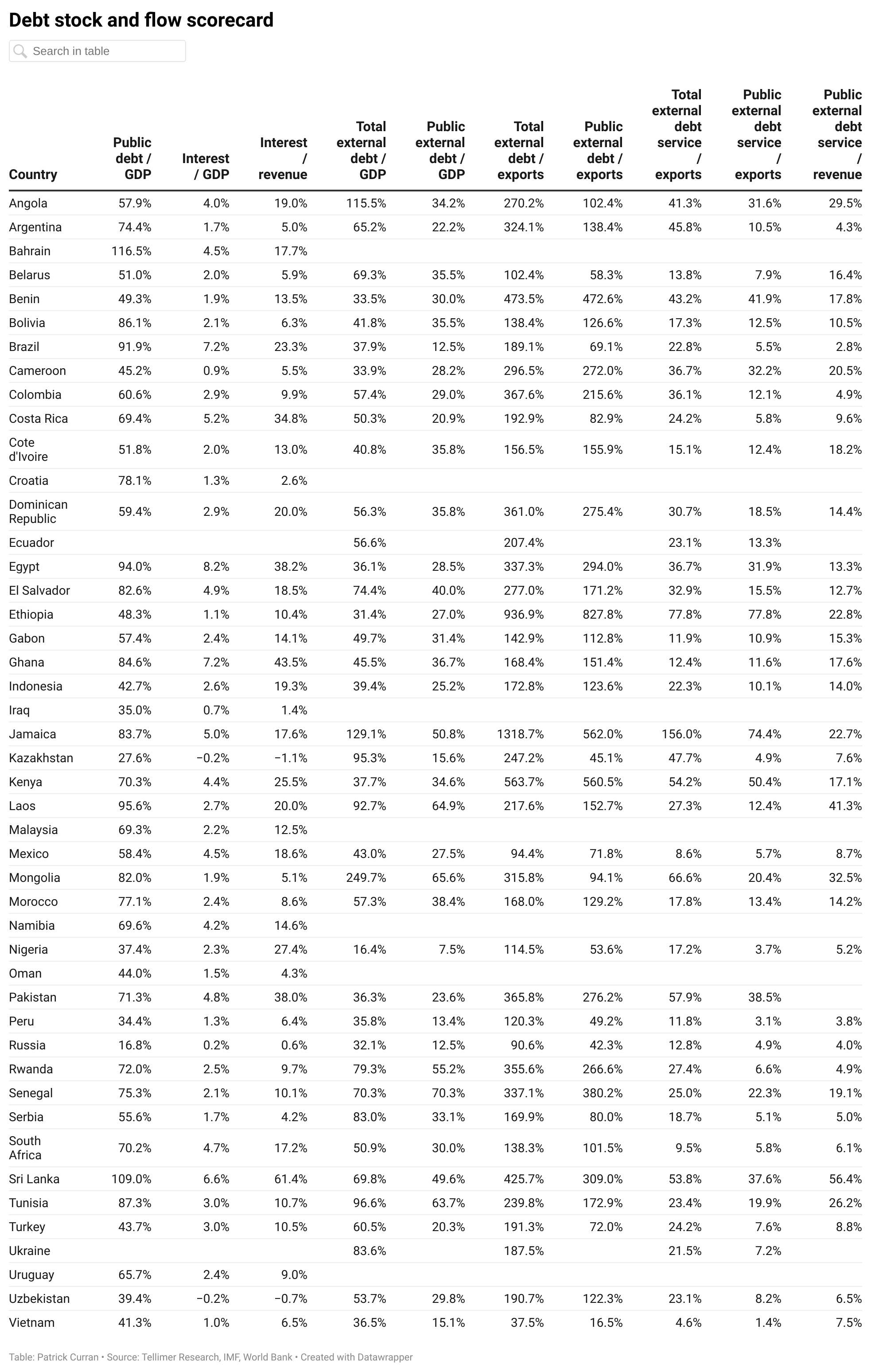 We then score each variable in terms of standard deviations better (worse) than the sample median and take the simple average across variables to arrive at a composite debt sustainability index, as well as sub-indexes for fiscal policy & debt dynamics, debt stock & flow, and debt composition (we remove 9 countries due to insufficient data, one less than the previous update after the IMF added projections for Ethiopia and Argentina and removed them for Ukraine).
The resulting output is a quick and dirty way to quantify debt sustainability risk for each country on a relative basis:
Note: To request access to all the data from our Sovereign Debt Sustainability Index, please click here.
Results
After excluding countries with insufficient data (see table notes above), we find that the most vulnerable quintile of countries, after removing Sri Lanka (which has already defaulted), are Jamaica, Tunisia, Kenya, Ghana, Egypt, Laos, and El Salvador. On the other hand, the least vulnerable quintile, after removing Russia (due to the ongoing war), are Vietnam, Kazakhstan, Peru, Nigeria, Uzbekistan, Gabon, and Cameroon. The biggest movers since October are outlined below, with Angola showing the biggest improvement following large revisions to its fiscal and debt projections in the latest WEO:
A simple scatter plot shows that there is a negative relationship between the overall debt sustainability score and the country risk premium (measured by the EMBI), as we should expect.
A linear line of best fit is statistically significant at the 99% confidence level with an R2 = 39.5% (though this drops to 95% and 15.5%, respectively, if we exclude countries with a spread over 1500bps as outliers).
A log-linear line of best fit is also statistically significant at the 99% confidence level with a slightly lower R2 = 37.7%, but has a slightly better fit when outliers are excluded (significant at 98% confidence level with R2 = 19.6%).
We also backtest our model by regressing the debt sustainability score from October by the change in spread for each country-specific EMBI index. We find that the debt sustainability score in October explained 29.6% of the change in spreads over the subsequent 6-month period at a 99% confidence level, with each standard deviation difference in score translating to a 478bps difference in performance. When Sri Lanka and El Salvador are excluded as outliers, the model explains 21.9% of the variation in spreads and stays significant at a 98% confidence level, with each standard deviation difference in score translating to a smaller 182bps difference in performance (this is more consistent with our findings when we backtested the model in October, and suggests that the index is most useful at flagging cases of potentially extreme risk).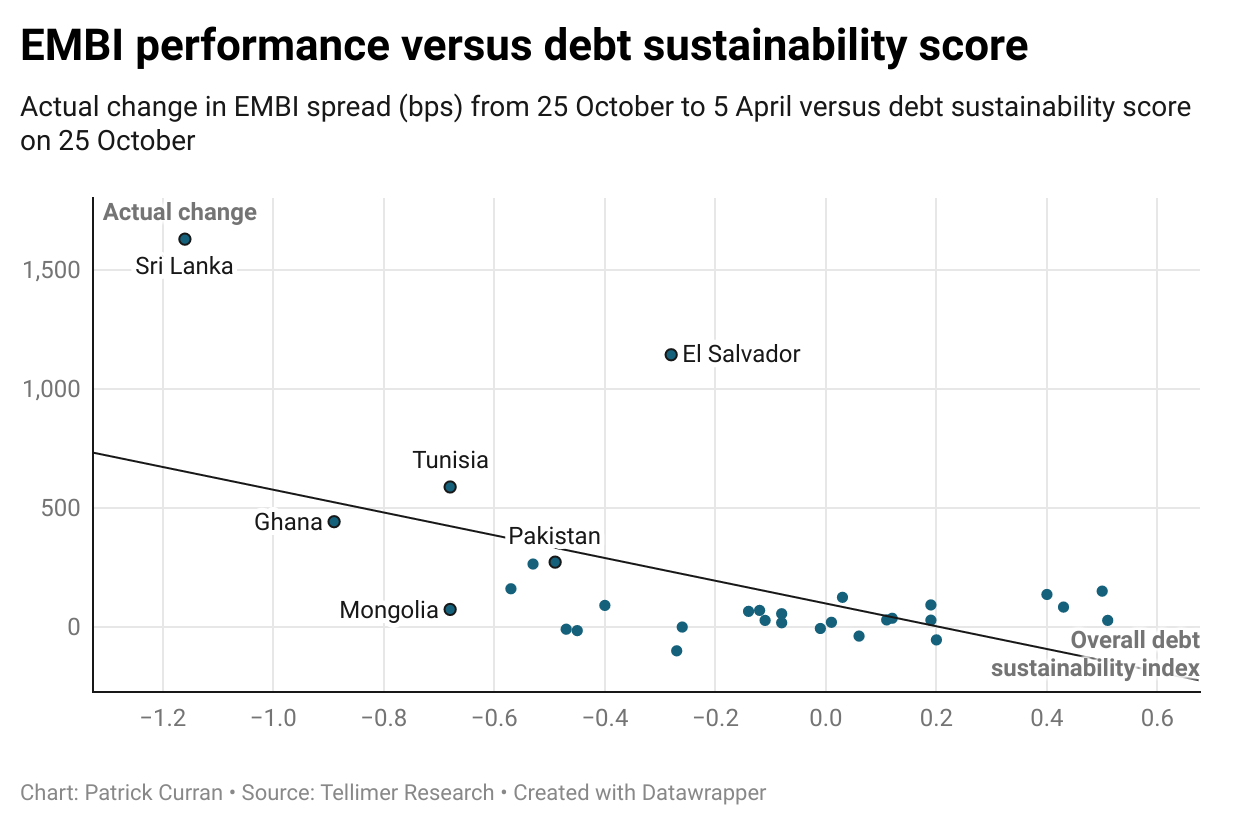 Methodological issues
While we appreciate our model is highly stylised, the simplified and transparent approach is part of its appeal and we find it mostly offers intuitive results (and where it does not, this can be a signal for further investigation).
Of course, we urge our readers to take this data and its conclusions with a pinch of salt, and caution that it should be used in conjunction with traditional country risk analysis. While the scorecard flags countries at high risk of debt distress, a more comprehensive multivariate model would be necessary to draw statistically significant quantitative conclusions about spreads and default risk.
We also recognise some drawbacks from this approach. It fails to account for potential nonlinearities and threshold effects within variables, while equal weighting may ignore potential differences in importance. In addition, more timely and thorough data can be found for many countries using official sources, providing a more complete snapshot (but making cross-country comparison more difficult). Data availability and the vintage of the available data is another challenge, with most of the World Bank IDS indicators pertaining to external debt stock and composition only updated through 2020.
Moreover, we omit other indicators which might be a significant cause or signal of distress, including institutional factors and qualitative differences in public financial management and debt management capacity. Nor have we included a variable to capture default experience or payment track record, which can be an important indicator of willingness to pay and predictor of default. However, we have chosen a more general approach to allow for cross-country comparison, and think our scorecard serves as a useful warning light for debt distress.
In the Appendix, each variable is detailed with sources and relevant metadata. We welcome feedback from our readers on methodology and coverage and remain available to answer any questions. 
Appendix: data explanations and sources
Budget balance / GDP: Projected budget deficit (surplus) as % of GDP for 2022. Source: IMF April 2022 WEO. Frequency: Annual (2022)
Primary balance / GDP: Projected primary deficit (surplus) as % of GDP for 2022. Source: IMF April 2022 WEO. Frequency: Annual (2022)
Debt-stabilising primary balance / GDP: Debt stabilising primary balance implied from IMF WEO for 2022-27 period. Source: IMF April 2022 WEO. Frequency: Annual (2022-27)
Actual – stabilising primary balance: Difference between projected 2022 primary balance and implied debt stabilising balance. Source: IMF April 2022 WEO. Frequency: Annual (2022-27)
Real GDP growth: Average real GDP projected from 2022-27. Source: IMF April 2022 WEO. Frequency: Annual (2022-27)
Real effective interest rate (%): Projected effective interest rate (see below) minus inflation over 2022-27 (average). Source: IMF April 2022 WEO. Frequency: Annual (2022-27)
r – g differential: Difference between projected 2022-27 real GDP growth and projected 2022-27 real interest rate (effective interest rate minus inflation) implied from IMF WEO. Note: positive (negative) differential increases (decreases) debt, all else equal. Source: IMF April 2022 WEO. Frequency: Annual (2022-27)
Annual FX forecast (%): Projected annual appreciation (depreciation) of currency over 2022-27 implied by IMF WEO (derived by dividing projected GDP in local currency terms by projected GDP in US$ terms). Source: IMF April 2022 WEO. Frequency: Annual (2022-27)
Public debt / GDP: Projected public debt / GDP ratio in 2022. Source: IMF April 2022 WEO. Frequency: Annual (2022)
Interest / GDP: Projeted interest payments (derived by subtracting budget balance from primary balance) as % of GDP in 2022. Source: IMF April 2022 WEO. Frequency: Annual (2022)
Interest / revenue: Projected interest payments % of government revenue in 2022. Source: IMF April 2022 WEO. Frequency: Annual (2022)
Total external debt / GDP: External debt (public and private) as % of GDP in 2020. Source: World Bank International Debt Statistics for external debt and IMF April 2022 WEO for GDP. Frequency: Annual (2020)
Public external debt / GDP: Public debt / GDP in 2022 times ratio of public external debt to total public debt in 2020. Source: World Bank International Debt Statistics for external debt and IMF April 2022 WEO for GDP. Frequency: Annual (2022 for public debt and 2020 for ratio of public external to public)
Total external debt / exports: External debt (public and private) in 2020 as % of 12-month trailing exports of goods. Source: World Bank International Debt Statistics for external debt and IMF Direction of Trade Statistics (via Bloomberg) for goods exports. Frequency: Annual (2020) for debt and monthly (Jan 2022) for exports
Public external debt / exports: Public external debt proxy forecast for 2022 (see above) % of 12-month trailing exports of goods. Source: World Bank International Debt Statistics for external debt and IMF Direction of Trade Statistics (via Bloomberg) for goods exports. Frequency: Annual (2022) for debt and monthly (Jan 2021) for exports
Total external debt service / exports: Projected external debt service (public and private, principal and interest) in 2022 as % of 12-month trailing exports of goods. Source: World Bank International Debt Statistics for external debt and IMF Direction of Trade Statistics (via Bloomberg) for goods exports. Frequency: Annual (2022) for debt service and monthly (Jan 2022) for exports
Public external debt service / exports: Projected public and publicly guaranteed (PPG) external debt service (principal and interest) in 2022 as % of 12-month trailing exports of goods. Source: World Bank International Debt Statistics for external debt and IMF Direction of Trade Statistics (via Bloomberg) for goods exports. Frequency: Annual (2022) for debt and monthly (Jan 2022) for exports
Public external debt service / revenue: Projected public and publicly guaranteed (PPG) external debt service (principal and interest) in 2022 as % of projected government revenue in 2022. Source: World Bank International Debt Statistics for external debt and IMF April 2022 WEO for GDP. Frequency: Annual (2022)
Effective interest rate (%): Projected 2022 interest payments / 2021 public debt stock. Source: IMF April 2022 WEO. Frequency: Annual (2021 and 2022)
FX-denominated (%): Ratio of public external debt to total public debt in 2020. Source: World Bank International Debt Statistics for external debt and IMF April 2022 WEO for GDP. Frequency: Annual (2020)
ST external (% of total): % of PPG external debt as of 2020 that is short term. Source: World Bank International Debt Statistics. Frequency: Annual (2020)
Concessional (% of external): % of PPG external debt as of 2020 that is on concessional terms per World Bank definitions. Source: World Bank International Debt Statistics. Frequency: Annual (2020)
Bilateral (% of external): % of PPG external debt as of 2020 held by bilateral creditors. Source: World Bank International Debt Statistics. Frequency: Annual (2020)
Multilateral (% of external): % of PPG external debt as of 2020 held by multilateral creditors. Source: World Bank International Debt Statistics. Frequency: Annual (2020)
Bonds (% of external): % of PPG external debt as of 2020 corresponding to publicly traded eurobonds. Source: World Bank International Debt Statistics. Frequency: Annual (2020)
Other private sector (% of external): % of PPG external debt as of 2020 held by private creditors, excluding publicly traded eurobonds. Source: World Bank International Debt Statistics. Frequency: Annual (2020)
China (% of external): % of PPG external debt as of 2020 held by Chinese creditors (public or private). Source: World Bank International Debt Statistics. Frequency: Annual (2020)