GLOBAL
Ahead of the weekend, there is no fresh USD appreciation momentum, although the USD looks poised for another leg up if there is a catalyst to drive it. That catalyst could come in the form of volatility in financial markets, given the anticipated slowdown in earnings and the warnings issued by some companies. Undue volatility and the building vulnerability of higher beta emerging markets to the persistent tightening of DM monetary policy could still spur another rotation back towards the USD. Yesterday's retail sales still held up well, which will only encourage speculation ahead of next week's FOMC decision and statement. The market continues to believe a 75bp rate hike is on the cards, with the outside possibility that this could be increased to 100bp. So for now, the USD remains well supported, and vulnerable currencies find themselves on the defensive. The EUR-USD is still trading just below parity, while the GBP is comfortably back below 1.1500. The JPY for its part, is treading water just above 143.00/dlr.
AFRICA
Africa: As a result of surging food prices and depressed incomes, one in eight people in sub-Saharan Africa is expected to suffer from high malnutrition this year, an increase of almost a third since 2020, according to the International Monetary Fund (IMF). The IMF estimates that at least 123mn people, around 12% of the region's population, will be unable to meet their minimum food consumption needs, 28mn more than just two years ago. Severe drought across several countries has been exacerbated by Russia's invasion of Ukraine, which has disrupted exports of foodstuffs such as wheat and pushed up prices. Meanwhile, severe climate incidents, which destroy crops and disrupt food transport, are disproportionately common in sub-Saharan Africa. The economic fallout from the coronavirus pandemic is another factor. According to the IMF, "These events are compounding mounting pressures from rapid population growth and a lack of resilience to climate change that have already contributed to food insecurity rising faster than in the rest of the world." Aside from the impending humanitarian crisis, it is worth noting that food shortages have led to elevated inflationary pressures across the continent.
Ethiopia: The Ministry of Finance reported that public-sector loan disbursements dropped 24% y/y to $1.09bn in 2021-22. The ministry added that in 2021-2022, no loans came from China compared with $42.6mn and $372.6mn in the previous two fiscal years. China's lending to African nations slowed down from February 2020 amid a push for debt-relief measures under the G-20 Common Framework. Meanwhile, Ethiopia's biggest lender in 2021-22 was the International Development Association, with $667.6mn.
Kenya: Reports citing a document seen by Reuters indicate that Kenya's budget deficit is set to reduce next year as the country continues its recovery from the effects of the coronavirus pandemic. The budget deficit is forecast at 4.4% of GDP in 2023/24 (July-June) and 3.2% in 2025/26 from 6.1% in 2022/23. Meanwhile, overall spending is estimated to be around KES 3.58trn ($30bn) in 2023/24 from KES 3.36trn in 2022/23. The economy is forecast to grow 5.5% this year from 7.5% in 2021, continuing a recovery from the pandemic, which led to a contraction of 0.3% in 2020. According to the document, leading indicators of economic activity show continued strong performance in the second quarter of 2022, mainly in transport and storage, wholesale and retail trade, construction, information and communication, and accommodation and food services. "As such, the economy is expected to remain resilient at 5.5% in 2022 and grow by an average of 6.0 percent over the medium term," according to the ministry.
West Africa: Nigeria and Morocco yesterday signed an agreement that moves a long-standing proposal for a gas pipeline between the two countries closer to reality, raising the possibility of a new energy supply route for West Africa and Europe. The 5,600km conduit along West Africa's coast would provide gas to the 15-country Economic Community of the West African States, which also signed the agreement, and permit fuel to be shipped to Spain and the rest of Europe. Meanwhile, the Islamic Development Bank and OPEC Fund for International Development have committed nearly $60mn to finance feasibility and engineering studies for what would be one of the longest pipelines ever built. While the project could take decades to complete and cost billions of dollars if it goes ahead, it will come at an opportune time, given Europe is seeking to reduce its reliance on Russia's energy following the invasion of Ukraine.
Zambia: Zambia's international bondholders have reportedly criticized the International Monetary Fund's (IMF) debt restructuring frameworks as "arbitrary" and for excluding the country's domestic debt. An IMF Debt Sustainability Analysis published last week called for its debt-service-to exports ratio to be cut to a 140% "threshold" from 153% quickly and to 84% by 2027. An IMF spokesperson said it would brief Zambia's creditors on economic forecasts and policies and denied the 84% debt-to-exports ratio target was "arbitrary." According to a Reuters report citing the official, "the target is firmly grounded in the IMF-WB Debt Sustainability Framework for Low-Income Countries. It is consistent with a level of external debt-to-exports for the country having space to absorb shocks." Meanwhile, bondholders are also said to be unhappy that $11.6bn of local currency debt, $3.2bn of which is owned by foreign investors, is being excluded from the restructuring. According to a source close to the matter, this would imply that such debt would effectively have precedence over the Eurobonds, governed by international laws. In response, the IMF has said they intended to "exclude these bonds from the restructuring."
Forex: Currency weakness fanning inflationary pressure in Africa
For the most part, African currencies have come under pressure this year amid challenges such as tightening global financial conditions, mounting recession risks, and the war in Ukraine. The former has led to a reduction in the supply of dollars to the global financial system, meaning less hot money to be diverted to risker emerging and frontier markets. This has created or, in some instances, exacerbated the dollar shortages in African countries and weighed on their currencies. Weaker currencies have raised import costs and further fanned inflationary pressures already being driven by higher global food and oil prices. Yesterday's slew of inflation data out of Botswana, Namibia, and Nigeria displayed the impact currency weakness is in part having on inflation.
Botswana's inflation rate climbed to the highest level in 13 years in August, coming in at 14.6% y/y in August from 14.3% y/y in July. Meanwhile, the annual inflation rate in Namibia rose further to 7.3% y/y in August from 6.8% y/y. It was the highest reading since February 2017. Finally, consumer price inflation in Nigeria accelerated to 20.5% y/y in August from 19.6% y/y in July, reaching a fresh 17-year high. A common theme across these countries is that their currencies have weakened significantly against the USD on a year-to-date basis, as seen below, and raised import costs.
Against a backdrop of continued currency weakness and soaring inflation, risks exist that central banks in Botswana, Namibia, and Nigeria will continue to tighten monetary policy further in the coming months. The Bank of Botswana has already raised rates by 151bp since April this year, while the Bank of Namibia in August raised borrowing costs by the biggest margin in almost two decades (75bp) to 5.5%. The Central Bank of Nigeria has hiked rates at the previous two meetings taking the policy rate to 14%, a three-year high.
Fixed Income: Signs are emerging that the tide is turning for high-beta sovereign debt
While the first half of the year was a bloodbath for emerging market bonds, signs are starting to emerge that the tide is turning, with investors finally seeing some positive returns. The Bloomberg Emerging Market High Yield Total Return Index, which tracks the returns of junk-rated emerging market corporate and sovereign bonds, has risen by more than 7% since its recent lows. The rebound follows losses of almost 20% in the first 6 months of the year.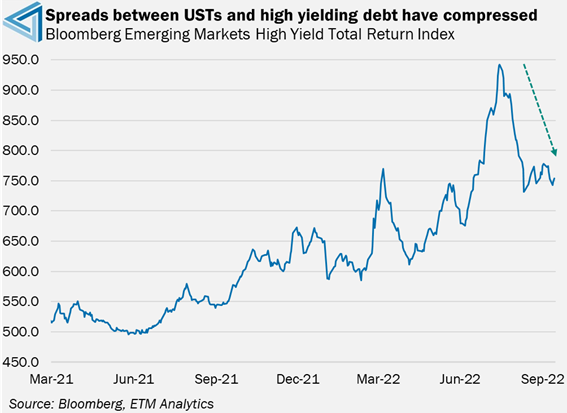 The recovery in emerging market bonds comes on the back of fiscal relief euphoria, softer global food and energy costs, mounting growth concerns, and the pricing in of rate cuts in 2023 and 2024. While we have seen a handful of defaults during the pandemic era, expectations for a broad-based fiscal crisis are yet to materialize. Moreover, we have seen multilateral lenders, including the International Monetary Fund and the World Bank, agree to a raft of fiscal reprieve programs. China, which is a massive lender to many fiscally fragile economies, has also come to the party with Beijing making an about turn on its stance on debt relief/forgiveness.
In addition to the factors mentioned above, investors are being enticed by the attractive valuations and high yields on offer in the junk-rated sovereign bond sphere. While we advise against investors from becoming overly bullish on emerging and frontier market bonds, if the risk mandate allows, it is a good time to start increasing exposure to high-beta sovereign debt. Lastly, although there are some exceptions, there is great value to extracted by going long African bonds at these levels.
Macroeconomic: Drought conditions are amplifying food security risks in East Africa
East Africa has been struck by a double-edged sword of elevated international commodity prices and persistent drought conditions in the region, both of which are amplifying food security risks. Weather reports show that East Africa is facing its worst drought in at least four decades. According to statistics from the United Nations, more than 20 million people in Kenya, Somalia and Ethiopia are facing a food shortage, with more than 1 million people leaving their homes in search of food and better living conditions.
Weather experts see a high risk of rains failing for a fifth consecutive season, which is expected to weigh on food production in the region and increase the region's reliance on food imports. In addition to the adverse weather conditions, the war in Ukraine has pushed up input prices for farmers, with fertilizer and fuel costs rising sharply in recent months. Moreover, locusts, which thrive in hot and dry conditions, have wiped out crops across large parts of eastern Africa.
While food output in East Africa is expected to remain weak this season, the region has received aid, which has helped ease the famine crisis. According to Bloomberg data, the US has given more than $6.6bn in humanitarian and food assistance to Africa so far this year. The European Union, Canada, Sweden, Germany and the UK have also provided aid to the region. Kenya's government meanwhile has introduced corn and fuel subsidies to help cushion the blow of the cost of living crisis. However, the government has said due to fiscal constraints, it can't keep these measures in place indefinitely. Lastly, while still elevated, international food prices have pulled back in recent months, which will, at the margin, help ease the food crisis in the region.