With cryptocurrency market cap touching US$2.5tn, global tech giants such as Microsoft, Paypal, Square allowing use of crypto and El Salvador officially approving Bitcoin as legal tender, cryptocurrencies are becoming more mainstream. But how do adoption levels compare across the globe?
In absolute terms, developed markets like the US and UK, along with China, lead by cryptocurrency transaction volume. However, adjusting for purchasing power parity (PPP) and internet penetration, emerging markets Vietnam, India and Pakistan rank at the top.
In this report, we look at cryptocurrency adoption levels globally and discuss recent growth trends. We also present findings from our proprietary emerging markets survey of consumers' attitudes towards this asset class.
Emerging market consumers are eager to use cryptocurrency
Our in-house survey of 700 individuals in 14 emerging markets asked respondents if they want their financial services providers to accept cryptocurrencies. 69% responded in favour, while 15% said their financial providers already accept cryptocurrencies. Only 6% were against the idea, while 10% were not aware of cryptos or had other reservations. 
Among the markets surveyed, respondents in Kenya, China and Russia showed the most willingness to transact with cryptocurrency. South Africa, Saudi Arabia and Indonesia have above-average cryptocurrency acceptance by financial institutions.
Convenience is the main factor driving EM crypto adoption
We also asked respondents who showed a willingness to transact in cryptocurrencies about the reasons for their preferences. The top reason they cited was convenience, followed by anonymity and security.
Looking at the survey results by market, convenience was most important for users in Nigeria, Saudi Arabia and India. Anonymity and low transaction cost were key for Russians. Security was most important for individuals in Pakistan and Egypt, while transparency topped the list for Indonesians.
There is strong growth momentum in global cryptocurrency adoption
Cryptocurrency adoption has increased sharply in recent years. The sum of Chainalysis' individual country scores (out of one) for 151 markets, has grown to 24 in Q2 2021 compared with just two in Q3 2019.
There are various drivers of rising cryptocurrency adoption in emerging markets: users are turning to crypto to protect their investments against domestic currency devaluation; transactions are cheaper (for example, for international remittances); and crypto can be used to move funds abroad amid capital controls in some countries. In developed markets, higher institutional trading has lifted transaction volumes.
Global cryptocurrency adoption trend
Source: Chainalysis
Cryptocurrency account penetration is highest in Russia and Ukraine
TripleA's cryptocurrency penetration statistics show Ukraine, Russia, Venezuela, Singapore and Kenya are the top countries in terms of cryptocurrency ownership rates; all these countries have 8-13% of their population owning cryptocurrencies.
The top countries for cryptocurrency adoption, on an income-adjusted basis
Vietnam, India, Pakistan, Ukraine and Kenya are the top markets in terms of global cryptocurrency adoption, as per Chainalysis' rankings, with Vietnam the clear stand-out performer. The Chainalysis per capita ranking is derived from three different, PPP-adjusted, metrics:
On-chain value received: This metric is based on total cryptocurrency value received by a country. China, India and the US are top-ranked on this basis.

On-chain retail value received: This measures the retail activity in a country, which are described as transactions <US$10,000 ticket size. China, Vietnam and India rank highest on this measure.

Person-to-person (P2P) exchange-traded value: P2P is the largest and most important cryptocurrency transaction channel, particularly in markets where regulators discourage formal financial institutions from participating in cryptocurrency transactions. For this index, P2P trading volumes are weighted by PPP per capita of internet users. Kenya, Togo and Vietnam score most highly on this metric.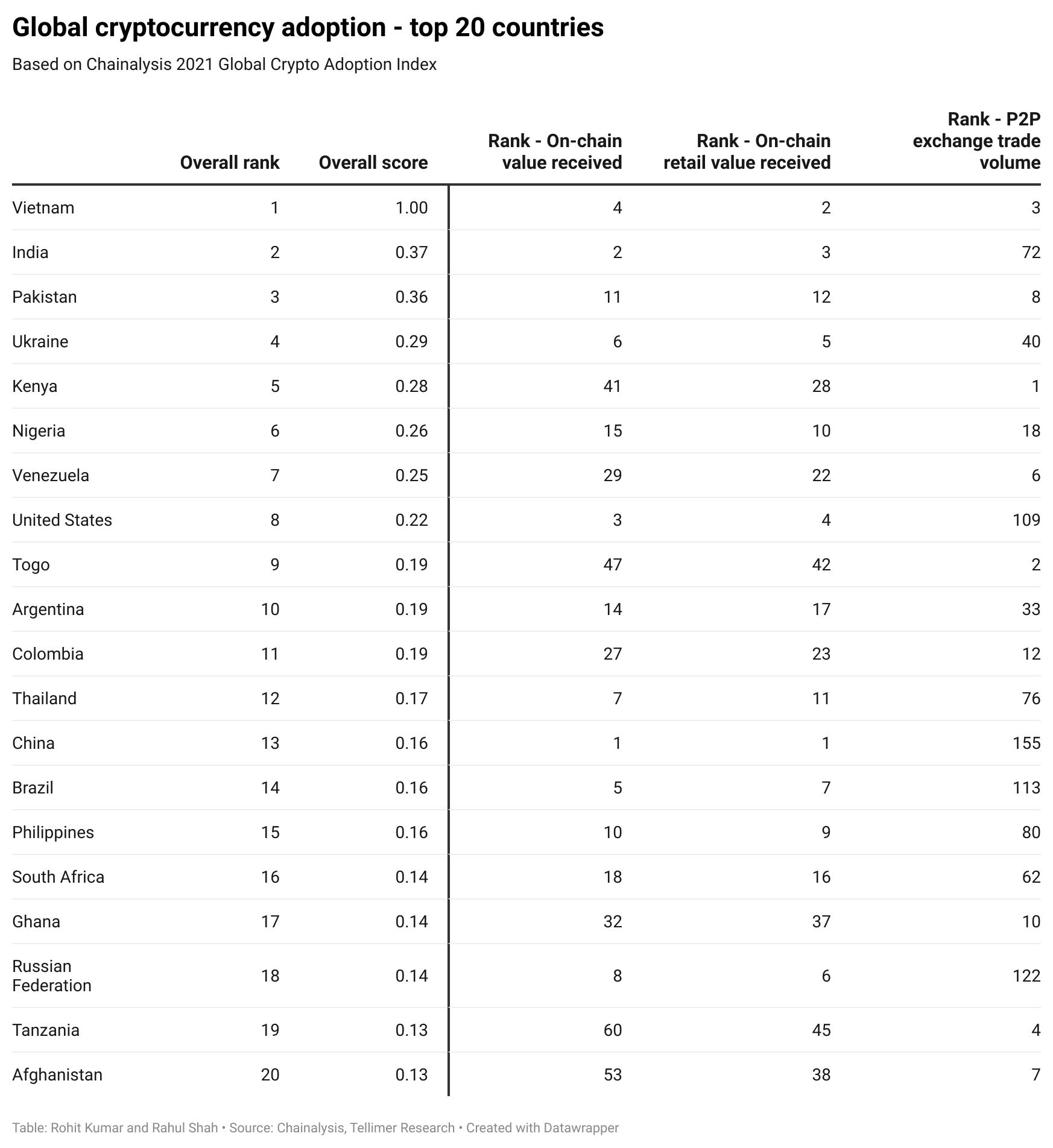 Vietnamese are heavy crypto transactors; Russians not so much
In the scatter plot below, we compare cryptocurrency ownership penetration data by TripleA, which indicates the overall user base of a country, with Chainalysis' cryptocurrency adoption scores, which highlight trading activity after adjusting for PPP and internet penetration.
Countries such as Vietnam and Pakistan have a higher level of adoption scores relative to crypto account penetration, which reflects crypto owners' higher trading activity as a proportion of income. In contrast, Russia and Singapore have a higher crypto account penetration but lower adoption scores. This could also indicate that users in Russia and Singapore are using crypto as a savings tool to protect from inflation, or for anonymity, whereas those in Vietnam could be using crypto for their day-to-day needs.