Despite warnings from regulators, the US$2.5tn cryptocurrency market continues to generate increasing levels of interest and engagement from investors. Contributory factors include technological improvements and increasing use cases, rising valuations and growing concerns about fiat money in a world of ballooning central bank balance sheets, heavy government borrowing and rising inflation.
Individuals in emerging markets could be some of the biggest beneficiaries of this asset class. But many mainstream investors remain wary, with concerns including the energy-intensive nature of some cryptocurrencies, and their use by criminal elements.
In this Global Theme, we consider how these misgivings could drive innovation. Together with continued pressure from end-investors, these developments are likely to see cryptocurrencies move further into the mainstream.
The rising prominence of ESG will spark a fresh round of cryptocurrency innovation 
After a long period of gestation, ESG (environment, social and governance issues) has become a high-priority investment theme. In contrast, cryptocurrency has experienced a more rapid rise to prominence. We think the confluence of both these investment trends will spawn a raft of innovation.
The economic and environmental cost of crypto mining
Electricity consumption and computer hardware are the two biggest elements of crypto mining costs. Both stem directly from the need to solve complex algorithms that record transactional activity on the cryptocurrency's distributed ledgers; the entities carrying out this work are rewarded with cryptocurrency.
Electricity and capital equipment constitute the bulk of crypto mining costs
Source: Cambridge Centre for Alternative Finance, Tellimer Research
Press reports have already highlighted that cryptocurrencies consume more electricity than entire nations. In the short term, we think ESG pressures will encourage miners to shift their computing hardware to locations with access to renewable energy. Such changes in mining location can take place rapidly; China's recent crackdown on crypto mining has driven a massive geographic shift in industry activity, with Canada, Kazakhstan and the US being key beneficiaries. 
In the chart below, we highlight markets with cheap, renewable electricity. Economically and environmentally attractive locations that historically have not been active mining locations include Norway, Paraguay, Turkey and Vietnam.
Moreover, we have already seen key industry players take action to improve their environmental credentials. Earlier this year, Argo Blockchain became the first listed cryptocurrency mining company to become carbon positive, through its support of outside projects. Bitfarms is 99% hydroelectricity-powered. Environmentally aware cryptocurrency ETFs are also being launched, such as the Viridi Cleaner Energy Crypto-Mining and Semiconductor ETF.
Looking further ahead, we think ESG and economics will help to drive positive change. Computing power continues to become more energy-efficient over time, due to improved chip design. Quantum computing is also on the (distant) horizon; IBM recently unveiled its Eagle 127-qubit processor, which represents a big step up in capacity.
Due to variations in design, some cryptocurrencies are less energy-intensive than others, which could lead end-users to favour them. A key development could be a broad shift from a 'proof of work' method of mining, where increased computational activity mines more fresh cryptocurrency, to a 'proof of stake' approach, where the need to perform computational activity is determined by the ownership level of the cryptocurrency. Press reports suggest Ethereum could shift in this direction next year, for example. 
The social cost of cryptocurrency
While increased cryptocurrency adoption can have positive effects, for example by helping to lift financial inclusion in the poorest countries of the world, some of the features of distributed ledger technology, notably anonymity, have attracted criminal elements to this asset class. Extortion, theft and deception have all been reported through the vehicle of cryptocurrencies.
High-profile cases include Mt Gox's collapse in 2014 (when it was the largest bitcoin exchange), the 2021 US Colonial Pipeline and Irish Health Service ransomware attacks and the Onecoin Ponzi scheme, which is estimated to have siphoned off US$25bn by 2017.
By their very nature, these illegal activities are hard to quantify, but Chainalysis data points to a figure exceeding US$6bn in the year to June 2021. According to the firm's analysis, scams are the biggest source of illicit activity, with the largest one in this period being Finiko, a Russian-based Ponzi scheme.
 Cryptocurrency value sent to illicit addresses (July 2020 to June 2021)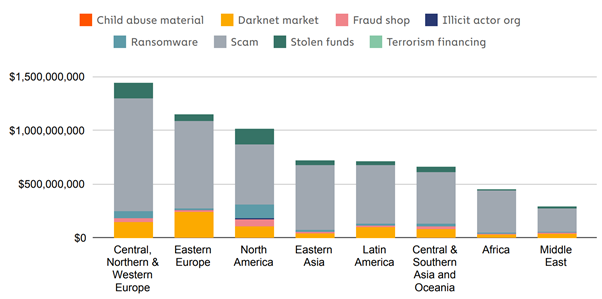 Source: Chainalysis, Tellimer Research
To help put these sums into context, illicit activities mopped up almost 1% of all cryptocurrency activity in Africa, and over 0.3% overall, as shown below.
 Illicit share of cryptocurrency activity, by region
 Source: Chainalysis, Tellimer Research
Again, this is an area where innovation will play a key role. It is in the long-term interests of legitimate ecosystem operators to find ways of reducing access to criminal elements. And we are likely to see different types of cryptocurrencies evolve that relax some aspects of pure distributed ledger technology to find an optimum fit to the real world.
Removing some aspects of anonymity, introducing some sort of hierarchy within the distributed ledgers, and allowing some form of government or regulator access are all aspects that could cross red lines for some industry participants, but at the same time could appeal to a broader audience of investors.
For example, Chinese firms are some of the leading exponents of distributed ledger technology, but companies and individuals must agree to certain levels of government access to identification and transaction data. Allowing for some form of central authority could also carry some benefits, such as allowing participants to recover lost passwords. Moreover, the absence of regulation is one of the barriers to greater adoption of the asset class.
While the attraction (and fear) of cryptocurrency investment is primarily driven by economic concerns, improving regulation and security would go a long way to assuaging most mainstream investors' concerns.