Pay-TV (cable and satellite) has increasingly been superseded by so-called OTT (over the top) providers like Netflix in developed markets in recent years – OTT providers stream video on broadband networks. The main issue has been when rather than if pay-TV would die out. 
How has Covid-19 boosted streaming video in developed markets?
Covid-19 could be the trigger. The global lockdown has driven viewership of OTT providers sky high, with streaming television one of the most popular online pastimes during isolation. Companies to benefit include Netflix, the flag-bearer for OTT, and its high-profile competitors, such as Hulu, Amazon Prime Video, Disney+ and Apple TV+. 
IBC.org, an industry website, has reported that streaming has spiked by 60% because of lifestyle changes forced on consumers by Covid-19 response measures. Over 15% of streaming consumers in the US have added OTT subscriptions since the virus first began to impact the country in early March, according to IBC.
Streaming video has eaten away at pay-TV in the west over the past few years, with Netflix reaching 167mn subscribers from just 9mn in 2008. The company added 27mn net new subscribers in FY 19, which is more than the number of people that disconnected their cable subscriptions in the US. 
Meanwhile, cable subscriber numbers have been falling in the US since 2013. According to Mediakix, one in seven Americans is a 'cord-cutter' (ie without any cable subscription). This is particularly the case among young people who, when starting households, are likely to go with streaming services rather than traditional pay-TV. 
Convenience, of course, has been Netflix's killer feature: viewers can watch at the time, place and pace of their choosing and they can watch on any internet-enabled device. Streaming liberates the viewer from their television set. But, apart from its anytime-anywhere convenience, Netflix is a lot cheaper than pay-TV. In the US, a cable subscription can be as much as US$80 a month, whereas Netflix is only cUS$10 a month, depending on subscription package.
OTT in developing markets – an under-appreciated trend?
The market appears to have ignored that Covid-19 may be accelerating a similar trend in developing markets in Asia, Africa and LatAm. In Singapore, for example, the dominant cable TV operator is under severe threat from Netflix, which launched in Singapore two years ago – StarHub has lost almost one-tenth of its subscribers in the past year. 
As tends to be the case with death by a thousand cuts, the victim denies that the initial cuts will be fatal. StarHub seems currently to view Netflix as a complement to its operations. It allows Netflix to stream content on its broadband network at no additional cost. The two parties seem to be frenemies for the moment, but we think StarHub is denying the inevitable.
Netflix is a global behemoth, but the grim reaper for pay-TV in Asia will be Netflix's regional imitators. For example, a developing market version of Netflix called Iflix offers content for as low as US$3 a month. 
Iflix offers local content in 19 countries and claims to have over 5mn subscribers. Unlike Netflix's content, which has tended to be targeted at the westernised elite in these markets, Iflix has cornered local content. It collects its subscriptions in cash, as only a minority of people in these markets have credit cards.
Iflix has raised cUS$300mnn, including from Sky, US Hearst Communications and Liberty Global. Its most recent funding round amounted to US$133mn in August 2017.
OTT in Africa shows huge promise
According to Video Forecasts, an industry group, Sub-Saharan Africa's OTT revenue could reach US$1bn by 2024 – more than a four-fold increase from 2018. South Africa is forecast to represent 40% of the region's revenue in six years, with Nigeria constituting one-fifth. Subscription video on demand is the main revenue source for OTT, and is forecast to quintuple by 2024.
Table 1: Online content streamed on non-TV devices (% of respondents)
Source: Delta Partners Group
Table 2: Smartphone users watching videos on weekly basis (% of users)
Source: Delta Partners Group
Table 3: On-demand viewership (% of respondents)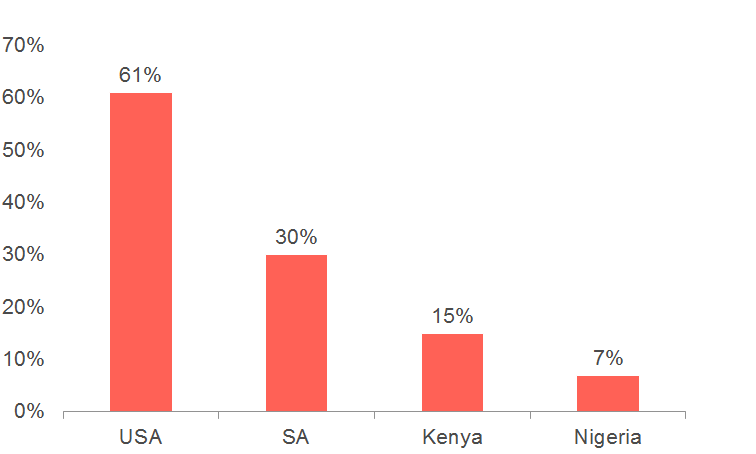 Source: Delta Partners Group
Netflix still dominates OTT in Africa, but local alternatives – one of which is Iflix – show immense promise in our view. For example, Kwesé Iflix, which was founded by Iflix but is now controlled by Econet Group (Africa's leading broadcast network), is a rising player. Kwesé Iflix operates in eight countries: Nigeria, Ghana, Kenya, Uganda, Tanzania, Ethiopia, Zambia and Zimbabwe, and intends to add four more countries soon. 
Factors driving OTT adoption in Africa:
1. Africa's low broadband and smartphone penetration is becoming less of an impediment. Fixed broadband penetration has doubled in Africa from 5% in 2018 to 10% today. Pricing levels are much higher than in Europe or Emerging Asia, but they are likely to trend downwards as technology becomes cheaper.
Moreover, players such as Netflix and its local competitors are tailoring their content to adapt to low broadband speeds.
2. African content is on the rise. Global blockbusters are popular, but local content can account for 90% of consumer preferences, according to Delta Partners, an industry group. For example, Iflix has purchased over 1,000 hours of exclusive Nollywood content. Showmax is producing exclusive Kenyan shows.
Netflix and its Western peers are not the only game in town for the OTT revolution. This is positive for African telcos, media and consumer companies, raising demand for broadband and opening more avenues for consumer growth.