Chile is as important for global copper as Russia and Saudi Arabia combined are for global oil. In its presidential primaries on 18 July, Chile rejected the Communist Party favourite to become the leftist bloc's candidate for the 21 November general election. This is a small positive for Chile political risk.
However, the loss of the favourites prior to the primaries, on both the left and right sides of the political spectrum, is the latest evidence of the disenchantment of the electorate with established politicians of all hues. The risk of another flare-up of protests against inequality, Covid management, economic decline, environmental damage or corruption is never far away (although this is not a risk, which differentiates Chile from LatAm peers).
Chile remains our top market in LatAm equities; orthodox economic policy remains more securely grounded than in regional peers and copper should enjoy higher structural growth than most other hard and soft commodities due to the global transition to renewable energy.
Chile equities (IPSA index) are down 6% ytd. Compared with regional peers, this is better than Peru's down 18% but worse than Brazil's up 8%. This is also substantially lower than the c20% increase in the copper commodity price ytd. Consensus forward 21f PB is 1.2x (for 12.6% ROE), a 15% discount to the 5-year median. Consensus forward 21f PE of 11x (for earnings growth of 120% in 21f and 3% in 22f) is a 32% discount to the 5-year median.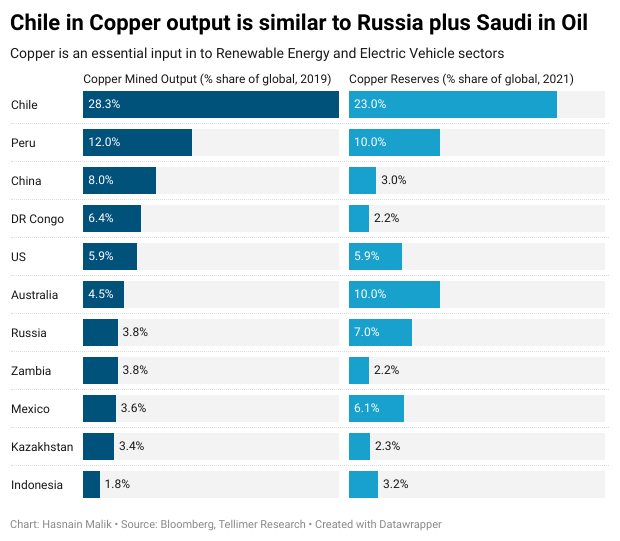 Communist candidate loses
Under Chile's constitution, centre-right incumbent President Sebastian Pinera is not allowed to stand for re-election. On 18 July, two of the three political blocs, leftist 'Approve Dignity' and rightist 'Go Chile', organised primary elections to select their presidential candidate for the November general election. The centre-left bloc did not hold a primary but may ultimately put forward a candidate.
Seasoned politicians who were favourites to win on both sides ended up losing to less experienced rivals. This was another demonstration of the disenchantment felt across the political spectrum with the established political class and is an echo of both the spike in protests seen in Chile since 2019 and dominance of independent candidates in the assembly elected in May 2021 to rewrite the constitution.
For the leftist bloc, former student leader, Gabriel Boric (aged 35), won 60% of the votes to defeat Communist Party member and Mayor of Recoleta in Santiago Province, Daniel Jadue (54). Rhetoric during the campaign on economic policy was relatively more market-friendly from Boric compared to Jadue (higher taxation and government ownership of copper mining, shorter working week, less close alignment with the US).
Investors in Chile (and copper buyers globally) will be relieved, although Boric has pledged to work with Jadue to unite the leftist bloc.
"Thanks to those who have trusted us today. I take this triumph with joy, humility and above all with a sense of responsibility. Thanks also to @danieljadue with whom I have spoken and we will work together. To win in November you have to call even more. We continue!" Gabriel Boric, @gabrielboric (Twitter)
For the rightist bloc, former cabinet minister and Banco del Estado president Sebastian Sichel (aged 43), won 49% of votes to defeat Mayor of Las Condes in Santiago Province and two-time presidential candidate, Joaquin Lavin (67).
Related reading
Chile
Chile votes left, May 2021
Chile constitutional can of worms opened but still attractive versus LatAm peers, October 2020
Peru and LatAm
Peru election: Leftist Castillo 'wins', June 2021
Democracy disappoints in LatAm, May 2021
Peru unlikely to nationalise Copper, the key metal for renewables and EVs, April 2021