In this report, we run a top-down screen and analysis of 11 pockets of emerging markets that have substantially outperformed, may struggle with normalising post-Covid, are vulnerable to sustained inflation and an ultimate rise in US yields, have material structural growth risks, and look expensive on an absolute basis (either relative to earnings growth, or to downside protection from dividend payout, or, in the case of Tech applications, relative to peers).
The markets and sectors we consider are, in Large EM, India, Russia, Saudi Arabia and Taiwan Tech (where TSMC on its own almost counts a country, given its near 7% weight in MSCI EM), and, in small EM, Abu Dhabi, Bangladesh (large caps only), Hungary, Kazakhstan, Kenya, Mexico, Romania, and internationally-listed Tech.
While none of these "contrarian candidate sells" comes out poorly on all metrics, the ones that may be the most vulnerable, should consensus focus on downside risk or reallocate to relatively cheap underperformers, are the following.
Large EM:

India – likely to continue struggling with Covid, reliant on easy local monetary policy.

Saudi – beneficiary of large negative local interest rate and with perhaps the most serious long-term challenges (hydrocarbon dependence, scarce water, political risk).

Small EM:

Hungary – struggling with twin deficits, at risk of EU isolation and looking over-valued.

Mexico – behind the inflation curve and looking over-valued on an absolute basis.

Small EM Tech – should there occur a change in investor appetite to fund Tech App companies building their product and customer base then some internationally listed companies in the sector look clearly more stretched on valuation, eg Sea compared to Mercado Libre or Jumia.
While Abu Dhabi is not in this top-down list of the relatively most vulnerable, it deserves a special mention. We note that 27% of the local equity index comprises two related-party companies, which are essentially investment vehicles: the larger one, International Holding Company, is up c250% ytd, and its associate, Alpha Dhabi Holding is up c80% since its June 2021 IPO.
This report should be read as an analysis of those parts of EM that have performed well but may be vulnerable, rather than sell recommendations on specific listed securities.
Screening for contrarian candidates
Outperforming and expensive
The following are outperforming and now expensive versus history:
Large EM: India, Saudi, Russia.

Tech: Small EM-FM Tech, Taiwan Tech.

Other Small EM-FM:

Africa: Kenya.

Asia: Bangladesh.

Middle East: Abu Dhabi.

Europe: Hungary, Kazakhstan, Romania.

Tech: Sea.
In LatAm, Mexico has significantly outperformed (mainly thanks to its close export and remittance links with the fast-recovering US) but it is not expensive versus history. However, we include it in the countries we analyse below given it is the main regional outperformer.
Underperforming and cheap
Our top-down screen of EM equity market performance year-to-date and valuation versus history highlights the following 11 pockets as underperforming and cheap:
Large EM: Brazil, South Africa.

Tech: China Applications.

Small EM and FM:

Africa: Egypt.

Asia: Indonesia, Malaysia, Pakistan, Philippines.

LatAm: Chile, Colombia, Peru.
For our full discussion of these candidate contrarian buys, please see this report. In this report, we excluded markets where there are capital controls (Argentina), significant FX risk (Sri Lanka, Turkey) or repatriation friction (Nigeria).
A framework for analysing contrarian sells
Below, we focus on four aspects of the investment debate in these 11 contrarian candidates:
Post-Covid normalisation.

Vulnerability to sustained global inflation and, ultimately, rising US yields.

Growth and reform drivers (including political risk).

How much the risk associated with these factors is either misunderstood by or already sufficiently reflected in valuation.
(1) Potential for post-Covid normalisation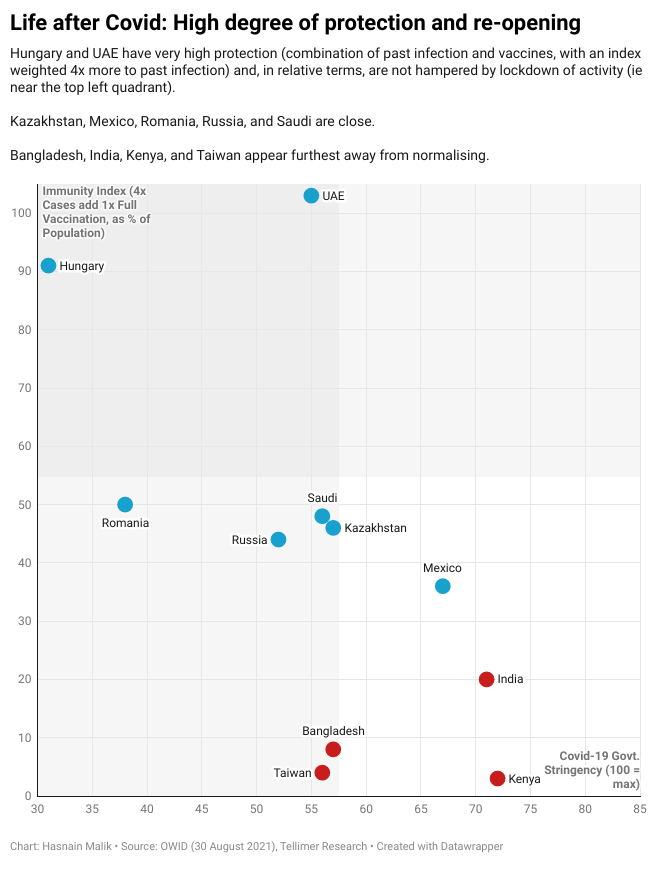 (2) Vulnerability to sustained global inflation
(3) Growth and reform potential
(4) Valuation
Related reading
Latest country-specific reports
Large EM
Small EM
Thematic reports
If inflation persists which EMs are best prepared?
Covid in EM: Where's already infected, vaccinated and re-opening
Emerging-Frontier Equity Monthly – August: Taper, Covid, Afghanistan
Related data
Most of the data analysed in this report is available across over 50 EMs via the Tellimer Emerging Markets Investability Matrix – accessible in full to subscribers.