Screening for contrarian candidates
Underperforming and cheap
Our top-down screen of EM equity market performance year to date and valuation versus history highlights the following eleven pockets as underperforming and cheap:
Large EM: Brazil, South Africa.

Tech: China Applications.

Small EM and FM:

Africa: Egypt.

Asia: Indonesia, Malaysia, Pakistan, Philippines.

LatAm: Chile, Colombia, Peru.
We have excluded markets where there are capital controls (Argentina), significant FX risk (Sri Lanka, Turkey), or repatriation friction (Nigeria).
Outperforming and expensive
The following are outperforming and now expensive versus history:
Large EM: India, Saudi, Russia.

Tech: Small EM-FM Tech, Taiwan Tech.

Other Small EM-FM:

Africa: Kenya (Safaricom).

Asia: Bangladesh.

Middle East: Abu Dhabi.

Europe: Hungary, Kazakhstan, Romania.
A framework for analysing contrarian calls
Below we focus on four aspects of the investment debate in these eleven contrarian candidates:
Post-Covid normalisation.

Vulnerability to sustained global inflation and, ultimately, rising US yields.

Growth and reform drivers (including political risk).

How much the risk associated with these factors is either misunderstood by or already sufficiently reflected in valuation.
None of the candidates screens well on all four of these dimensions.
However, in the appropriate global environment (ie depending on what is the global concern of the moment) there is plenty to recommend each one for those interested in a contrarian approach. Consider these examples.
Brazil is cheap versus its history, albeit less so on an absolute basis, is positively geared to sustained commodity price inflation, may be the closest to normalising after Covid, but has political obstacles to implementing much-needed reform to reduce its fiscal deficit and government debt.

China Tech is the cheapest pocket of global Tech, has plenty of market growth ahead of it, within what remains a sufficiently robust political economy with a relatively low-risk currency, but the sector lacks any visibility on when the whirlwind of punitive new domestic regulation will blow over.

Chile is cheap and has long-term structural growth (driven by copper demand in the transition to renewable energy) but it remains vulnerable to Covid lockdowns (which, in turn, exacerbates its main structural vulnerability of acute economic inequality).

Pakistan is very cheap (ie risks are widely understood and consensus expectations are very low) and could be the most transformed by internal institutional structural reform, but it is vulnerable in a scenario of persistent commodity price inflation and rising US yields.
(1) Potential for post-covid normalisation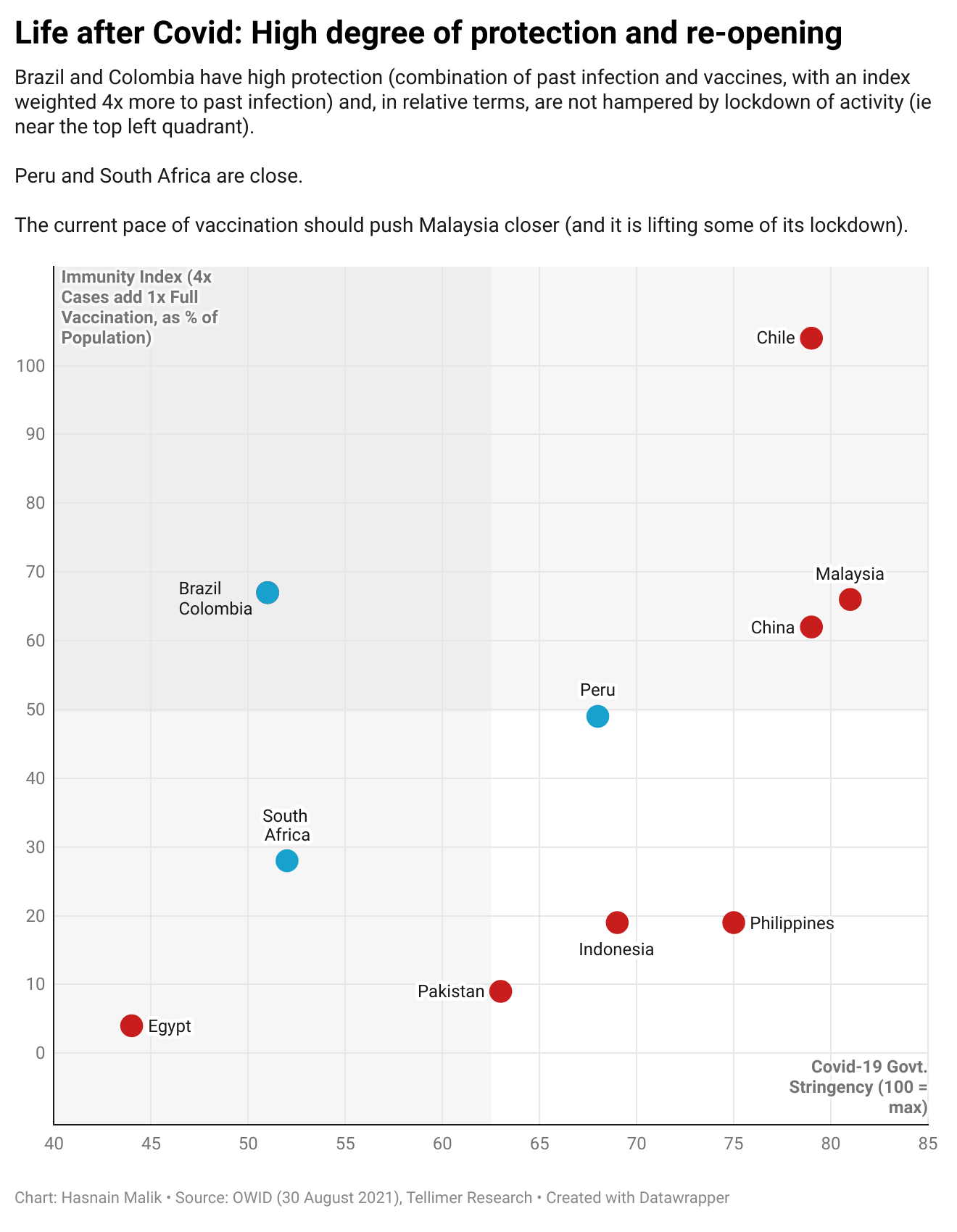 (2) Vulnerability to sustained global inflation
(3) Growth and reform potential
(4) Valuation
Related reading
Latest country-specific reports
Large EM
Brazil report
South Africa report
China Tech report
Small EM
Chile report
Colombia report
Egypt report
Indonesia report
Malaysia report
Pakistan report
Peru report
Philippines report
Thematic reports
If inflation persists which EMs are best prepared?
Covid in EM: Where's already infected, vaccinated and re-opening
Emerging-Frontier Equity Monthly – August: Taper, Covid, Afghanistan
Related data
Most of the data analysed in this report is available across over 50 EMs via the Tellimer Emerging Markets Investability Matrix – accessible to full to subscribers.